The Galapagos Islands are an archipelago of volcanic islands located in the Pacific Ocean off the coast of Ecuador. It's a bucket list trip full of incredible experiences, from exploring volcanoes to swimming with sea lions. Read below for why you should visit the Galapagos Islands, followed by trip planning tips.
Why Should You Visit the Galapagos Islands?
The Galapagos Islands are a unique and breathtaking destination that should be on every traveller's bucket list. Located off the coast of Ecuador, this archipelago is known for its stunning landscapes, diverse wildlife, and unparalleled natural beauty.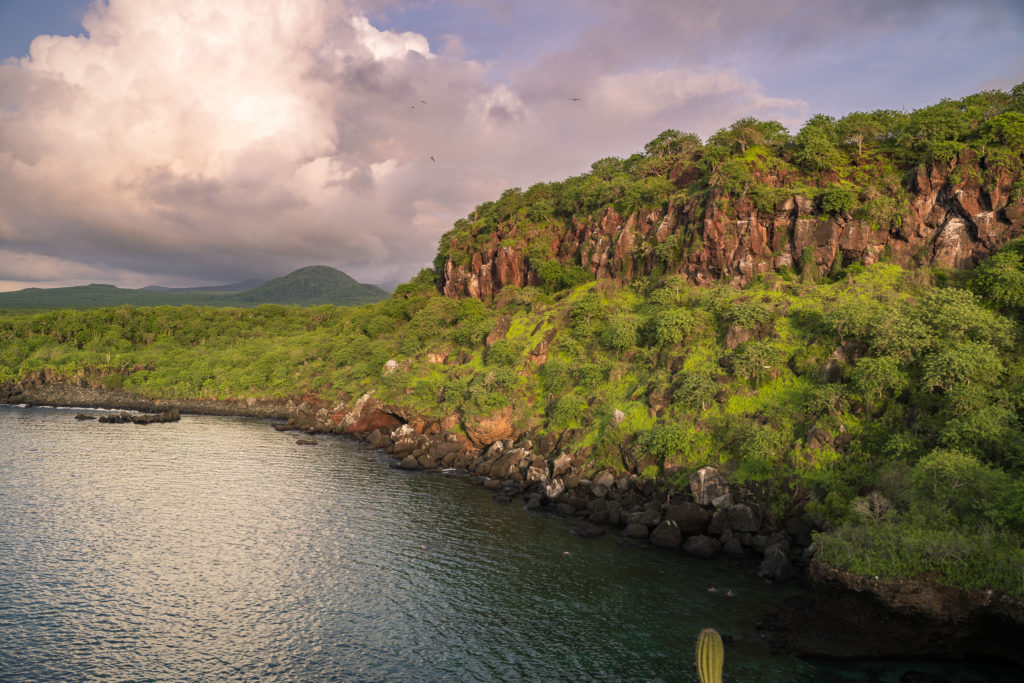 The Galapagos Islands are a group of volcanic islands formed from underwater volcanic eruptions. Today they are still one of the most active volcanic regions on the planet!
The islands are protected and home to a wide variety of species, many of which are found nowhere else in the world, including giant tortoises, marine iguanas, and blue-footed boobies.
Whether you're a nature lover, adventure seeker, or simply seeking a peaceful escape, the Galapagos Islands offer a once-in-a-lifetime experience that will leave you in awe of the natural world.
What Kind of Wildlife Can You See On The Galapagos Islands?
The Galapagos Islands is an amazing spot to see wildlife. Many islands have wildlife that are unique to that island. You'll see everything from sea lions to giant tortoises to hammerhead sharks on specific tours, and it is a fantastic place for different species of birds.
Galapagos Sea Lion
These were by far my favourite animals we saw in the Galapagos Islands. From seeing baby sea lions playing like puppies in the water to seeing how they flopped around on land, they were always entertaining. You don't have to worry about spotting them because you'll see them everywhere, from benches to beaches.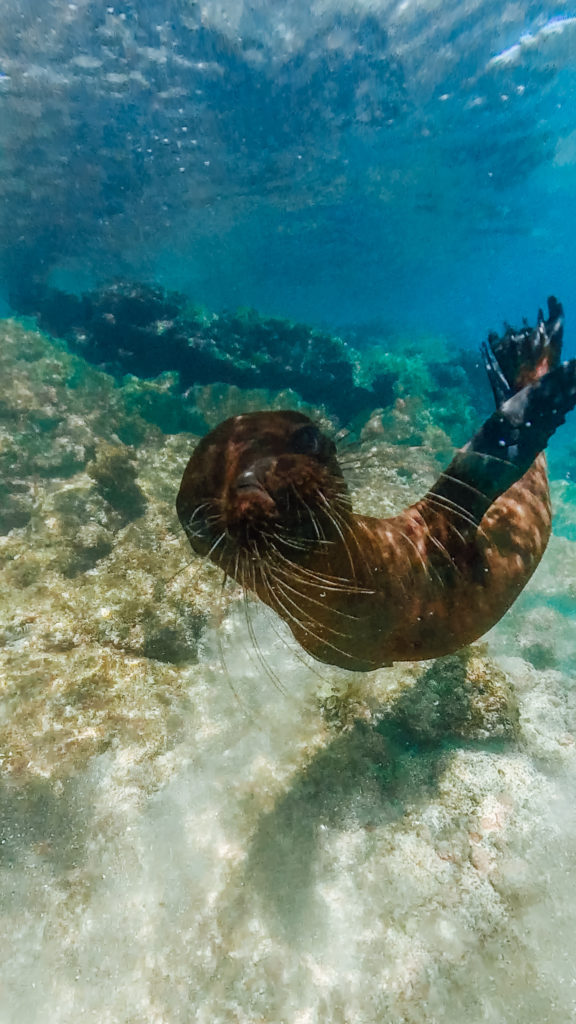 The Galapagos Sea Lions are very playful. I even had a curious pup come and swim around me in the water. I made sure to swim away from it to keep my distance because it's essential you don't touch any of the wildlife. The sea lions use scent to reunite with their babies at night and vice versa. Especially on San Cristobal Island, seeing all the babies trying to find their mom is quite a sight. Also, I don't think I've ever thought of what a sea lion would sound like before visiting the Galapagos, but they make the strangest sounds. The Galapagos sea lion is the smallest species of sea lion in the world. 
Galapagos Penguin
These are the only penguin species that live north of the equator! They are perfectly adapted to life in the Galapagos, with a thick layer of feathers to keep them warm in the cool waters.
Marine Iguanas
These are the only iguanas in the world that can swim! They feed on seaweed and algae and are known for their black and red coloration. They can hold their water underwater for up to 30 minutes. It's quite a sight to see this lizard swimming through their water.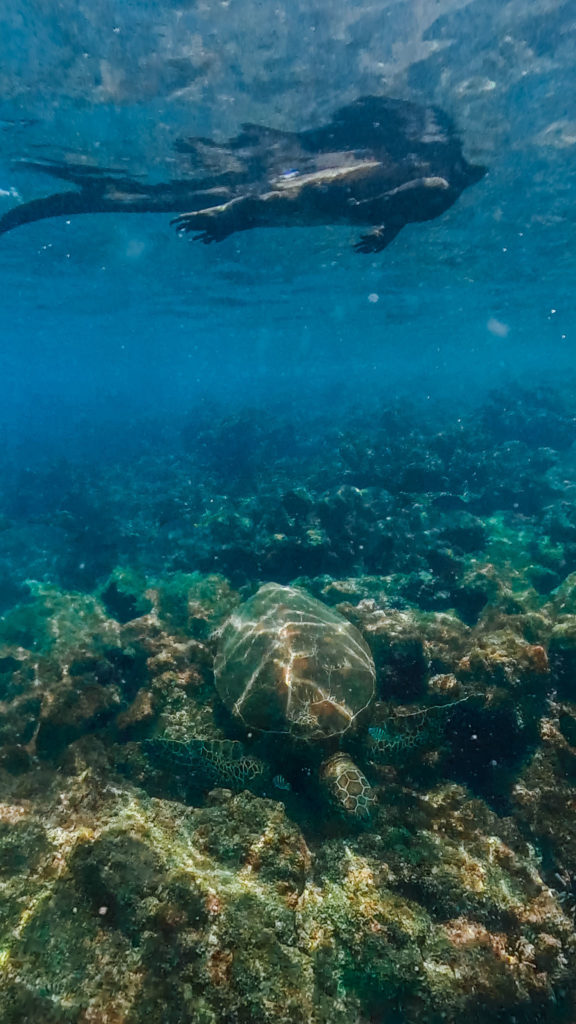 Blue-footed Boobies
These quirky-looking birds are famous for their bright blue feet, which they use to attract mates during their courtship rituals. They are also excellent divers, plunging into the water from heights up to 80 feet to catch fish. We saw some at the cliff at La Loberia at San Cristobal.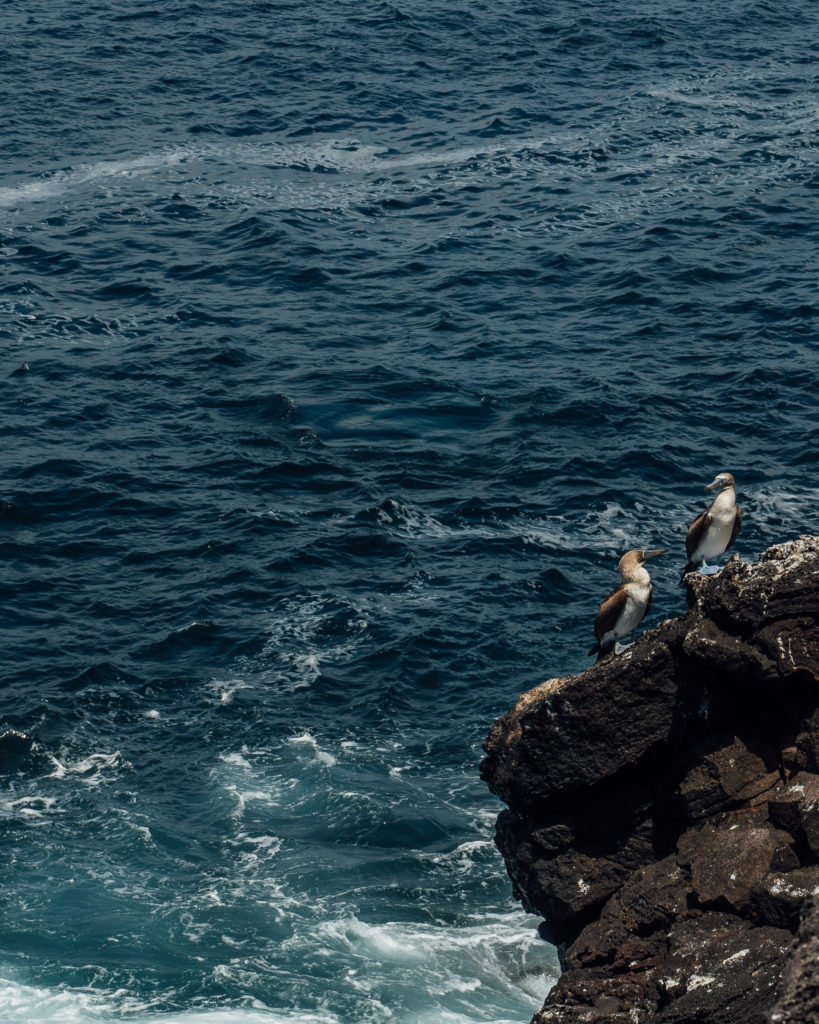 Giant Tortoises
Did you know that giant tortoises can live for over 100 years? We saw them at the Charles Darwin Research Center. We witness a pair mating and a pair fighting.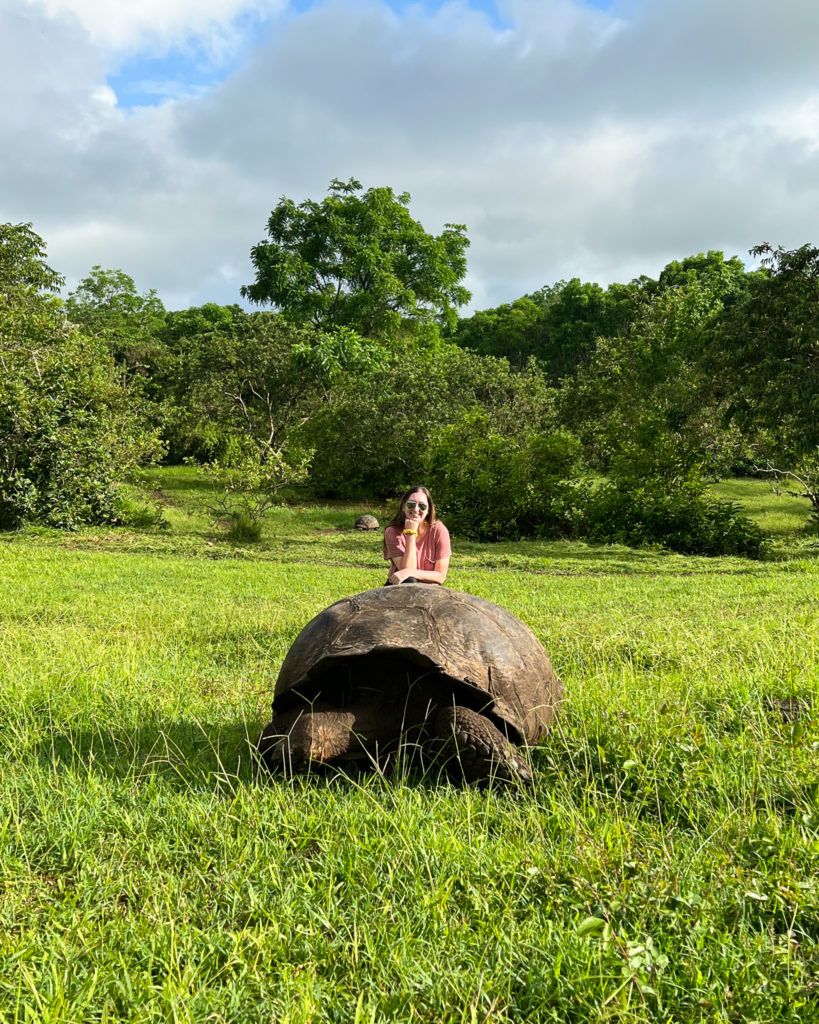 The Galapagos Islands are Protected
One of the first things you'll notice is the water pads you need to walk on in the airport to clean your shoes. They take this very seriously, including checking your bags for items like fruit, etc., to protect the ecosystems and wildlife. They also ask you to refrain from bringing plastic bags onto the islands. You'll also need to keep a distance of 2 metres from the animals at all times.
The Galapagos Islands Are Along the Equator
The Galapagos Islands are located on the equator, so the temperatures are consistently warm throughout the year. During the hot season, which runs from December to May, temperatures can reach 30°C (86°F), and humidity can be quite high. I visited in March and found the sun and heat could sometimes be intense. Here are some tips:
Pack lightweight, breathable clothing, including a hat, sunglasses and sunscreen. Apply sunscreen with a high SPF and reapply it frequently throughout the day. If you burn, put it under cold water as soon as you can stop the burn.
We wore a wetsuit on one of our kayak tours and then helped a ton. I got a burn during an afternoon on Isla Isabela, and I had to wrap a scarf around my arms and even use an umbrella at one point to shield myself from the sun because there's nothing worse than burning early in your trip. 
You're going to sweat when you're walking around on the islands. Stay hydrated by drinking plenty of water. I brought my favourite electrolyte to help.
Especially in the afternoons, we ensured we weren't in the sun too long and took breaks in the shade.
Disconnect on the Islands
We met a remote working couple from the Galapagos Islands, and I am curious to know how they were doing it because the wifi can be pretty rough. Spend the time disconnecting and being in the moment.
Galapagos Islands Trip Planning Tips:
How to get to the Galapagos Islands?
The best way to get to the Galapagos Islands is to fly into one of the main airports. You can fly into San Cristobal Airport (SCY) or Seymour Galapagos Ecological Airport (GPS) near Isla Baltra/Santa Cruz.
Some destinations have direct flights, or you can get a flight from Guayquil (GYE) or Quito (UIO).
We flew from Guayaquil to From Baltra Airport. You'll need to take a quick boat ride and then a taxi to Puerto Ayora. I recommend getting a taxi because the bus won't leave until it's full and you can wait a long time.
We left the Galapagos from San Cristobal and flew to Quito. Be careful if you book a flight with Avianca, and read the fine print because some prices are for Ecuadorian citizens, and people in our group got charged $150 extra at the airport.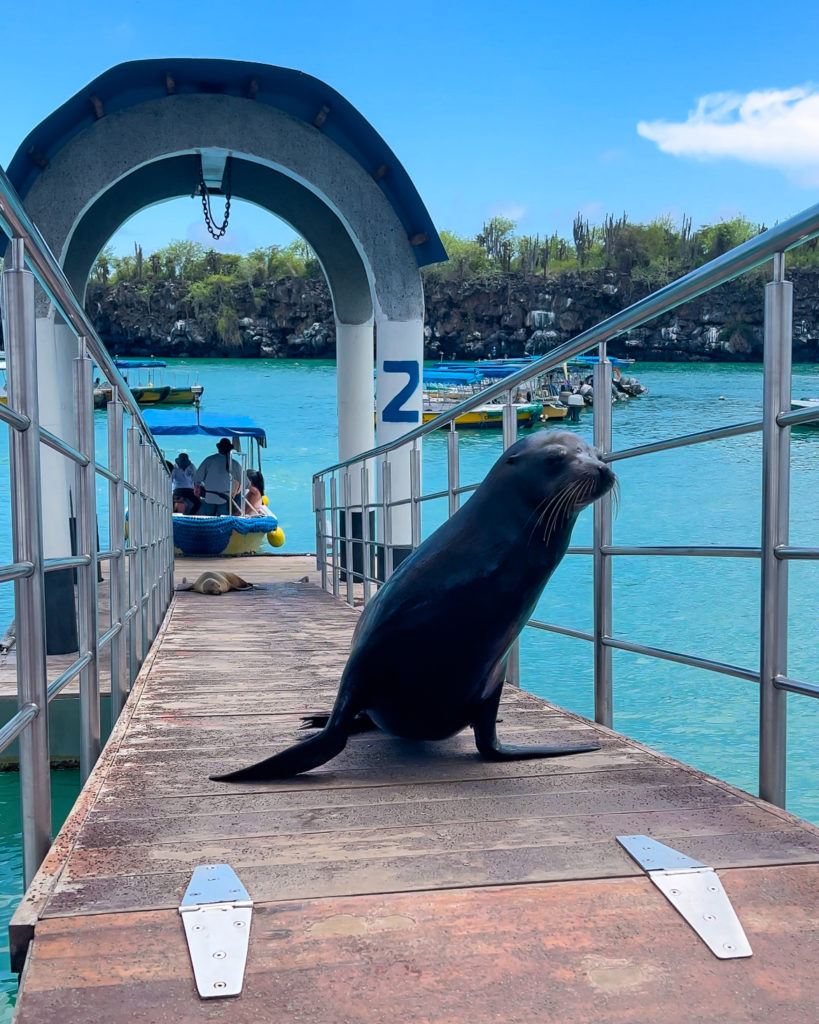 You'll Need to Pay An Entrance Fee
To help fund conservation efforts, all Galapagos Islands visitors must pay an entrance fee. The fee is 100 USD per person and must be paid at the airport when you arrive.
Do I Need a Guide To Explore the Galapagos Islands?
You don't need a guide to visit the Galapagos Islands, but you do need a guide to see some of the more remote islands. The main islands like Santa Cruz, Isabela and San Cristobal don't require a guide.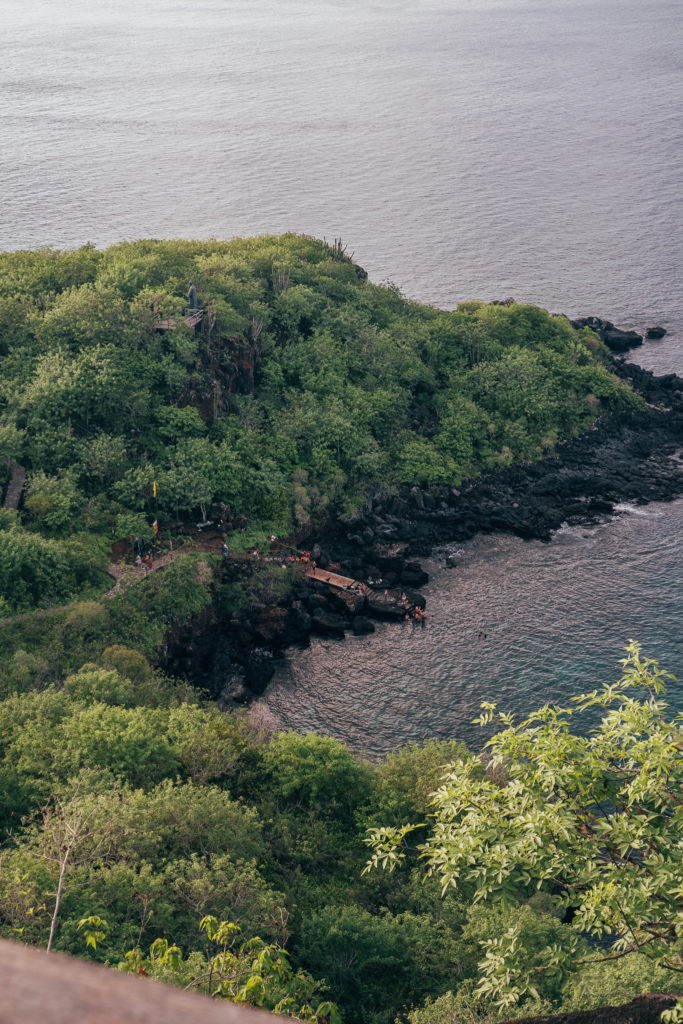 What Should I Pack for the Galapagos Islands?
Besides your regular warm-weather clothes, here are some other helpful items:
Umbrella: It saved me (and my gear) from the rain on one of our hikes, and I had to use it as a shield from the sun on a shadeless beach. So glad I packed this
Electrolytes: these helped to stay hydrated
Water Bag: keep your valuables safe and dry on kayak excursions and more
Bug Spray: to shield yourself from some of the bugs on beaches at night
Hat, Sunscreen and Sunglasses: the sun is fierce here, so make sure you're covered
Sarong: perfect for tying around after the beach or use as a beach towel
Gravol: if you get seasick, you'll need something for the speedboats
What's the Best Way To Explore Galapagos Islands?
Island hopping vs. Galapagos cruise. Both have their pros and cons. It depends on your travel preference and budget:
Island Hopping
Island Hopping and land stays are the options we did with G Adventures. This is a budget-friendly option, and I liked the flexibility of the islands. We were able to customize parts of our day. One issue with this option is that we had to take speed boats between islands, which can make you feel seasick. I took Gravol and was fine after that.
Even on land, we had so many interactions with wildlife. You wouldn't be able to spend nights admiring over a hundred sea lions on San Cristobal beach on a cruise.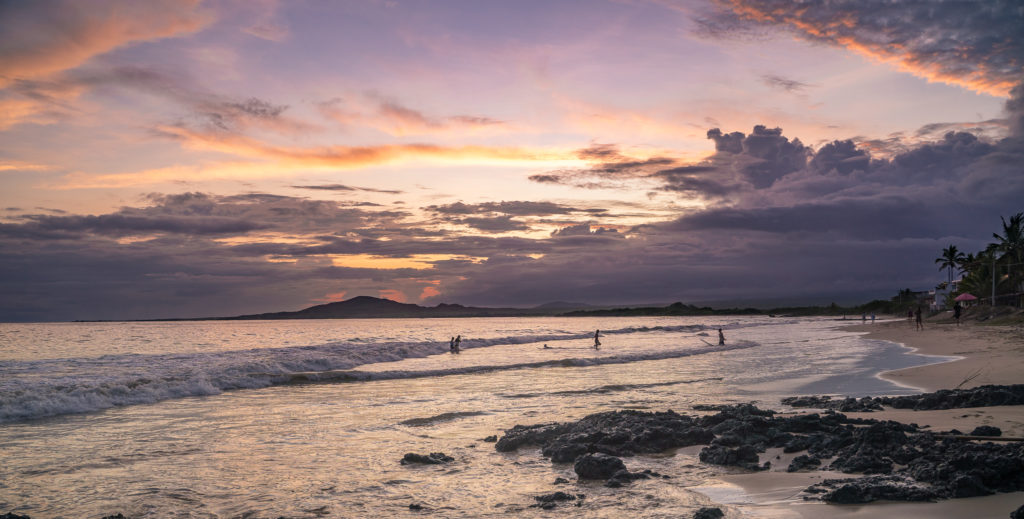 Galapagos Cruise
A Galapagos cruise of the Galapagos Islands is that you can see more of the Galapagos Islands as time on the boat spent eating, and sleeping can be when you're moving to the next destination. The cruises are significantly more expensive, but you will get more unique experiences. You'll be able to go to more remote places and have more opportunities for diving and snorkelling. You can also do Galapagos cruises with G Adventures.
Explore the Galapagos Islands with G Adventures
I did a Galapagos Islands Tour with G Adventures, and I would recommend it. G Adventures is known for having travel tours for 18-30 somethings. I love that their tours include a local guide, and each tour has a ripple score for sustainability and local impact.
G Adventures will bring you to the best of the area, and you can sit back and relax and have all the details worked out for you. We only had to decide what daily tours we wanted to do on the islands.
We could see a lot on our trip and make many friends in our group. This is also a great option if you want to travel but want to go with others. You'll instantly make friends with your group.
The first tour I did with G Adventures was through Central America, and it would be a great addition to this tour if you have time.
How much does it cost to travel to the Galapagos Islands?
The cheapest way to do a Galapagos Tour is to explore by land and island hop. This is a more expensive trip, especially if you're looking to do a cruise you're looking in the thousands. Our G Adventures tour came to 1529 CAD + the cost of extra tours, food and flights. We probably could have saved a couple hundred visiting on our own, but we wanted to make the most of our time and ensure we could do as many adventures as possible.
Compared to cruises, our price is modest. Most cruises start around $2k and up. For a similar week-long trip, most cruises were $5k and up.
Which Islands Should You Visit?
There are 18 major islands in the Galapagos, but Isabela, Santa Cruz, and San Cristobal are the largest and most visited islands. Each of these islands offers a unique experience, with plenty of opportunities to explore the natural beauty and wildlife of the Galapagos. Here's some information on the top islands:
Isabela Island
This is the largest island in the Galapagos and offers various activities, from hiking to snorkelling. Plus, you can't miss the famous flamingos that call Isabela home! Check out my Isabela guide here.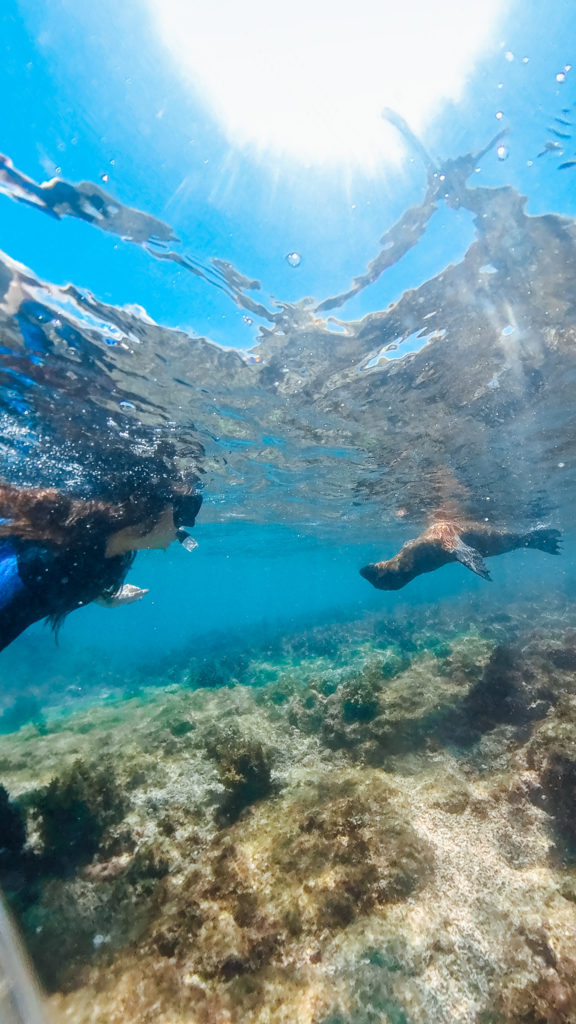 Santa Cruz Island
This island is the perfect place to base yourself during your Galapagos adventure. It has plenty of accommodation options and is centrally located, making exploring the surrounding islands and doing day trips easy. Get my Santa Cruz guide here.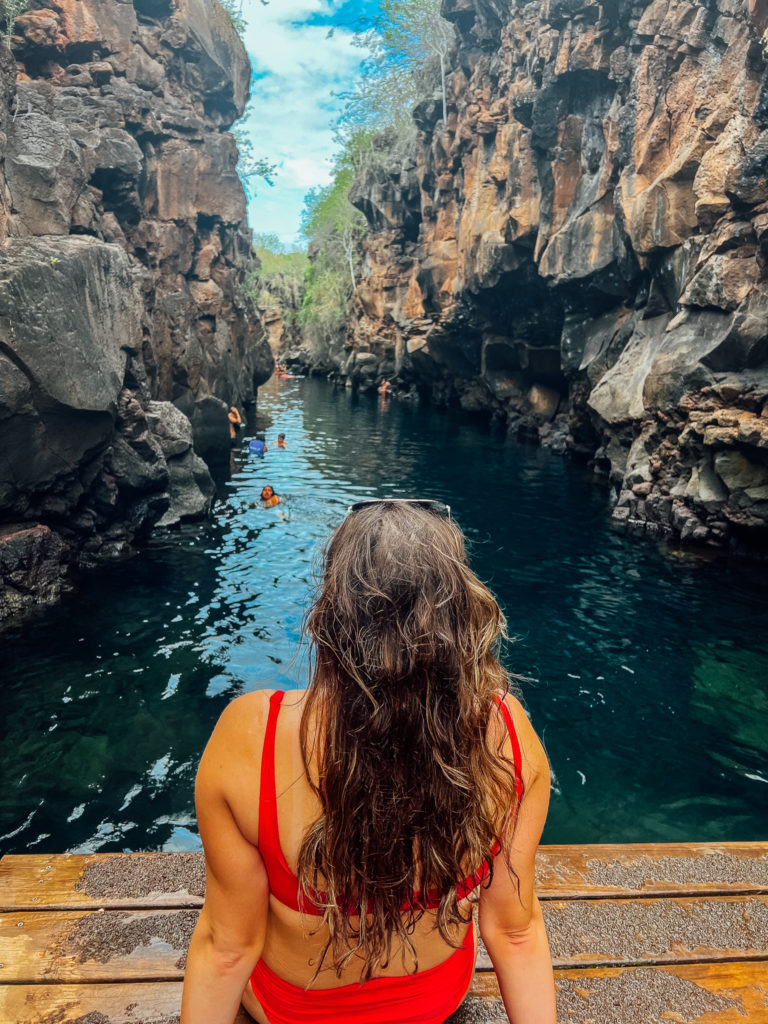 San Cristobal Island
This island is a must-visit for anyone interested in wildlife. You'll have the chance to see sea lions, giant tortoises, and a wide range of bird species. This is also the best island to see the Galapagos sea lion from. Check out my full San Cristobal guide here.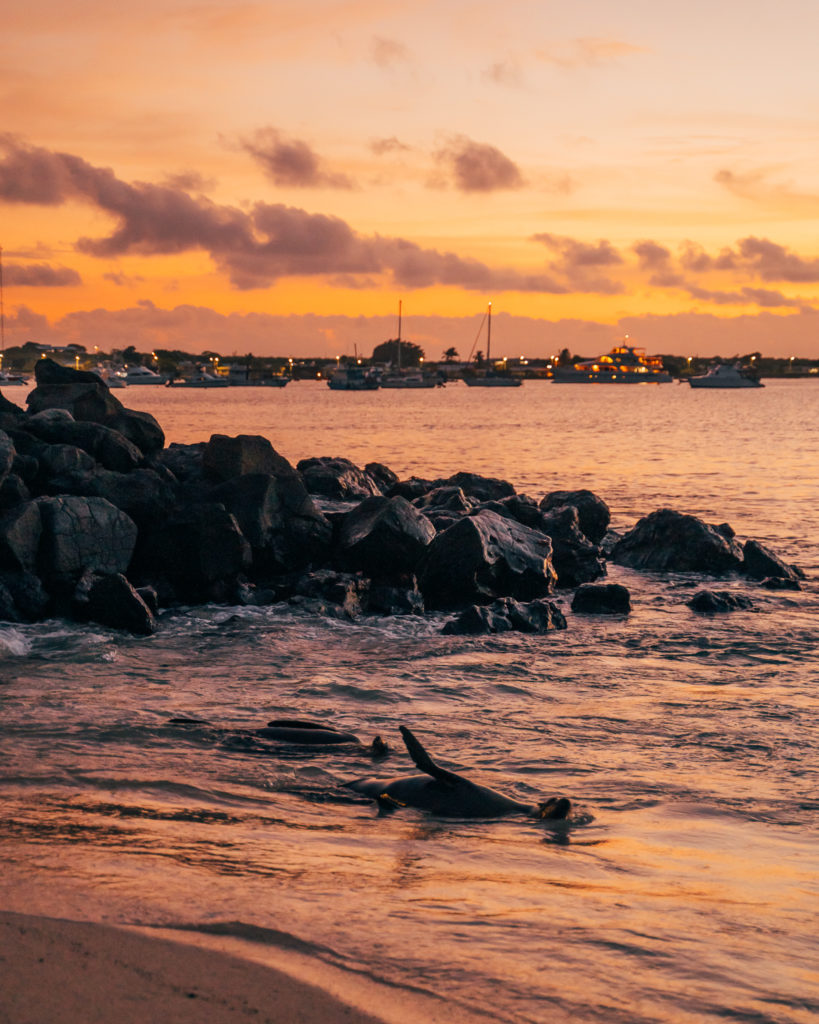 Floreana Island
This island has a fascinating human history, with stories of pirates and settlers. You can also learn about this history at the Galapagos National Park Interpretation Center in San Cristobal. Floreana also has beautiful beaches.
Bartolome Island
If you're looking for stunning landscapes, Bartolome Island is the place to be. The famous Pinnacle Rock and beautiful beaches make this island a photographer's dream.
What Currency is Used in the Galapagos Islands?
The Galapagos Islands, as well as mainland Ecuador, use USD as their currency.
More questions about the Galapagos Islands? Comment them below 🙂