San Cristobal is the easternmost island in the Galapagos and the first one that Charles Darwin visited during his expedition. The island has a rugged coastline and a volcanic landscape that is home to a variety of wildlife, including sea lions, blue-footed boobies, marine iguanas and more. Visitors can explore the island's many beaches, go snorkelling in the clear waters, or hike to the top of Cerro Tijeretas for panoramic views. I think this was my favourite island because of how easy it was to find sea lions everywhere. Here are things you can't miss on San Cristobal Island.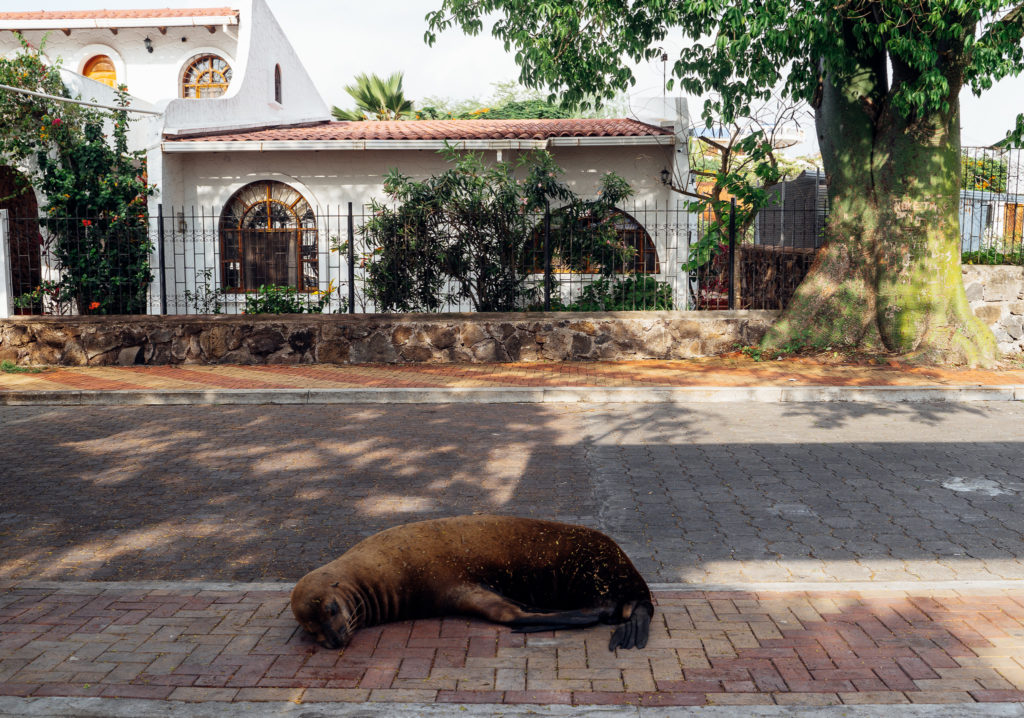 Make sure to check out my Galapagos Guide of things to know before visiting!
How To Get to San Cristobal Island?
The easiest way to get to San Cristobal island is to fly to Airport Isla San Cristobal (SCY). Since this was our last stop, we flew out of San Cristobal to Quito.
You can also take a speed boat from other islands like Santa Cruz. This is how we got to the island.
How Long Do You Need on San Cristobal Island?
I recommend at least two days in San Cristobal. This is how long we spent on the island, and I easily could have spent longer. There are plenty of tours or free activities to enjoy. I could have spent hours just watching the sea lions on the island. I explored San Cristobal as part of a week-long Galapagos Islands tour with G Adventures.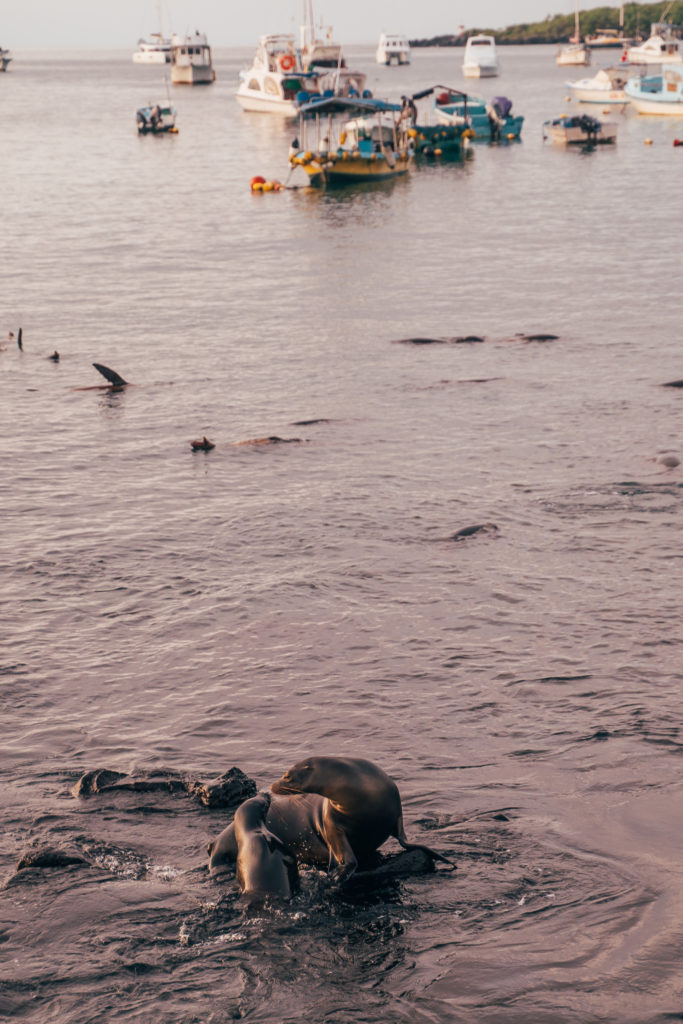 Explore Puerto Baquerizo Moreno
There are plenty of shops and restaurants to explore in Puerto Baquerizo Moreno. If you're there on the ride day, you'll be able to explore the market on the main street. There are restaurants for every budget. If you're looking to splurge, you can even visit a sushi restaurant in town, Midori Restaurant. Get one of their mix plates to try different specialty rolls. You can also explore the nightlife here in ​​Puerto Baquerizo Moreno.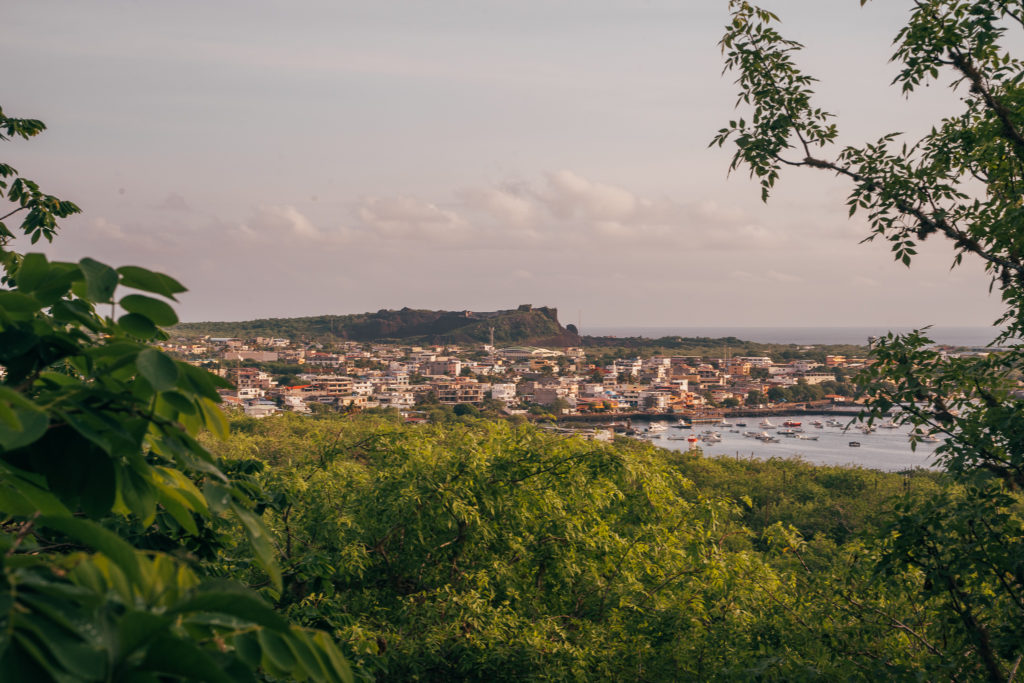 Galapagos National Park Interpretation Center / The Centro de Interpretacion on San Cristobal
Visit the Galapagos National Park Interpretation Center to learn the history of the Galapagos and San Cristóbal island. It's free to visit. You'll learn about the evolutionary processes that have made the Galapagos unique, the environmental challenges facing the islands, the innovative conservation efforts underway to protect them, and more.
Tijeretas Hill
This hike starts at Galapagos National Park Interpretation Center and will bring you to a beautiful lookout. You'll be able to look down at Mirador Cerro Tijeretas. Off in the distance, you'll be able to spot Kicker Rock and Puerto Baquerizo Moreno.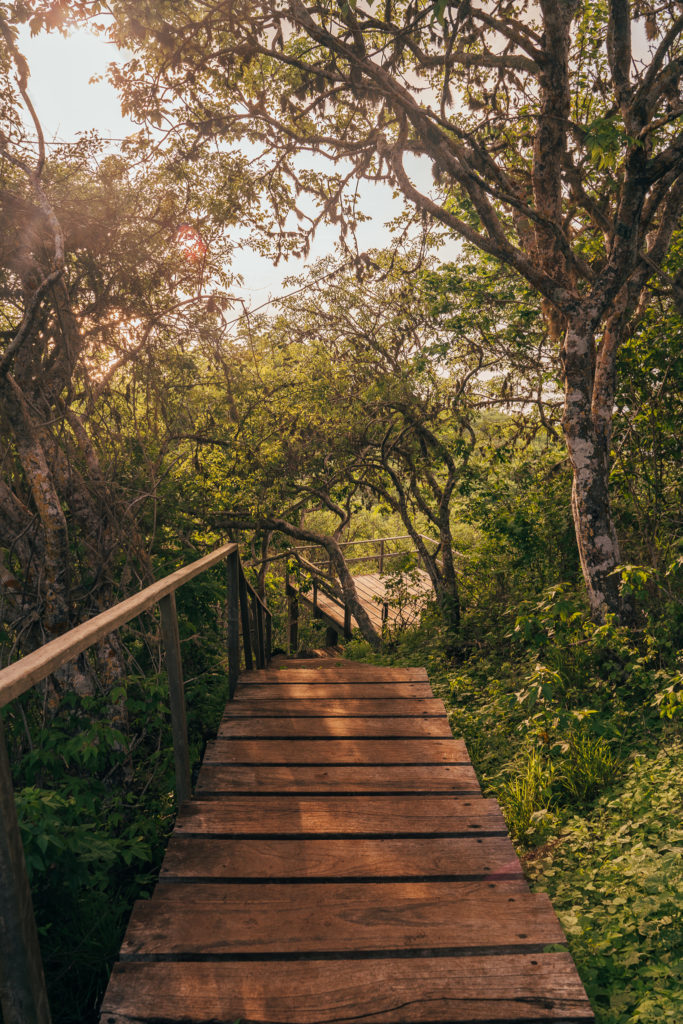 Mirador Cerro Tijeretas
Mirador Cerro Tijeretas is a beautiful snorkel/swim spot carved in by lava rocks and hills.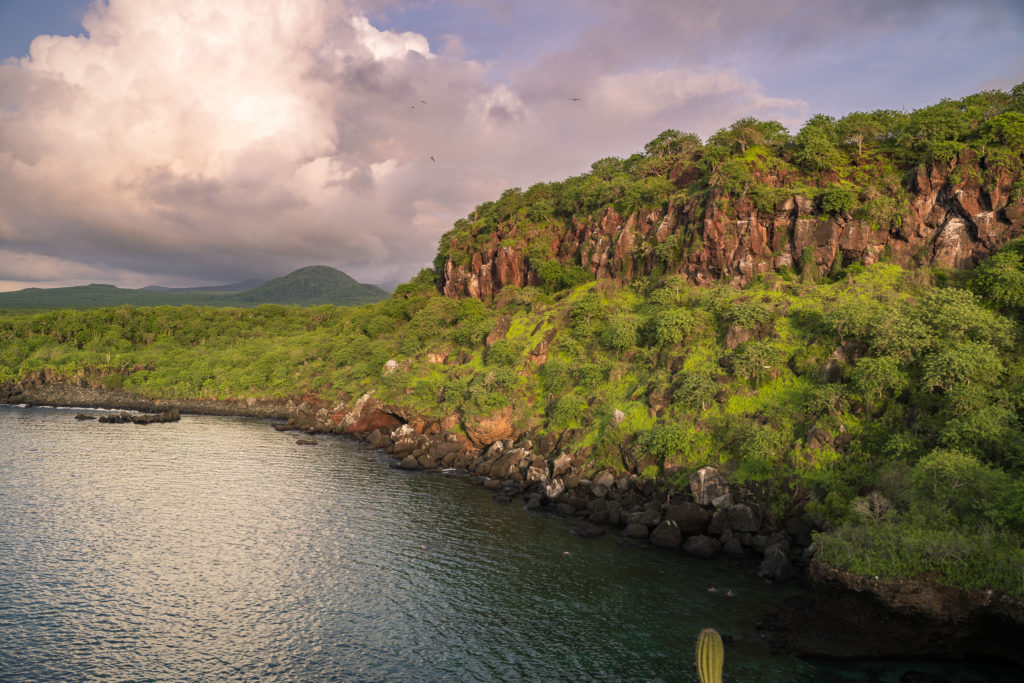 It's a great spot to cool off after the Tijeretas Hill hike. You'll be able to spot lots of sea turtles and sea lions here. Bring snorkel gear with you and enjoy this free activity. There's a dock at the bottom where you can enter the water.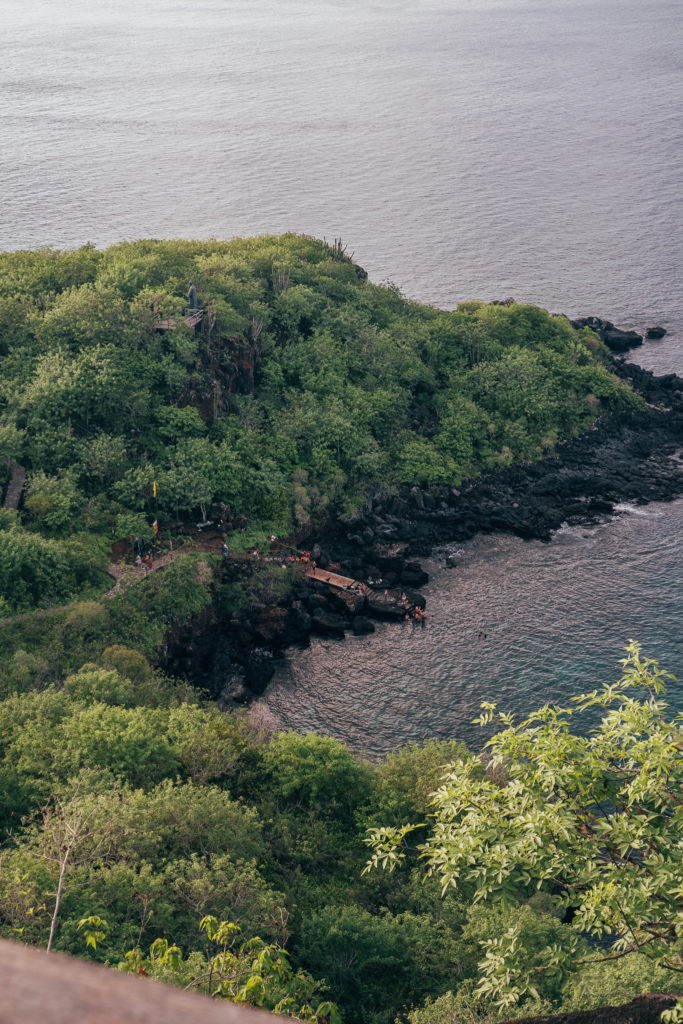 One of my regrets is finding this spot too late in the trip and not being able to go swimming here. When I go back, this is the first thing I'm doing.
Walk the Malecon
The boardwalk will bring you along the ocean to lots of scenic views and wildlife. There are plenty of spots along the way to spot sea lions. Keep your eye out for pelicans, iguanas and more. The pelicans are huge in person!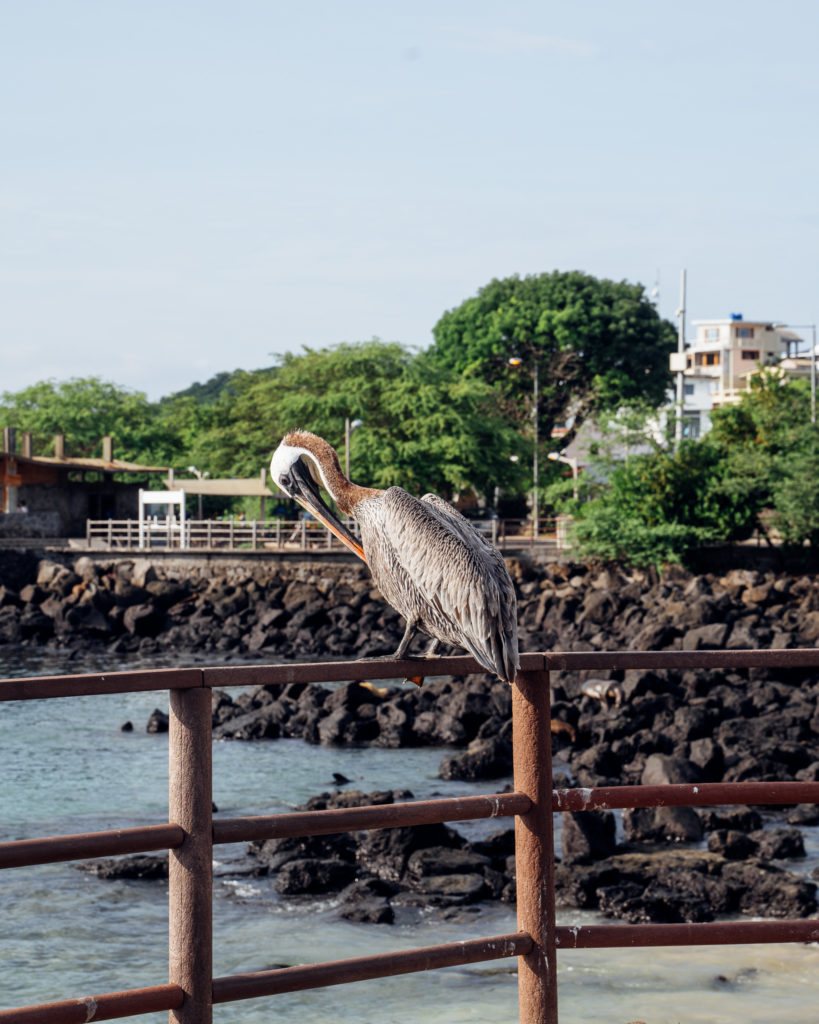 Playa de los Marinos
See over a hundred sea lions lounging on the beach at Playa de los Marinos. I could have spent all day watching the sea lions here.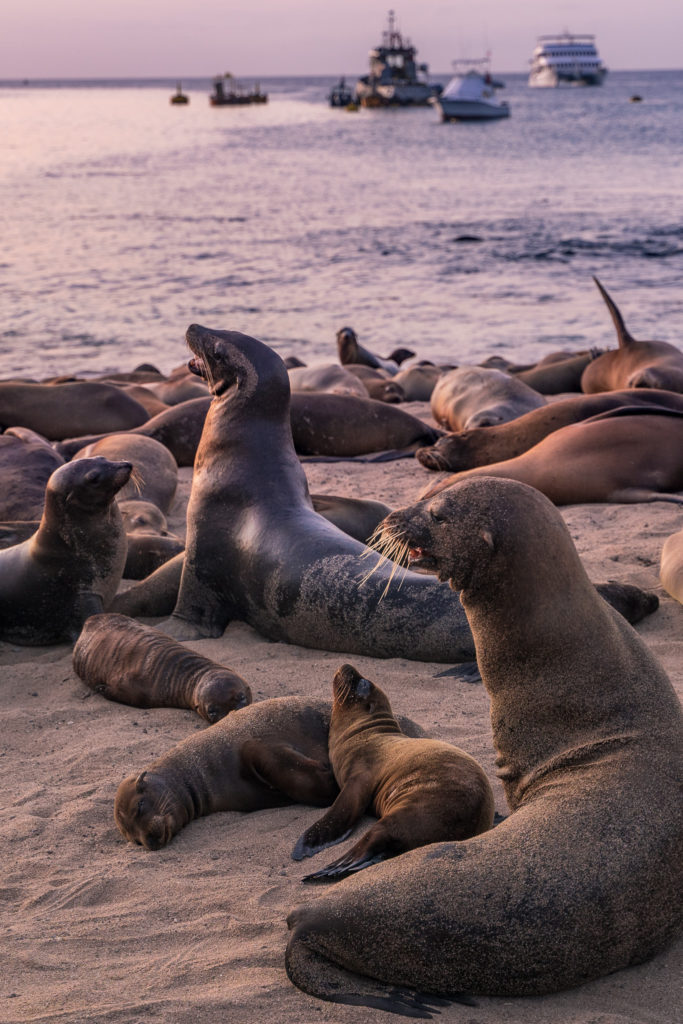 Make sure to go here before sunset and watch the sea lion pups reuniting with their moms. I learned that the mother sea lions will leave their young pups on shore when they find food and then use their unique call to find their baby again. They'll then use scent to confirm that it's their pup. You'll see the pups go up to the wrong seal sometimes and be barked at.
Kicker Rock
If you're looking for a thrilling adventure in the Galapagos Islands, a Kicker Rock tour is a must-do activity. This iconic rock formation, also known as Leon Dormido, towers over 500 feet above the ocean and is home to a diverse array of marine life. During a tour, you can explore the waters around Kicker Rock and discover a variety of sea creatures, such as colourful tropical fish, sea turtles, and even hammerhead sharks.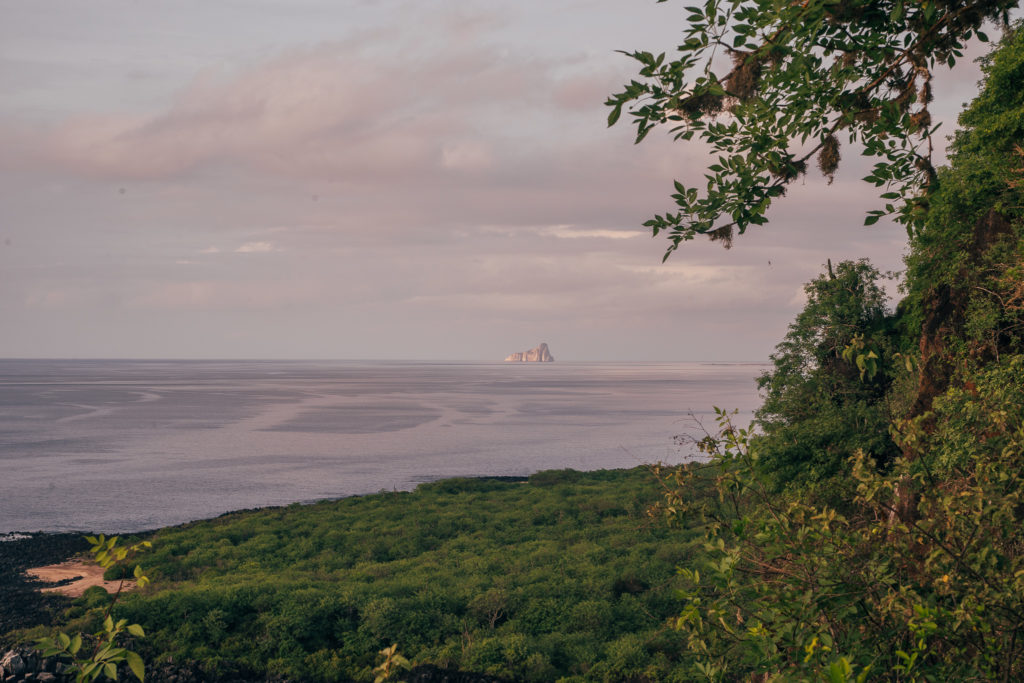 One of the most popular activities on a Kicker Rock tour is snorkelling, where you can get up close and personal with the incredible marine life in the area. The crystal-clear waters offer excellent visibility, making spotting vibrant fish and other creatures easy.
I opted for a more chill beach day, but our G Adventures group members that went with this tour loved it. Their primary motivation was to see the hammerhead sharks, and they saw quite a few. This tour is approximately 2-3 hours and costs $125 USD.
Isla Lobos
Enjoy a day trip to Isla Lobos, located off the coast of San Cristobal. Enjoy white sand beaches, snorkel with sea lions and spot blue-footed boobies. You need to take a boat here, so we opted for a free nearby beach adventure. If I were to do this tour, I would do one of the below tours combined with Kicker Rock and make a full day of it. The Isla Lobos day tour would have been a few hours and $90 USD.
Playa Loberia
Also known as sea lion beach, Playa Loberia is a free beach you can visit in San Cristobal. Rent a bike or take a taxi here. Bring snorkel gear with you. There's a shallow bay carved in by lava rocks. We saw some sea lions sun bathing on the beach.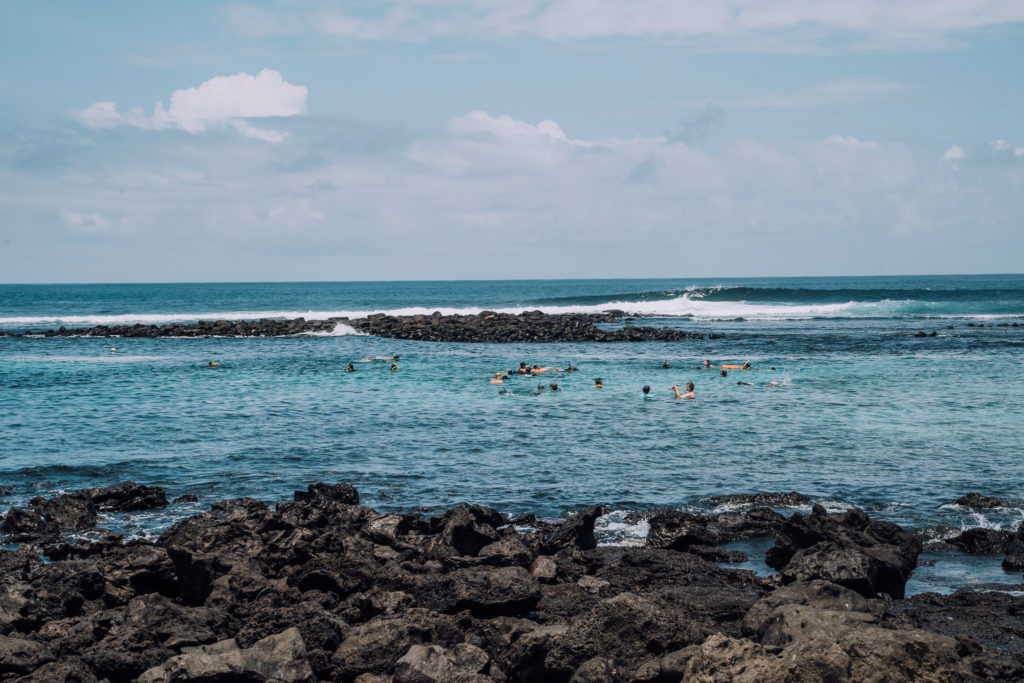 The beach is also a starting point for a hike that brings you to an ocean-side cliff lookout. Be warned, this hike is super rocky, so you'll need proper shoes and good balance.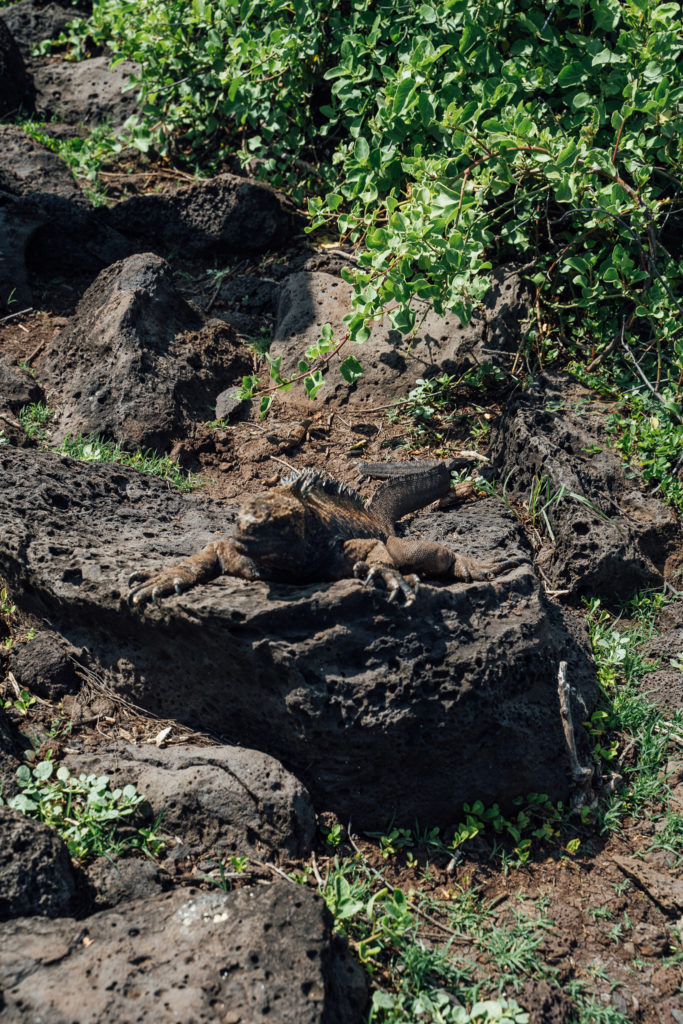 Be careful where you step because the marine iguanas blend right into the rocks. At the top, we enjoyed the ocean-side view, where we spotted blue-footed boobies relaxing on the cliff. In the water below, we were able to spot sea turtles.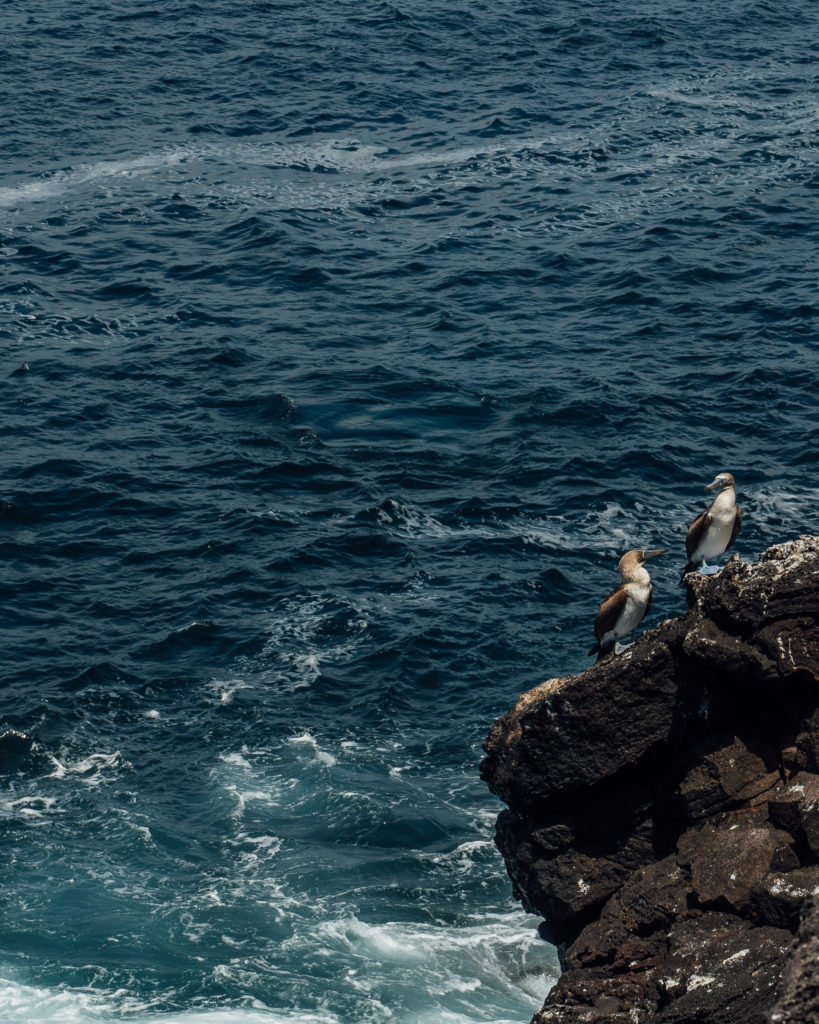 We made our way back to the beach and instantly cooled off in the water. This was one of my favourite beaches we went to on the trip.
Playa Mann
This is another white sand beach that you can walk to from the boardwalk. This beach gets a lot more busier, and the water isn't as clear, so it's not a great snorkel spot. We got to see some sea lions playing in the wave with each other. Nearby there are some fun restaurants to check out with views of the water. This is also a great spot for sunset.
The Pier Restaurant & Cevicheria
This is a great spot to enjoy a cocktail as the sun goes down. It's a beautiful spot with overhanging colourful umbrellas. If you get there early, you can grab a seat at one of the hammocks overlooking the water.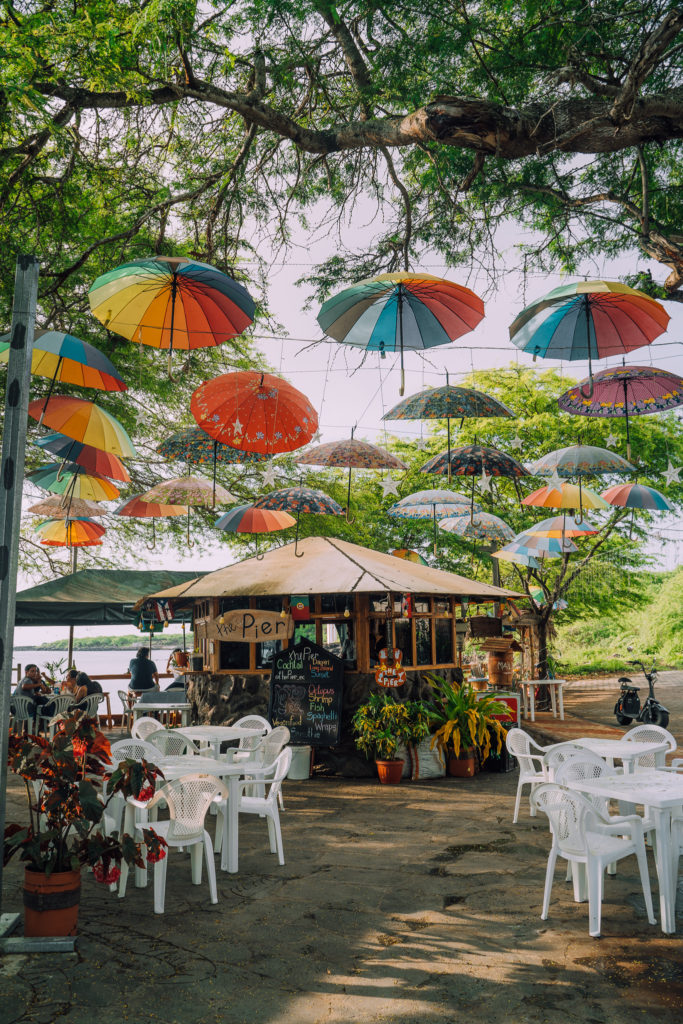 SUP Galapagos Tours
If I had more time next time, I would try a SUP tour. I'm sure it would be an unbelievable experience having sea lions swimming around you. You'll find this tour group nearby Playa Mann.
Playa Punta Carola
Another popular swimming spot in town is Playa Punta Carola, 15 minutes past Playa Mann on your way to Tijeretas Hill. This is another great spot for sunset.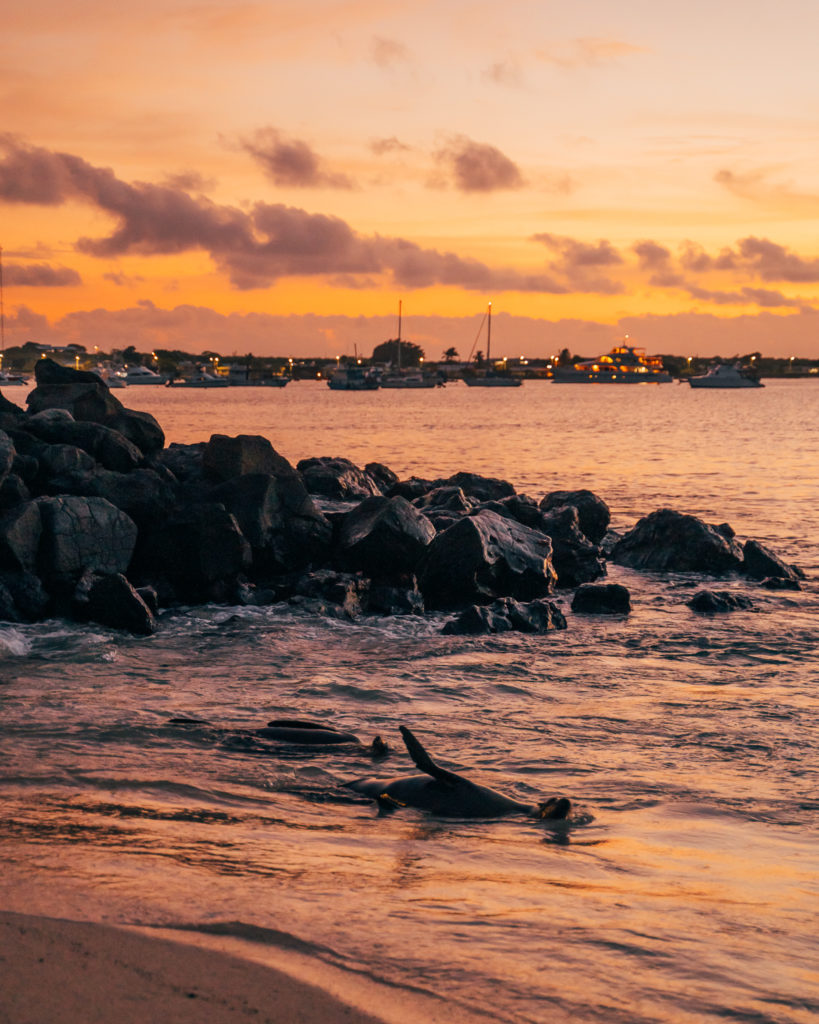 Where To Stay on San Cristobal Island
There are plenty of wonderful places to stay in San Cristobal. We stayed at Hostal Casa de Laura. It was a simple accommodation with a beautiful, lush green patio with hammocks to relax in. It was a quick walk to the Malecon. Another great option is La Zayapa Hotel. It's more central and has beachfront views.
Make sure to check out: