As the largest island in the archipelago, Isabela is home to an incredible array of natural wonders and unique wildlife that you won't find anywhere else in the world. From towering volcanic peaks, lush hikes and secluded beaches, there's so much to explore and discover on Isabela Island in the Galapagos Islands.
Check out my full Galapagos Guide of things to know before visiting!
How To Get to Isabela Island
The easiest way is to take a speed boat from Santa Cruz. I went to Isabela as part of a week-long tour of the Galapagos Islands with G Adventures. They take care of all the logistics so you can sit back and enjoy the trip.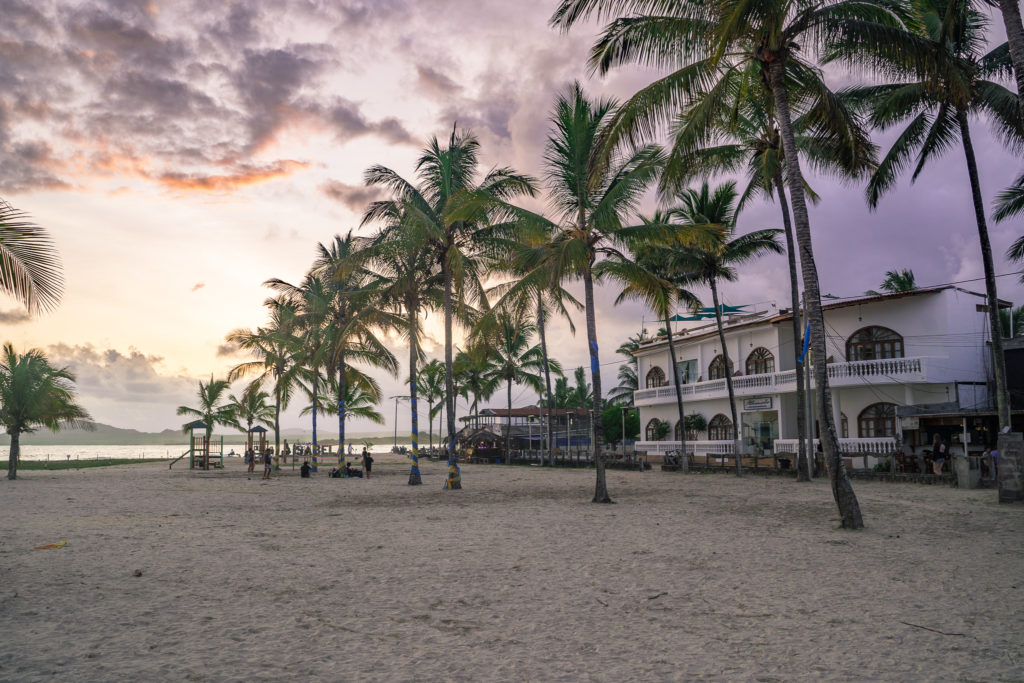 How Long Do You Need on Isabela Island?
We were on Isabela Island for two nights, and I thought that was a good amount of time. Although it's the biggest island, it has a more chill vibe and fewer things to do than Santa Cruz and San Cristobal. 
Things To Do On Isabela Island in the Galapagos Islands
Explore Puerto Villamil
Puerto Villamil is the main town on Isabela Island. Although Isabela is the largest island in the Galapagos, Santa Cruz seemed busier and more developed. Puerto Villamil has lots of beach town surf vibes.
Sunset at Puerto Villamil Beach
The Puerto Villamil beach stretches 4km long. It's a great spot to enjoy the sunset and watch surfers in the distance. We spent our nights here enjoying the view.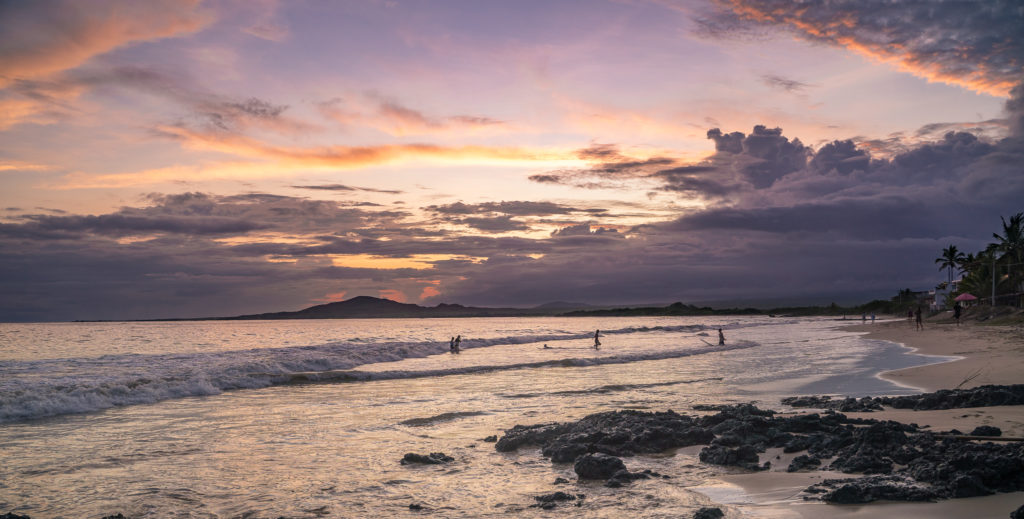 Brisas del mar
Enioy empanadas near the beach at Brisas del mar. They're only $1 USD, and you can get traditional empanadas or even seafood empanadas. It's a budget-friendly spot for dinner and drinks with a view.
Pink Iguana Bar
There's a fantastic beach bar along the beach, Pink Iguana Bar. Enjoy the hammocks or a game of volleyball between sips of your cocktail. Make sure to bring good bug spray and layers!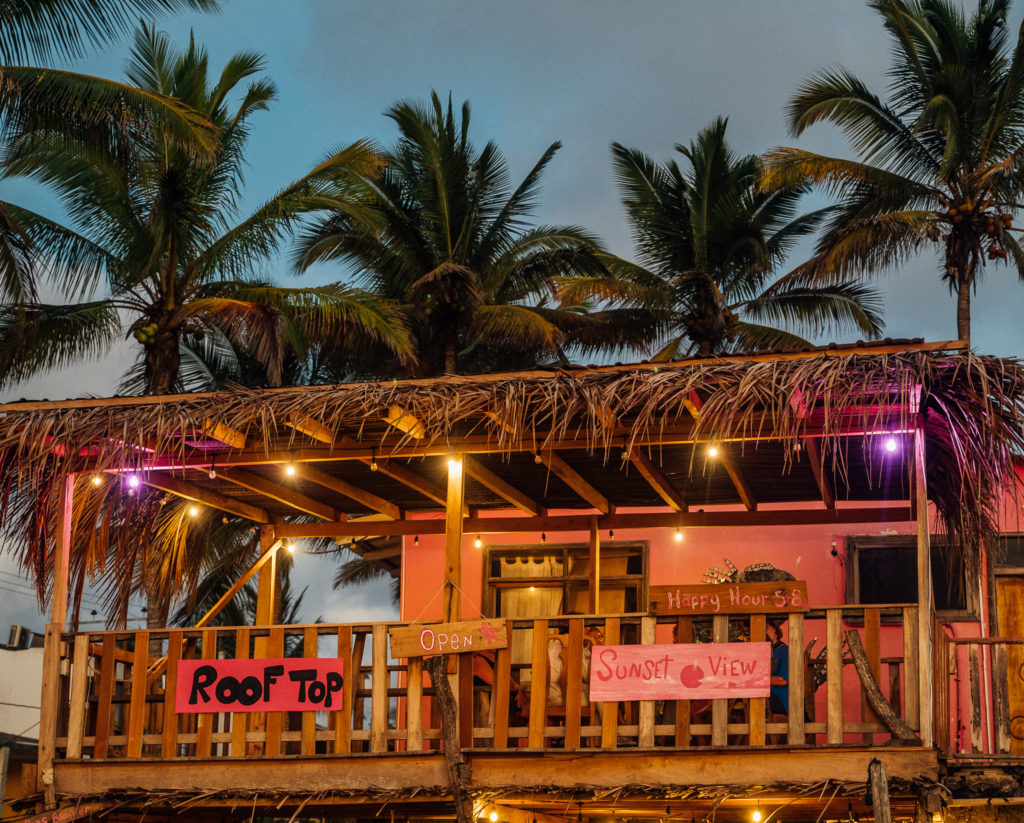 For our G Adventures tour, we had the option of doing Las Tintoereras Snorkelling, Los Tuneles, or surfing. If you're travelling on your own, add more time to do all of the above. If you're tight on time, I would skip the hike below and add another water activity.
Los Tuneles
Head to Los Tuneles to explore lava formations and mangroves. It's an excellent spot for snorkelling to spot eagle rays, sea turtles and colourful fish. Los Tuneles is about a 40-minute boat ride away from Peurto Vilamil. This tour is approximately 150 USD and 2-2.5 hours long. I didn't do this tour, but the group members that did enjoyed it.
Las Tintoreras
Snorkel at the islet of Las Tintoreras, located south of Puerto Villamil. You'll start off the bay and kayak to the perfect spot for snorkelling. This is an excellent spot for sea lions, sea turtles, marine iguanas and the whitetip reef shark. We even spotted a penguin on the lava rocks. This tour was approximately 50 USD and 2-2.5 hours.
I did the Las Tintoreras tour, and I loved it. Our first wildlife sighting was some golden manta rays, our guide pointed out. We saw a group of them swim under our kayaks.
One of the highlights of our whole Galapagos Islands trip was swimming with a curious and playful sea lion pup.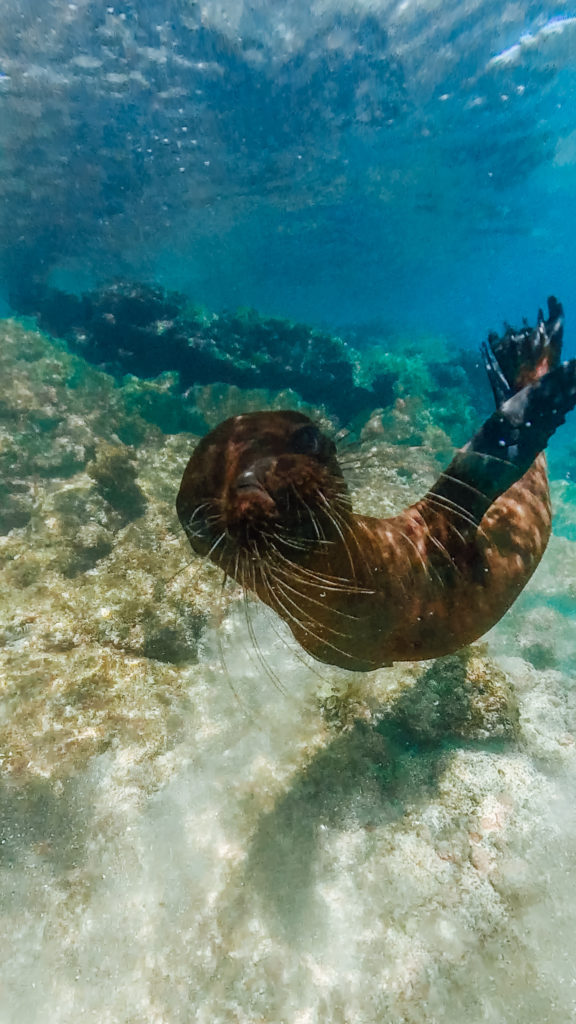 It was right at the beginning of the snorkelling portion when the small pup went to investigate a nearby marine iguana and then became interested in me.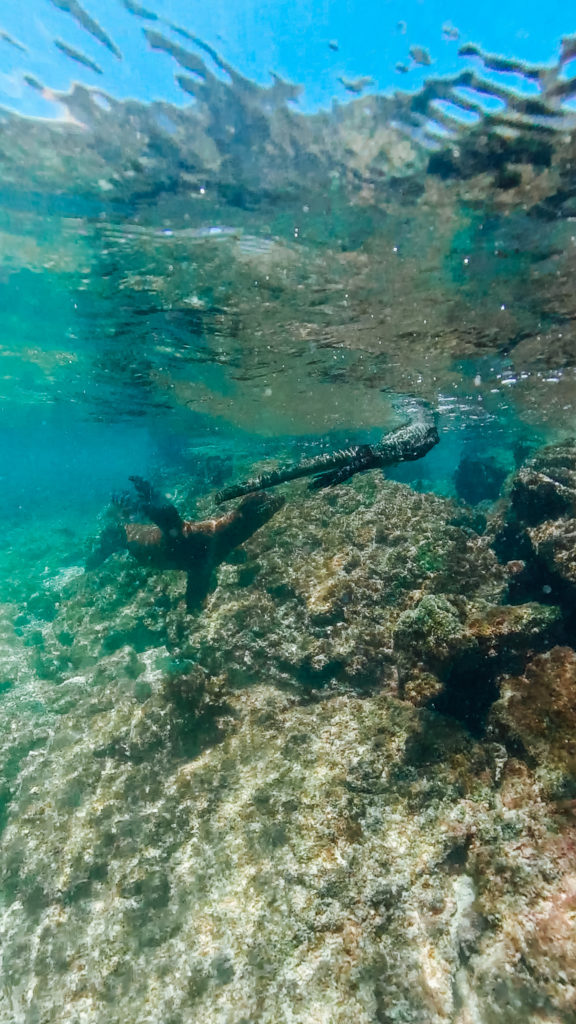 I was in awe as I watched it swim circles around me. You could see how at ease and curious it was.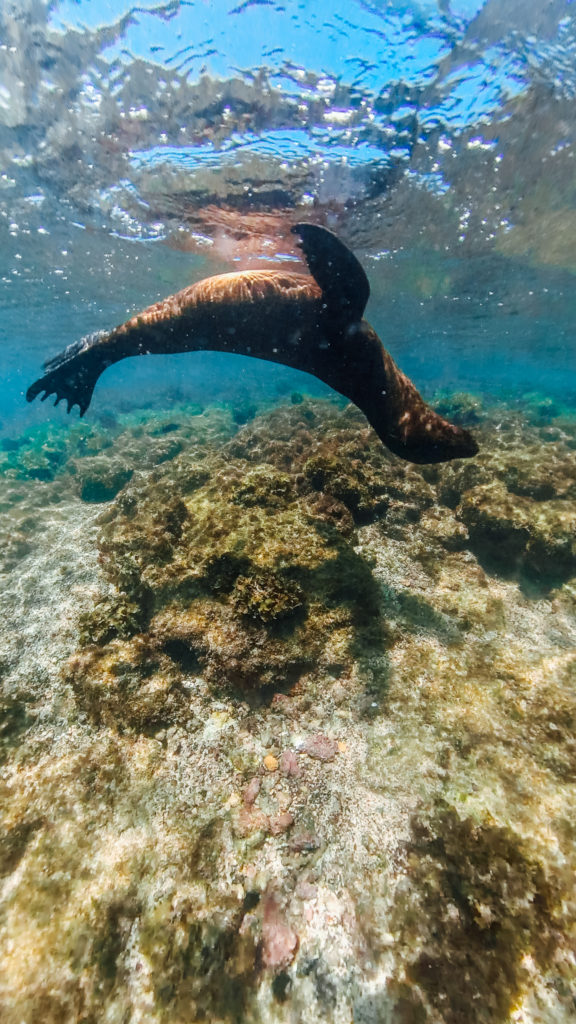 I'll cherish this memory forever. It's important to note I made sure to keep my distance from the pup to respect the wildlife. At one point, I had to swim backwards to put extra space between us.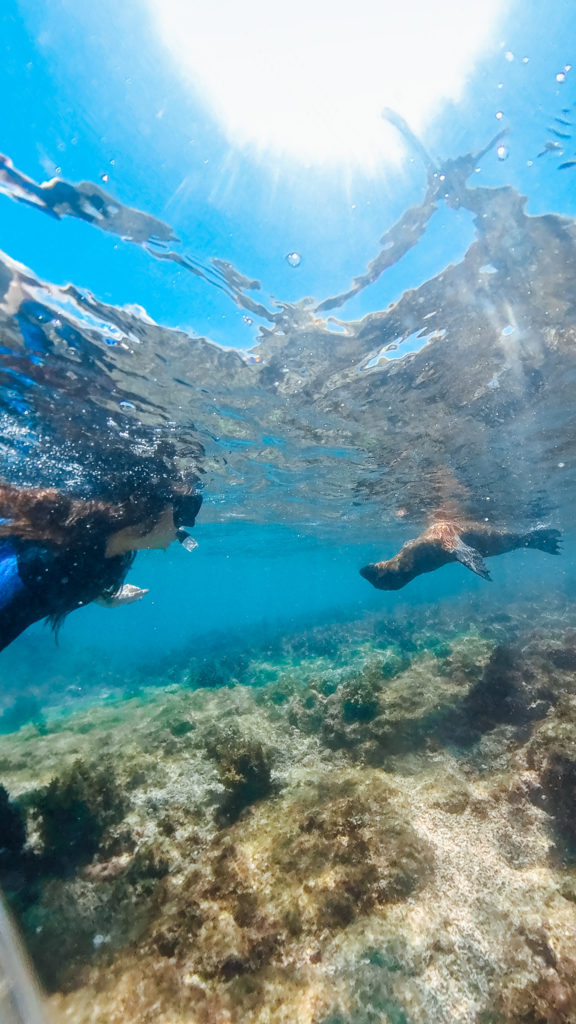 As we continued the tour, we saw more wildlife, from sea turtles to marine iguanas. It's crazy to see these see lizards swim through the water. I learned they can hold their breath for up to 30 minutes.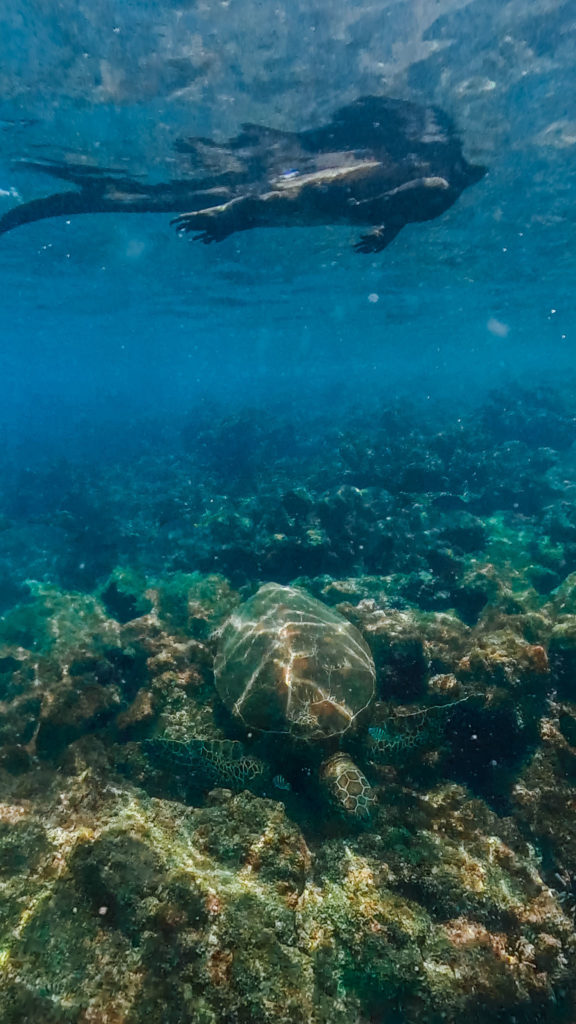 Learn to Surf
Around sunset, we went to the beach, and it was fun to watch the locals getting off school and heading to surf. The waves here are perfect for surfing. Learn to surf on Isabela from local experts.
Sierra Negra Volcano
In the Isabela Highlands, you can hike to the rim of the 10km wide crater of the Sierra Negra volcano. The view is supposed to make you feel like you're on the moon with the unique lava fields and fumaroles. The last time the volcano erupted was June 2018, the most recent eruption in the Galapagos.
Unfortunately, it started pouring as soon as we got to the crater. It was filled with fog, and we couldn't see much. I think on a clear day the view would be incredible.
Flamingo Lagoon
Head to Flamingo Lagoon to spot colourful Flamingos. There's a boardwalk that will bring you around the lagoon to different lookout points. We only spotted one flamingo in the distance when we were there, but the lagoon is in a central location, so it's worth visiting. The lagoon itself gives great views. We were also able to see lots of marine iguanas, big and small, sunbathing on the boardwalk.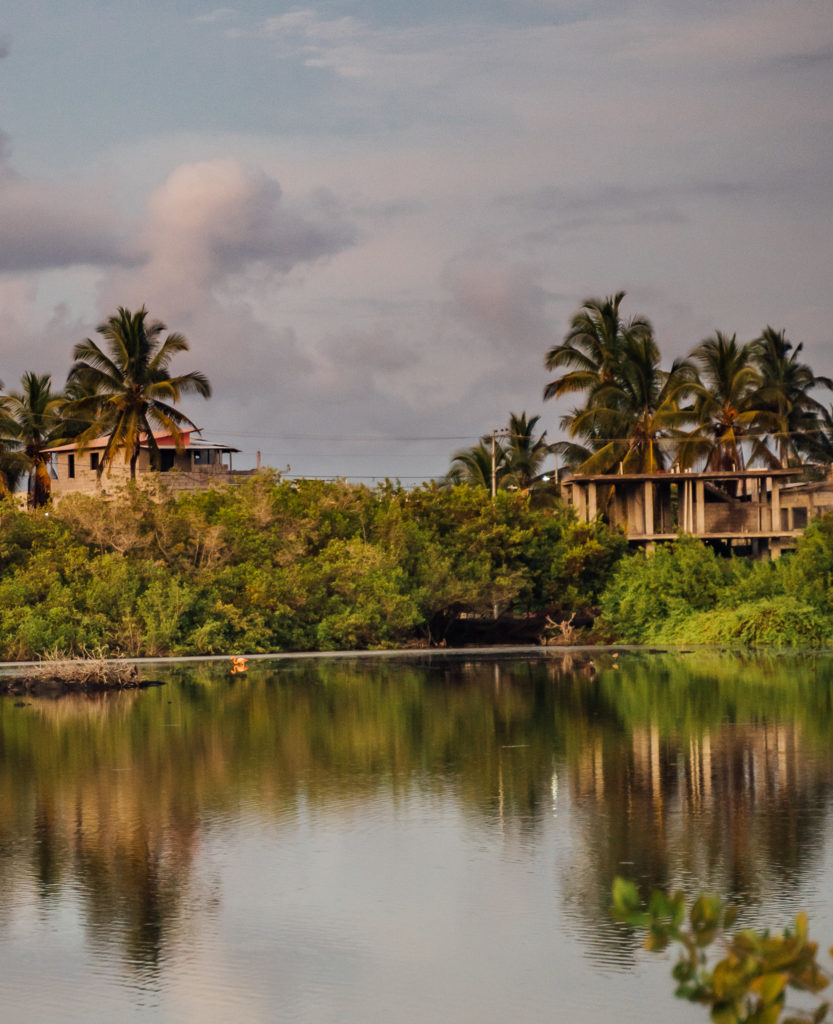 Concha de Perla
We startThis is a boardwalk surrounded by wildlife. It's a fantastic place to spot marine iguanas. In the morning, the water is low, and in the afternoon, the tide rises so much it can flood parts of the boardwalk. We walked the path at both times because we wanted to see the difference.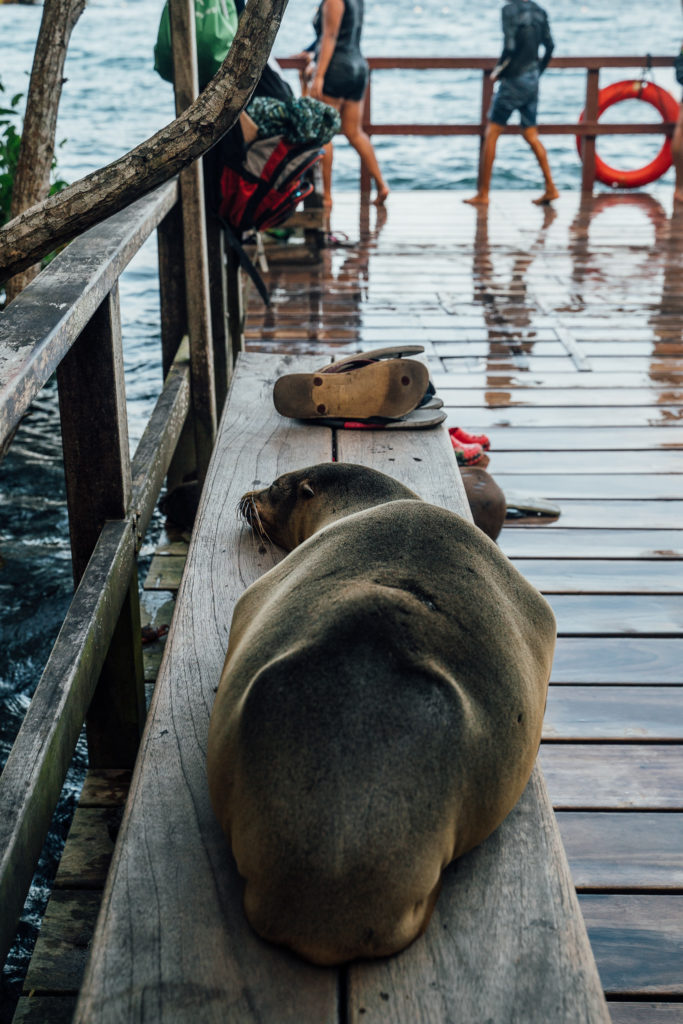 Locals were swimming at the end of the dock. It's also supposed to be a good spot for snorkelling. Rent some gear in town and bring it with you. I'd bet you could spot some iguanas and sea lions. The nearby beach has plenty of sea lions too.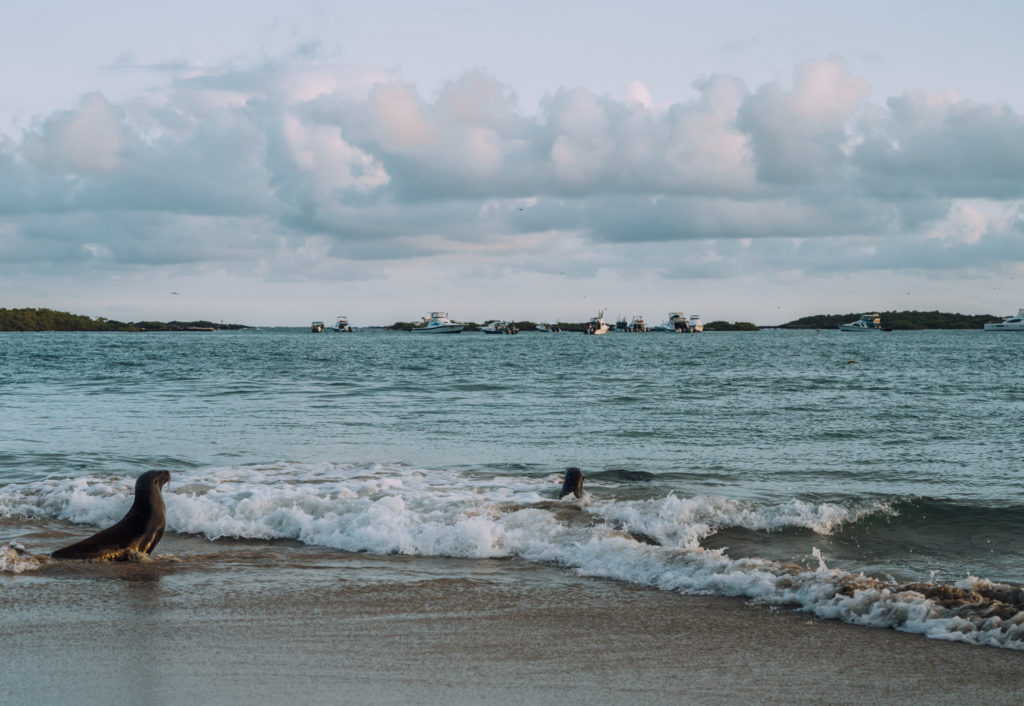 Where to Stay Isla Isabela, Galapagos Islands
We stayed at Hotel Iguana in Puerto Villamil. It was in a great location nearby flamingo lagoon, restaurants and only a 6-minute walk to the beach. They don't seem to be taking bookings right now. Some other great options:
Make sure to check out: