Nestled in the mountains of Vermont, Stowe needs to be on your Vermont bucket list. My first time visiting Stowe was on summer vacation as a kid. I loved it so much that I begged my parents to return another year. It was such a memorable trip being able to revisit it as an adult, and I loved it as much, if not more, now! It's the perfect road trip destination in any season. There are plenty of things to do in Stowe, Vermont, from exploring the picturesque town, mountain adventures and views, local shops and more. Here are things you can't miss on your trip.
How to get to Stowe, Vermont?
Stowe, Vermont, is the perfect road trip destination. You'll need a car to get around here. Downtown Stowe and Waterbury are both walkable, but you'll need a car to get there and to nearby attractions like the famous ice cream factory or hiking. Here's how far Stowe is from nearby cities:
Montreal to Stowe: 2 hours
Lake Placid: 2 hours, 30 minutes
Ottawa to Stowe: 4 hours
Boston to Stowe: 4 hours
New York City to Stowe: 6 hours
You can also fly into Burlington International Airport (BTV) and rent a car to get to Stowe, about a 45-minute drive.
Stowe vs. Waterbury Vermont
Stowe and Waterbury, VT, are so close I recommend visiting both. Stowe is a beautiful picturesque town nestled right in the mountains. Waterbury has a historic district full of restaurants to explore. I've provided some Waterbury suggestions below.
Why is Stowe, Vermont so Popular?
Stowe is known as one of the best places in America to ski in the wintertime–the village has over 100 miles of trails on its own Mount Mansfield and five other nearby mountains! In addition to skiing, many hiking and biking trails are available year-round. The charming small towns are picturesque and nestled in the mountains.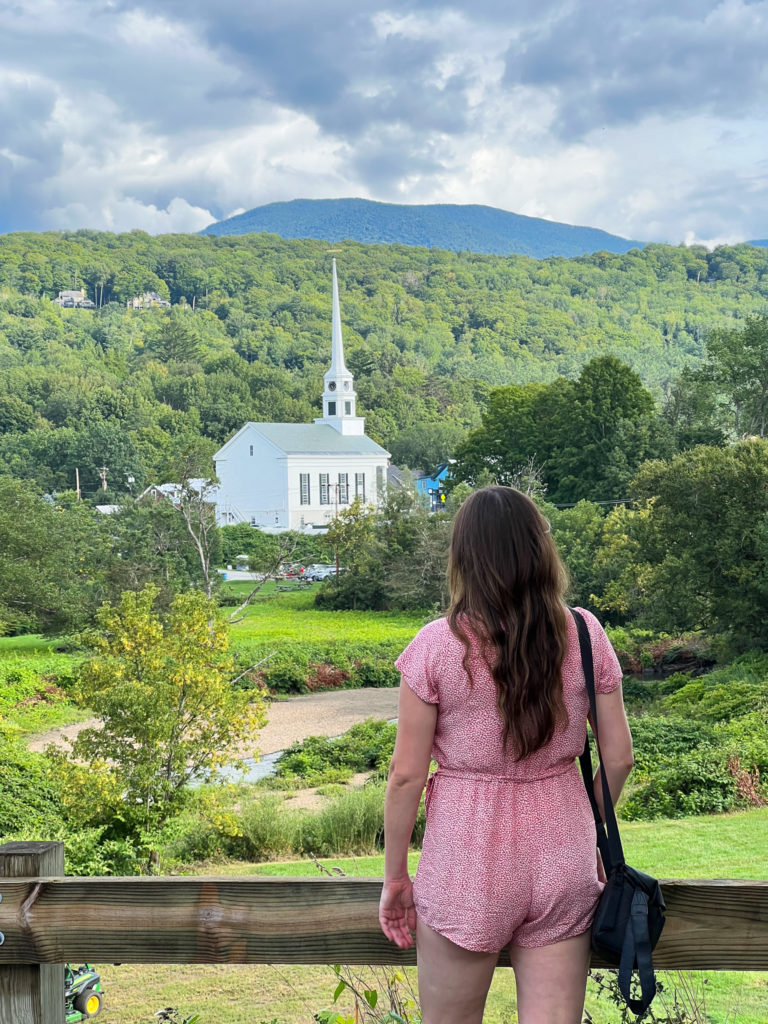 How Long Do You Need in Stowe, Vermont?
We stayed in Stowe, Vermont, for two nights (after two nights in Burlington). I recommend longer and adding more activities like hiking or skiing to your itinerary. The town of Stowe is relatively small, but there are plenty of nearby attractions you'll want to add to your trip.  
When Should You Visit Stowe, Vermont?
Summer, Fall and Winter are the best times to Stowe, Vermont. Each season has its own unique activities you can enjoy. Every season is excellent for exploring the towns of Waterbury and Stowe. Enjoy hiking and water adventures in the summer. Fall is a very popular time to see the fall colours. Winter brings lots of people to Stowe for skiing and snowboarding.
Things To Do In Stowe, Vermont
Downtown Stowe, Vermont
Downtown Stowe is a great place to shop and eat. The village is a great place to walk around and get lost in the shops, which range from quaint boutiques to high-end department stores. As you stroll through the main street, you'll notice many historic buildings like City Hall. There are also numerous restaurants, from casual diners to fine dining establishments.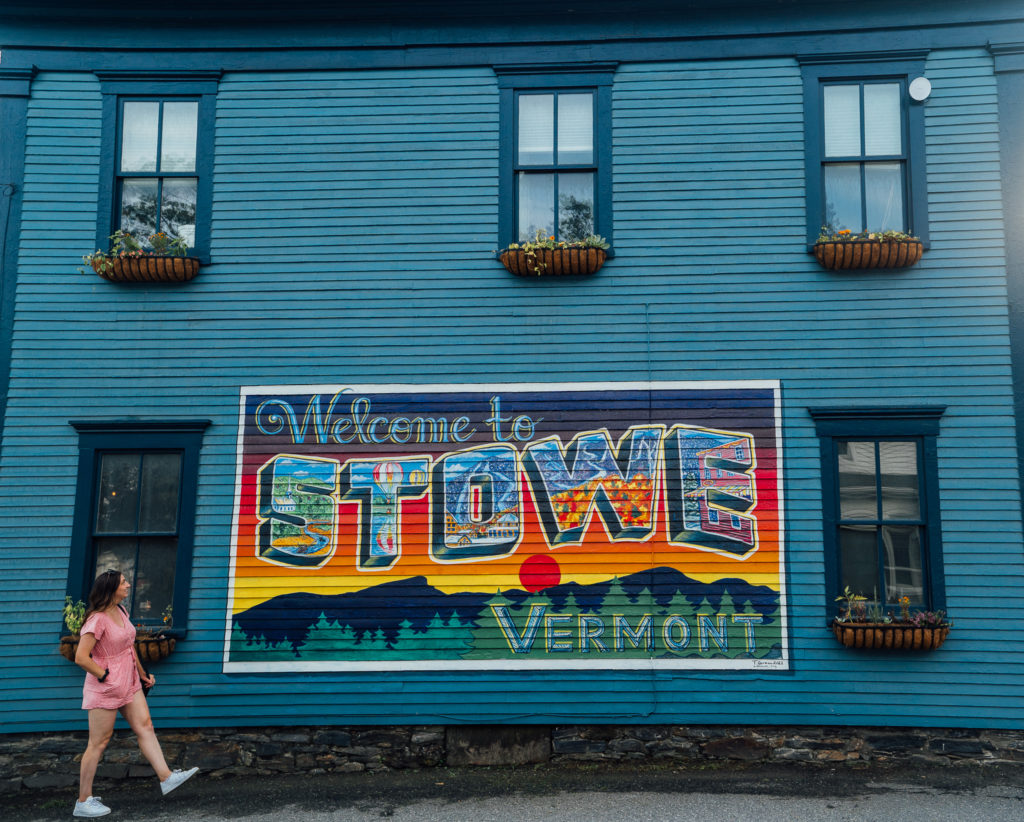 Laughing Moon Chocolates
As you stroll through the main street, Laughing Moon Chocolates creates hand-made chocolates and confections. This would be a great spot to satisfy your sweet tooth or pick up gifts.
Make sure to get your photo in front of the huge Stowe postcard mural on the side of their building.
Black Cap Coffee & Bakery
Pop into this coffee shop and bakery to start your day. They also have a great selection of local craft beers and ciders.
Picturesque Views
Take some time to wander through and soak in the views of the heritage buildings like the city hall, the white steeple church and the mountains.
This view was giving me fairy tale vibes. You'll find it in the parking lot of Tangerine & Olive. Make sure to head into the local gift shop and buy something to support them.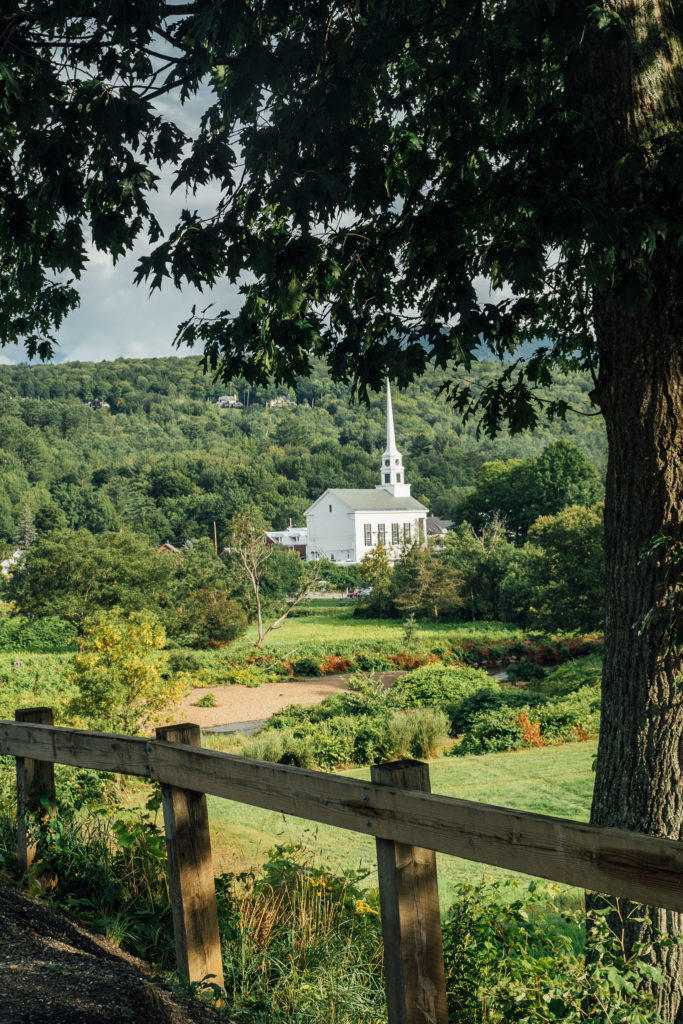 According to a few sources, Sunset Rock is a great spot to view Main Street and the white church. We heard it's a 5-minute view to the top. We were having trouble finding the starting point, and the locals we asked hadn't heard of it. I'll try again next time in Stowe. If you've been to Sunset Rock, comment below for any tips.
Mount Mansfield State Forest and Recreation Area
Mount Mansfield is the highest peak in Vermont, located within the Mount Mansfield State Forest and Recreation Area. It's a popular spot for hiking and can be seen in many parts of Stowe, including the ski resort. The mountain has many trails open all seasons, but they're especially beautiful when covered with fall colours! How to get to the top of Mt Mansfield:
Auto-Toll Road
The Auto-Toll Road was built in 1870 for horse-drawn carriages to reach the summit hotel. Today, you can drive this road to enjoy views of Mount Mansfield at the top. This road is only open to cars; you must pay to access it. The road is steep, winding, and an unpaved road will take you 4.5 miles to the summit ridge of Mount Mansfield. You can park at 3850 feet and enjoy the views. The price to use the road is $29 and then $11 per passenger.
I would consider this for another trip, but with limited time, we decided to skip it. You're only able to stop at the top for views.
Stowe Gondola
Glide up to the top of Mount Mansfield on the Stowe Gondola for incredible views. We skipped this option because it is expensive to head to the top ($40 for adults, $29 for kids). This is a good option for an easy way to the top. If you're looking to budget, I would take the auto-toll road.
Hiking Mount Mansfield
This hike has the oldest long-distance footpath in America. It starts at the base of Stowe Mountain Resort and will bring you to the top of Mount Mansfield. At the top, you'll be able to see views of Lake Champlain, the White Mountains and the Adirondacks. Be prepared before you go. This trail can be steep and rocky. Take the Auto-Toll Road or Gondola; hike options are at the top.
Stowe Recreation Path & Rail Trail
The Stowe Recreation Path is a 5.3-mile paved trail from Stowe Village to Top Notch Resort on Mountain Road. You'll notice plenty of locals using the path when you're visiting Stowe. It's used for walking, running and biking. In the winter, it's used for cross-country skiing and snowshoeing. From the Stowe Recreation Path, you can access scenic views, restaurants, shops, bridges, swimming holes and more.
Visit a Covered Bridge
Stowe Covered Bridge
A covered bridge in downtown Stowe is perfect for a photo opportunity. Stowe is written above it, and you'll get a great view from the bridge.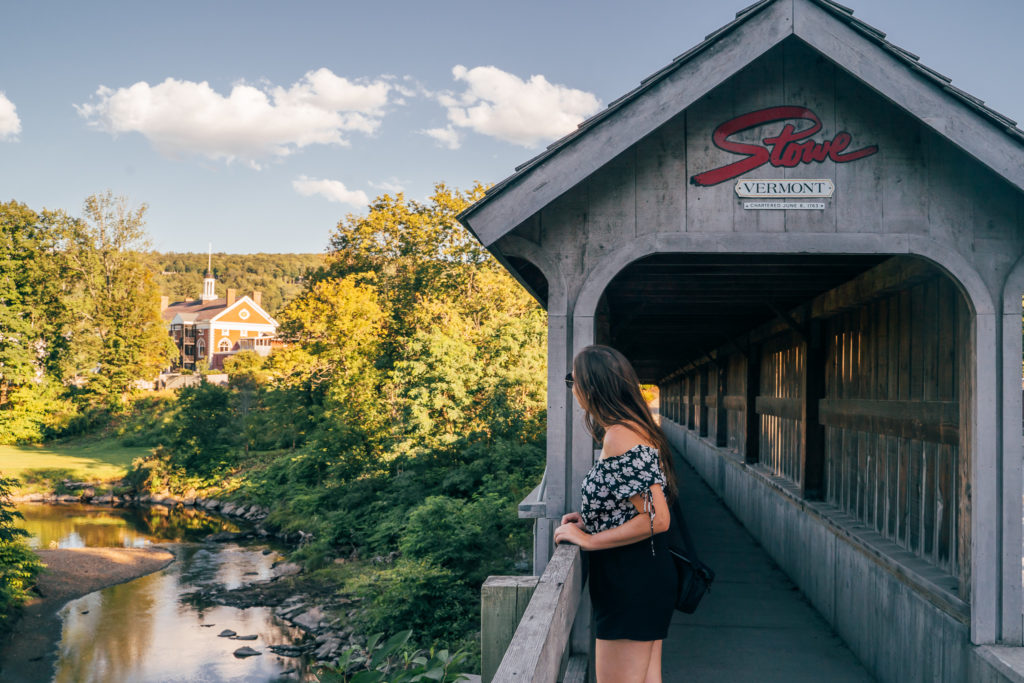 Goldbrook Covered Bridge
This is a local secret. We met some friendly locals here, and they were surprised we knew about it. They also asked if we knew the history of it. The bridge is also known as Emily's Bridge. Emily was meant to meet her lover at the bridge, and they prepared to elope. Her despair caused her to end her life when he didn't show up. It's said she still haunts the bridge today.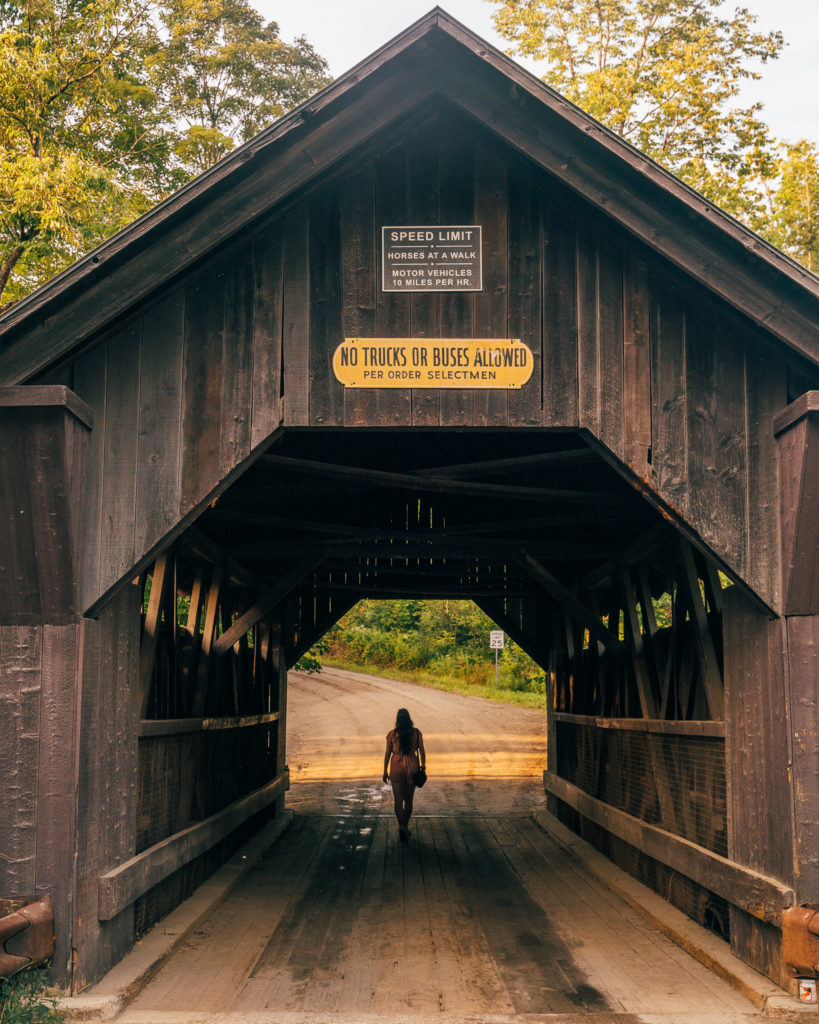 The bridge was built in 1844. Enjoy the view of the creek below. You can walk down to the water, but it's steep and muddy.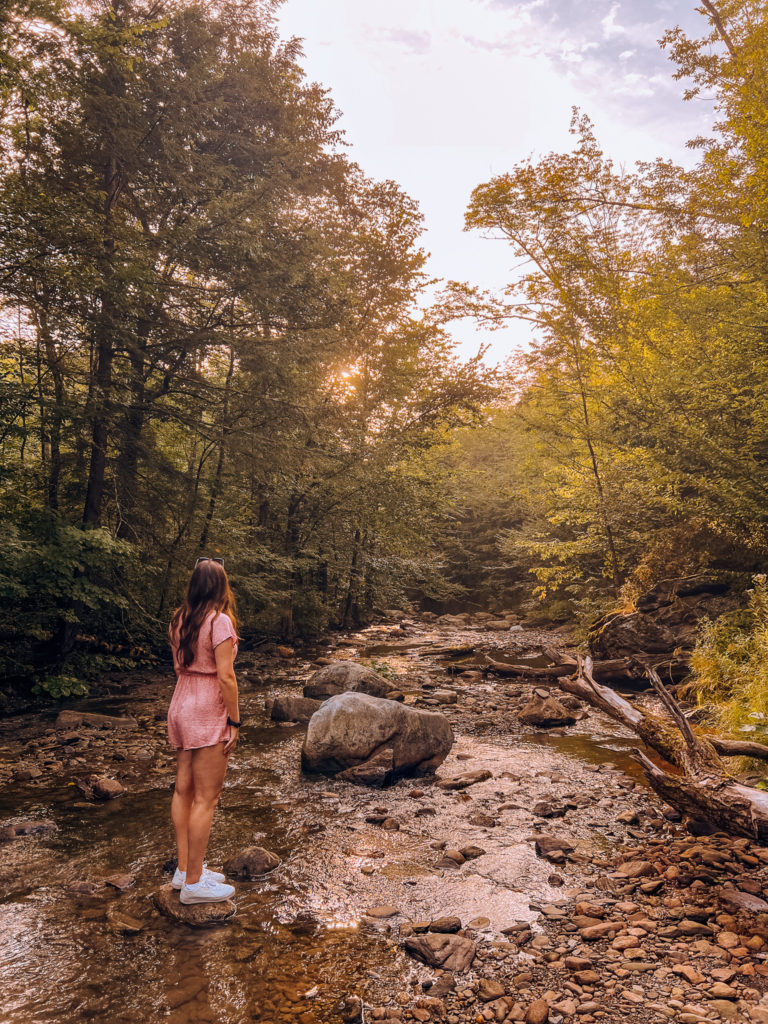 Fall in Stowe, Vermont
Fall is a popular time to visit Stowe, as the town's fall foliage is spectacular. The best time to see it depends on where you want to go and what kind of experience you want.
The peak season for viewing Stowe's fall foliage is late September through October. This is a great time to enjoy the hikes and viewpoints with vibrant fall colours.
Hit The Water at Waterbury Reservoir
Paddle through the water surrounded by mountain views at Waterbury Reservoir. No matter where you turn, you're getting incredible views. I loved spending a few hours here paddleboarding. I easily could have spent longer if we didn't have other things planned.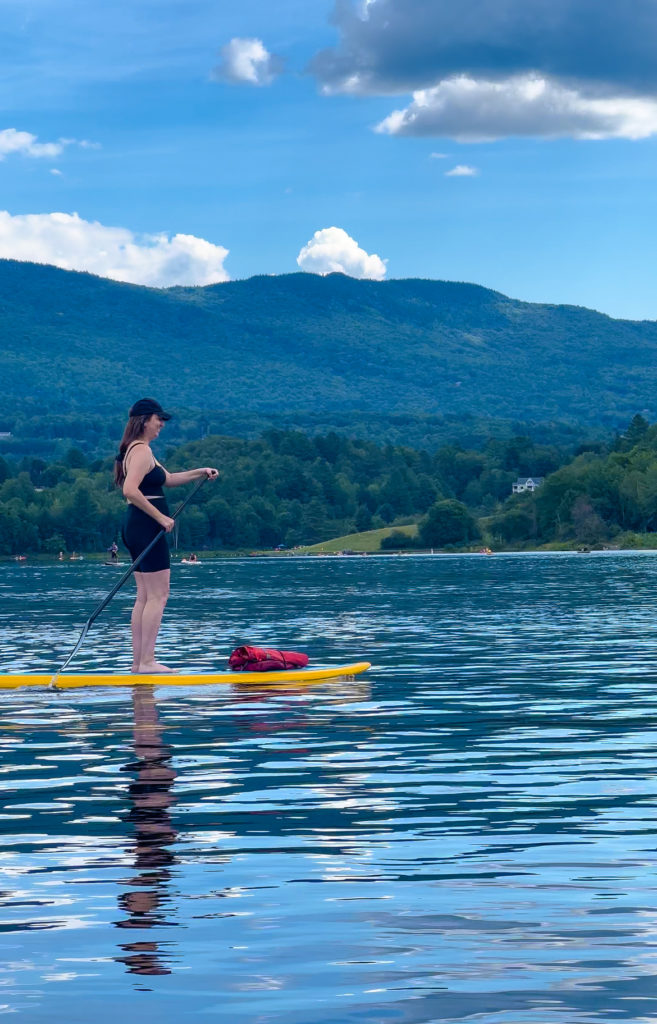 It's $4 to enter the reservoir, and they also have rentals on location for paddleboards, kayaks and canoes.
You can also camp at Waterbury Reservoir but make sure to book in advance.
Waterbury Historic District
Waterbury Historic District encompasses the town's central businesses district full of shops, restaurants and heritage buildings. We found a lot more locals here enjoying the restaurant scene and nightlife. There's a great selection of restaurants to choose from whether you're looking for something cool and hip, a local bar, live music and more.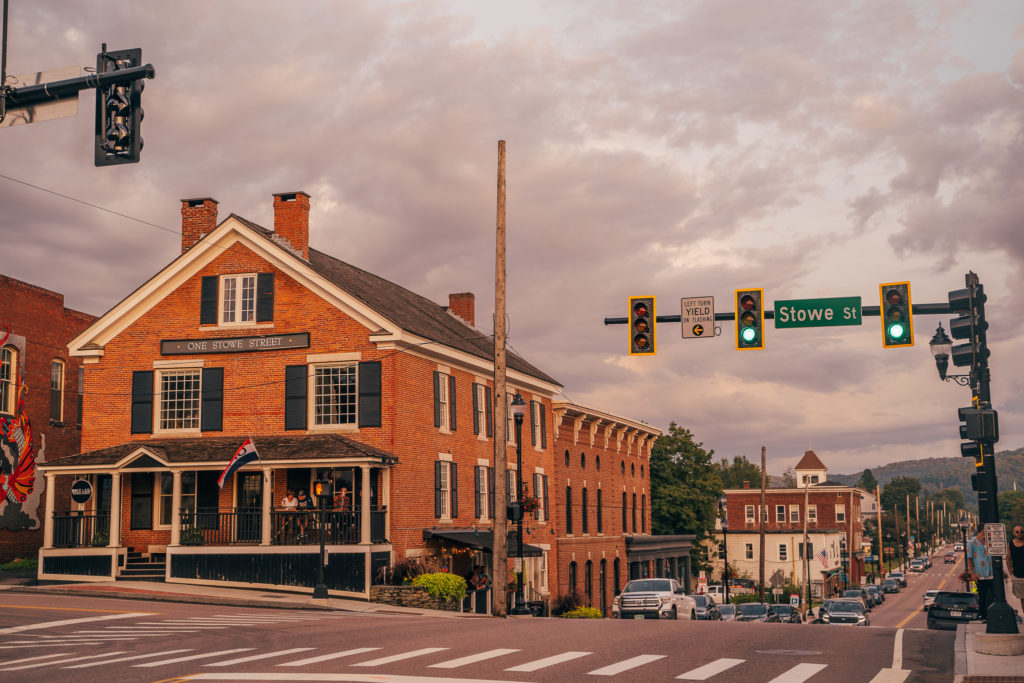 Make sure to grab dinner and drinks at The Reservoir. This spot was packed, and we were lucky to get a seat. One of the main inspirations for The Reservoir was a place to celebrate Vermont's craft beer scene. There are plenty of delicious fresh and creative dishes. I recommend their Nashville hot-fried chicken sandwich. The bartender also introduced us to Downeast Cider from Maine. We're now obsessed.
Visit The Local Shops
Ben & Jerry's Ice Cream Factory
Ben and Jerry's is known for their funky and delicious flavours. Go big or go home with their three-scoop cone and try some classic or adventurous flavours. Grab a cone at the Ben & Jerry's Factory in Stowe, Vermont.
Check out their flavour graveyard while you're there for the flavours that didn't make it. You'll see many creative flavours and can scan a QR code to learn their stories.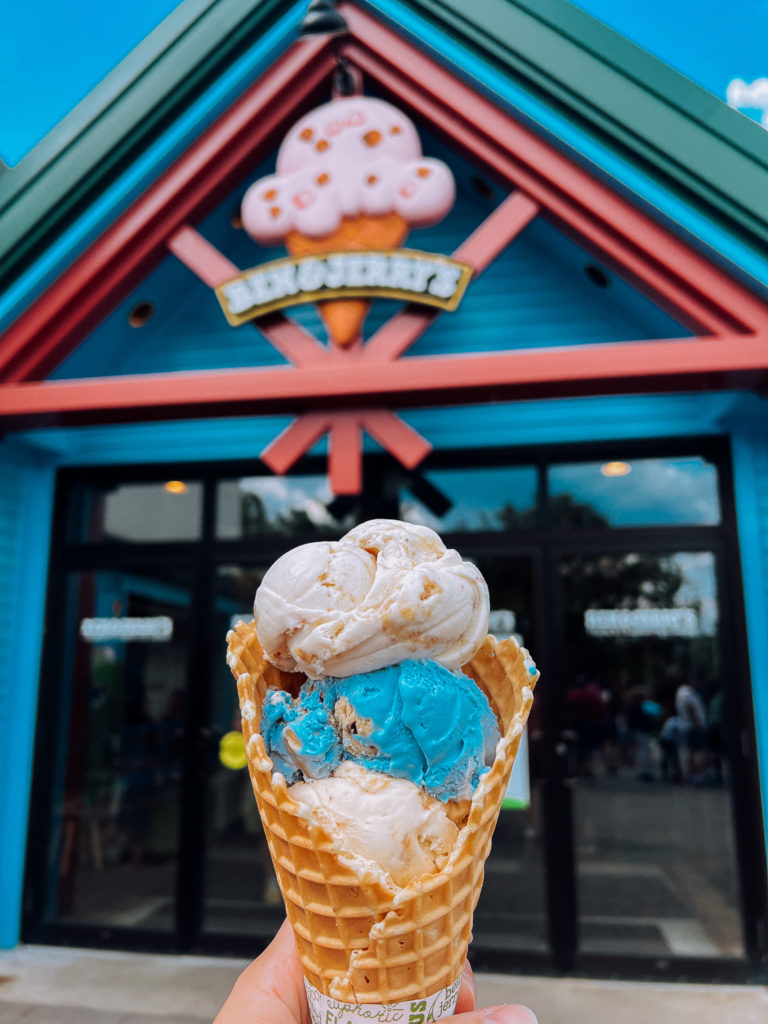 You can also do a factory tour but book in advance here. I remember doing the tour as a kid and getting a sample of ice cream with asparagus! I went back to school and told everyone. Great marketing 😉
The factory gets packed, especially on a hot day, so I recommend trying to go at an off time.
Cold Hollow Cider Mil
Cold Hollow Cider Mill offers fresh pressed apple cider, apple pie, hot cider and other seasonal treats. The Vermont farmhouse and dairy farm they operate date back to the early 1800s.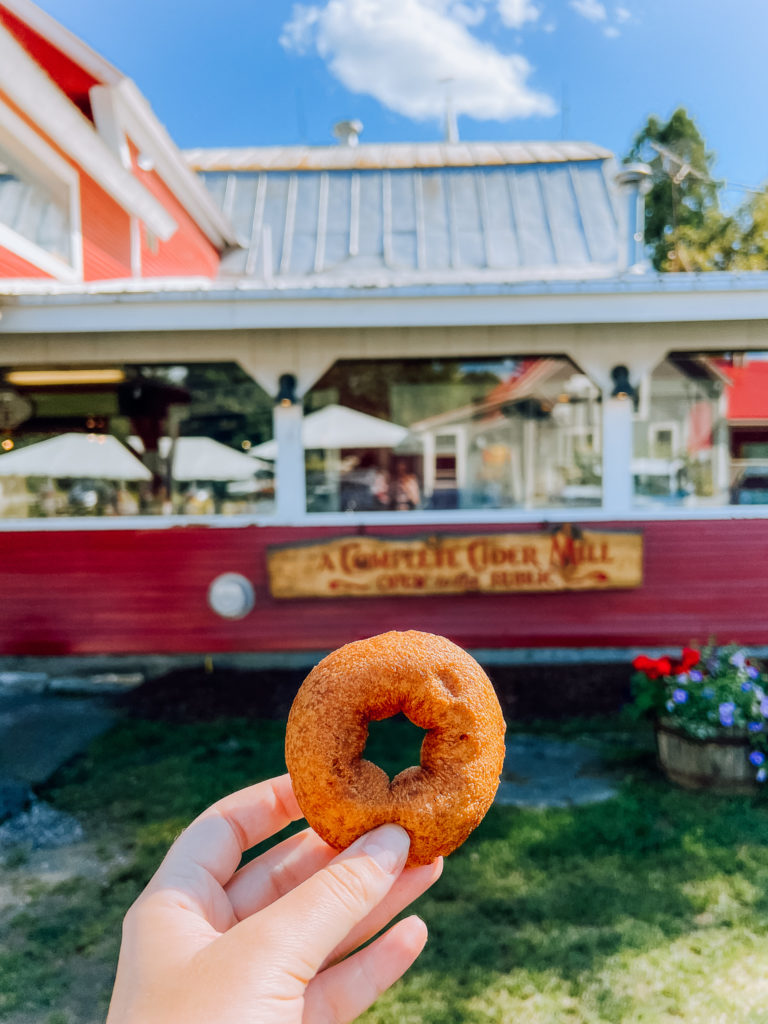 The apple cider slushy was so refreshing on a hot summer day. Enjoy your treats on their patio with mountain views. At the back of the shop, you can try apple cider samples. Make sure to try their apple cider donuts too. Next door, you can try their hard cider at their tasting room, which is open daily from 11 am to 4 pm.
Cabot Cheese
Cabot Cheese is award-winning artisanal cheese. They've been making cheese for over 100 years! You can tour their facility or visit their store to sample famous products. They have an excellent selection of fresh cheeses and other dairy products like butter or yogurt. You'll also find plenty of souvenirs here too!
Hiking in Stowe, Vermont
Stowe, VT, has many incredible hikes ranging from easy to challenging. We were tight on time, but I'd like to do more of this on a future trip. Here are some popular hikes on my radar:
The Long Trail
This classic hike runs from Massachusetts to Canada along the Appalachian Mountains. I'd love to visit the Boardwalk at Barnes Camp along the trail with an accessible boardwalk where you can enjoy views of scenic vistas of Mt. Mansfield, Spruce Peak and beaver-built wetlands.
Camel's Hump
This challenging trail takes hikers up steep terrain with panoramic views over Lake Champlain toward Mount Mansfield (Vermont's highest peak).
Mount Mansfield
This is the highest peak in Vermont and offers a challenging hike with stunning views. Several trails to the summit include the Long Trail, Sunset Ridge Trail, and Laura Cowles Trail.
Stowe Pinnacle Trail
This is a 3.6-mile round-trip hike with a moderate to challenging difficulty level. The trail offers panoramic views of the surrounding mountains and valleys.
Bingham Falls
This is a short and easy hike that leads to a beautiful waterfall. The trail is only 0.3 miles round-trip and is perfect for families with young children.
Where To Stay in Stowe, Vermont
There are plenty of options of where to stay in Stowe, whether you're looking for something more central or a resort. Here is a quick rundown:
Best Western Plus Waterbury-Stowe
We stayed at the Best Western Plus Waterbury-Stowe. It had a great location between Stowe and Waterbury and was close to the Ben & Jerry's Ice Cream Factory. You can enjoy mountain views from the gondola just outside the entrance or take the trails and find a covered bridge on the property.
Trapp Family Lodge
Not only is this one of Stowe's best hotels, but Trapp Family Lodge is a must-visit for any Sound of Music fan. In the early 1940s, the Trapp Family toured Vermont as the Trapp Family Singers. They settled in Vermont, where the mountains reminded them of Austria. They began welcoming guests in 1950, and the lodge is still family-owned. The grounds are stunning and provide beautiful views of the mountains.
If you aren't staying at the Trapp Family Lodge but are interested in the history, check out von Trapp Brewing. This European-esque beer hall is also nestled in the mountains. Enjoy a brew and pretzel on their beautiful patio in the warmer months. Guests of Trapp Family Lodge can take the shuttle to the brewery.
In the summer, enjoy Concerts in the Meadow at Trapp Family Lodge with a picnic under the stars while enjoying views of the scenic Nebraska Valley. Find more events at Trapp Family Lodge here.
Add on Burlington, Vermont, for the perfect mix of mountains, water adventures and city life.