Ambergris Caye is Belize's largest island and home to world-class diving, luxury resorts, delicious restaurants and fusion cuisine, beaches, and more. Whether you're looking to splurge or budget, there's something for everyone on Ambergris Caye. Here are the best things to do in Ambergris Caye, Belize.
Tip: Check out my Belize Guide for things you need to know before visiting.
How To Get To Ambergris Caye?
Ambergris Caye is an island located in Belize, and the best way to get there depends on your starting point. Here are some common ways to get to Ambergris Caye:
By Plane to Ambergris Caye
The easiest way to get to Ambergris Caye is to fly into San Pedro Airport. You can take a domestic flight from Belize City or Cancun, Mexico.
By Boat to Ambergris Caye
The cheapest way to get to Ambergris Caye is by boat from Belize City or Caye Caulker. We used our roundtrip tickets from our first boat and showed up when we wanted to take the ferry; no need to pre-book. We took the boat from Caye Caulker, which took approximately 45 minutes.
How To Get Around Ambergris Caulker?
Ambergris Caye is the biggest Caye in Belize. The most popular method of transportation is a golf cart. San Pedro is walkable, but you'll need a golf cart for further excursions. We booked through our hotel for 24 hours and did all the far activities within that timeframe. With everyone driving golf carts, it can be hard to find yours by the end of the day. We were advised to tie a scarf around it so you can instantly spot yours. Luckily it wasn't too busy when we drove the golf cart around.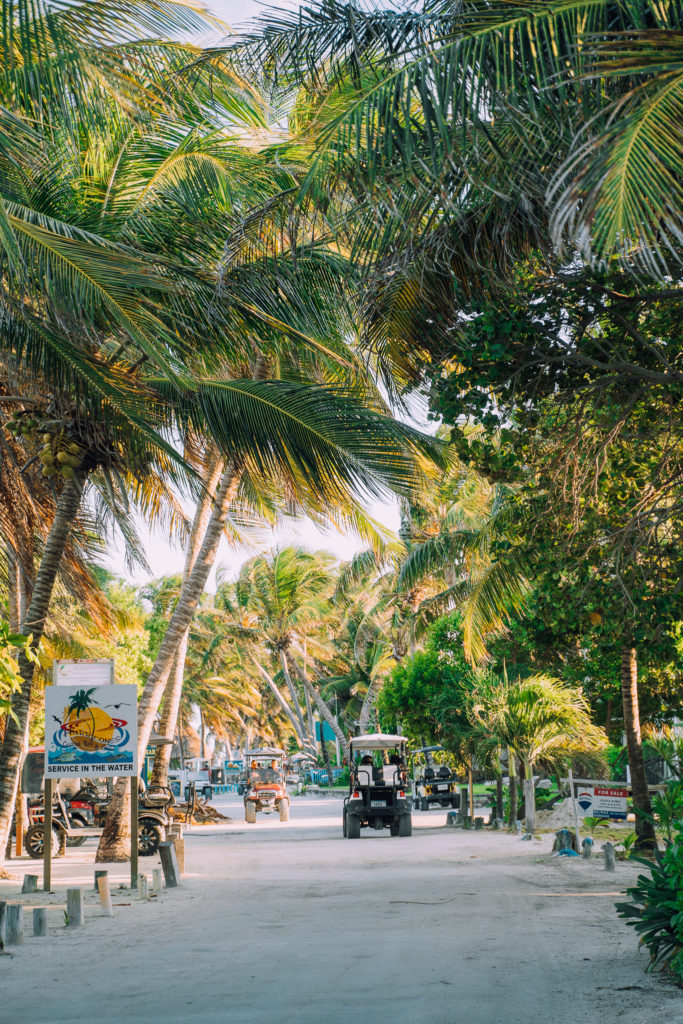 Is Ambergris Caye Safe?
Ambergris Caye is bigger than Caye Caulker, but the locals are super friendly. I felt safe as we explored this Caye Caulker. No matter where you visit, travel smart. We weren't out late at night.
Some locals saw us struggling with our suitcases in the sand and instantly offered us a ride on their golf court with no expectations but to help. We still gave him money to get a drink later for the kind deed.
Things To Do In Ambergris Caye
Explore the World's Second Largest Barrier Reef
I preferred the snorkel tours from Caye Caulker, but Ambergris Caye is a better launch pad for tours like the Great Blue Hole or Mexico Rocks. For spots like Hol Chan Marine Reserve, Caye Caulker is closer and cheaper to do it from. For places like Mexico Rocks, Ambergris Caye is a better option. Here are some of the most popular tours: 
Great Blue Hole
The Belize Blue Hole is a giant underwater sinkhole located off the coast of Belize in Central America. It is also known as the Great Blue Hole and is considered one of the most remarkable natural wonders in the world.
The sinkhole is circular, measuring approximately 300 meters (984 feet) across and 124 meters (407 feet) deep. It was formed during the last ice age when the sea level was much lower, and the area was a limestone cave system. The cave system flooded and collapsed as the sea level rose, creating the Blue Hole.
The Belize Blue Hole is a popular destination for divers and has abundant marine life, including various species of sharks and other fish. The Blue Hole is better for diving than snorkelling.
If you're interested in diving but aren't certified, you can get diving certified in Belize. We met a couple who did the coursework at home and were doing their final test in Belize, so it didn't eat into their trip.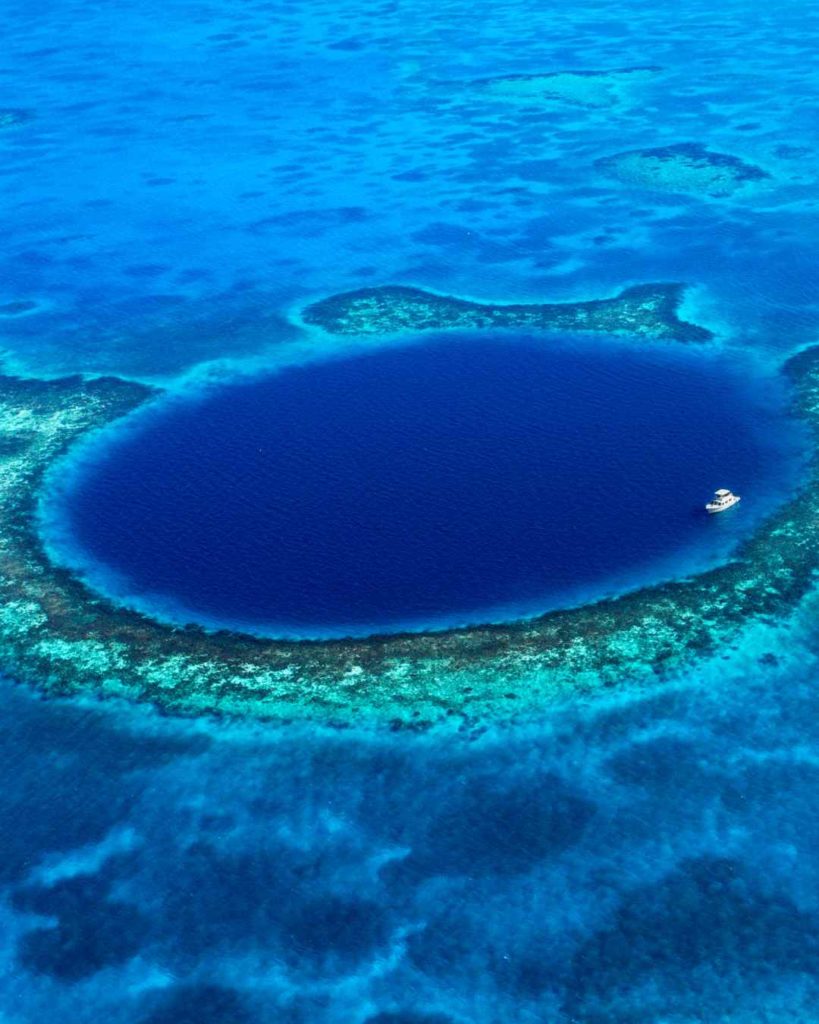 Get a unique vantage point of the Great Blue Hole with a helicopter tour. It wasn't in our budget for this trip, but I wouldn't do this in the future.
Mexico Rocks Marine Reserve
The Mexico Rocks Marine Reserve is a protected marine area off the coast of Ambergris Caye in Belize. It's a shallow patch reef with an average depth of about 6 feet (2 meters), and it is home to a diverse array of marine life, including colourful coral formations, sea fans, sponges, and over 100 species of fish.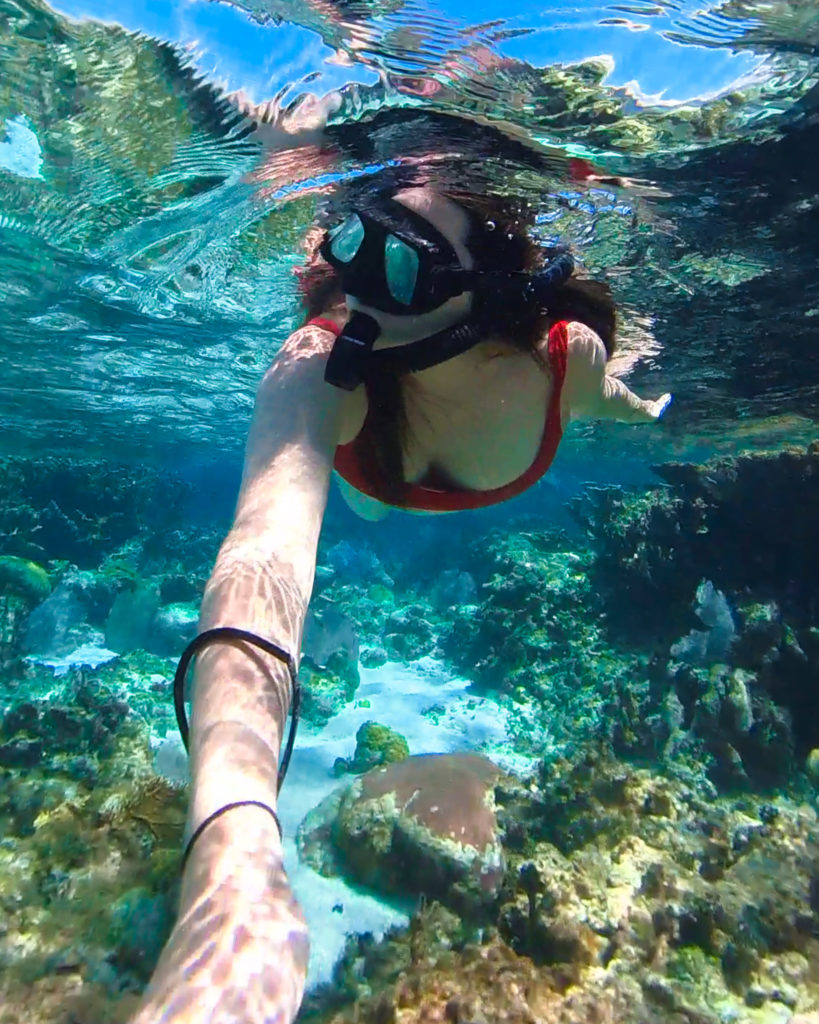 The area is popular for snorkelling due to its calm waters and easy accessibility. The Belizean government protects the Mexico Rocks Marine Reserve to preserve its unique marine ecosystem for future generations.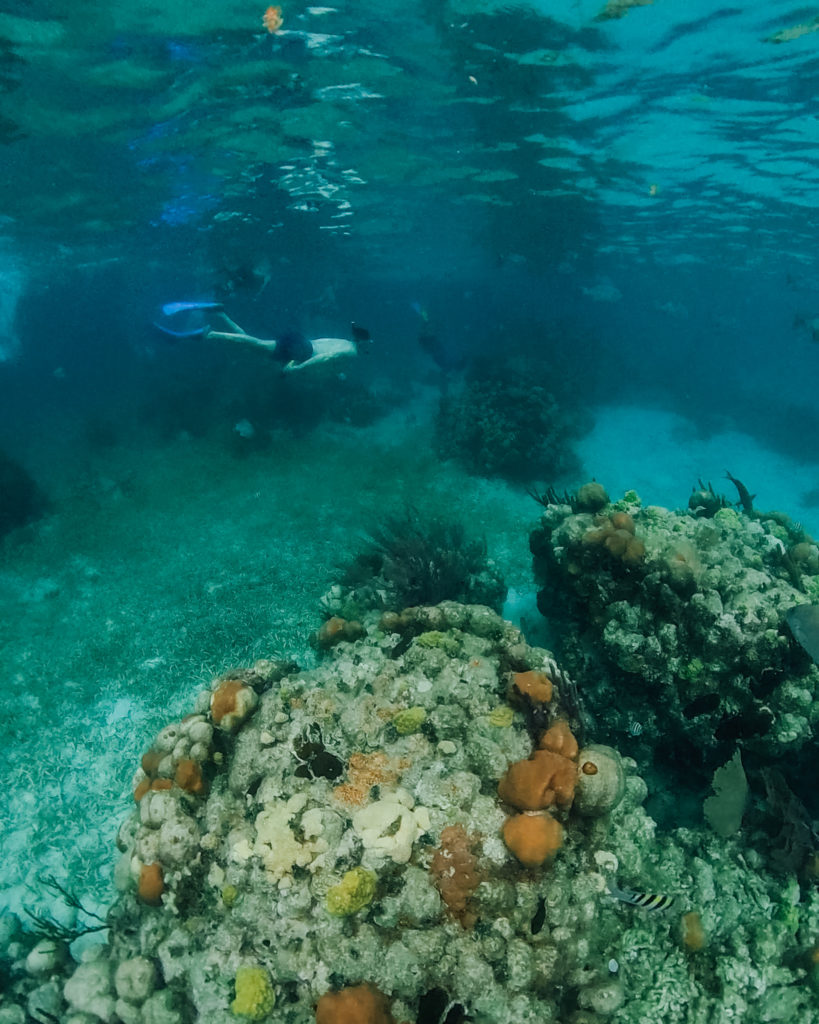 It was fun to swim around and see what we could find hidden in the coral. Our guide helped point out different types of sea life and fish. If you're strapped for time, I would focus on the Hol Chan Marine Reserve tours.
Hol Chan Marine Reserve & Shark Ray Alley
This was my favourite tour of the trip. We loved it so much that we did it again from Ambergris Caye but preferred the company of Caye Caulker. Check out my Caye Caulker post for a full run-down and photos of what to expect here.
Truck Stop
Make sure to visit Truck Stop while you're on Ambergris Caye. It's a popular gathering spot and entertainment hub located on the north side of Ambergris Caye. It's a unique outdoor venue with a collection of colourful food trucks in containers serving delicious international cuisine, a full-service restaurant and bar, and various entertainment options.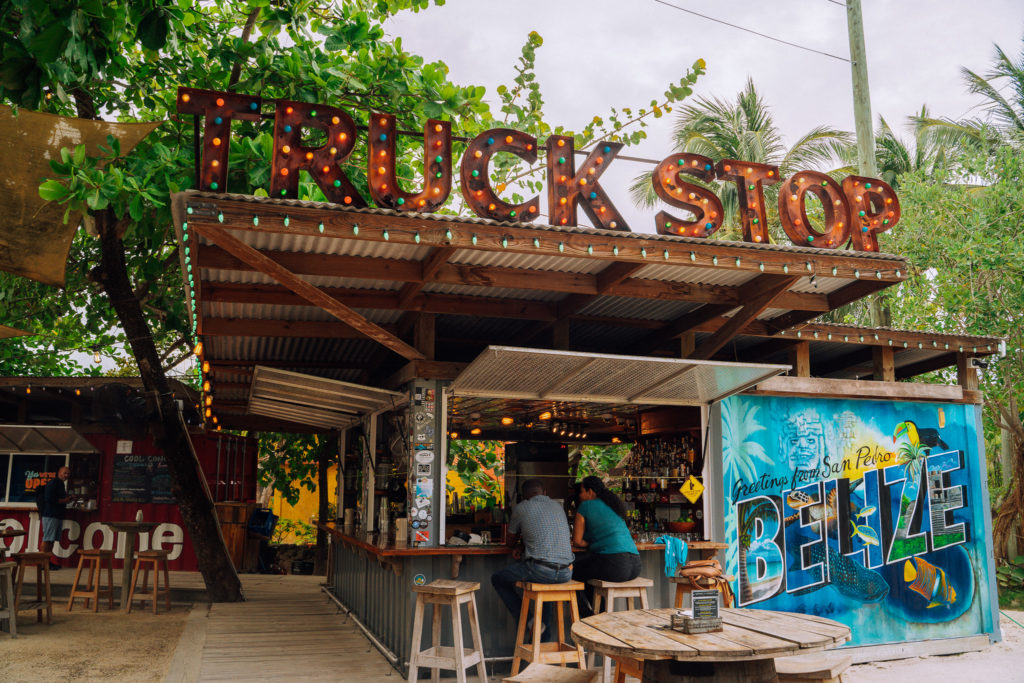 The food trucks at Truck Stop serve a range of mouth-watering dishes, including tacos, pizzas, burgers, seafood, and more. Make sure to get the birria tacos!
We loved coming here at night. Plenty of things keep you busy here, from a pool to games to scenic seating by the ocean. They also have themed nights from outdoor movies, live music, trivia nights and more.
You'll need a golf cart to get to Truck Stop so I recommended doing this the same day as Secret Beach as most rentals are for 24 hours.
Visit Secret Beach
Secret Beach is a not-so-secret beach with restaurants and bars perfect for spending a day by the water. The beach is characterized by its crystal-clear turquoise waters, soft white sand, and swaying palm trees.
Secret Beach offers a range of amenities, including bars and restaurants serving fresh seafood and tropical cocktails, beach umbrellas and loungers, and water sports activities such as jet skiing and parasailing.
Visitors can spend the day soaking up the sun, sipping cold drinks, and enjoying delicious food along the Caribbean Sea. Walking along the beach, you'll notice that some spots are more beach club vibes, and some are more family-friendly.
You'll need a golf cart to get here. We were warned it's bumpy but added to the fun. It takes around 40 minutes to get to secret beach. It's fun to soak in the scenery.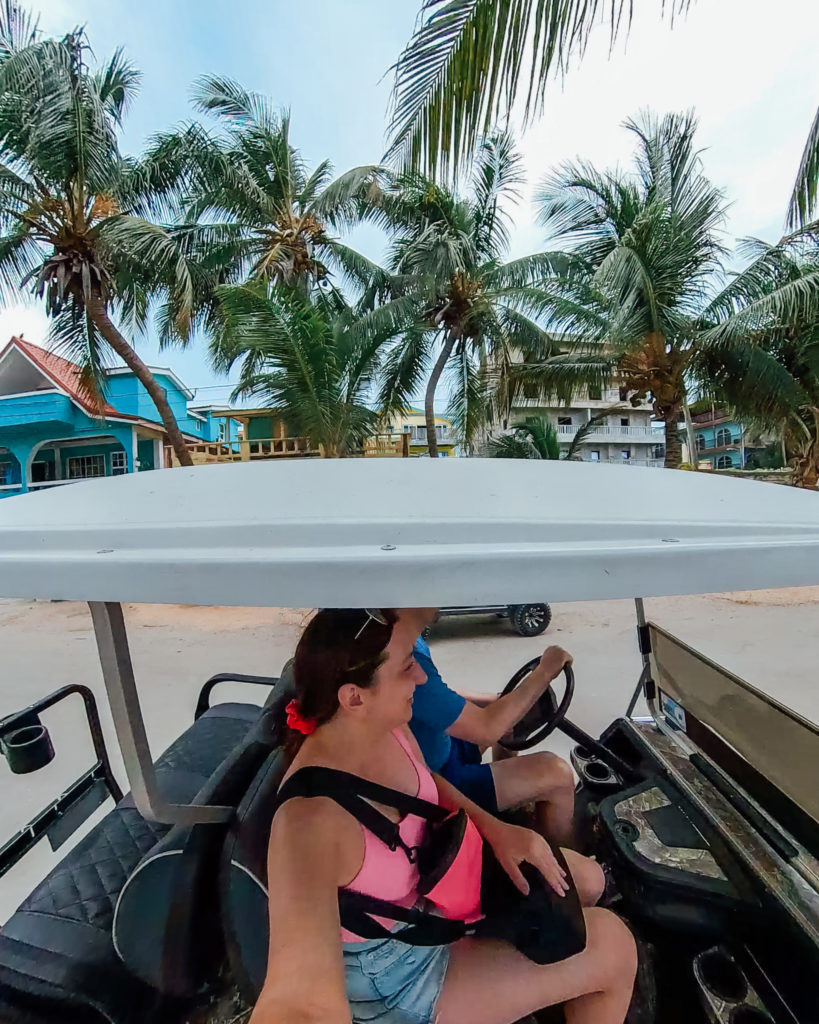 Best Restaurants Ambergris Caye
Ambergris has many restaurants, from Belizean dishes to fusion cuisine to American-style restaurants.
Neri's Tacos
If you go to one spot on your trip, make sure it's Neri's Tacos. This is a local favourite! You know it's good when the locals are lined up for it.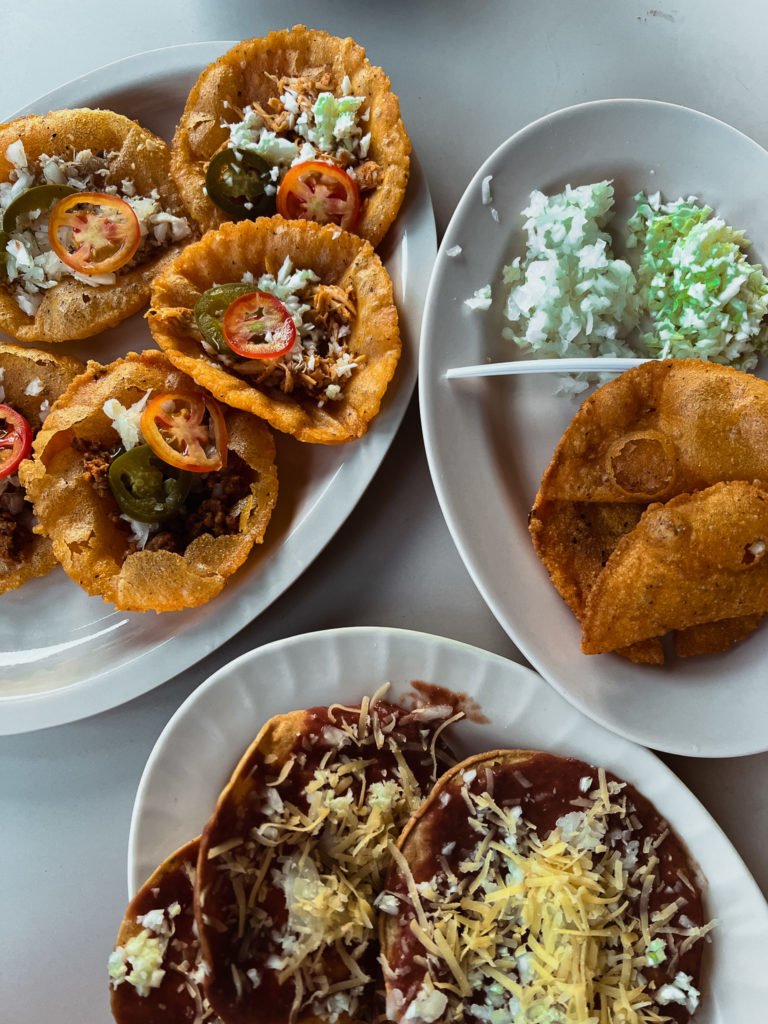 We tried breakfast and dinner here, and it did not disappoint. The prices can't be beat, and everything was so delicious! We ended up here multiple times because it was so good.
Elvi's Kitchen
We didn't have time to dine here, but it's definitely on my list for next time. Elvi's Kitchen has been serving Ambergris Caye for over 35 years. Elvi's is known for serving authentic Belizean dishes in a unique setting with local music. Join them for their Mayan Feast, where you can try multiple traditional mayan dishes to live music.
Palapa
Ambergris Caye has a lot of Ameriacn vibe restaurants. We tried to eat at local spots for most of the trip but ended up here between tours. It's a great spot to have a drink by or in the water on one of their tubes. We even saw a stingray float by while we were there. I also enjoyed their ceviche that comes in a shell. I couldn't get enough ceviche when I was in Belize.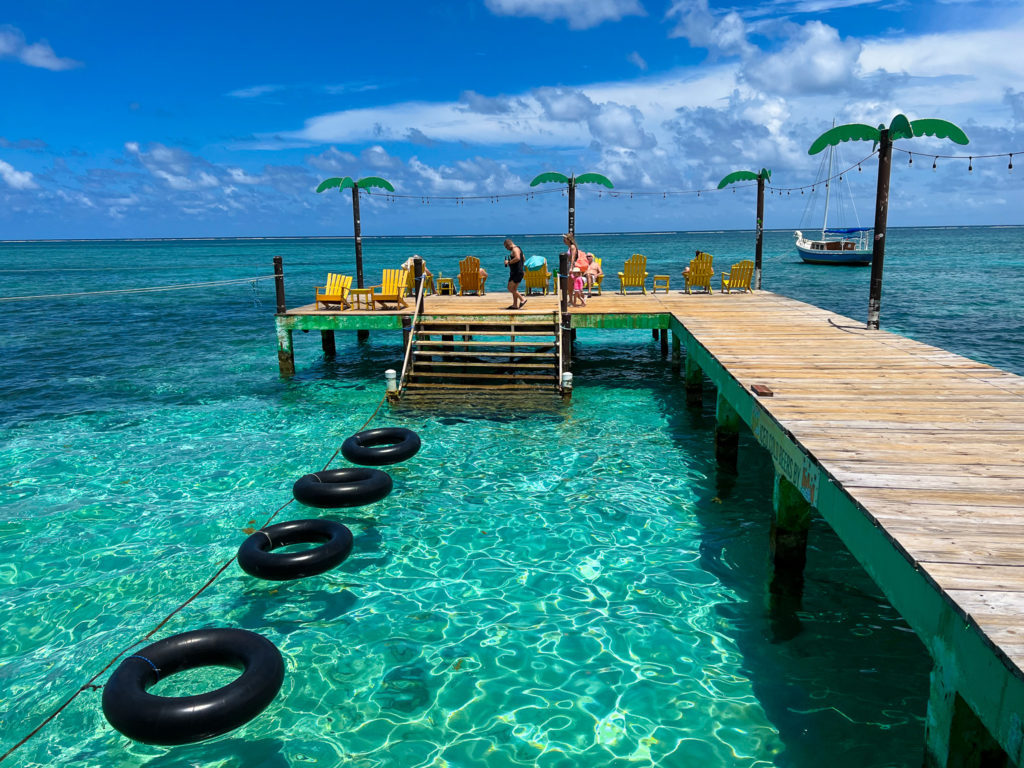 Where To Stay in Ambergris Caye, Belize
Whether you're on a budget or want a luxurious resort, there are plenty of accommodation options in Ambergris Caye.
Hotel Del Rio
We stayed at Hotel Del Rio after a positive review from a friend who recently stayed here. The rooms were comfortable and had air conditioning. I booked with booking.com, and we even got an upgrade for no additional cost.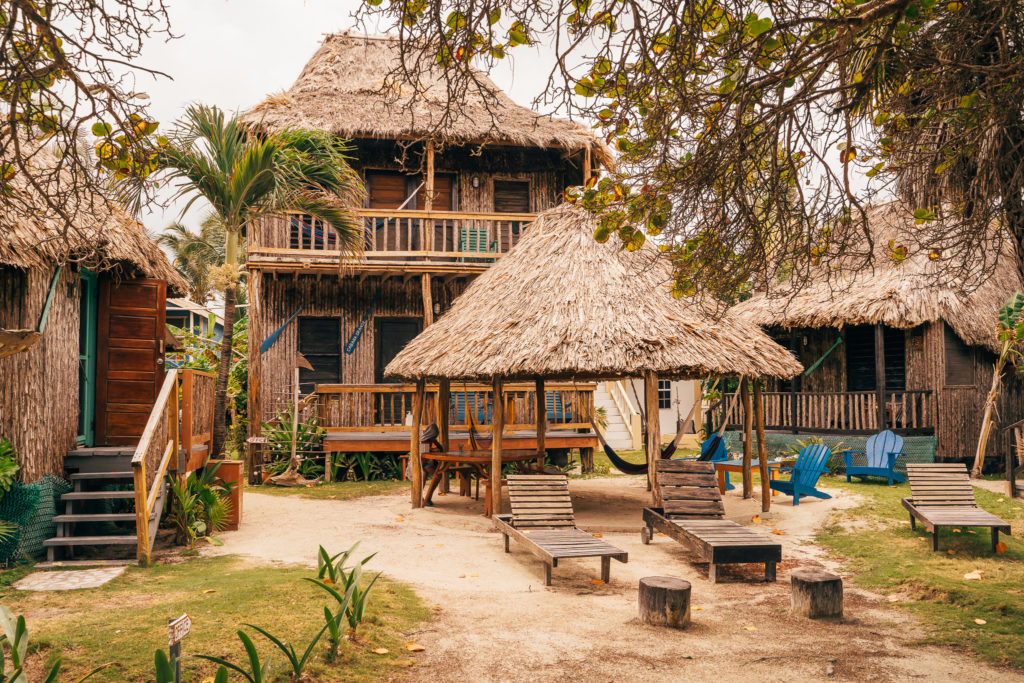 It had a great location in San Pedro and less than 1km from downtown. It's located on the Boca Del Rio beachfront giving you great ocean views. We were able to walk a lot of places from the hotel. You're nearby busier streets with convenience stores, etc., but it feels like a lovely oasis away from that.
I loved lounging in the hammocks and enjoying the view of the water. It was the perfect place to journal after a day of adventures.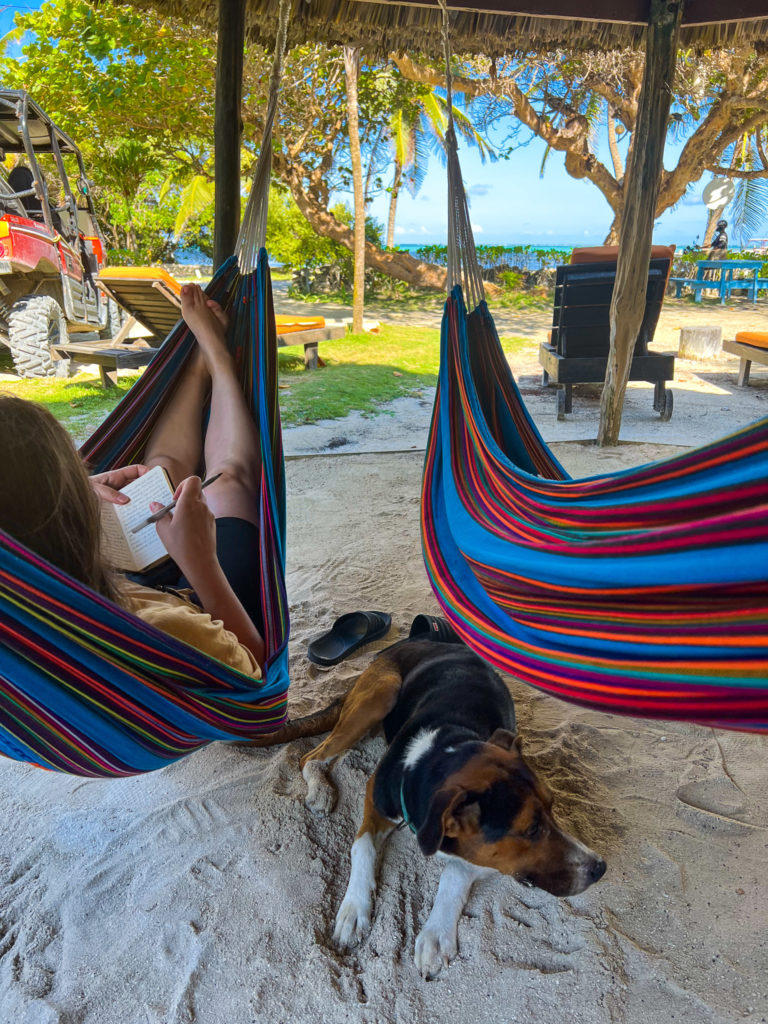 I hope this helps spark some ideas for your trip to Belize 🙂