From the friendly locals, slow island vibes and access to one of the best barrier reefs in the world, Caye Caulker needs to be on your Belize bucket list. Here are the best things to do in Caye Caulker and everything you need to know before you go. 
Check out my Belize Guide for things you need to know before visiting.
Why You Need To Visit Caye Caulker
This small island stole our hearts. Caye Caulker has a "go slow" motto that you'll instantly feel while you walk around the island. The locals will often use it in place of "no worries." You feel like you're instantly friends with the locals or other travellers everywhere. Dining feels like backyard barbeques with friends. My travel style is usually fast-paced, but I quickly adapted the go-slow attitude. As we were leaving, a friendly and funny local said, "thank you for coming and thank you so much for leaving" because people visit and never want to go, some even moving to the island. The locals are genuine and kind people.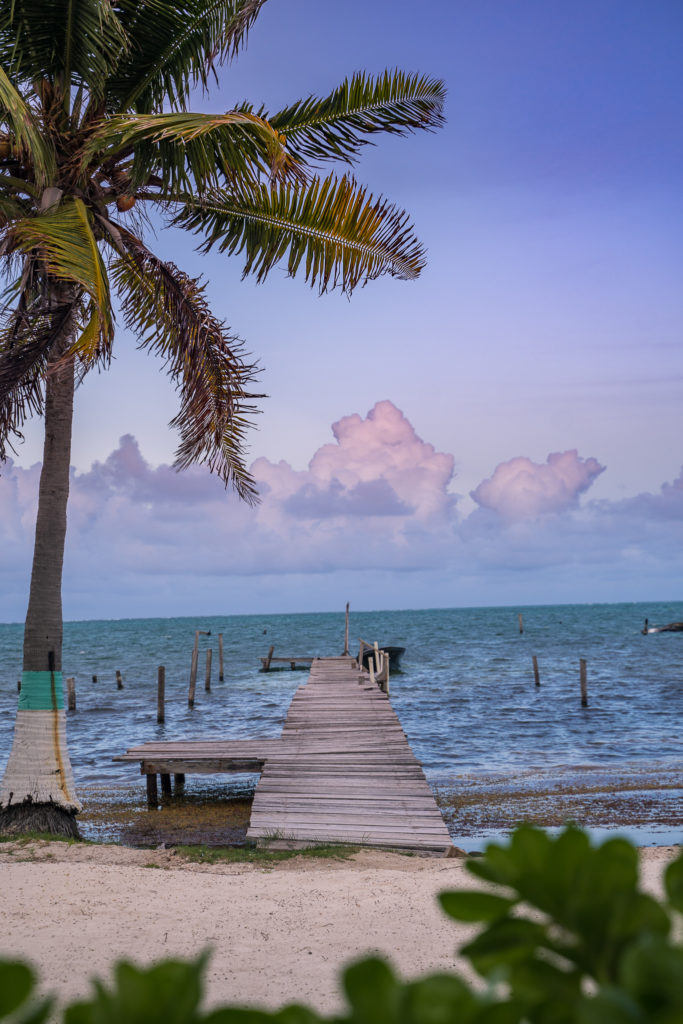 It's one of the bigger islands but still much smaller than Ambergris Caye. If I only had time to visit one caye, I would choose Caye Caulker.
How To Get To Caye Caulker
Caye Caulker is a small island located off the coast of Belize. There are several ways to get to the island:
By Plane to Caye Caulker
The most convenient way to get to Caye Caulker is by flying to Belize City and then taking a short flight or boat ride to the island. Tropic Air and Maya Island Air operate several daily flights from Belize City to Caye Caulker. Once you arrive at the island, you can take a taxi or golf cart to your hotel.
By Boat to Caye Caulker
This is how we got to Caye Caulker. We took the water taxi from Belize City to Caye Caulker. The boat ride takes about 45 minutes, and there are several boats per day. The boat leaves from the water taxi terminal in Belize City. We took a cab here from the airport. You can buy your ticket when you arrive at the ferry. I sometimes get nauseous on boat rides, but I was fine for this one. I expected it to be more like the boats in Colombia, but it was a smooth ride.
You can also take a water taxi from Ambergris Caye to Caye Caulker and vice versa. It takes approximately 45 minutes.
How To Get Around Caye Caulker
Once you arrive in Caye Caulker, you can explore the island on foot, bike or golf cart. Caye Caulker is small enough that we walked everywhere, even with our luggage, when we got off the ferry. Nothing is ever too far.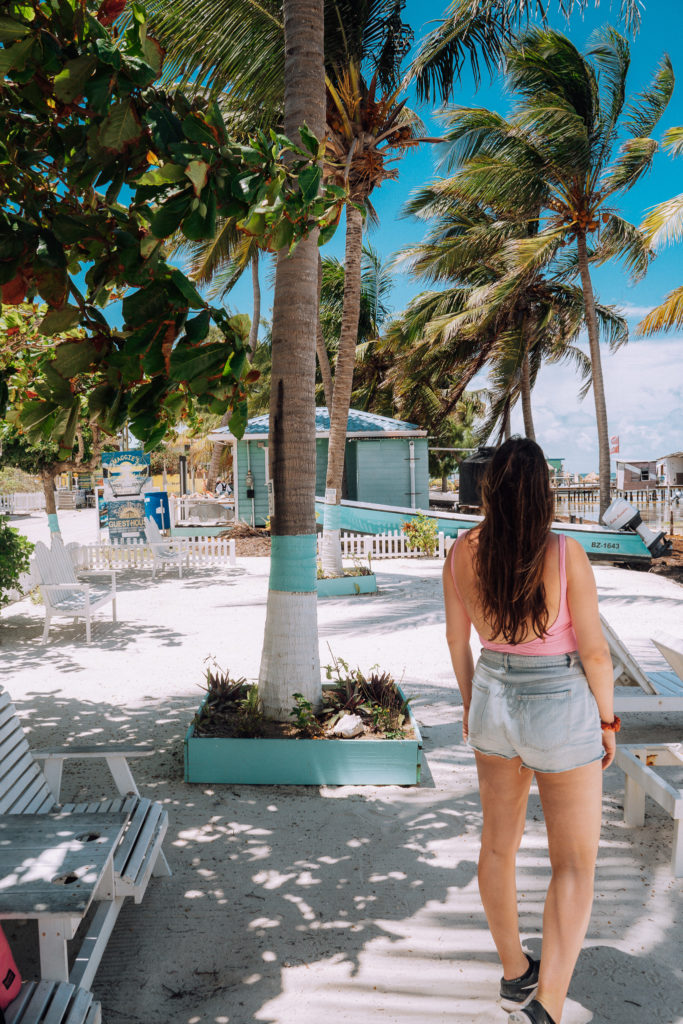 You can rent gold carts of Caye Caulker, but we didn't find this necessary because everything is so close. We saved our golf cart budget for Ambergris Caye.
Is Caye Caulker Safe?
Yes! One of the first things I noticed was how friendly and nice everyone was. I would have felt comfortable as a solo traveller, and it would be easy to make friends here.
How Long Do You Need On Caye Caulker?
We went for three nights, and it was plenty of time. I recommend 2-3 nights if you visit other parts of Belize. You can also make Caye Caulker the base for your trip if you focus on the Belize Cayes.
Things To Do in Caye Caulker
"Go Slow" in Caye Caulker
This is the island's motto; you'll see it come to life throughout your trip. The locals will remind you to go slow throughout your trip, and they will use it instead of saying, "no worries." My travel style is usually fast-paced, and Caye Caulker was the first place I felt comfortable going slow. There's something about this place and the people.
You'll notice travellers taking on the same attitude. Everyone is willing to stop and chat, and no one seems in a rush. It's easy to walk around the island and make new friends.
Explore the World's Second Largest Barrier Reef
Enjoy life under the sea at one of the world's best diving locations. If you don't dive like me, it's also a fantastic spot for snorkelling. This was the main reason I wanted to go to Belize and already want to go back.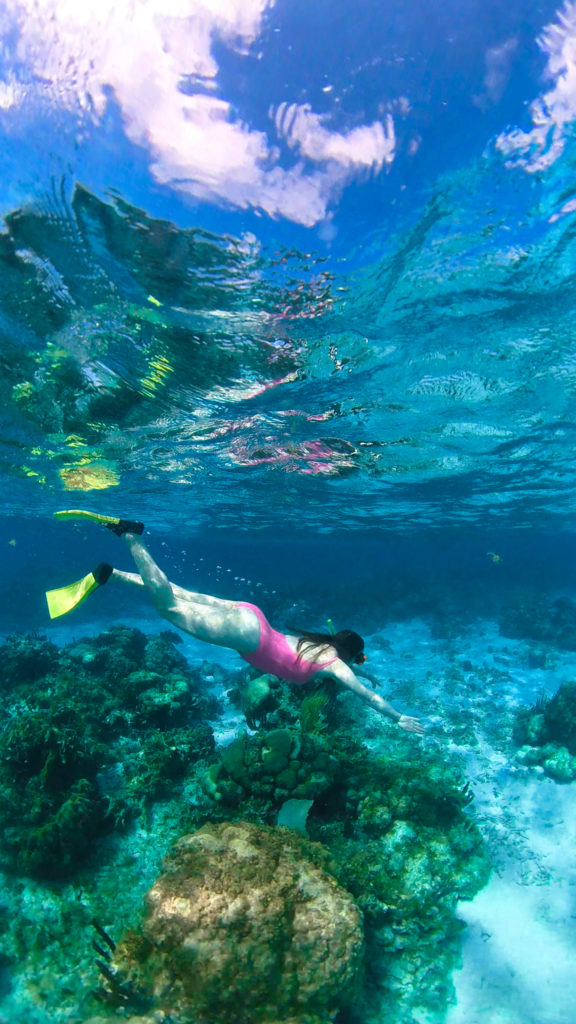 I've swam in the Great Barrier Reef in Australia, and what's unique about the Belize Barrier Reef was the diversity of underwater life we saw from manatees, sea turtles, fish, underwater caves, sharks and more. The best way to experience this is with a tour. It includes transportation, admission to certain places and more.
I didn't get seasick, but I did swallow lots of saltwater. Someone on our tour gave us some berry-flavoured mints to help get the taste out of our mouths. This will now be a staple on underwater trips.
Go On A Snorkel Tour
There are plenty of companies offering snorkel tours from Caye Caulker. We went with Star Tours Belize, which operated out of our hotel. There are different tour options, but the most popular offering from tour groups is the 7-stop tour we did, bringing us to the main attractions.
Captain John was in great spirits and cracked many jokes throughout our trip. They were able to spot things like hidden stingrays or underwater tunnels. The tour includes a guided tour, park fees, fresh fruit, water, lunch (we had bbq chicken and coconut rice), rum punch and snorkel gear for $90 USD.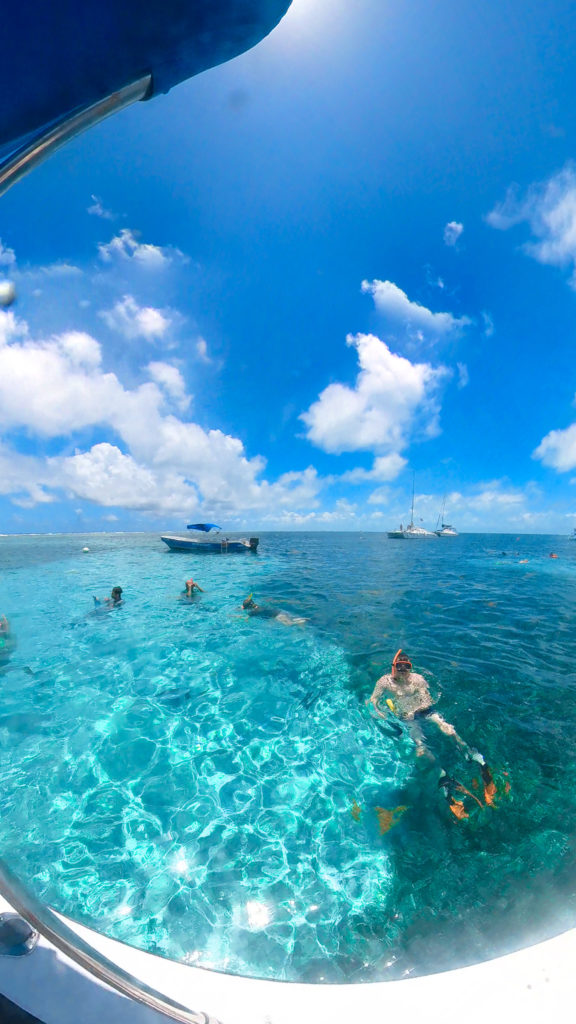 One of the highlights was that we could swim with the elusive manatee because they knew where to go. This was an extra stop we got to do. It was our first stop of the day, and what a sight to see this huge animal slowly float through the water. Others refer to them as sea cows or hippos. I had one swim under me, and I froze for a moment because they were much bigger in person.
They told us that keeping our distance from all the animals helped show us unique things, like an underwater tunnel you could swim through. We couldn't hold our breath long enough to go through, but it was cool to see our Captain go through.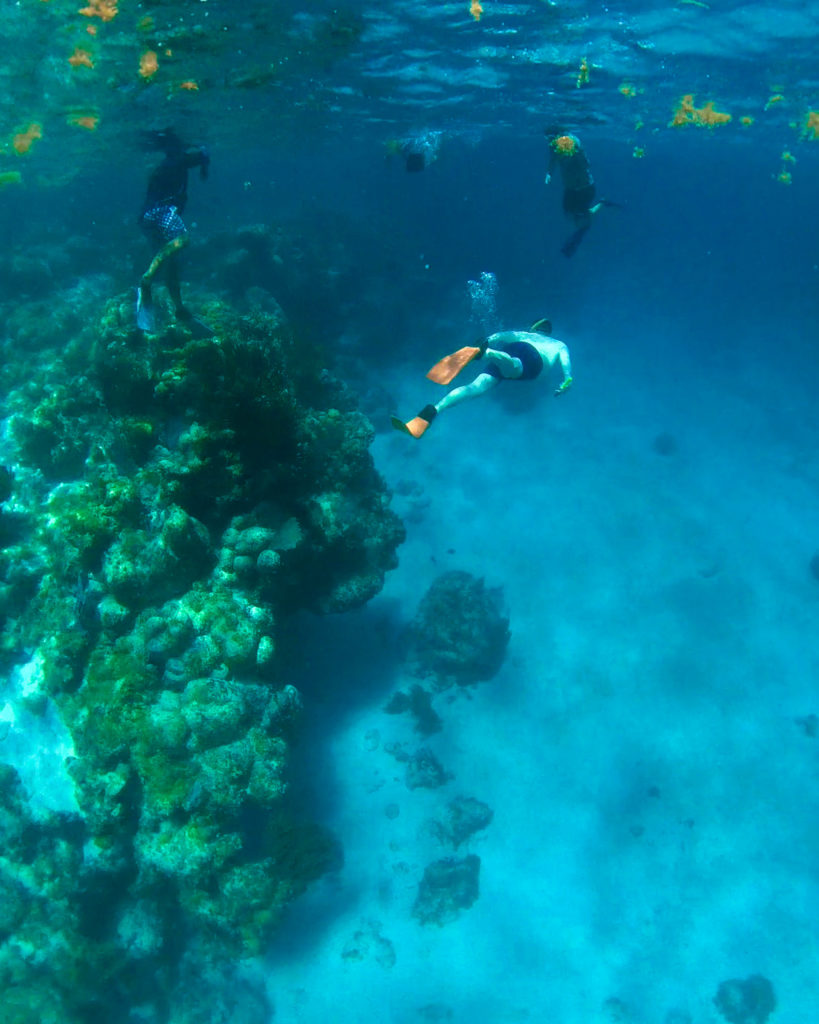 We loved visiting sections like the Hol Chan Marine Reserve and Shark Alley, that we asked about possibly joining a tour just for those parts on another day. It would have been too expensive for only two of us, but if you're in a bigger group, I would recommend trying to do this so you can spend more time at the best spots and skip parts like the seahorses (more info below).
Hol Chan Marine Reserve
This was my favourite part of the tour. The Hol Chan Marine Reserve is bursting with marine life, from stingrays, coral, sea turtles, sleeping nurse sharks and more. I even had a sea turtle pop its head out of the water right by me.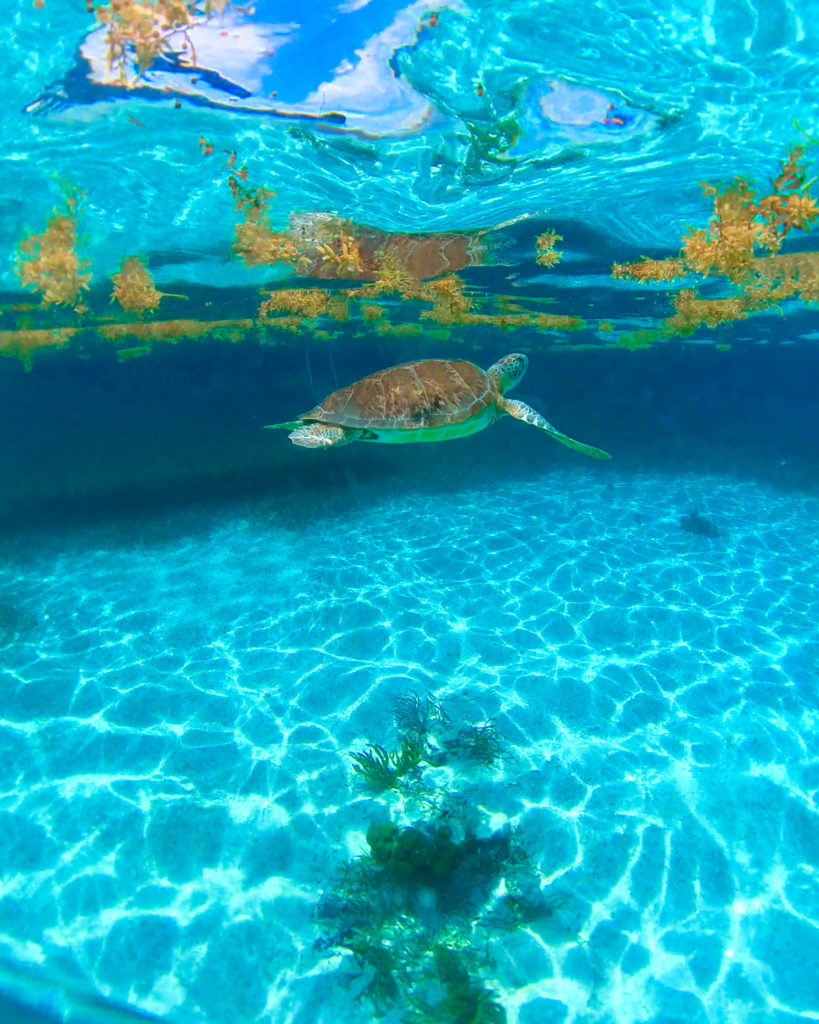 Shark Ray Alley
Swim with nurse sharks at Shark Ray Alley. Nurse sharks are popular in this area because they used to be where fishermen would go to clean their catch. As soon as you head to the site, they'll quickly surround the boat but won't stick around long.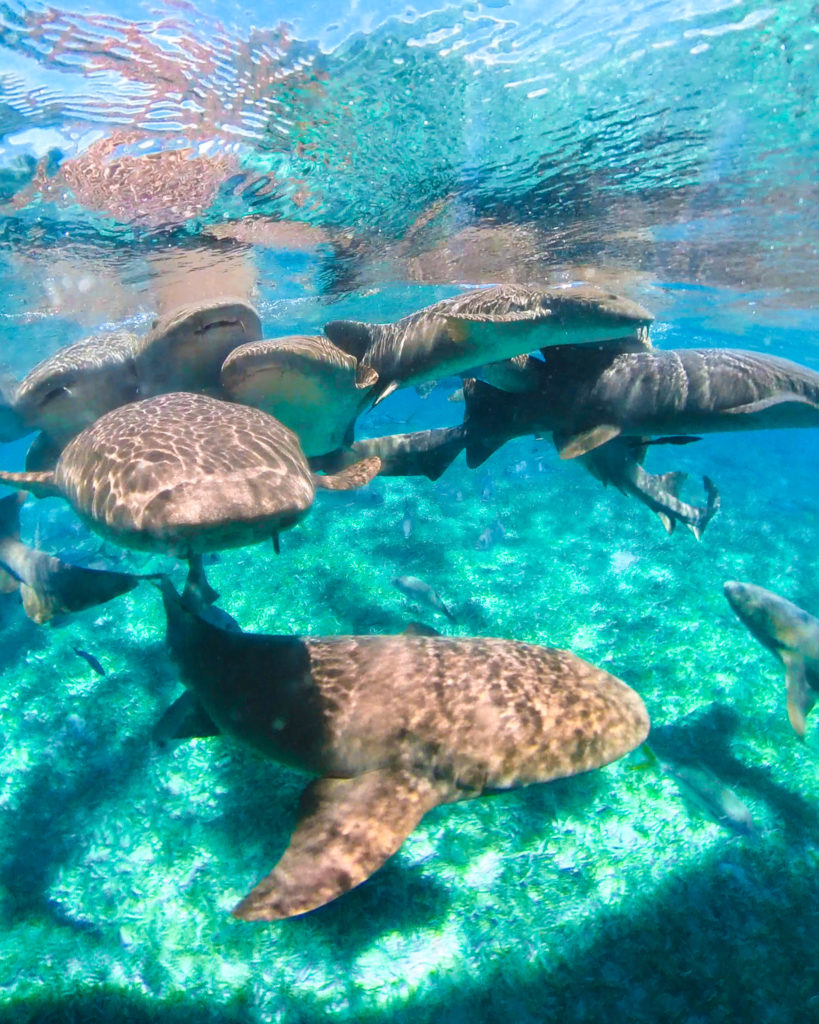 This was my first time swimming with sharks. Nurse sharks are bottom-feeders and generally harmless to humans. We kept a safe distance, but the sharks couldn't have cared less about us. It was cute to see baby nurse sharks swimming beside their mom. We also spotted stingrays swimming below.
Shipwreck
One of the stops is a shipwreck that is now covered in marine life. This shipwreck is from 1931 when it headed from Panama to Mexico and hit bad weather.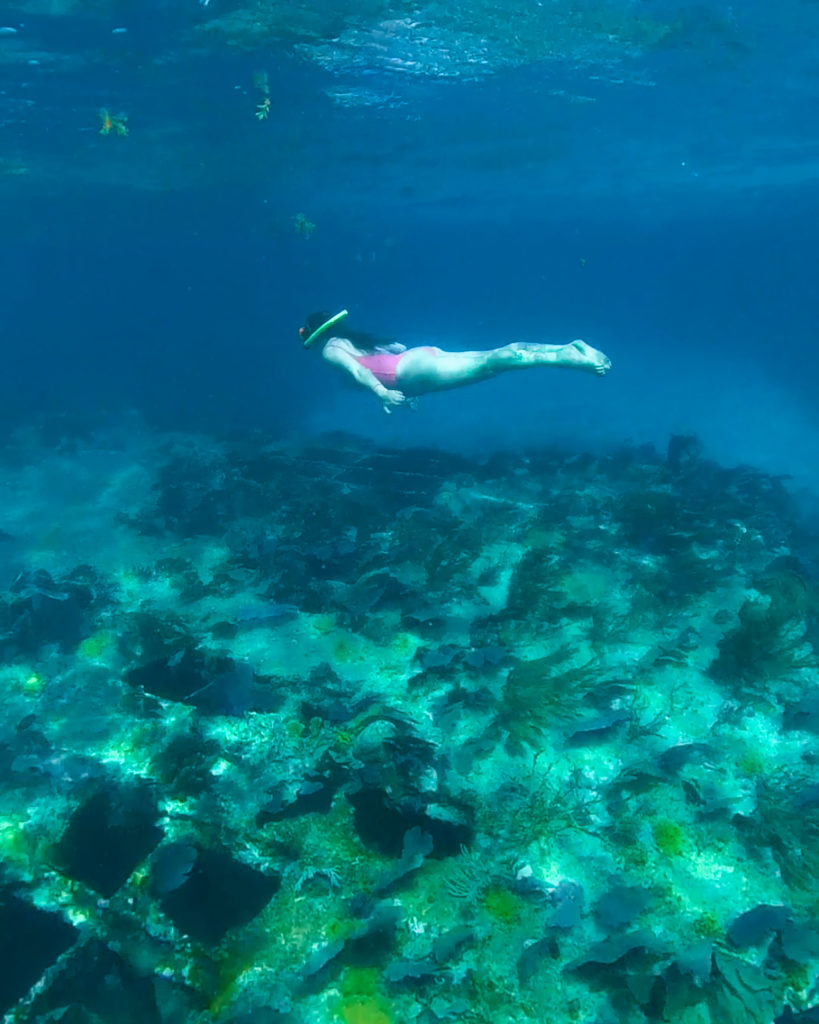 Coral Gardens
Swim above coral in shallow water. This is an easy spot to breathe through your snorkel, look down, and try to spot moray eels, angelfish and more hiding in the coral.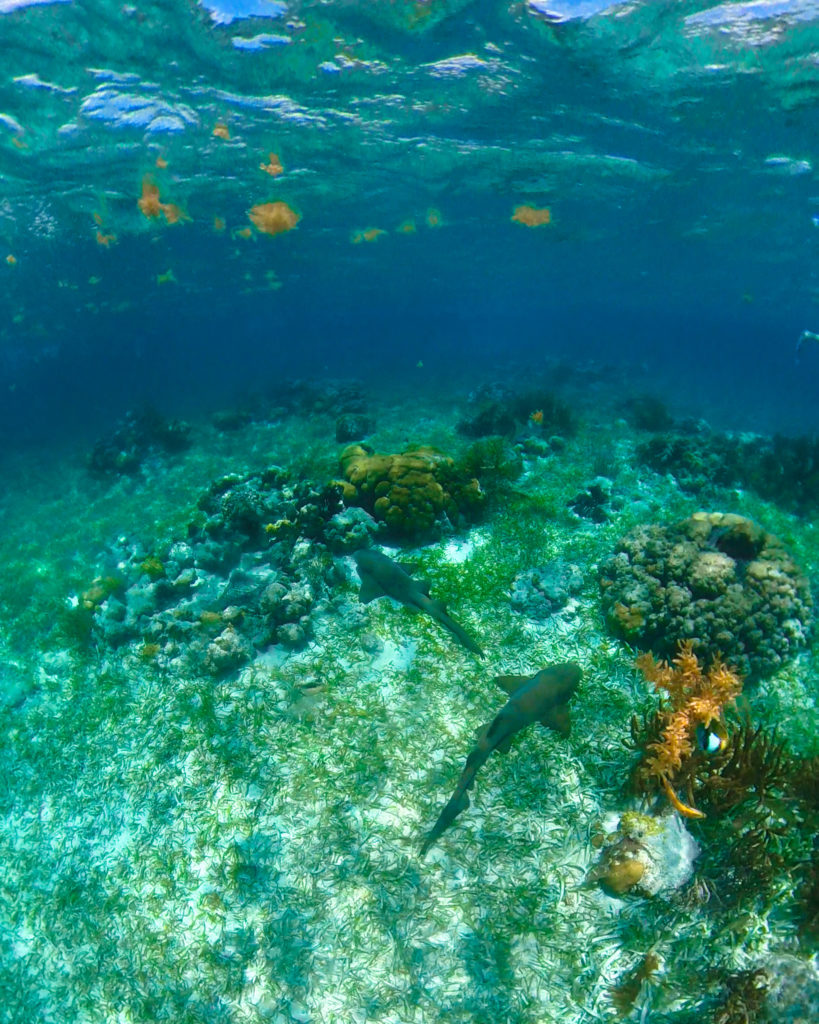 Seahorse City
Off the dock at Iguana Reef Hotel is a seahorse farm. Look closely, and you'll see them swimming around. You would be able to access this attraction from land too.
Tarpon Town
These large fish will surround the boat waiting to get a treat. If you're brave, hold out a small fish with a flat hand, and they'll jump up to get it from you.
Walk Around Caye Caulker
This is one of the best ways to explore and stumble upon unique parts of the island, from local artisan shops to cool restaurants. The caye is so tiny that you will surely run into friends from your snorkel/dive tours. We were able to get lots of great recommendations from travellers we met walking around.
The Split
The split divides Caye Caulker into two parts from a hurricane years ago. At the Split, you'll find lots of beach bars. You can also paddleboard and kayak.
You can take a water taxi to explore the North side of Caye Caulker. We didn't do this but were told by others to bring bug spray.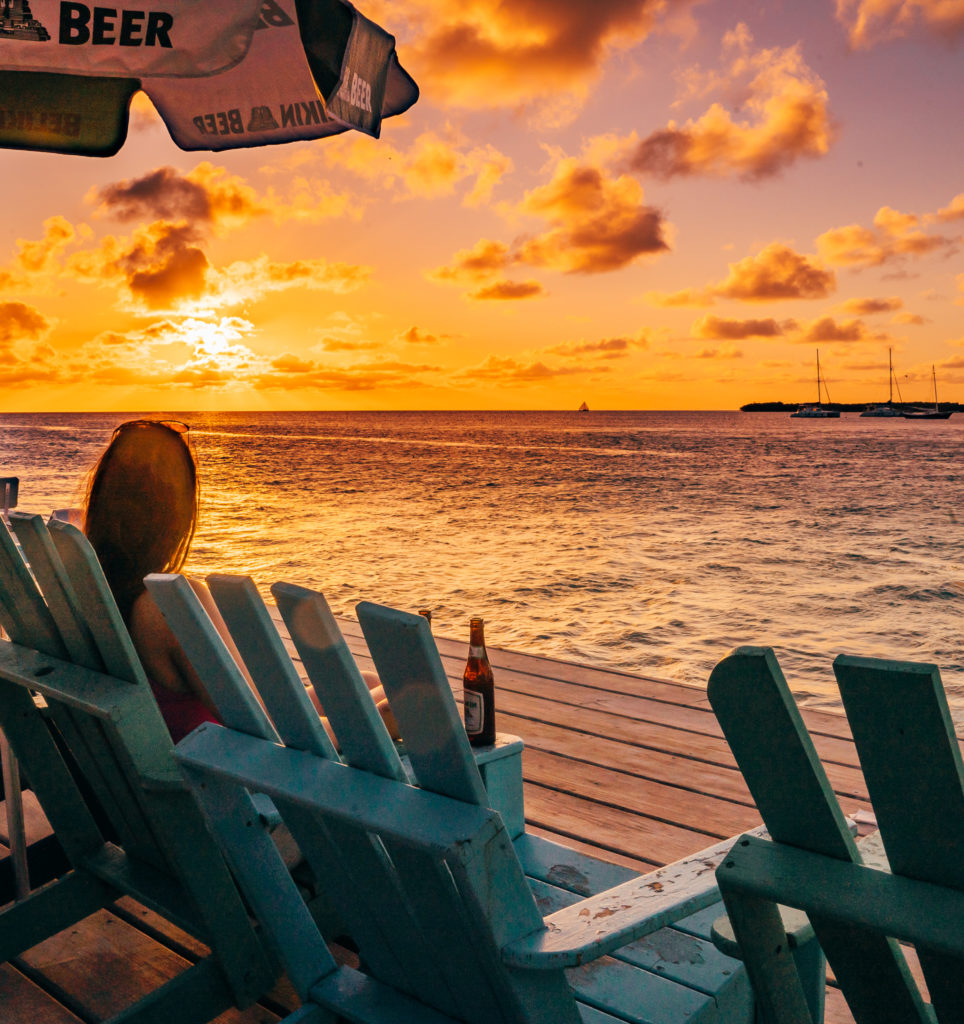 Catch Sunset
My favourite spot to catch the sunset was The Split. Grab a drink in one of the lounge chairs and watch as the sun goes down with boats in the water.
Another popular option is sunset tours on a boat. This sunset tour includes rum punch and fresh ceviche.
Northside Beach Club
We learned about this from our hotel. Take a free shuttle behind the Coca-Cola factory that will take you to Northside Beach Club. This is an excellent spot to spend the day lounging at the beach. You need to pay extra for some of the seating, and you can sit for free if you get food/drinks closer to the water.
Best Restaurants in Caye Caulker
Restaurants in Caye Caulker have a laid-back feel, and many spots feel like you've been invited to a barbeque with friends. Wherever you go, you'll notice many places offer a rum punch. You also need to try Marie Sharp's Hot Sauce. You'll find it at most restaurants. I loved it so much that it's now a staple at my house.
Dee n D's Waterside Grill
This was a recommendation from other travellers, and I'm so glad we went. It's a hidden gem that I don't think we would have stumbled upon otherwise. This small restaurant is in a great spot by the water. Enjoy delicious Caribbean food at a family restaurant. It feels like you're having a casual bbq. Time it right, and you can enjoy dinner while watching the sunset here.
Wish Willy Bar & Grill
This came highly recommended, and we had to check it out. It took a while to find because it's literally in a backyard. Once you walk in, you'll notice a huge community table under a big tree with strung twinkle lights. It feels like you've been invited to a backyard bbq. It's a super casual atmosphere where everyone grabs their own drinks. The chef Wish Willy, aka Maurice Moore, used to work in Chicago and then moved back to Caye Caulker.
Tacos + Burritos
Look out for a woman along the main road with a taco/burrito stand near one of the ice cream shops. We initially went here after seeing the lineup of people waiting for her food. It was so delicious! It was only $3 for delicious authentic Mexican tacos.
Tropical Paradise Hotel Breakfast
We had breakfast here a few days before our snorkel tours. It was an excellent opportunity to try a typical Belizean breakfast with refried beans, eggs and fry jacks (deep-fried dough pieces).
Brisas del Mar
We also had traditional Belizean breakfast at Brisas del Mar on Caye Caulker. This restaurant had colourful picnic tables under palm trees. It has beach bar vibes and great menu prices. We also went back for lunch and tried the burritos. This is where I fell in love with Maries Sharp Hot Sauce. We loved it so much we brought some to take home.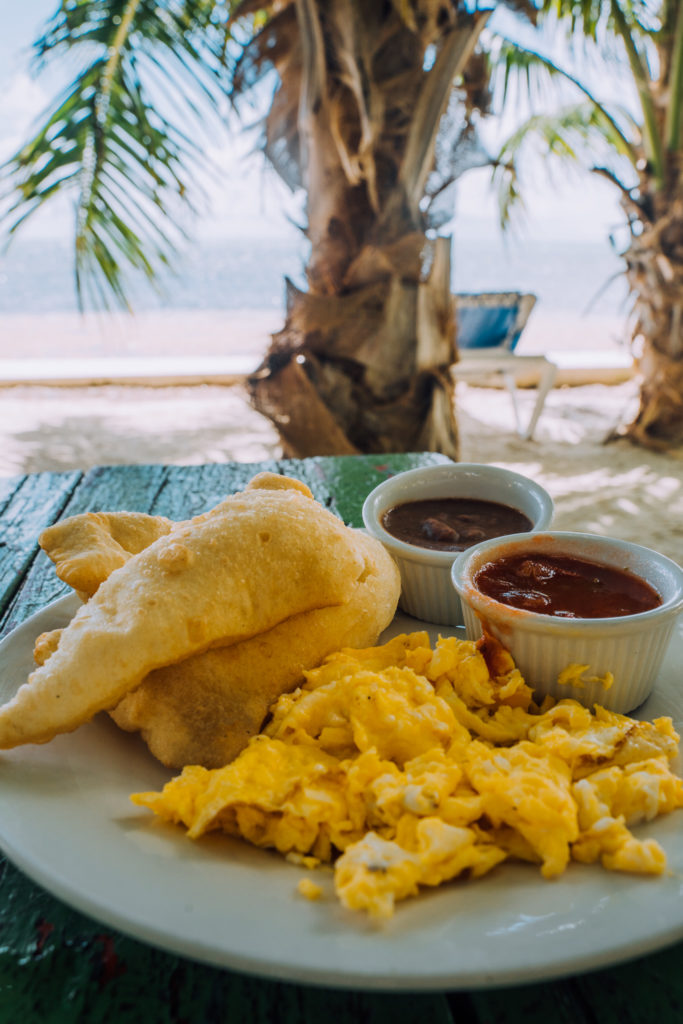 Where To Stay in Caye Caulker
Caye Caulker has more simple and laid-back options. They range from hostels to more modern accommodation. If you want more luxury/resort options, check out Ambergris Caye.
Colinda Cabanas
Colinda Cabanas was my first choice for where to stay in Caye Caulker. It has excellent reviews and is a favourite of travellers. It was fully booked for my dates, but I would consider it in the future. Kayak rental comes with your stay.
Tropical Paradise Hotel
We stayed at Tropical Paradise Hotel, which was perfect for what we were looking for. It's a basic room (that comes with air conditioning). The staff was so friendly and helpful; we made with the receptionist, Jules, because we both had the same name. They have a tour company on-site that makes booking tours super easy.
Find more inspiration for your trip: Belize, Central America
I hope this helps you plan you plan your trip and you enjoy Caye Caulker and Belize as much as I did 🙂