Iceland is one of the most interesting countries I've visited, not only because of the stunning landscape but also because of the people. There are many unique and interesting traditions, including Iceland's bathing culture. The geothermal activity in Iceland has resulted in an abundance of hot springs, thermal pools, and natural spas, which are cherished by both locals and tourists alike. Icelandic bathing culture combines tradition, relaxation, socializing, and appreciation for the country's unique geothermal resources. Sky Lagoon can't be missed if you want the whole Iceland experience.
What is Sky Lagoon?
Not only was Sky Lagoon an incredible place to relax after a week full of adventures, but it was also a fantastic opportunity to spend the day like a local. Nestled amidst breathtaking cliffs, Sky Lagoon is a spa heated by geothermal activity and is a true paradise for nature lovers and relaxation seekers alike.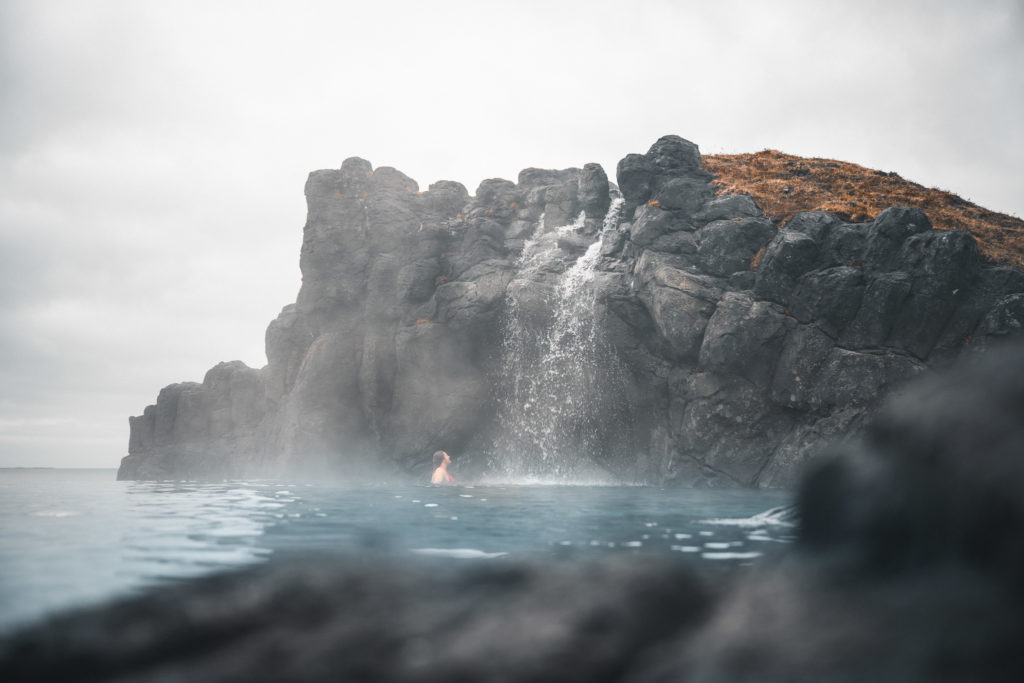 Enjoy stunning views where the sky meets the sea in Sky Lagoon's infinity pool, heated by geothermal activity. Immerse yourself in the rejuvenating geothermal spa, unwind in the tranquil infinity pools, or simply bask in the panoramic views of the surrounding landscapes. Sky Lagoon offers locals and visitors a chance to relax, connect with others, and experience the wonders of Iceland's natural landscapes. Sky Lagoon is conveniently located only 20 minutes from downtown Reykjavik in Iceland.
Experience Iceland's Bathing Culture
Public swimming pools, known as "sundlaugar" in Icelandic, play a significant role in Icelandic culture. They are heated using geothermal energy and offer amenities like hot tubs, steam rooms, and saunas. Icelandic people often visit these pools for relaxation, socializing, and enjoying the benefits of hot water bathing.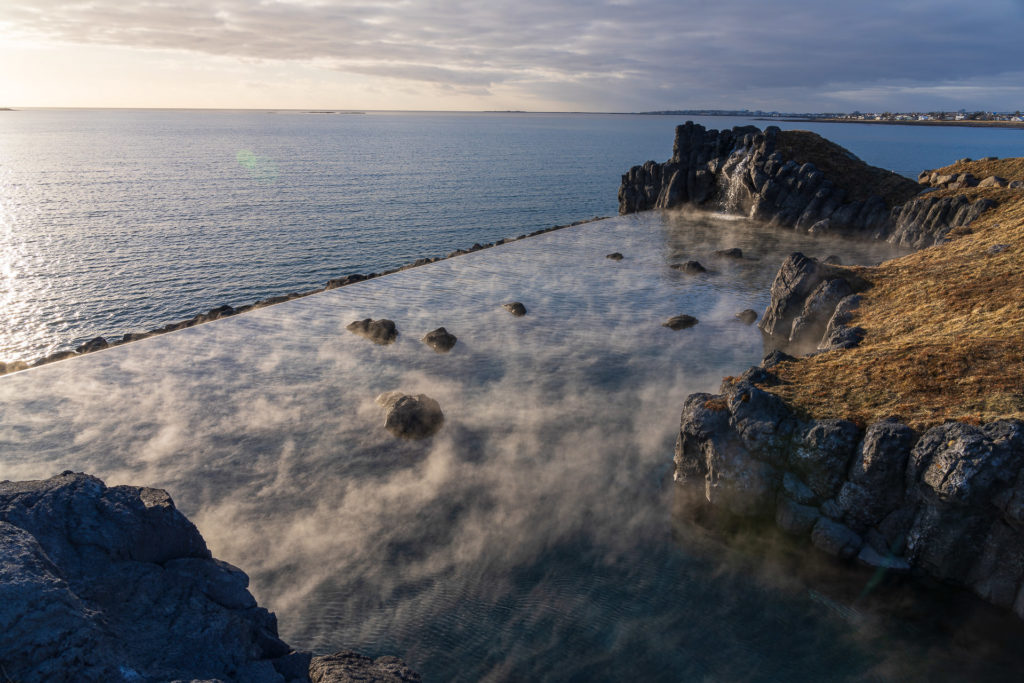 An Integral Part of Iceland's Culture
I learned from locals how important swimming pools are to Icelandic culture. Even in the smaller towns, there is always a pool for locals to enjoy. These pools are unique because they're very social places that bring Icelanders together.
Pools Are A Gathering Place
Icelandic bathing culture is not just about bathing; it is also a social activity. Swimming pools and hot springs serve as gathering places for friends, families, and communities. It is common for Icelanders to meet at the local pool or hot spring to catch up, relax, and unwind together. I noticed this as I floated around Sky Lagoon. Locals and tourists alike came in groups to enjoy the views and relaxing benefits of this experience.
Something I loved about Sky Lagoon is that I could have quick conversations with new people and have those peaceful moments alone with my thoughts and being in the moment.
You can still visit Sky Lagoon alone and have a wonderful experience. Multiple steps in the 7-step ritual are quiet and present. One thing I loved about Sky Lagoon is that you chose the pace of this adventure.
Enjoyed Year Round, The Stormier the Better
Something unique about Icelandic bathing culture is that they don't shy away from stormy weather. A storm can provide a unique experience as you simultaneously experience Sky Lagoon and the elements. Locals shared that it's a fantastic experience to enjoy the warmth of the water while feeling the cool rain or snow on your face.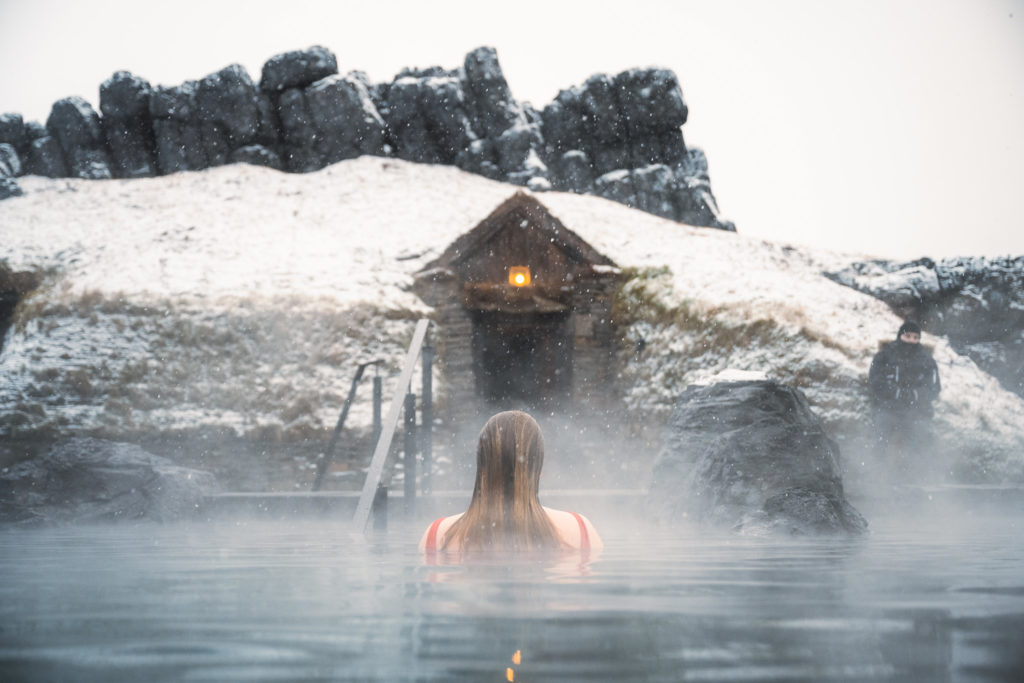 We had great weather for our day at Sky Lagoon, but even seeing a shift from cloudy skies to the sun peeking through felt like two different experiences. Below are photos from the same day taken a few hours apart.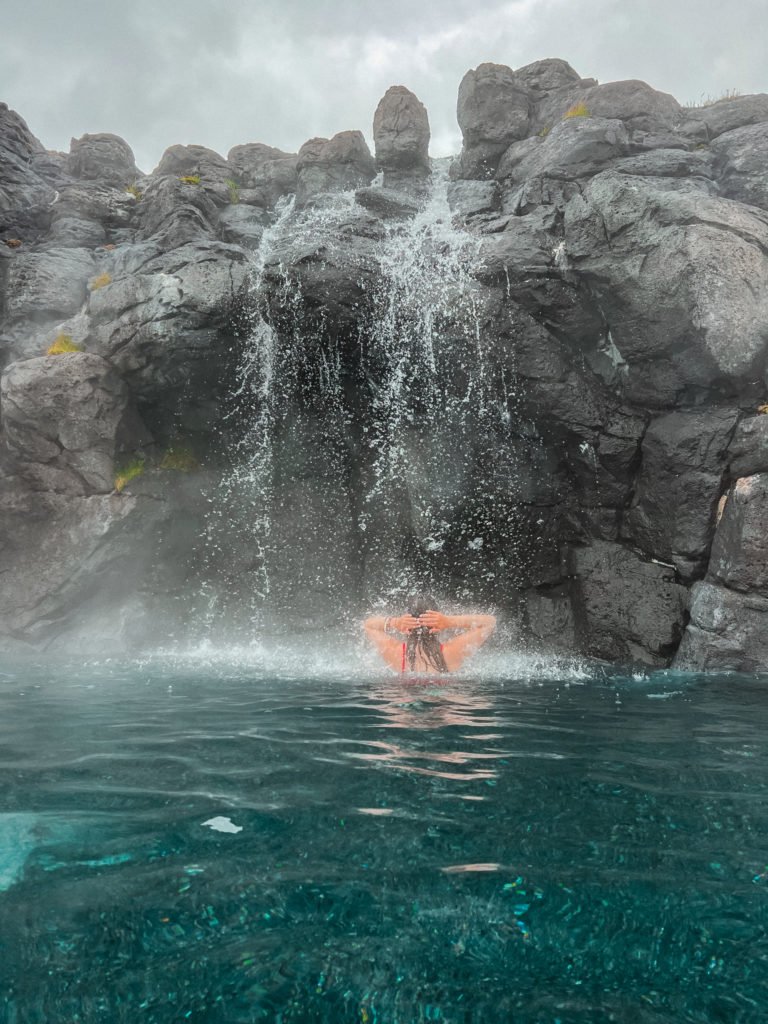 Lounging at Sky Lagoon is also an incredible spot to experience Iceland's phenomena, like winter's northern lights and the summer's midnight sun.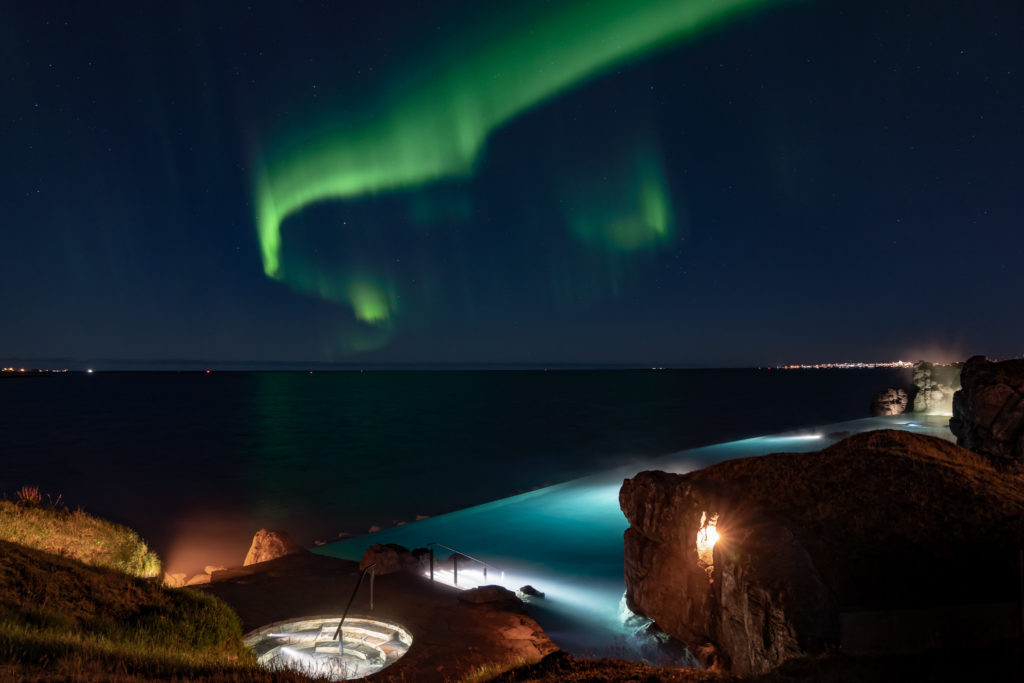 Therapeutic Benefits
Icelandic people believe in the therapeutic benefits of hot water bathing. They consider it essential for physical and mental well-being. The hot water helps relax muscles, relieve stress, and promote circulation. Many Icelanders also use hot springs and pools to rejuvenate and maintain good health. After completing Sky Lagoon's full 7-step ritual, I felt like I was floating on a cloud.
Sky Lagoons Seven-Step Ritual
The seven-step ritual integrates Icelandic traditions with natural elements to promote well-being, inside and out.
Step 1: Enjoying Sky Lagoon
The first part is enjoying the healing, warm geothermal waters of the Lagoon in a beautiful infinity pool looking over the ocean. You'll be surrounded by carved rock.
I loved sitting and watching the mist dance along the water. Like other parts of my trip to Iceland, the blue skies peaking through the clouds made everything much more vibrant.
You'll also notice a waterfall in Sky Lagoon. This was the first warm waterfall I experienced on my Iceland trip. Many people stood under it for a few minutes to help relieve tension in their backs.
I easily spent hours enjoying Sky Lagoon. You'll have the opportunity to begin and end the 7-step ritual at the Sky Lagoon.
Step 2: Cool Plunge in a Glacier Fresh Pool
There are so many health benefits to cool plunges. The cold water helps stimulate your immune system, increase blood flow and tighten skin.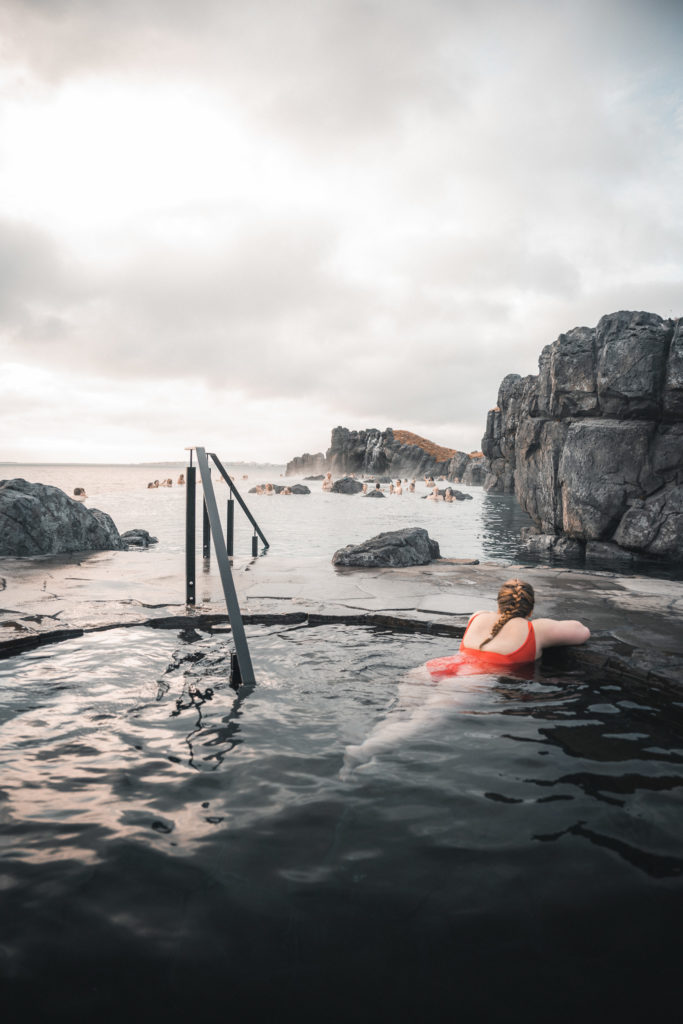 We know the locals know the benefits because we spotted some sitting in the cool plunge so calmly that I would have thought it was a hot tub. It was a much quicker dip for me, but it felt invigorating and something I'd like to keep improving on. You'll find the cold plunge in front of traditional Icelandic turf houses.
Step 3: Ocean-view Sauna
This is the most picturesque sauna I have ever experienced. Enjoy the sauna's heat while admiring the ocean through Iceland's largest single window. It was so peaceful here, soaking in the heat and the view. The sauna heat will help open pores, remove toxins and cleanse your skin.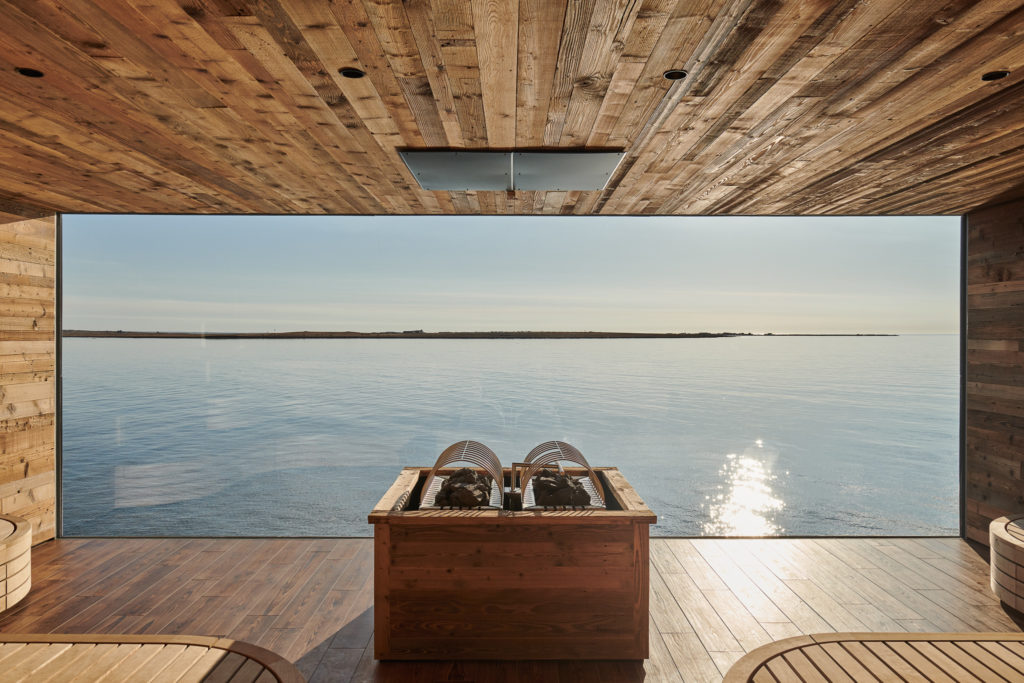 Step 4: Energizing Mist
I loved this step of the ritual. The cool mist was revigorating after the hot sauna and reminded me of the mist from the powerful waterfalls I had visited earlier in the trip. It was a reminder of how each step has Iceland's culture and landscape ingrained into the ritual.
Step 5: Cleansing Scrub
For step five in the ritual, exfoliate with Sky Lagoon's signature Sky Body Scrub, made of natural salt and essential oils.
Step 6: Steam Sauna
After exfoliating, head into the steam sauna and let the sky body scrub do its magic. The steam helps to open your skin, and you'll be able to absorb the therapeutic elements of The Ritual and hydrating Sky Body Scrub.
Step 7: Gentle Shower
Wash away the body scrub and end the 7-step ritual with a gentle shower. From here, we returned to Sky Lagoon for more time to relax and soak in the views.
Local Tastes: Restaurants at Sky Lagoon
Sky Lagoon has three wonderful places to enjoy local Icelandic bites and brews.
Sky Cafe
Enjoy fresh and light meals at Sky Cafe. We started our day with a pastry and coffee. We loved the smoked salmon bagel with their homemade dill mustard sauce.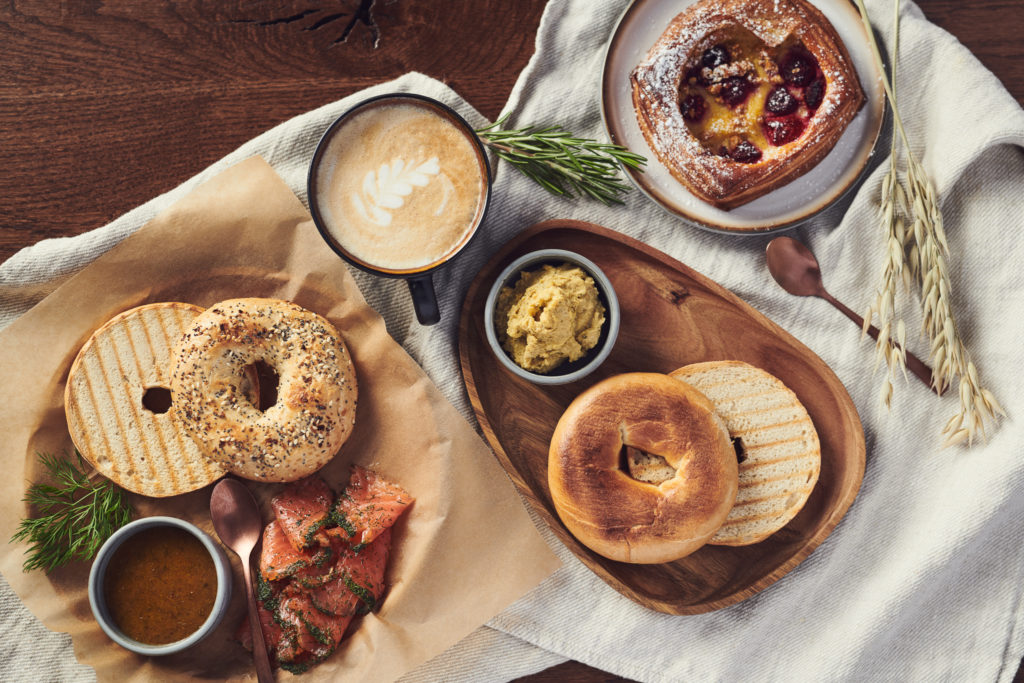 Lagoon Bar
Grab a drink at this swim-up bar tucked away inside a cave of Sky Lagoon. It's a great spot to grab an Icelandic beer, cocktail and more without going too far.
Smakk Bar
This is a great spot to end your relaxing day at Sky Lagoon. Smakk Bar is a beautiful restaurant that offers many Icelandic charcuterie platters to enjoy local bites. There are five unique tasting plates to choose from that celebrate the seasonal offerings of Reykjavík.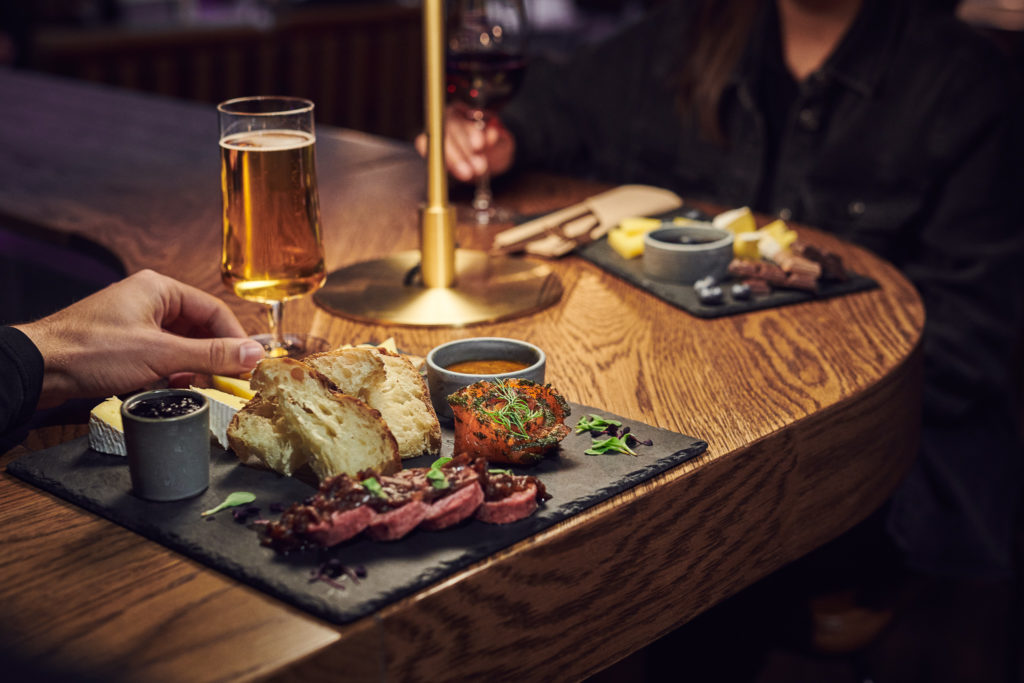 Things To Know Before You Go To Sky Lagoon
Your experience at Sky Lagoon is sure to be incredible. There are many thoughtful touches along the way, like complimentary towels, hair dryers in the changerooms and even bags for your wet bathing suit.
You'll be given a bracelet that's used to lock your locked and pay for food and drinks on the go. Sky Lagoon is located steps from the changeroom, so you don't need to bring sandals or can leave them on a shelf nearby before entering the water.
I recommend booking your ticket to Sky Lagoon in advance to secure your spot for this wonderful experience. I recommend getting the Pure Pass or Sky Pass for the full experience. Stop by their gift shop for some items to bring the experience home.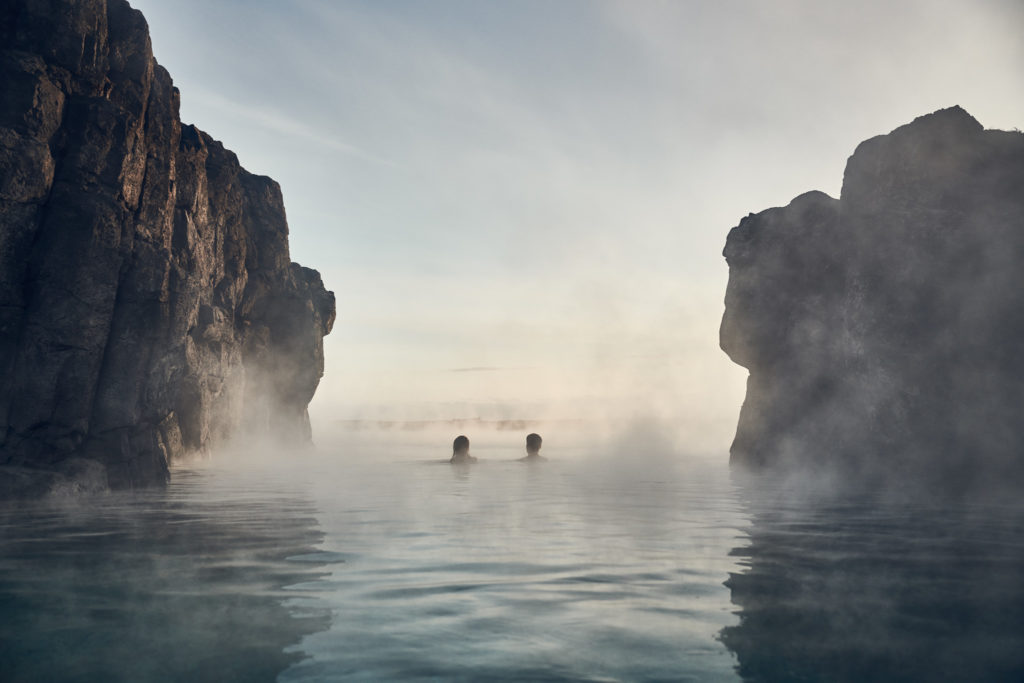 I couldn't imagine a better way to end the trip, and grateful to have experienced Iceland's bathing culture in such a special way. I hope you enjoy Sky Lagoon as much as I did. Thank you to Pursuit for making this experience possible. As always, all thoughts and opinions are my own. Find more of Pursuit's incredible adventures around the globe here.
Next Adventure
To build on this experience, you can't miss FlyOver Iceland. It's an incredible opportunity to dive deeper into the stories of Iceland and its people. You'll be able to see the unseen parts of Iceland in this interactive theatre. I recommend going at the beginning of your trip so that the stories and scenes shared can help set the foundation for your adventures.