Medellín, Colombia, needs to be on your bucket list. The city has overcome its dark history, and today it's a popular destination for travellers. The city has overcome its dark past and is now a vibrant city inviting people worldwide. From a thriving restaurant scene to beautiful murals and unique neighbourhoods, there are plenty of fun things to do in Medellín, Colombia. Here are the best things to do in Medellín, Colombia.
How to Get to Medellín:
We flew into Medellín Airport (MDE) and took a taxi to our hotel. The airport is around 30 minutes to more central Medellín. Medellín is located in the Andes Mountains and is surrounded by lush green mountains. Make sure to soak up the view as you drive lower into the valley to Medellín. It's extra special at night seeing all the lights.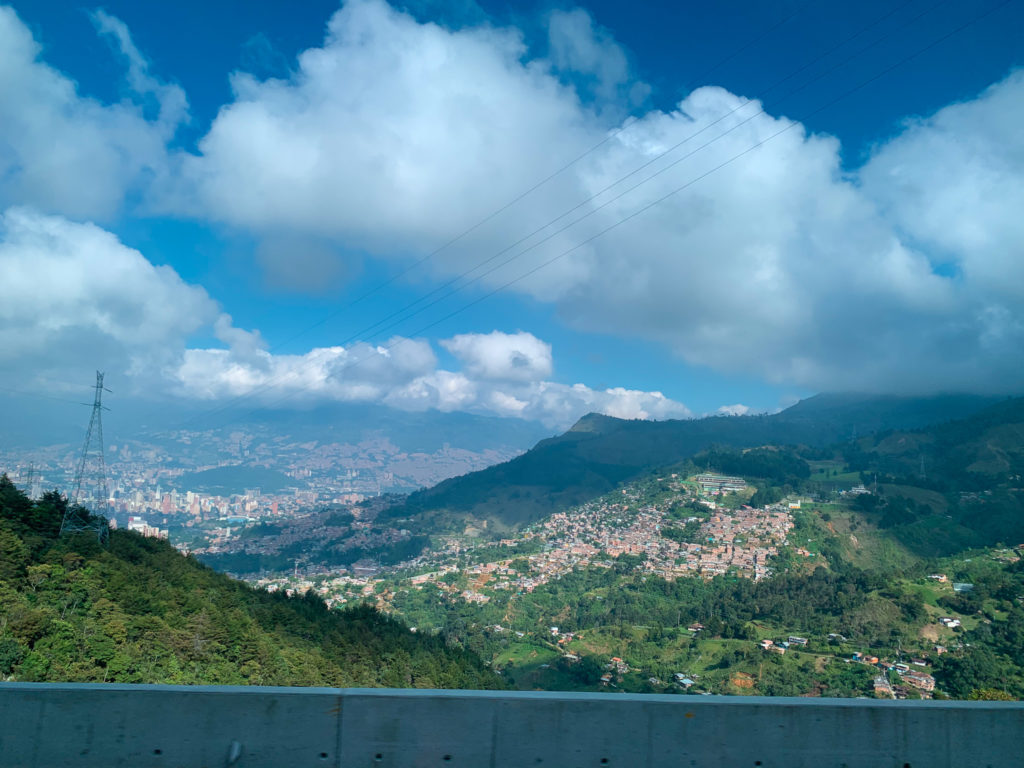 What's The Weather Like In Medellín?
Medellín is the city of eternal spring. There are steady temperatures in Colombia all year. Enjoy warmer and cooler temperatures during the day, perfect for sleeping in Medellín. Rainy seasons last May to November.
Is It Safe To Travel To Medellín?
Colombia gets a bad reputation from its past, especially Medellín, but we felt safe the whole time on this trip. We also weren't out late at night.
We met a fellow traveller who was visiting Medellíng for the 8th time. When we asked him about the city's safety, he said he's never had an issue. He did have his phone stolen on this trip, but he instantly said it was his fault because he was careless. Petty theft happens across the globe, so just be aware of your items.
A popular expression, "Dar Papaya," means Don't Give Papaya. It's shared as a way to say don't make yourself a target. Our travel friend gave away the papaya with his phone. This is good practice wherever you go.
When we did a walking tour, locals approached the tour group to welcome us to the city. I loved this city so much I could seriously live here.
How Long Do You Need in Medellín?
I recommend at least three nights. There are plenty of things to do in Medellín, and it's also a good base for day trips like Guatapé.
Medellín's History
Medellín is Colombia's second-largest city and Antioquia department's capital. Medellín has a long history of violence as it was used as a base by Pablo Escobar (as shared by our walking tour guide, it's not respectful to locals to do tours related to Pablo Escobar). Our guide was also very open to questions and encouraged us to ask them as long as they were respectful.
Medellín has come a long way from its dark past …Previously one of the most dangerous cities in the world. Now it's an urban city surrounded by beautiful mountains. It's lush and has lots of cool neighbourhoods and gems within to explore
How to Get Around Medellín
Medellín has a fantastic metro system to easily get to different destinations throughout the city. Beyond that, we were able to walk lots of places within neighbourhoods.
Things To Do In Medellín:
Free Real City Walking Tour
If the timing aligns, I recommend kicking things off with the Real City Walking Tour. Many travellers highly recommended this, and we're so glad we did this tour. Not only will your guide bring you to Medellín's most important sites and attractions, but you'll also hear a local's perspective on Medellín's history. Our guide described Medellín as having a complicated past but making it through the dark ages and is now a thriving city.
From my perspective, the media can paint a dire picture for many cities with clickbait articles, but how Medellín was perceived before I visited vs. how it was were two different pictures.
Our guide shared a story of how during the dark times, Colombians still found joy. One example of this was Colombia loving football and TYING Germany in a game. It might not seem like a huge event, but in a tough time, the smallest thing is a reason to celebrate.
If what was once the world's most dangerous city could transform so intensely and rapidly, there is hope for everything. I hope you visit one day. It's certainly left an impression on me, and I will never forget this day.
Aftering the tour is a great time to visit the nearby museums if you're interested.
The tour meets at Alpujarra Station and is approximately 3.5 hours in English. This is a free walking tour, so the payment model is based on tips. Make sure to book in advance here.
Check out more Medellín tours below:
Communa 13

Comuna 13 is a neighbourhood in Medellín, Colombia, that has significantly transformed in recent years. It was once one of the city's most dangerous and violent neighbourhoods, but it has become a vibrant and cultural community.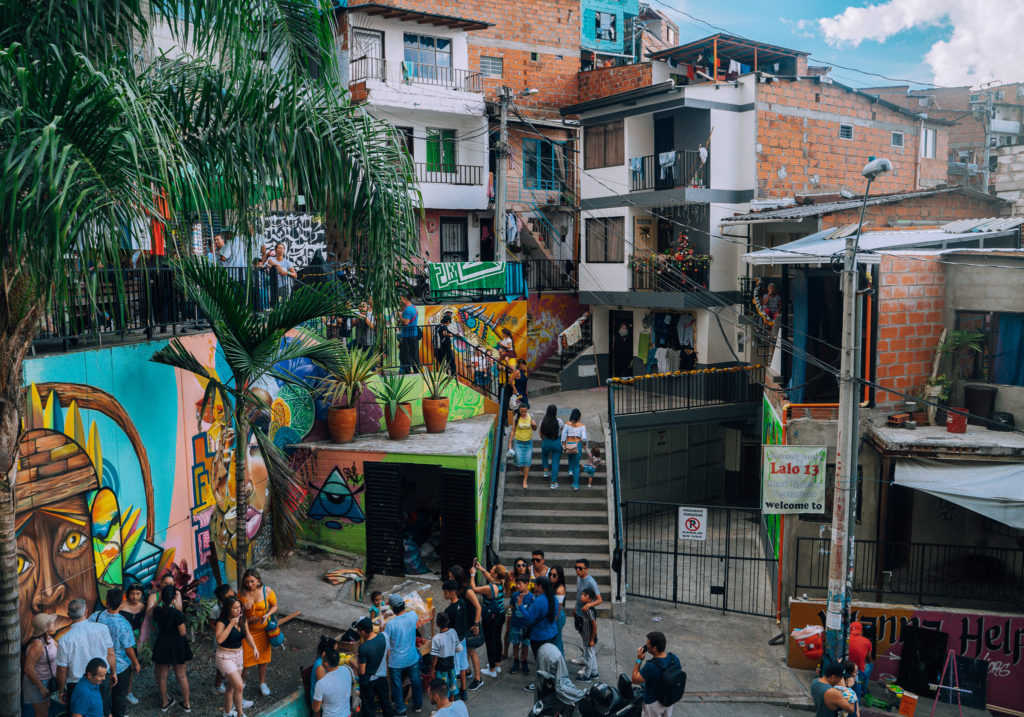 Comuna 13 is known for its colourful street art covering many of the neighbourhood's walls and buildings. The art has become a symbol of the community's transformation.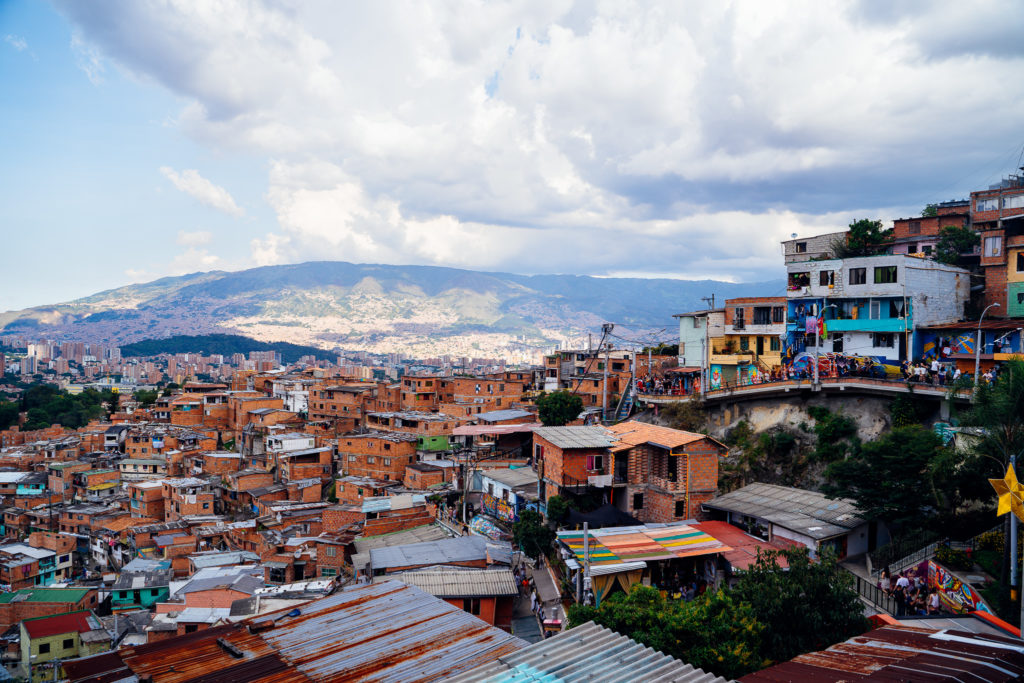 Visitors to Comuna 13 can take a guided tour of the neighbourhood, including a walk through the streets and a ride on the neighbourhood's outdoor escalators, built to make it easier for residents to access the higher parts of the community. The tour typically includes stops at some of the neighbourhood's street art and visits to local businesses and community projects.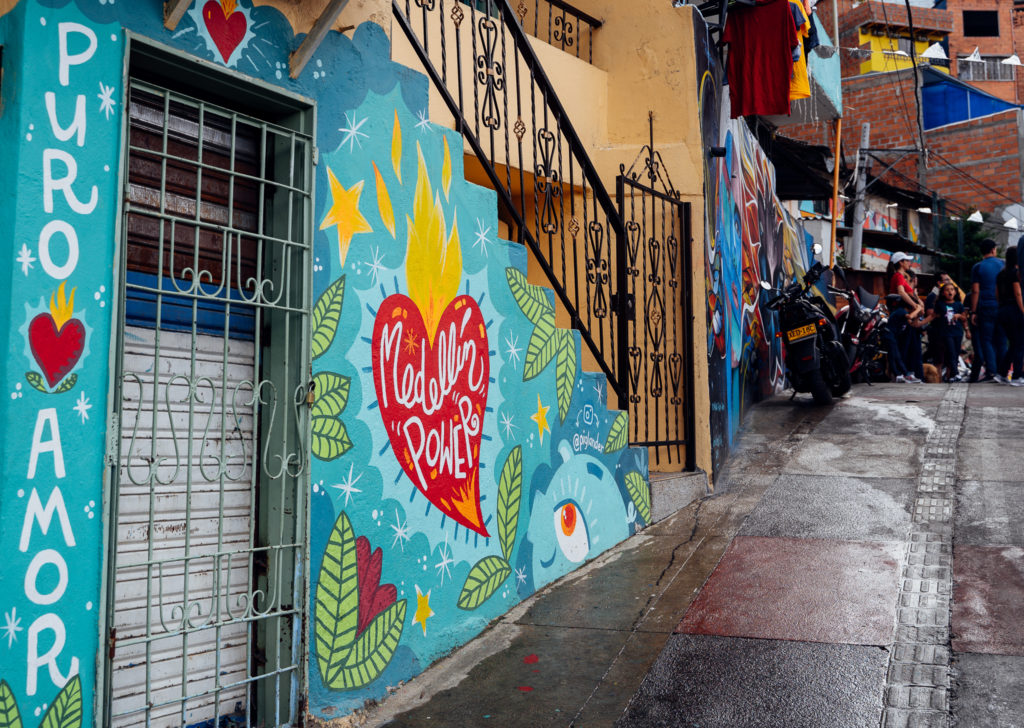 We did a tour of Communa 13 and loved the area's vibrancy, from the artwork to the music. Music was playing everywhere, locals were dancing, and we even got to go down some slides.
I recommend doing a tour with a local of Communa 13 so you can learn more about the history of the area and local stories.
Medellín Cable Car
Enjoy a panoramic view of Medellín at the top of the free cable car. This cable car system makes its way through various neighbourhoods in Medellín, allowing passengers to get an aerial view of their surroundings while travelling between stations. Enjoy a panoramic view of Mdelling at the top. We went as part of the Communa 13 tour.
Exploring El Poblado Neighbourhood
Restaurants in El Poblado
Empanadas El Machetico
You know, if locals are lined up, it's a food spot you need to try. Empanadas El Machetico had the most delicious empanadas that I am still dreaming here. We went multiple times because they were so good. They've been making the same empanadas for over 30 years. It's grab-and-go, so I recommend eating at a nearby park. This is a tasty budget bite.
Cuon
We ended up here with some new friends we made from the walking tour. El Poblado has a thriving food scene and offers lots of international cuisines. Cuon is an Asian fusion restaurant. The interior is beautiful, and you'll be surrounded by greenery. It's a good spot for sharing plates.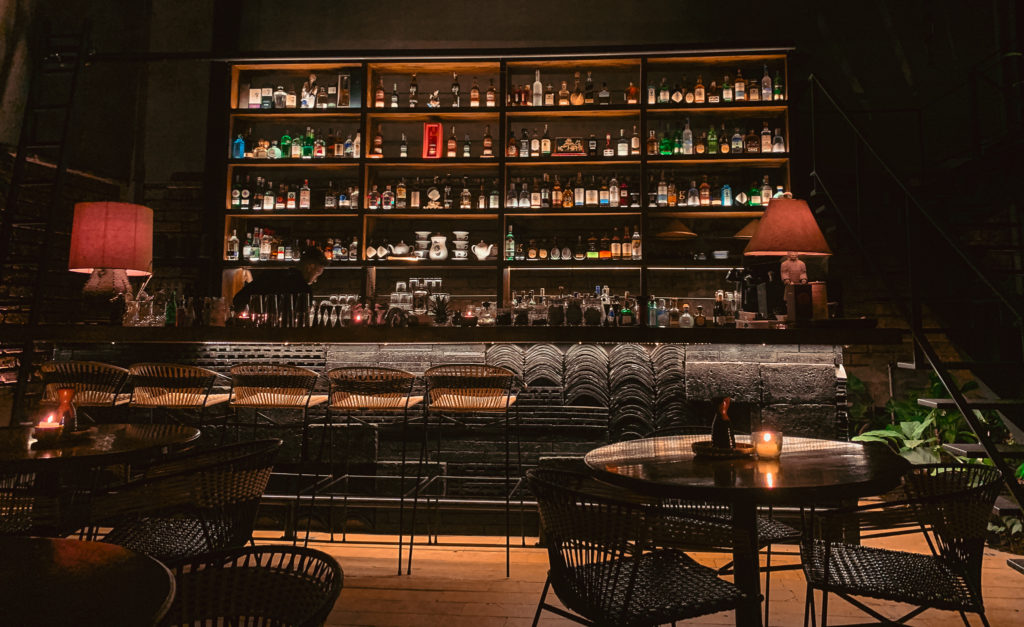 Parque Lleras
If you're looking for a fun and lively destination in Medellín, Parque Lleras is definitely worth a visit. This popular park is located in the heart of El Poblado, one of the city's most vibrant neighbourhoods, and offers a variety of entertainment options for visitors of all ages.
At Parque Lleras, you can experience Medellín's nightlife scene, with plenty of bars, clubs, and restaurants. Whether you're in the mood for dancing, socializing, or simply enjoying a drink. The park is also a great destination for dining, with a diverse selection of cuisine available, from traditional Colombian dishes to international fare.
I loved walking around, admiring the murals, and under the lights at night. It's a vibrant atmosphere you need to experience.
Grab a Drink at a Rooftop Bar in El Poblado
Enjoy a drink with a panoramic view in Medellín. Here are some rooftop bars to check out in E Poblado:
The Envy: inside the Charlee Hotel. Trendy and luxurious rooftop bar vibes
360 Rooftop Bar: beach club vibes with a rooftop pool
Los Rooftops By Los Patios: inside a hostel, so it's a great rooftop to meet other travellers
Go To A Football Game
Colombians take football (soccer) seriously! If it aligns with your trip, head to a football game to experience the atmosphere in person. Real City Walking Tours has a great post on getting tickets and helpful info.
Jardin Botanica
Explore this botanical garden with over 1,000 species of plants. We got here using the metro. Walk through tropical gardens, admire the lagoon and more. The park was peaceful and a change of pace from the busier parts of Medellín. It was cool to see, but I would probably recommend focusing on other parts of Medellín.
Best Day Trip from Medellín
Make sure to add a trip to Guatapé to your itinerary. You can either stay overnight or do a day trip like us. We had a Chiva (party bus) pick us up in Medellín and spent the day exploring Guatapé. It's a colourful town full of cool shops and restaurants to explore.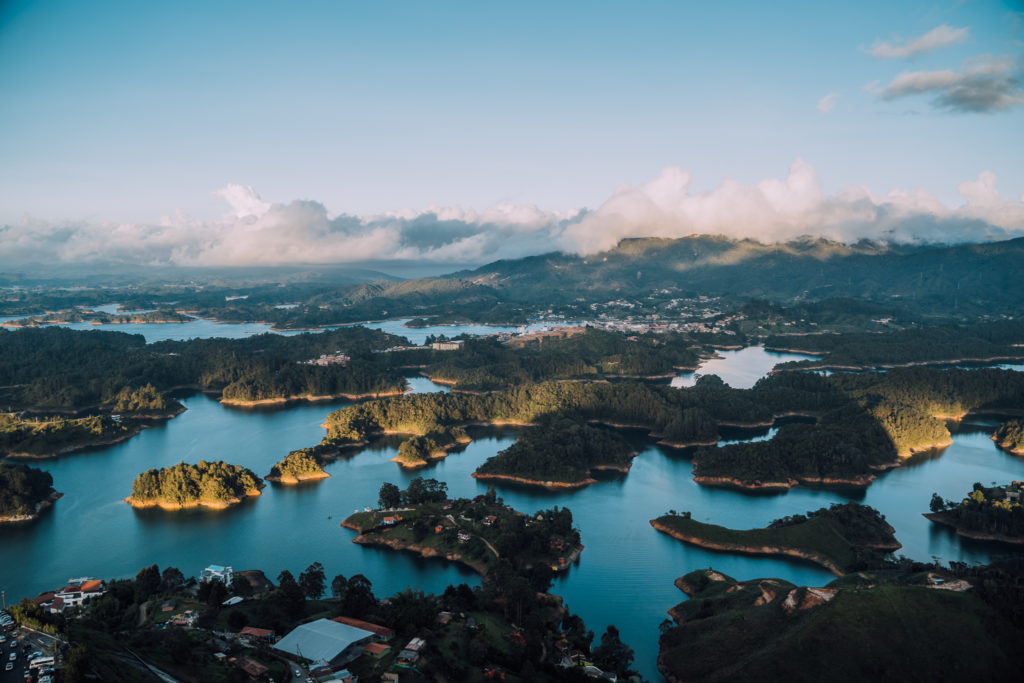 One of the biggest attractions is El Peñol, a massive granite rock formation that offers panoramic views of the surrounding area. Visitors can climb the 740 stairs to the top of El Peñol for an unforgettable view. It's a popular attraction so we often got stalled on the stairs, but this allowed us to soak up the view from different vantage points.
Once you get to the top you'll be able to get an incredible panoramic view of the lake and islands below. Book one of the tours below in advance:
Best Medellín Neighbourhoods to Stay In
Here are some of the best neighbourhoods to stay in Medellín and why:
El Poblado
El Poblado is one of the most popular neighbourhoods in Medellín, known for its upscale restaurants, trendy bars, and lively nightlife. It's also home to many of the city's best hotels, making it a great choice for travellers looking for luxury accommodations. Additionally, El Poblado is safe, clean, and well-connected to other city areas by public transport.
Laureles
Laureles is a laid-back residential neighbourhood popular with locals and travellers. It's known for its tree-lined streets, colourful houses, and family-friendly parks. The area has a more traditional feel than El Poblado, with fewer high-end restaurants and bars, but it's still a great place to stay if you're looking for a more authentic experience of Medellín.
Envigado
Envigado is a quiet, upscale neighbourhood just outside Medellín's city center. It's known for its beautiful parks, stylish boutiques, and upscale restaurants. The area is popular with expats, retirees, and younger travellers looking for a peaceful escape from the city's hustle and bustle.
Estadio
Estadio is a lively neighbourhood located near Medellín's sports stadium. It's known for its many affordable bars and restaurants, as well as its colourful street art and murals. The area is popular with younger travellers, backpackers, and sports fans looking to catch a game.
Where to Stay Your First Time in Medellín?
There are plenty of accommodation options for every budget in Medellín. I recommend staying in El Poblado. This is where we stayed, and we were happy with our choice. We chose El Poblado because it's popular with other travellers, so it would be a good way to meet fellow travellers and hear their recommendations. We stayed in a hostel to meet other travellers and learn about day trips. We stayed at Casa Kiwi. This would be a better stay for a younger crowd. Next time I would consider the following:
Masaya: cool rooms and a beautiful rooftop
Selina – coworking vibes, perfect for remote workers
Viajero Hostel – backpacker vibe with nice rooms and rooftop
If you're looking for a more luxurious stay, The Charlee is a popular hotel in El Poblado. A bonus of staying here is you'll have access to their rooftop bar, The Envy. We tried to go here for a drink, but it was already booked for the night, so make sure to call ahead. They also have an airport shuttle.
I hope this help spark some ideas and that you love Medellín as much as I did 🙂
Extend your trip and add on Ecuador!