Burlington, Vermont, is the perfect mix of mountains, water and city life. There are plenty of fun things to do in Burlington, VT. There's a University in town, so you'll notice it's a young and vibrant city that attracts people from all over. Burlington, VT, is a beautiful place to visit. Whether you're looking for something cultural or outdoorsy, there are many things to do in Burlington. This guide will tell you everything you need to know about visiting this gorgeous city! Burlington is a young and vibrant city. There's plenty to do, whether enjoying the sunset by the water or catching live music.
How To Get To Burlington, Vermont
The best way to get to Burlington, Vermont, is to drive. This is a great road trip destination. Driving will also make adding nearby attractions and cities like Stowe, Vermont, easier. Here's how far Burlington, VT  is from nearby cities:
Montreal to Burlington: 2 hours
Lake Placid: 2 hours (with ferry)
Ottawa to Burlington:  3 hours, 30 minutes
Boston to Burlington: 4 hours
You can also fly into Burlington International Airport (BTV) and rent a car at the airport.
Why Visit Burlington, Vermont
Burlington is the largest city in Vermont. It's home to the University of Vermont and Champlain College. Something that stood out to me was all the live music you'd stumble across, whether it was a restaurant on Church St or someone playing their guitar at the waterfront.
When To Visit Burlington, Vermont
In my opinion, Summer and Fall would be the best time to visit Burlington, Vermont. However, I wouldn't skip it if I was heading to Stowe for ski/snowboard seasons. Exploring Church Street alone and the waterfront would be beautiful in any season.
How long do you need in Burlington, Vermont?
I recommend at least two nights. We packed a ton into our trip but still had plenty more we could have added, from restaurants to paddle boarding. We spent our days doing nearby excursions like the waterfalls and our nights catching golden hour by the water and exploring Church Street. If you want to go slower or add things on, I'd recommend adding on time. We spend an additional two nights in Stowe.  
Things to do in Burlington, VT
Explore Church Street Marketplace in Burlington
Church Street is the vibrant main street in Burlington, Vermont. It has been a pedestrian mall since 1973. It's lined with shops, restaurants, live music and more. The street is lined with colourful banners and has plenty of fantastic attractions to stumble upon. The street has many great patios to grab a drink in the summer. Give yourself a good amount of time to explore this street.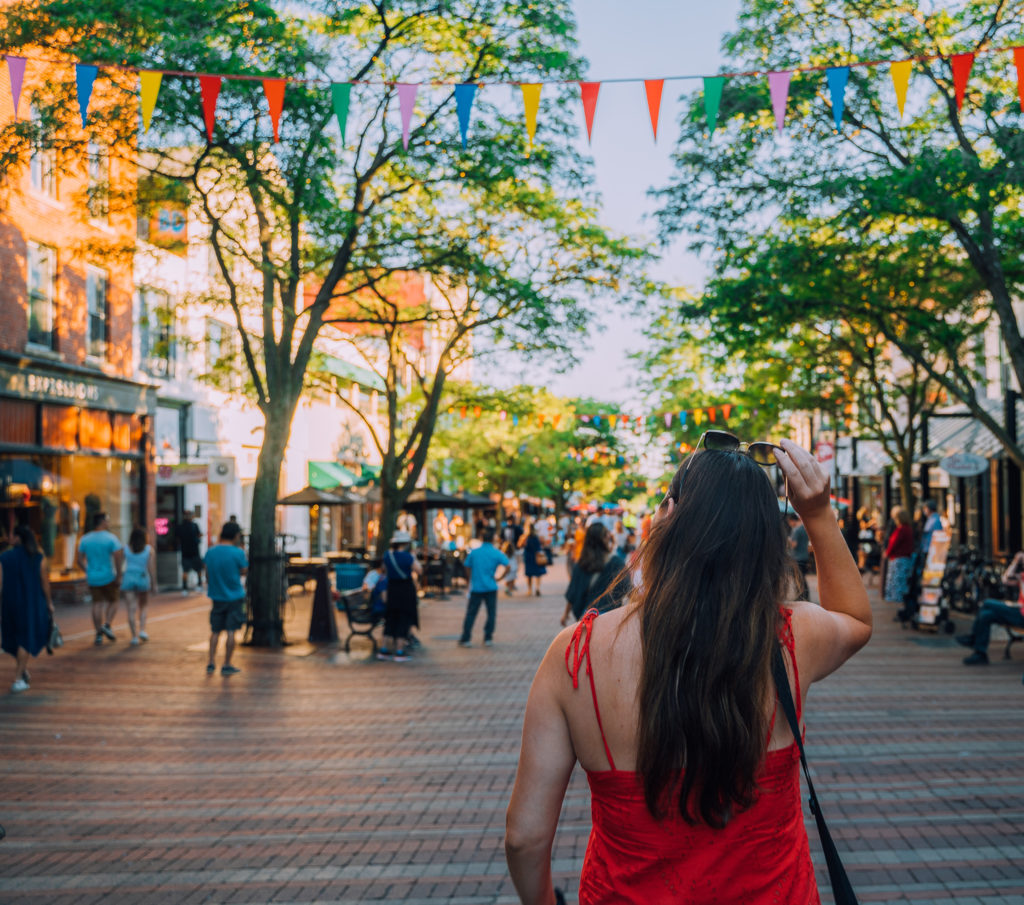 Make sure to pop over to City Hall Park. Go at night to see the illuminated waterpark. Both times we walked by, people sat in the grass enjoying live music.
With limited time we didn't get a chance to dive too much into the food scene, but here are some recommended places on my list for next time: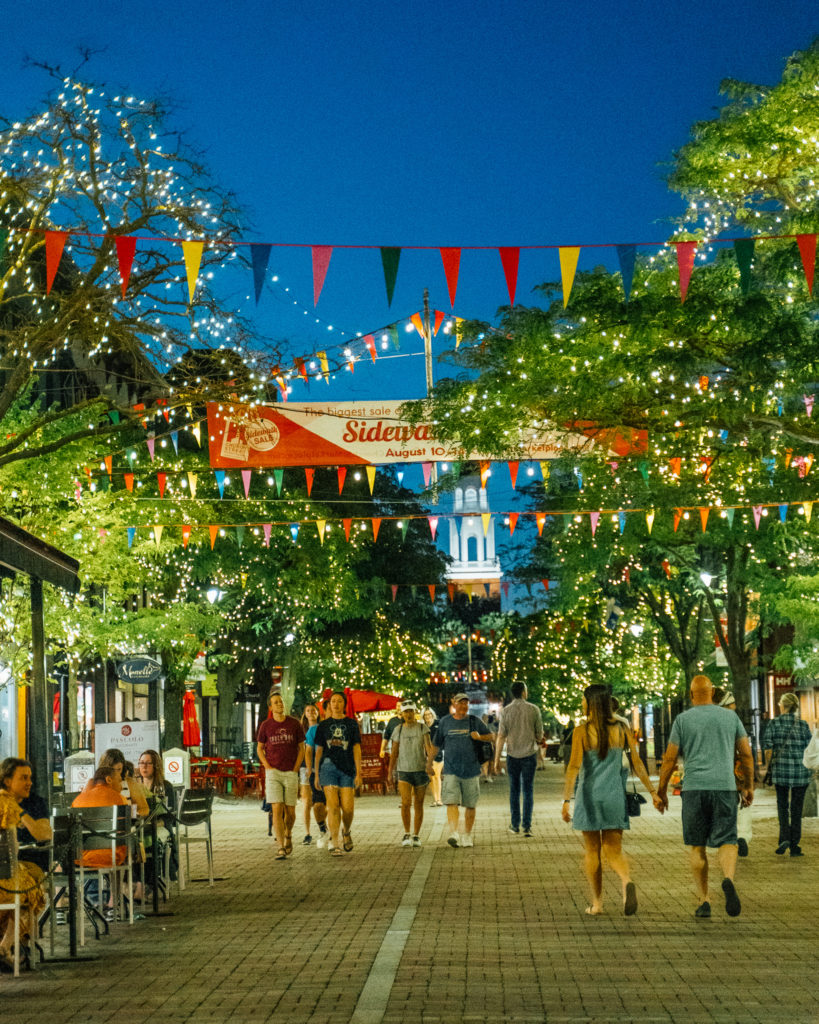 Lake Champlain
You'll find Burlington, VT, along Lake Champlain, the sixth-largest lake in the United States and the largest body of water in Vermont. It's also over 100 miles long, making it an excellent place for sailing or kayaking.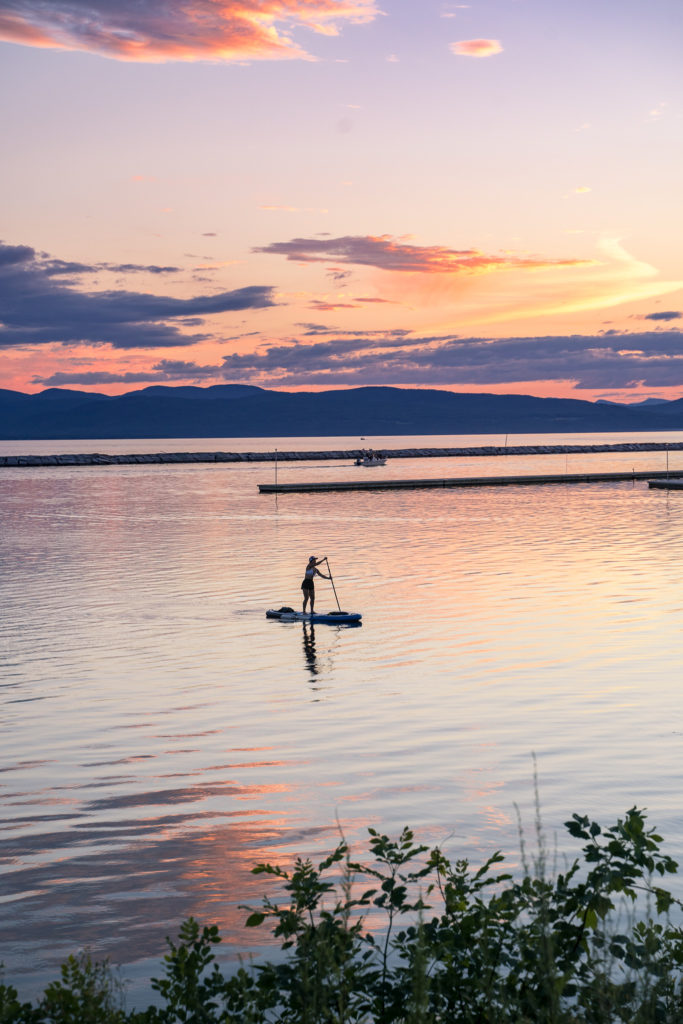 Rent a paddleboard with PaddleSurf Champlain and enjoy the views from the water. You can also go on a sunset (or daytime) cruise on a sailship with Whistling Man Schooner Tours.
Burlington Waterfront
Catching sunset at the waterfront is one of the must-do things to do in Burlington, Vermont. I recommend going to the sunset. Walk along the boardwalk and enjoy the evening at Waterfront Park. Lots of people have picnics here. Nearby is a popular brewery, Foam Brewers, you can pop into before or after.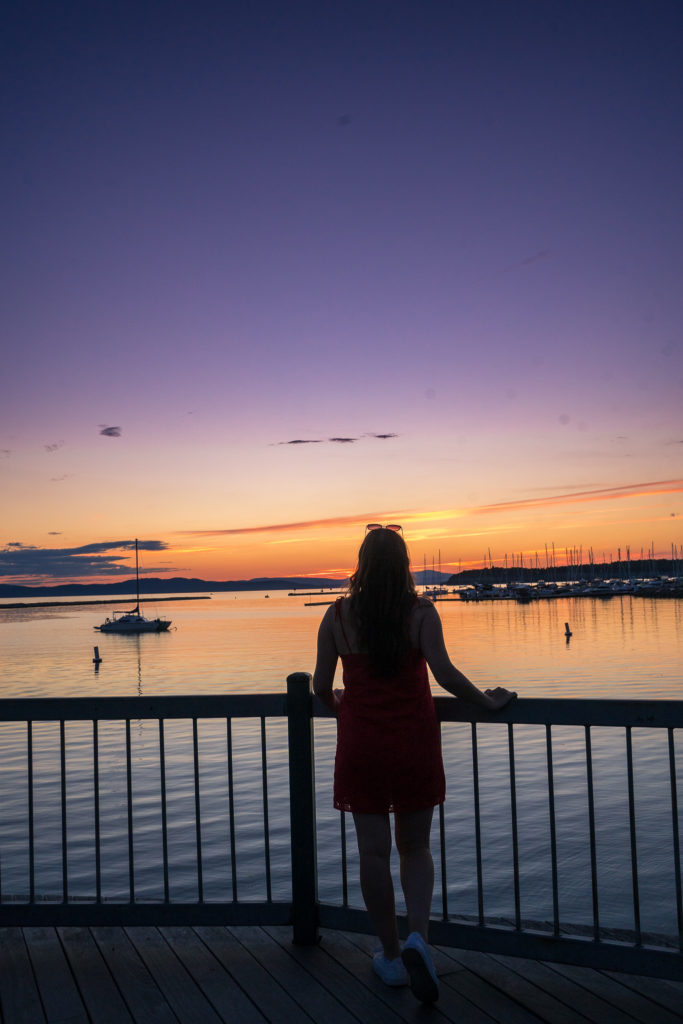 Splash At The Boathouse
Enjoy some tropical vibes at Splash At The Boathouse. Grab a chair on the dock and admire the view of the Adirondack mountains across Lake Champlain. This is a great spot to head for sunset if you want to enjoy a drink at the same time.
Battery Park in Burlington, Vermont
Battery Park is located at the southern end of Battery Street, parallel to Lake Champlain. You can walk along the shoreline or hike up to Battery Hill for panoramic vistas of Burlington, Lake Champlain, and New York City across the water. We walked a golden hour through Battery Park and continued to the waterfront.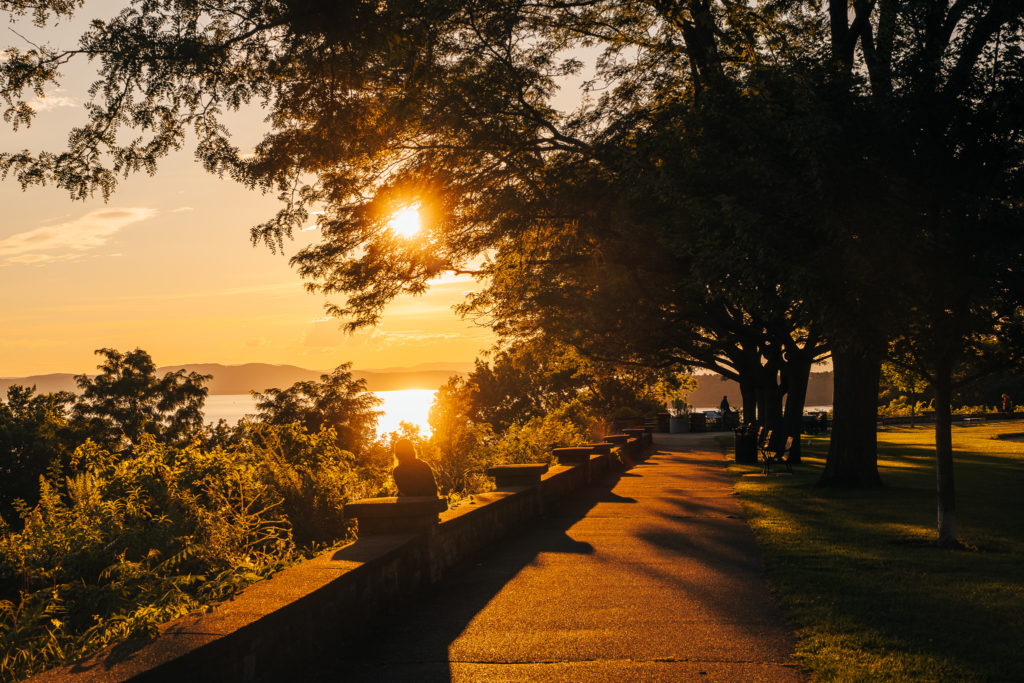 Winooski
Winooski is known as "the Brooklyn of Vermont." It's a cool, trendy neighbourhood with fun shops and restaurants to explore. Some spots to have on your list:
Grab a cup of coffee at Scount Winooski
Golden Hour Co is the cutest shop full of home foods, jewellery, shirts and more. It's the perfect spot to get a souvenir like a Vermont sweater or pick up a gift for someone else. I couldn't help getting a pair of earrings to remember the trip
Next time I'd love to check out the following:
Things To Do Near Burlington, Vermont
Warren Falls
Enjoy a fun waterfall day trip from Burlington at Warren Falls. Huge stones surround the waterfall to sit on and enjoy the view. The waterfall pools are a beautiful turquoise colour.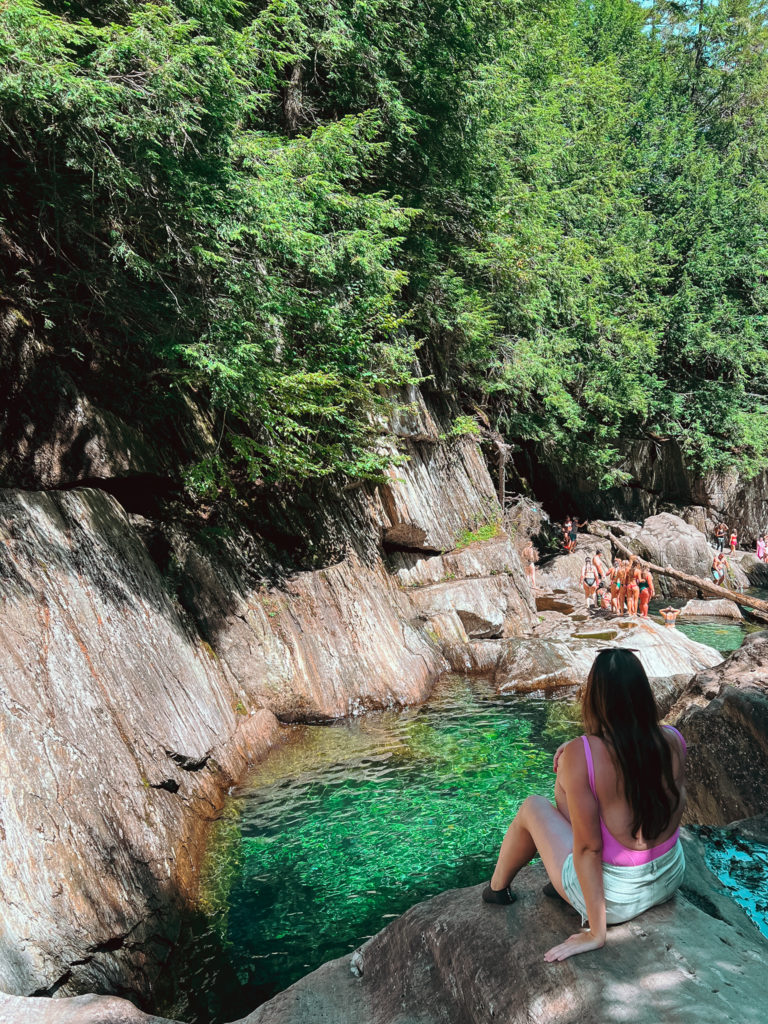 You can walk in the shallow pool at the top of the waterfall but be careful because it's slippery.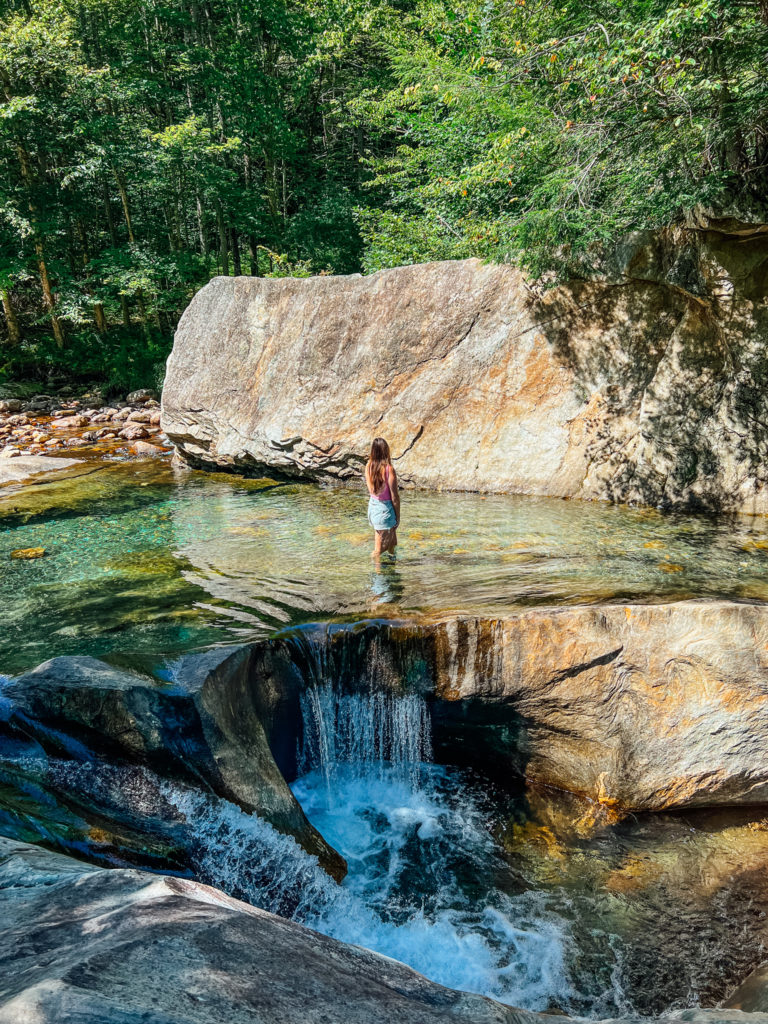 People were jumping off the rocks, but I would advise against this. I tried from one of the lower rocks, and my feet still hit the bottom. Don't be fooled, the water is beautiful but freezing.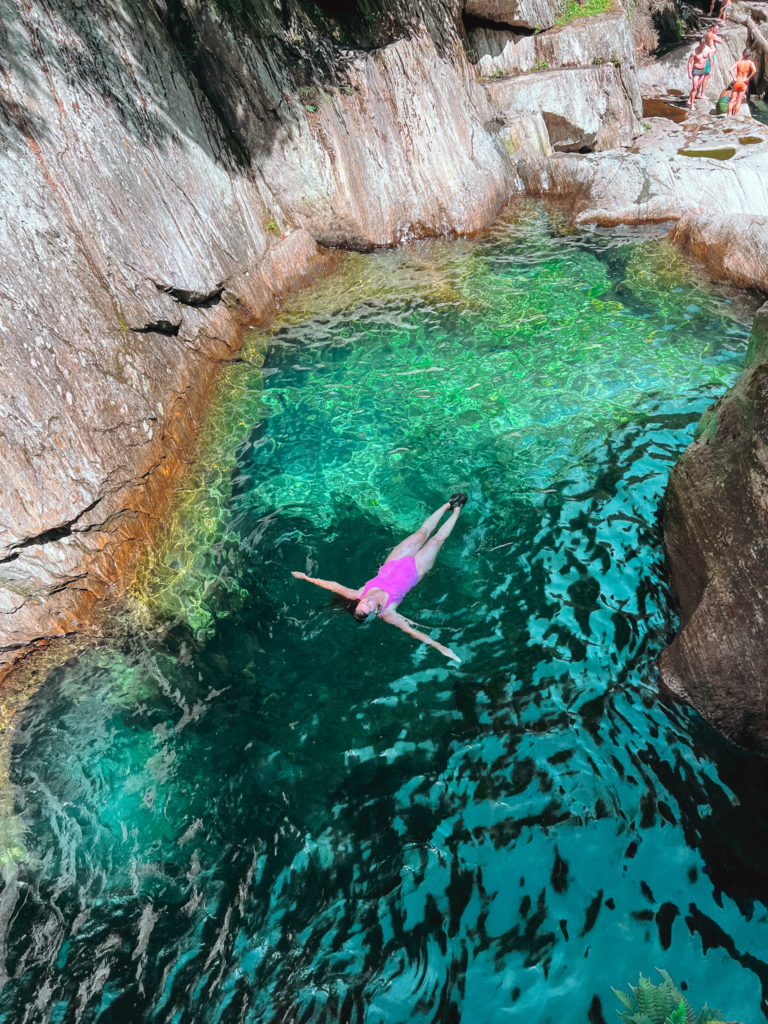 Bartlett Falls
Next up on our waterfall day trip, we check out Bartlett Falls (also known as Bristol Falls). This one took a bit of work to find. You'll need to walk down a steep and rocky path to a stream of water. Parts can be deeper, so I recommend going with things you don't mind getting wet and a dry bag for your valuables.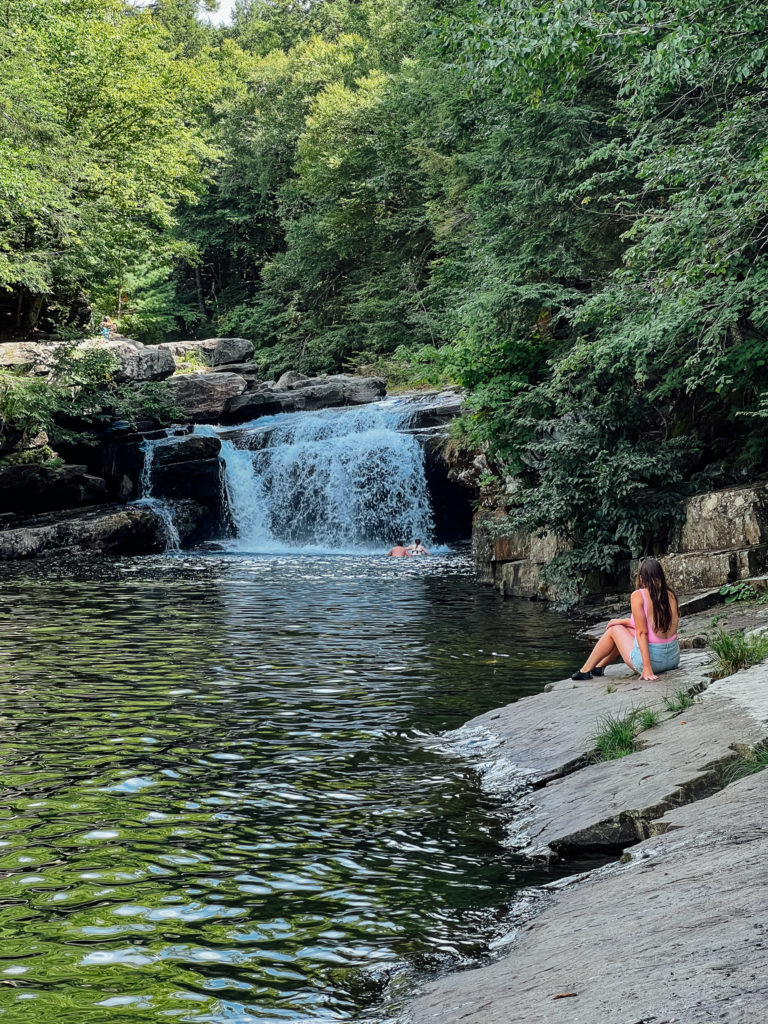 Around the corner, you'll spot the 14 ft waterfall, Bartlett Falls. You'll need to swim to get to it. You can walk behind the falls, but be careful because the wet rock is super slippery, and many people were wiping out. I would recommend water shoes here.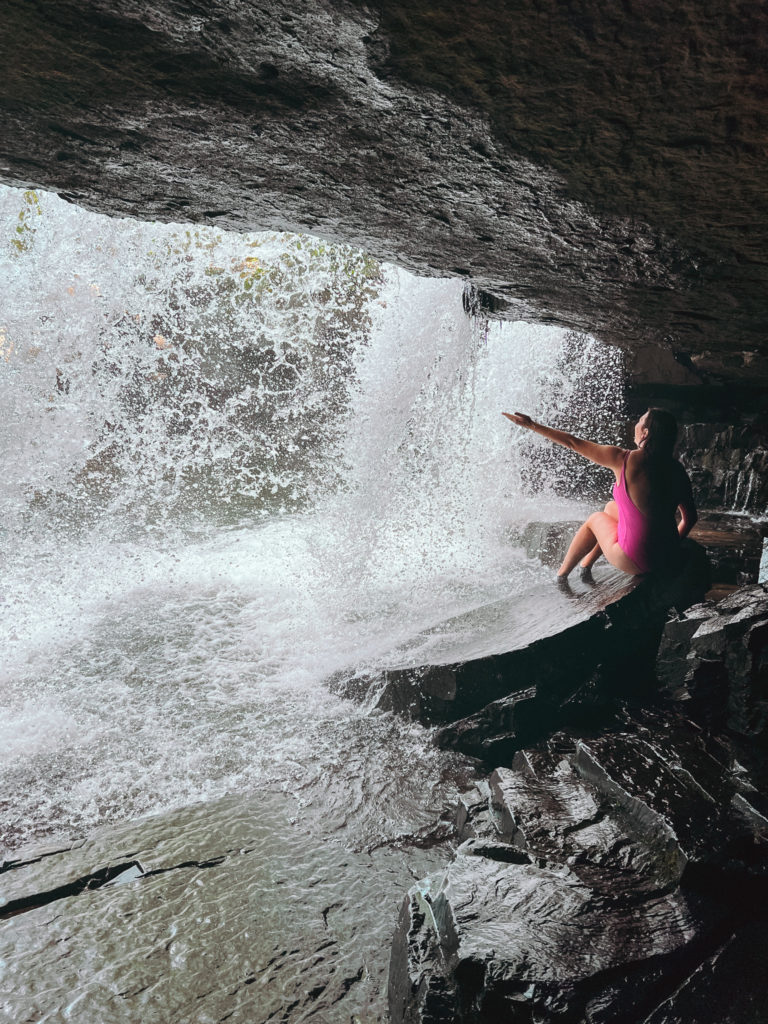 We had so much fun swimming here. Locals planted their camping chairs in the shallow water and enjoyed the view.
Mount Philo
Mount Philo is a great spot to head if you want easy access to a beautiful view. You'll see the Lake Champlain Valley and New York's Adirondack Mountains from the top. We drove to the top to save time, but it's also a popular hiking destination in Burlington, Vermont.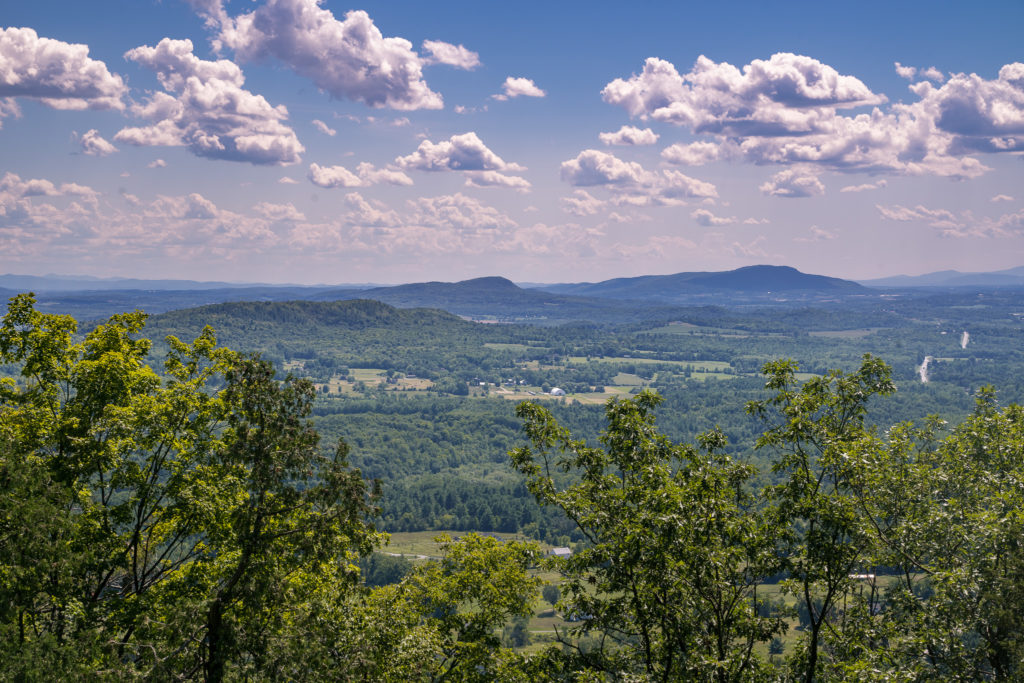 It's also a great place to watch the sunset or enjoy a picnic with friends. The hike to Mount Philo is fairly moderate and can be completed in about 2 hours.
Shelburne Farms
Shelburne Farms is a working farm and museum in Shelburne, Vermont. We almost skipped this experience because I thought it was geared toward kids, but there's plenty for all ages to enjoy. It's open year-round, but the best time to go is during the fall when the leaves change.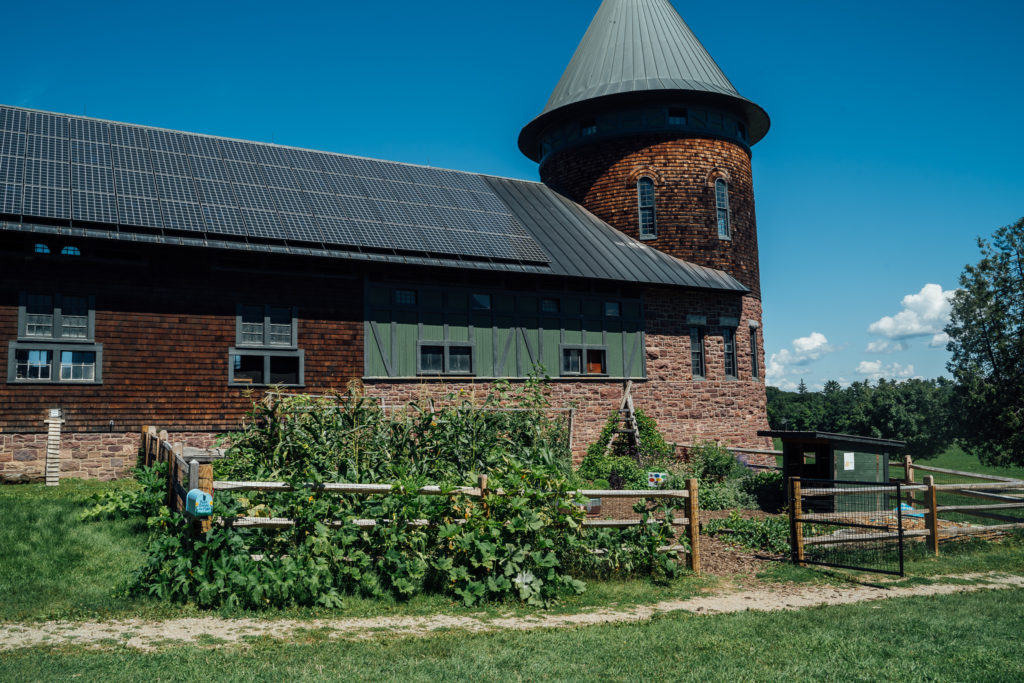 Take a hayride through the farm grounds
Enjoy some of their workshops, from making cheese to maple syrup
Visit their petting zoo or walk through gardens filled with flowers and herbs like lavender and mint
Hike the quick and easy Lone Tree Hill Loop for a beautiful lookout
Where to Stay in Burlington, Vermont
Here are some central places to stay in Burlington, Vermont:
If you're looking for great views in a central location, check out Hilton Burlington. Wake up to views of Lake Champlain and enjoy being within walking distance of attractions like Church Street Marketplace. Another great option is Courtyard Burlington Harbor.
We stayed at the Best Western Plus Windjammer Inn. It was only a few minutes' drive from Church Street Marketplace. It had a great outdoor pool and gardens. On the first night, we visited the on-site restaurant, Windjammer Restaurant and enjoyed seafood appetizers. Make sure to get the lobstercargot.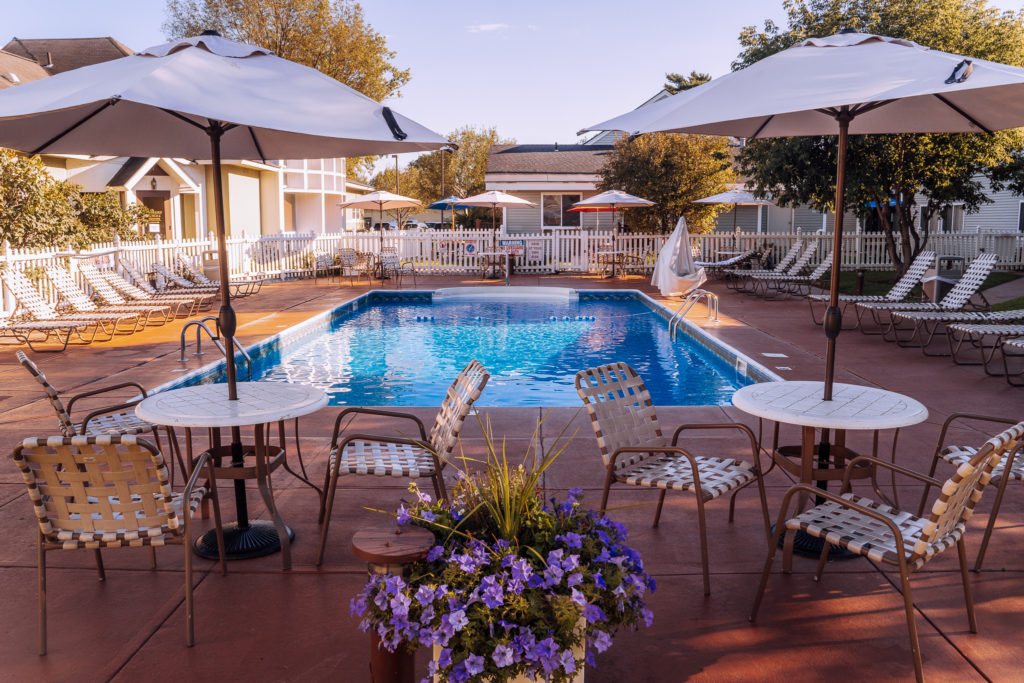 Vermont is one of those places I know I'll continue to return to. I hope you have an amazing time visiting 🙂
Make sure to add Stowe, VT, to this adventure for mountain views and picturesque towns.