Belize quickly became one of my favourite destinations after visiting. From some of the kindest locals you'll meet abroad to stunning landscapes and water adventures, Belize needs to be on your bucket list. Here's everything you need to know before visiting Belize.
Why is Belize unique?
From some of the friendliest locals you will meet abroad to the world's second-largest barrier reef to fusion cuisine, there is plenty that makes Belize unique. It's also the only country in Central America where English is the official language.
The country also has a diverse ecosystem, including tropical rainforests, coral reefs, and mangrove swamps. The Barrier Reef Reserve System of Belize, which includes the largest barrier reef in the Western Hemisphere, is also a UNESCO World Heritage Site. Whether you're looking to check out Mayan ruins, jungle exploring or enjoy an underwater adventure, there are plenty of unique things to do in Belize for every type of travel style.
It quickly became one of my favourite countries I've ever visited after exploring Caye Caulker and Ambergris Caye. I can't wait to return and explore more mainland. 
What's the best way to get to Belize?
The easiest way is to fly into Belize City (BZE). You can get direct flights from destinations like Toronto, NYC, Washington, Cancun and more.
You can also take a ferry, like Belize Water Taxi, from Belize to Chetumal, Mexico.
What's the Best Time To Visit Belize?
The best time to visit Belize is from late November to mid-April. This is the dry season when the weather is cooler and less humid, making it a perfect time for outdoor activities like hiking, snorkelling, and diving.
The wet season in Belize starts from June to November, and it can be hot and humid, with occasional rain showers or thunderstorms. If you plan to visit during the wet season, be prepared for occasional rain showers and potential disruptions to outdoor activities.
However, the peak tourist season in Belize is from mid-December to early January, and prices for accommodations and activities tend to be higher during this time. It's advisable to book your travel and accommodations well in advance if you plan to visit during the peak season.
Is Belize Safe?
Belize is generally considered a safe destination for tourists; however, as with any international travel, it is important to exercise caution and stay aware of your surroundings.
Some areas, particularly Belize City, have higher crime rates and should be avoided. From my research, it was suggested to skip Belize City.
I always check travel advisories and register my trip before visiting a destination, and I also take precautions like hiding valuables, making sure we take marked taxis, etc.
My trip focused on Caye Caulker and Ambergris Caye, and I felt safe the whole time. The locals were so friendly and helpful. 
Explore the World's Second Largest Barrier Reef
The Belize Barrier Reef is the second-largest barrier reef in the world. It has abundant marine life, including sea turtles. It was a UNESCO World Heritage Site in 1996. It brings divers and snorkelers from all over the world to explore this aquatic wonderland.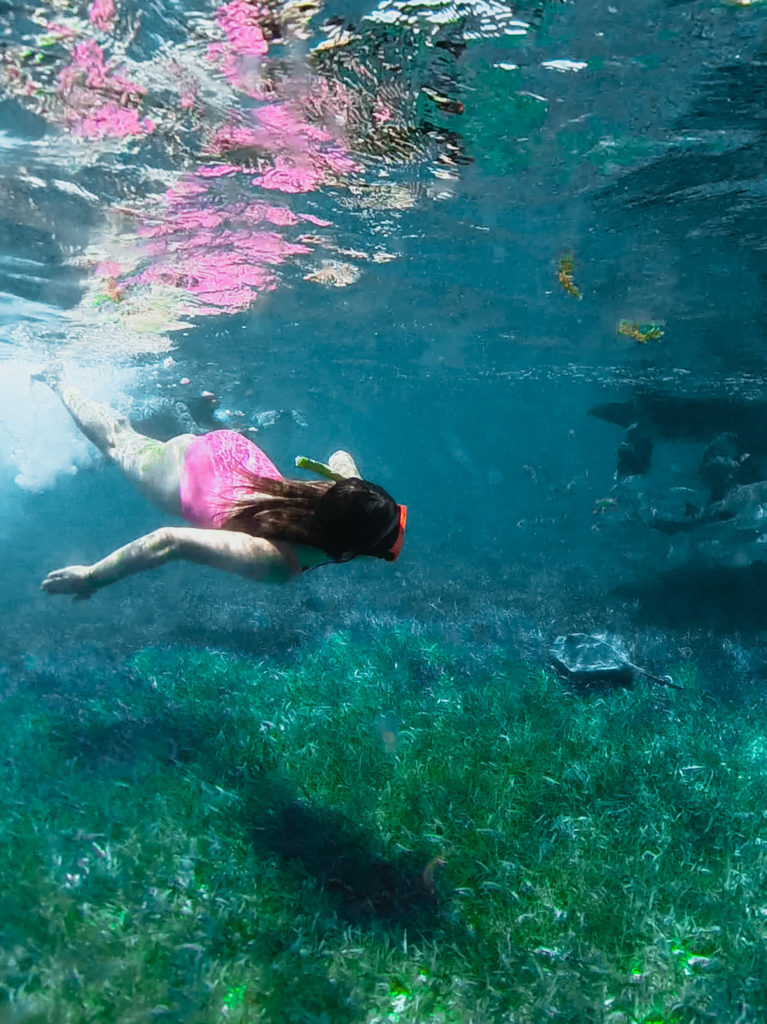 I've explored the world's biggest barrier reef in Australia, and what's unique about Belize is the diversity of wildlife you'll see, like manatees, sea turtles, nurse sharks, stingrays and more.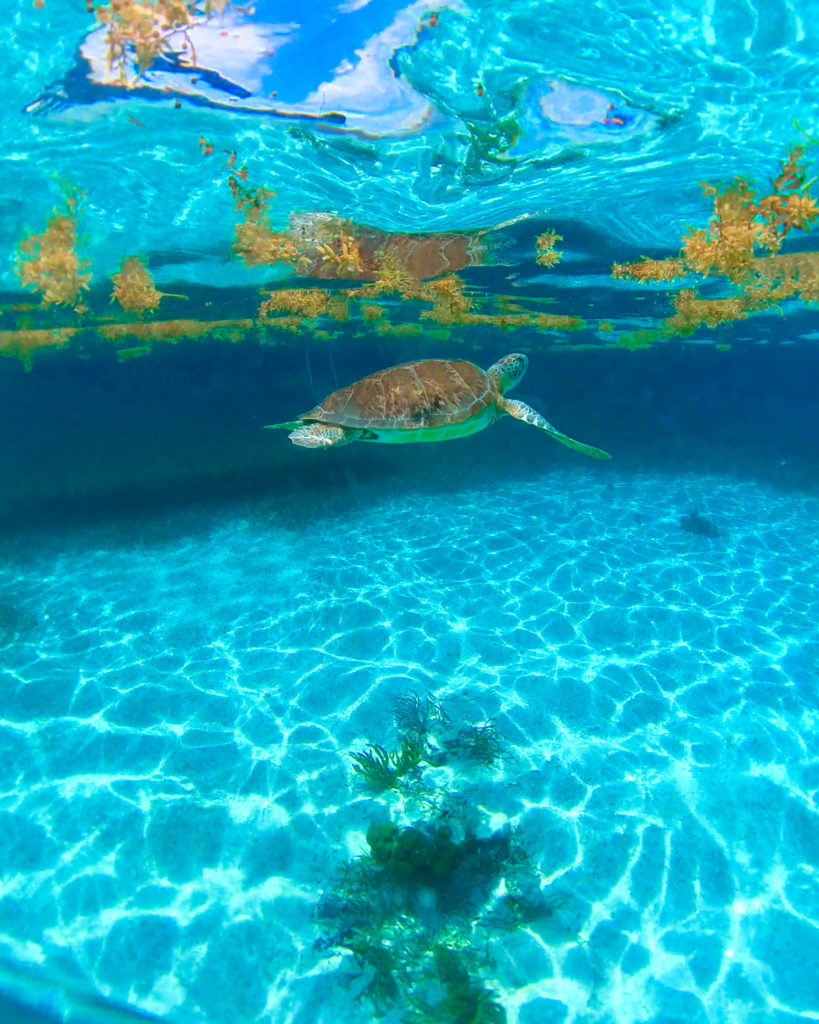 What is the Official Language of Belize?
Belize is the only country in Central America with English as an official language. Other popular languages in Belize include Spanish and Belizean Creole.
Belize Travel Insurance is No Longer Mandatory, but…
When I visited Belize, buying Belize Travel Insurance was mandatory for visiting, even if you had your insurance. You can still purchase Belize Travel Insurance, but it's no longer necessary.
I always travel with travel insurance. You can never predict what might happen on your trip. We didn't run into any problems, but we had our travel insurance on top of this, especially if you're doing activities like diving.
What Currency Is Used in Belize?
The currency of Belize is the Belize dollar (BZD), but the US dollar (USD) is also accepted. The exchange rate between the currencies is fixed, and 1 USD = 2 BZE.
BZE and USD are even accepted within the same transaction. When looking at prices, assume everything is listed in BZE.
How Much Time Do You Need in Belize?
The number of days needed in Belize depends on your travel plans and interests. If you're only visiting the main cayes, you'll need around 4-5 days. A week to ten days would be reasonable if you plan to visit major tourist destinations such as the Barrier Reef, Mayan ruins, and national parks. This would also give you enough time to explore the different regions of Belize, such as the Cayo District, the Placencia Peninsula, and the Corozal District.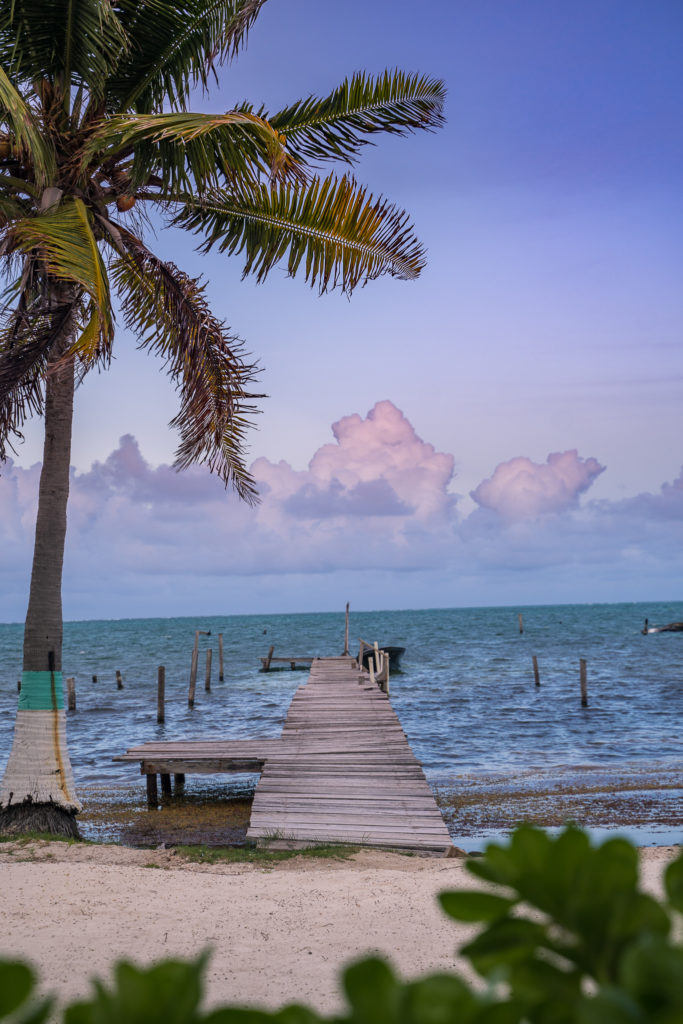 Where Should You Visit In Belize?
There are many places to visit in Belize. Here's a quick rundown of some popular destinations:
Ambergris Caye: This island is the largest in Belize and offers a variety of activities, such as snorkelling and diving on the Barrier Reef, swimming in crystal-clear waters, and exploring the island's many bars and restaurants.
Caye Caulker: has a "go slow" attitude, and this small but incredible Caye has some of the friendliest people. 
Hopkins is the perfect spot if you want a mix of water and jungle adventures.
Cayo District: This region is known for its natural beauty, including the popular Mayan ruins of Caracol, Xunantunich, and Cahal Pech.
Placencia: This peninsula is known for its beautiful beaches and offers a variety of water sports, such as kayaking, windsurfing, and kitesurfing. You can also explore nearby Ruins. On the way to the airport home, our cab driver, Marta, told us we must return and explore Placencia. She recommended five days in Placencia 1 in Hopkins.
Corozal District: This district is known for its natural beauty, including the Cerros Maya archaeological site, the Corozal Bay Wildlife Sanctuary and the Consejo Shores.
Belize City: This is the largest city in Belize and offers a variety of cultural and historical sites, such as the Museum of Belize, the Government House and the Baron Bliss Lighthouse.
Actun Tunichil Muknal (ATM) Cave: This is one of the most famous caves in Belize, and a tour of the cave will take you through ancient Mayan ceremonial sites, complete with artifacts and human remains. Cave tubing is popular here. If you're interested in this excursion, I recommend some nights mainland as it's much pricier to do from the Cayes.
The Cockscomb Basin Wildlife Sanctuary is a protected area known for jaguars and other wildlife. It offers hiking, birdwatching and other outdoor activities.
These are just a few examples of the many places to visit in Belize, depending on your interests and travel plans.
Which Caye in Belize Should You Visit
I did a lot of research on this before visiting. Did we want to go to the large cayes or try for smaller ones?
We chose the two biggest Cayes, Ambergris Caye and Caye Caulker. Both had plenty of things to do to keep us busy, and the locals were so friendly and helpful. They're also much easier to get to than the other cayes. I would consider the other cayes for another trip, but if it's your first time visiting Belize, keep it simple and visit Caye Caulker and/or Ambergris Caye.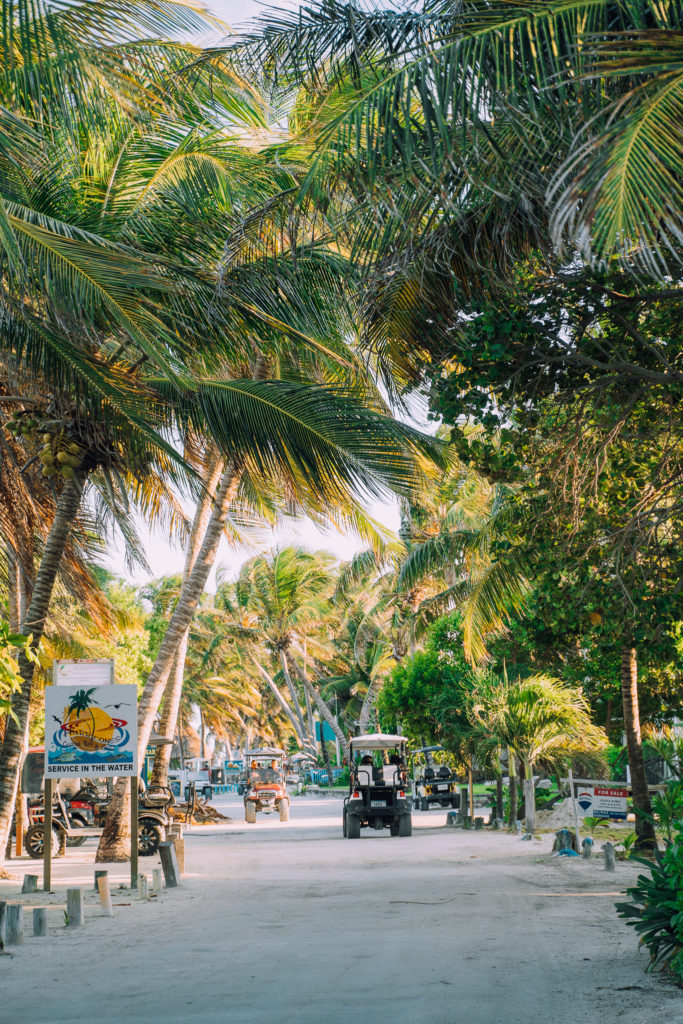 Ambergris Caye is the largest, with a more extensive selection of hotels, restaurants and activities. I loved visiting them both, but my favourite was Caye Caulker. Caye Caulker has "go slow" as their motto if you're looking for a slower pace but still lots of things to do.
Can You Drink Tap Water in Belize?
The tap water in Belize is not safe to drink. Most hotels have water jugs to refill your water bottle or get water from a local convenience store. I would also use a little bottled water to brush my teeth.
Try a Belizean Beer
Belikin Beer is a local Belizean beer you'll find throughout the country. It is the flagship brand of the Belize Brewing Company, which was established in 1969. You'll find this classic European continental lager all across Belize.
Belikin Beer is available in several varieties, including Belikin Lager, Belikin Premium, Belikin Stout, and more. It's the perfect refresher for moments like catching the sunset at The Split on Caye Caulker.
Try World Famous Hot Sauce
While in Belize, you need to try the famous Maries Sharp Hot Sauce. It all began in 1980 when a doctor who enjoyed making hot sauce inches spare time asked Marie to harvest some red habanero peppers. She grew far more than the doctor needed and didn't want them to go to waste, so she created her how hot sauce with the habanero peppers.
Today, it's a world-famous hot sauce. There are now more than 16 flavours. You'll find the traditional habanero hot sauce at restaurants across Belize. I quickly became obsessed, and Marie Sharp Hot Sauce was a staple in my kitchen.
Nearby destinations to add to your Belize trip:
Cancun: fly into Cancun, explore the Yucatan Peninsula and make your way to Belize
Bacalar: this was where many travellers we met in Belize had come from
Ecuador: add on more beach and water adventures to this bucket list Galapagos Tour
Gadventures Central America adventure. Journey through 5 countries from Guatemala to Costa Rica. I did this tour a few years ago and loved it.
Guatemala: From Antigua City to Lake Atitlan, Guatemala is a fantastic destination
Honduras: continue along the World's Second-Largest Barrier Reef and enjoy diving in Roatan
Have more questions about Belize? Comment them below.