Santa Cruz is the second-largest island in the Galapagos. It's full of wildlife, nature, and city experiences. Whether you want to see giant tortoises, explore laval tunnels, or swim with sea lions, Santa Cruz has plenty of experiences. If you choose Galapagos Island, it would be Santa Cruz. Here are the best things to do in Santa Cruz on the Galapagos Islands.
Check out my full Galapagos Guide of things to know before visiting!
How To Explore Santa Cruz
I visited Santa Cruz during a week-long Galapagos Islands tour with G Adventures. It was a great way to make the most of our time on the islands with a local expert. You can read more about the full experience here.
Puerto Ayora is easily walkable and full of things to explore. It has an airport on a connecting island, or you can take a speed boat from a neighbouring island. You can also easily navigate Santa Cruz on your own.
How Long Do You Need in Santa Cruz
We stayed in Santa Cruz for two nights, and I thought it was a good amount of time. If you plan on doing day trips from Santa Cruz, I would add more time.
Best Things To Do on Santa Cruz in the Galapagos Islands
Puerto Ayora, Santa Cruz

Puerto Ayora is the central city on Santa Cruz Island. The city is full of cool restaurants and bars.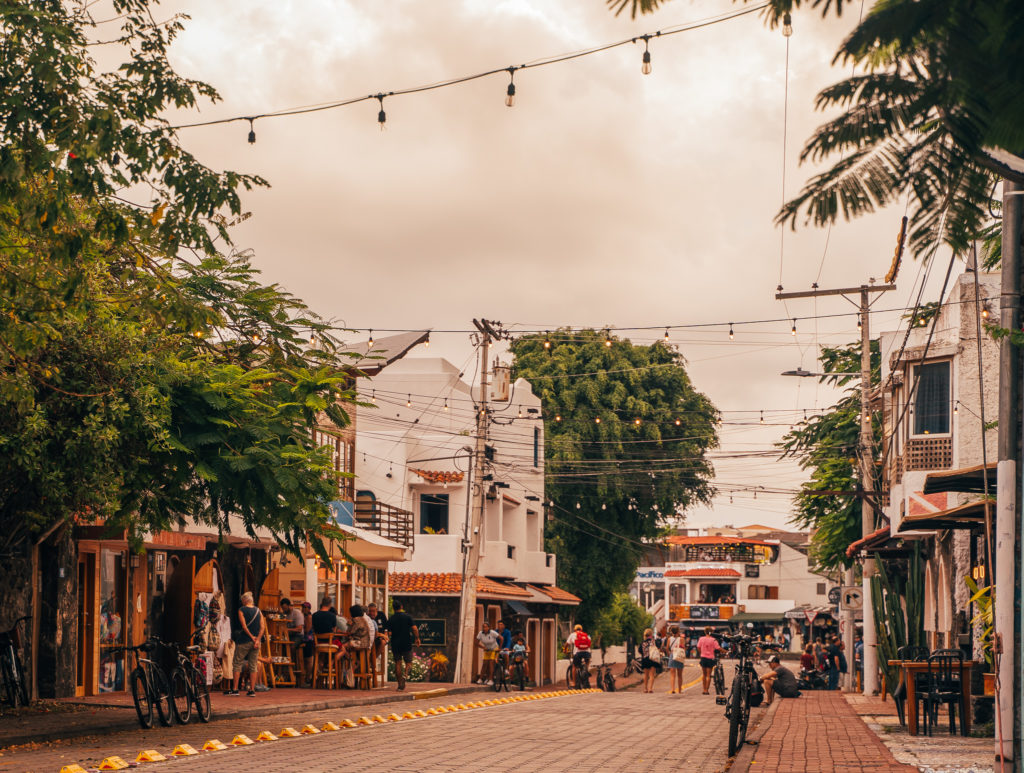 This is a great place to experience Galapagos nightlife. Our group did some bar hopping and went to playing pool and karaoke to a local club and danced the night away.
Puerto Ayora Boardwalk
Take a stroll here to admire the ocean views. You'll surely cross paths with a sea lion passing through or napping on a bench. Look below to see if you can spot some tiny sharks swimming by.
Las Grietas Grotto
This was one of my favourite activities in Santa Cruz. Jump into a refreshing lava-carved pool at Las Grietas. Seeing the lava formations surrounding the turquoise water is a beautiful sight. You can even see the lava formations below the water. I could have spent hours here.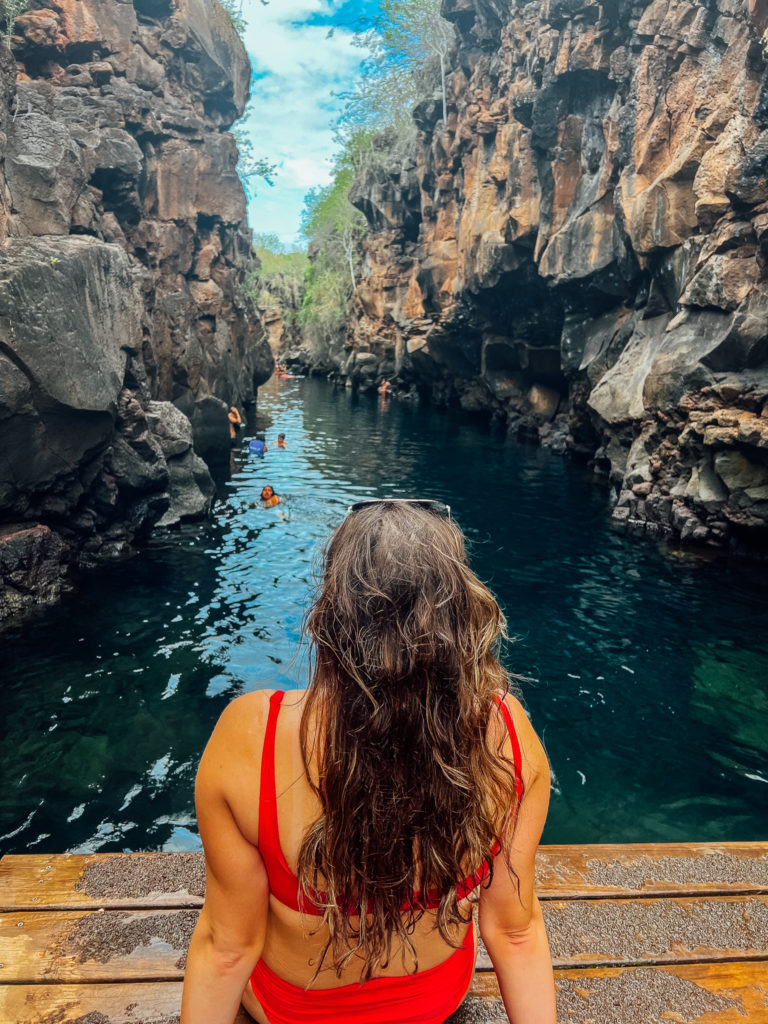 You'll need to take a water taxi from the main dock in Puerto Ayora and then walk to the entrance. We got stalled by this sea lion that took charge of the dock and wanted to pass.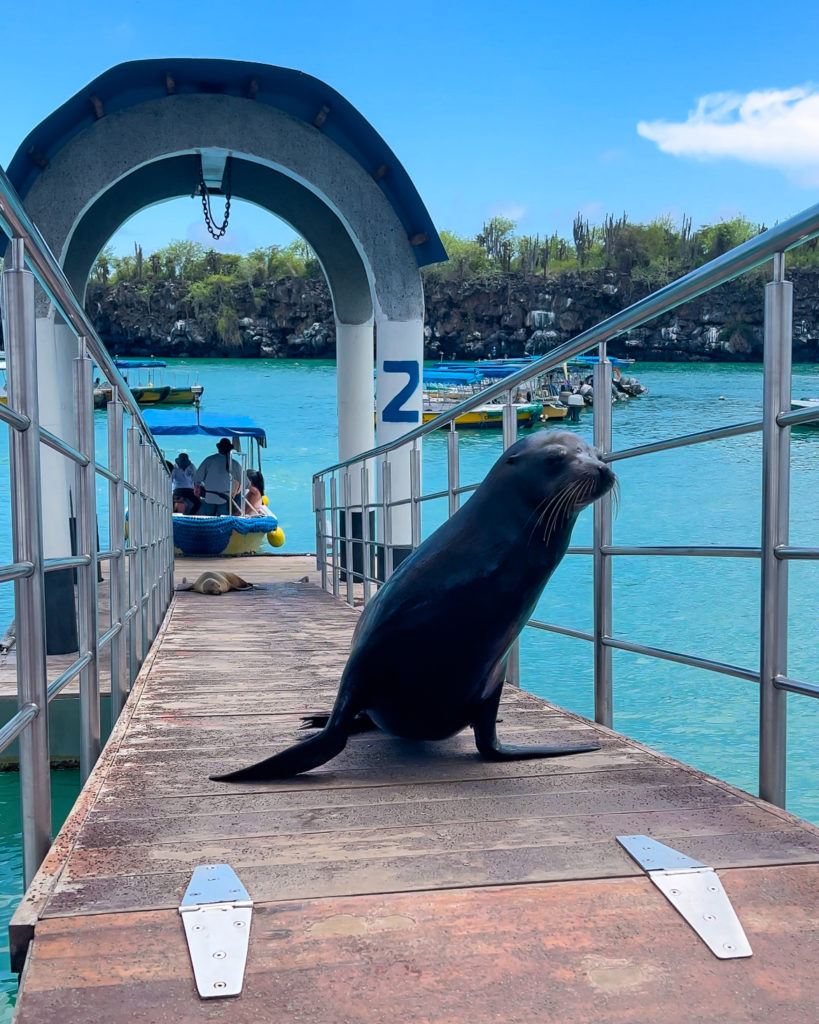 The water taxi will drop you off, and you'll have a short walk to the entrance. You will be stopped by guides in beige shirts who will ask you to pay a few dollars to enter and need to accompany you. I hadn't heard of this previously and was worried it was a scam, but it was legit. Your payment includes a tour, but we were pressed for time and asked to skip that portion.
Charles Darwin Research Centre
The Charles Darwin Research Center is a scientific research facility located on the island of Santa Cruz in the Galapagos archipelago. It was established in 1964 to study and protect the unique flora and fauna of the islands. The center is named after Charles Darwin, the British naturalist who visited the Galapagos Islands in 1835 and whose observations and studies of the unique wildlife helped develop his evolution theory.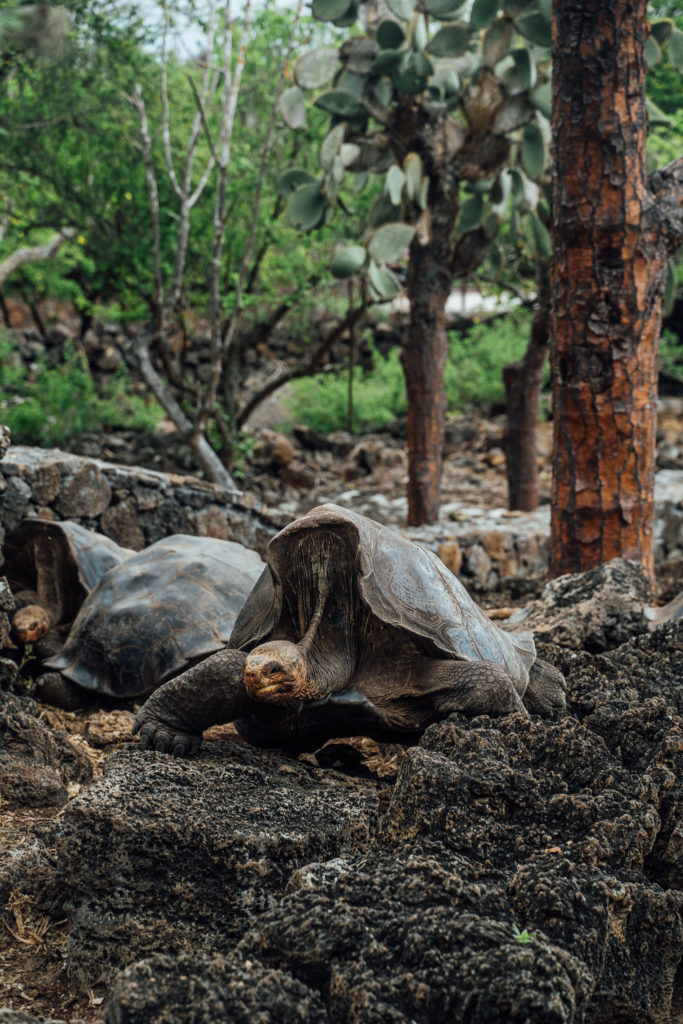 One of the primary functions of the Charles Darwin Research Center is to research the Galapagos tortoise, a species that is endemic to the islands and which has been heavily impacted by human activity. The center has a captive breeding program for the tortoise, which has helped to increase the species' population.
You'll see everything from baby tortoises to old giant tortoises. These creatures look much bigger in person, and it's crazy to see them slowly walk. Did you know they can live for over 100 years?
El Chato Ranch
El Chato Ranch is a giant tortoise reserve where you can see free-roaming giant tortoises. This is a spot I wouldn't have known about if we weren't on our G Adventures tour. Our guide, Jonathan, showed us how to get some cool perspective photos from a distance.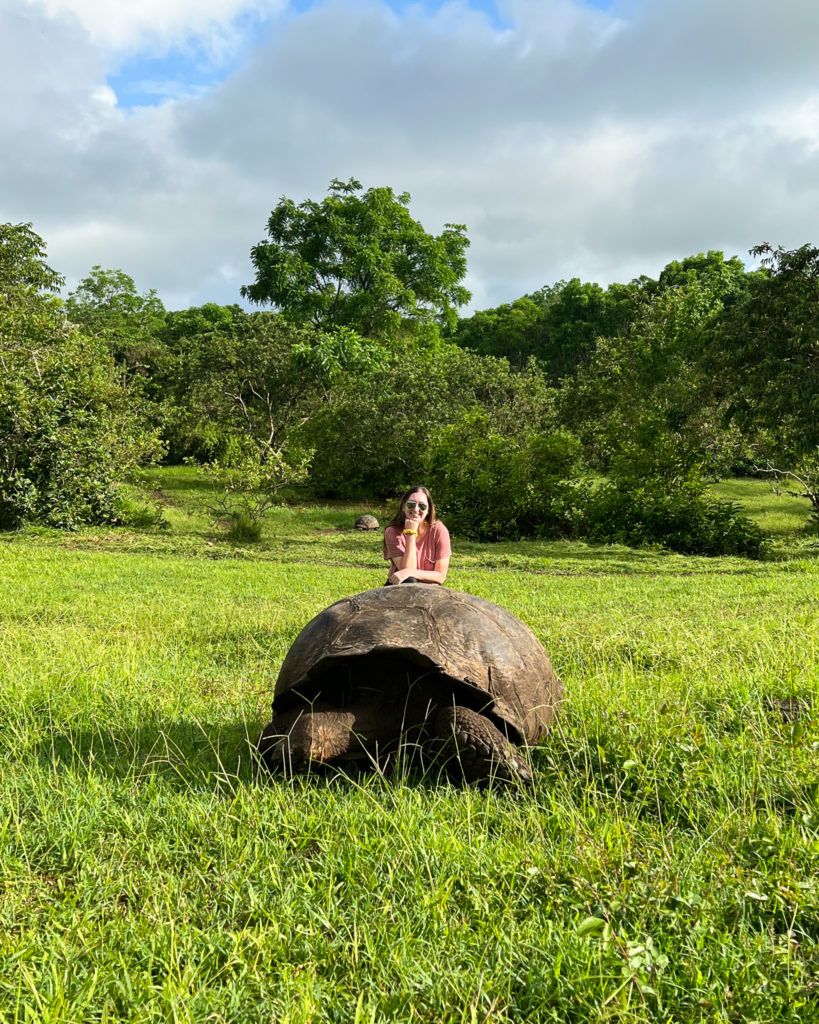 There's also a special cave system you can explore on the property. This was a unique activity I did not expect. You'll see unique volcanic formations and be able to walk through a lava tunnel. This was a unique activity I did not expect.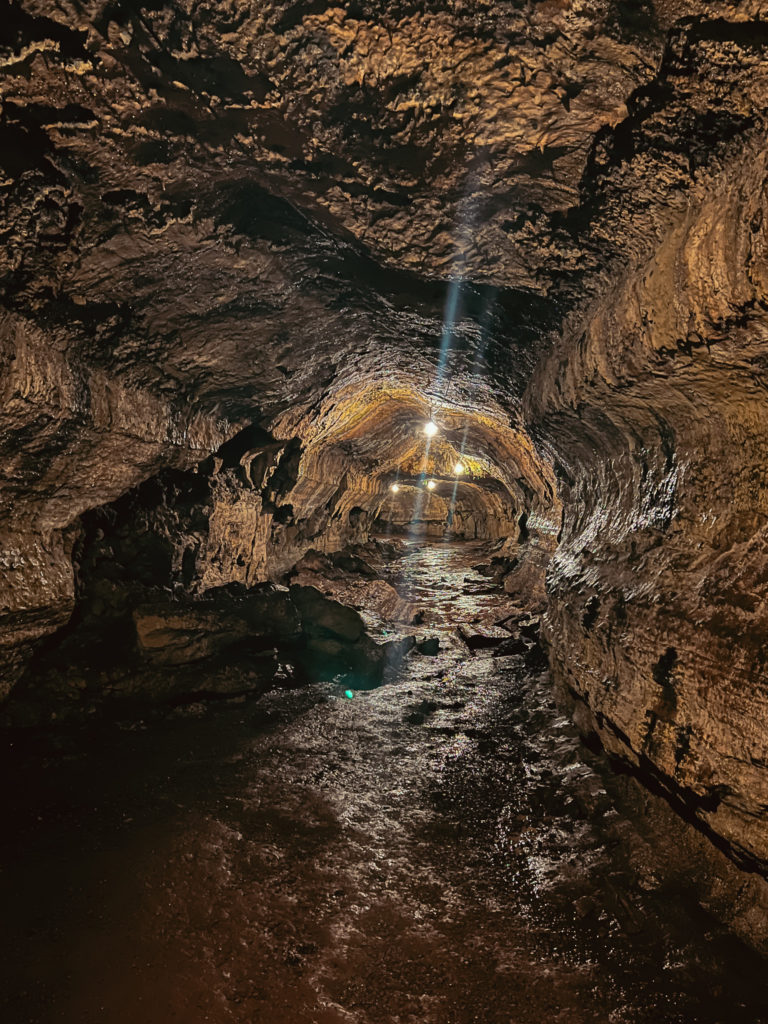 We reached a part of the caves where we had to crawl a short distance. I'm not usually a fan of small spaces, but there was a good amount of room to get across, and our group had lots of laughs watching everyone manoeuvre to the other side.
Make sure to get an empanada at the restaurant before you leave.
Tortuga Bay
Tortuga Bay is a white sand beach on Santa Cruz that is free to visit. At Tortuga Bay has two beaches, Playa Brava and Playa Mansa. Playa Brava is known for its strong currents, large waves, and has lots of mangroves. Playa Mansa is a calm, sheltered bay that is perfect for swimming.
To access Tortuga Bay, you'll hike a 2.5-kilometre trail from Puerto Ayora. Before arriving at the beach, the trail will take you through a cactus forest and lava formations. There are no facilities on the beach, so bring everything you need, including food, water and sunscreen.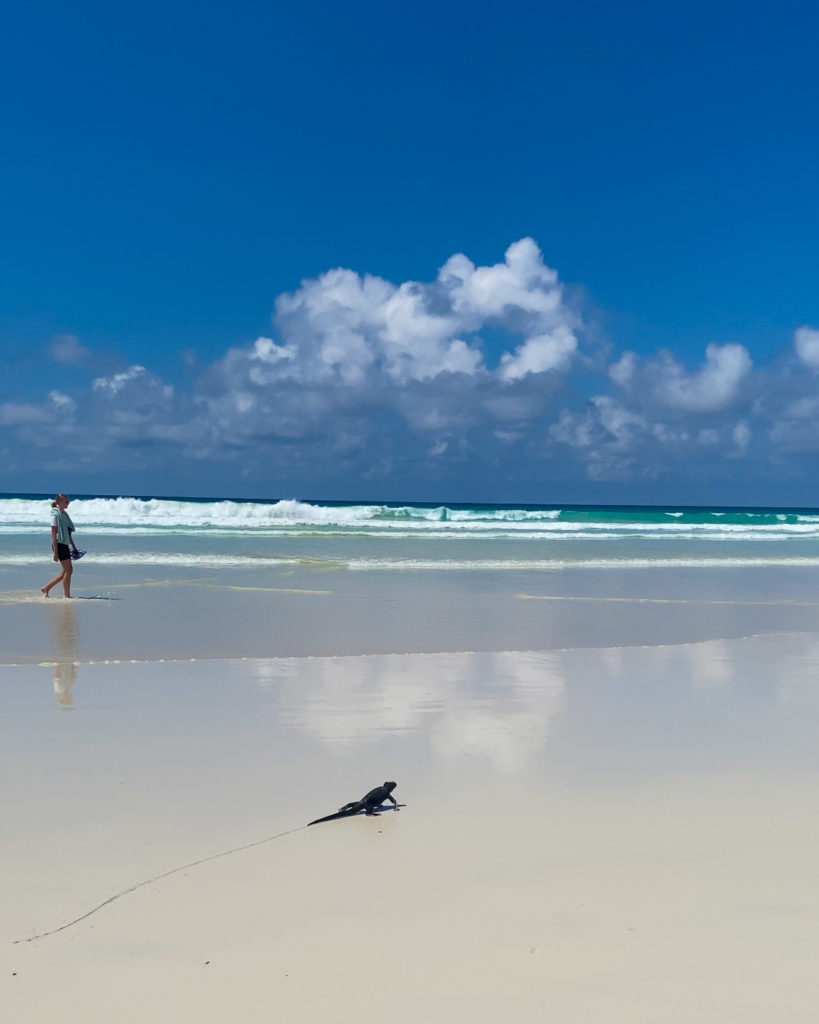 Sources said you could snorkel here, but I found the water quite cloudy. By the time we got there and cooled off in the water, we were ready to leave. We opted to take a water taxi back to Puerto Ayora to save time, especially in the afternoon sun. We found a woman walking around with a clipboard and got our names on the list.
If I were to go again, I would skip Tortuga Bay and visit Las Grietas a second time.
Day Trips from Santa Cruz
Santa Cruz is also a great place to do day trips to some of the more remote islands. A day trip from Santa Cruz is a great way to experience some of the neighbourhing islands. Each island has its unique landscpe and wildlife to explore. Here are some possible islands to check out:
Where to Stay on Santa Cruz Island:
There are plenty of places to stay in Santa Cruz for all budgets and preferences.
Our G Adventures group stayed at Hotel Coloma. It was a guesthouse/basic accommodation in a great location. It was perfect for what we needed and excellent if you're on a budget.
Looking for a more luxurious stay on Santa Cruz Island? You need to check out Finch Bay with its gorgeous outdoor pool, beachfront and more. 
Make sure to check out: