Montenegro is a gem on the Adriatic coast with its awe-inspiring landscapes, rich history, and a captivating blend of old-world charm and modern allure. From the stunning Lovcen Mountains to the cobblestone streets of Kotor to the pristine waters of the Tara River, Montenegro offers a diverse array of natural beauty. Whether you're seeking breathtaking landscapes, cultural enrichment, or adrenaline-pumping activities, Montenegro is a compelling destination that promises to captivate your senses and leave you with cherished memories. Here's everything you can't miss while visiting Montenegro:
Best Time To Visit Montenegro
Montenegro has a Mediterranean climate along its coast, while its interior regions have more of a continental climate. Here are some considerations for different times of the year:
Summer (June to August): Enjoy warm, sunny weather, perfect for beach activities, exploring the coastline and enjoying Montenegro's summer. It's peak tourist season, but I never felt like there were crowds or that areas were too busy. It was the perfect amount of people for a vibrant atmosphere but not overwhelming.
Spring (April to May) and Fall (September to October): These shoulder seasons offer milder temperatures and fewer crowds. It's a great time for sightseeing, hiking, and outdoor activities. The sea is still warm enough for swimming, and you can explore cultural sites without the intense summer heat.
How To Get to Montenegro
Fly into Tivat (TIV) International Airport. Tivat is about 15 minutes from Kotor. You can use Red Taxi Kotor.
Fly into Dubrovnik (DBV) International Airport. You can take a Platanus Bus or Libertas Bus from the airport to the Dubrovnik Bus Terminal. You can book a bus on GetByBus. From there, take a bus to Kotor. It takes around 3 hours, but there can be delays with traffic and the border crossing, so I recommend giving yourself some wiggle room. Some tips for the bus:
Make sure to read the ticket to confirm the time, bus brand and location
You'll need to pay a 1-2 euro service fee for your luggage. At Kotor Bus Station, you'll need to pay 1 euro at the desk and get a receipt.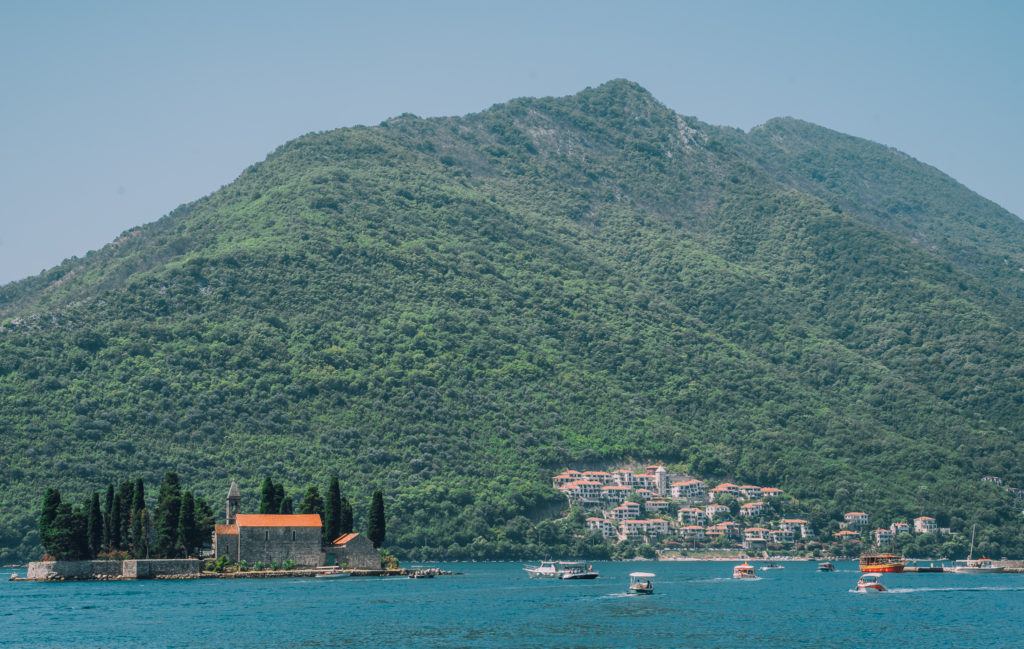 Best Way to Travel Within Montenegro
I recommend buses and tours. The roads can be quite winding, which would be a lot if you're not used to it. I used GetByBus to book my buses and 360 Monte for day tours (more info below).
What Currency Is Used in Montenegro?
The official currency used in Montenegro is the Euro (€). I recommend having some small change on you in 1 or 2 euros because it may pop up for buses, washrooms, etc. I found it important to have cash while visiting because some places prefer cash.
What Language is Spoken in Montenegro?
The official language spoken in Montenegro is Montenegrin. English is also widely spoken, and I didn't have any issues.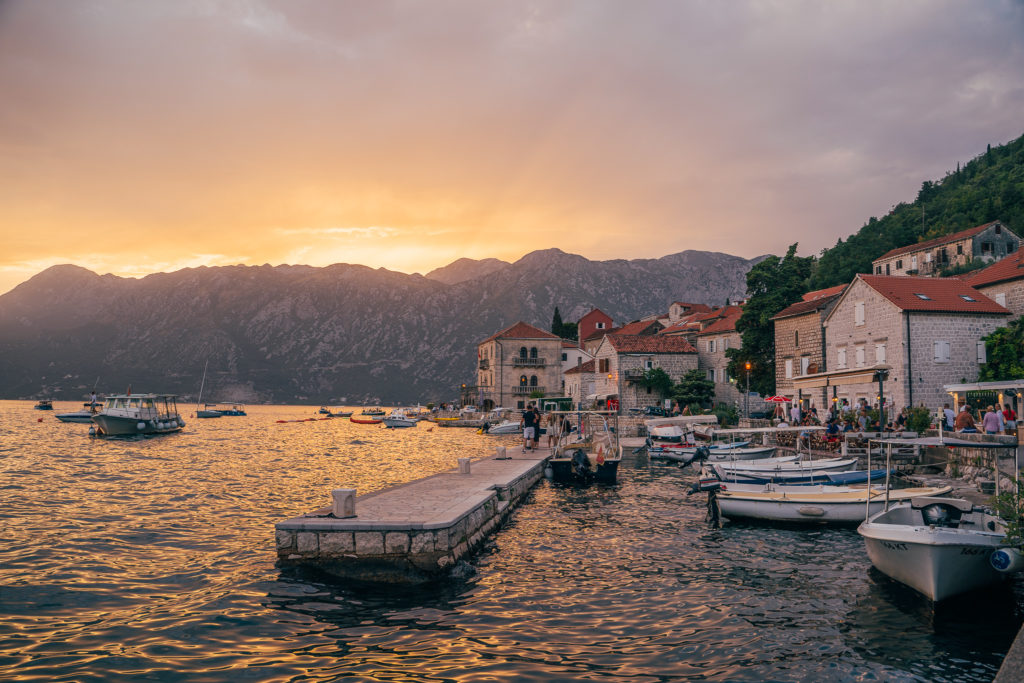 Who Should You Travel Montenegro With?
Montenegro is great for all travel styles; whether you're looking to budget or splurge, relax or adventure, there's something for everyone. I travelled solo on this trip and had a fantastic time. I was able to meet lots of locals and travellers through the 360 Monte Day Trips.
The medieval architecture of the towns gives it a timeless and romantic feel that would make this perfect for a couple's trip.
It's also an excellent stop for a friend trip where you can spend your days exploring and then dance the night away in Kotor. I also noticed lots of families exploring.
Perast, Montenegro
Perast is a treasure nestled along the Bay of Kotor, a UNESCO World Heritage Site. I quickly fell in love with this small town. The best way to describe Perast is romantic. With its old architecture and rustic charm, this picturesque town offers a serene escape. From the beautiful buildings, neighbouring mountains, palaces and seaside restaurants, it's a dreamy town you'll be excited to explore. Exploring Perast was one of my favourite things to do in Montenegro.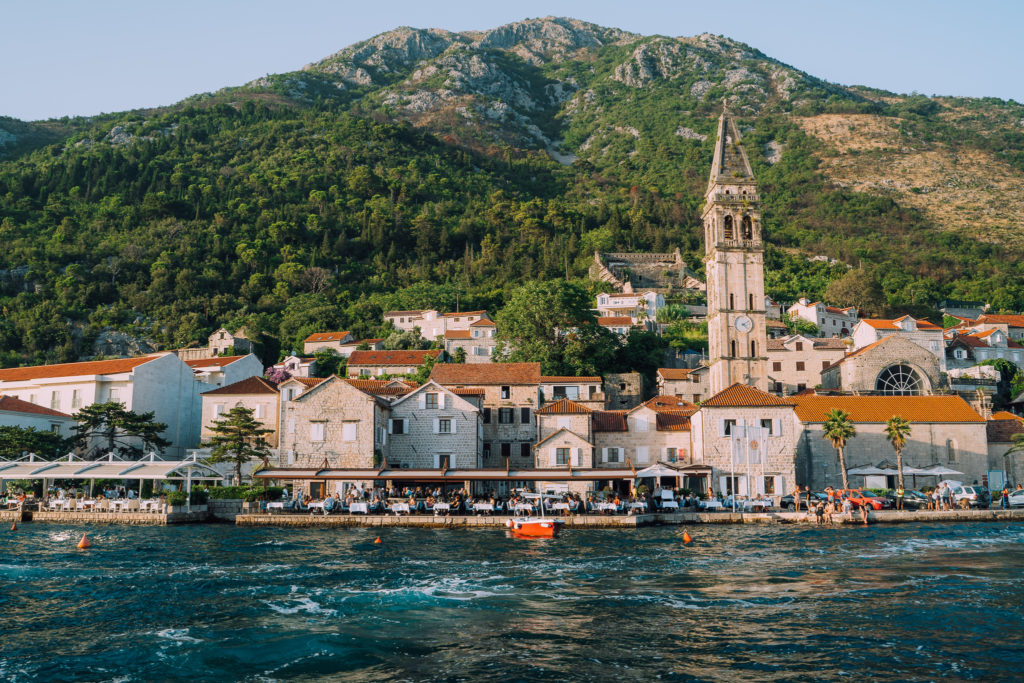 It's a small town that takes about 30 minutes to walk along the main promenade. Although small, Perast is full of charm, whether you're getting lost in the cobblestone alleyways or going for a swim in the blue water. It's the perfect spot to take it easy or, as they say, in Montenegrin, "polaka."
History of Perast
Once a thriving maritime hub under Venetian rule, Perast flourished during the medieval and Renaissance periods, leaving a legacy of elegant palaces, grand churches, and storied tales of seafaring adventures. The town's iconic landmarks, the Church of St. Nicholas and the Church of Our Lady of the Rocks, stand as testaments to Perast's maritime heritage and spiritual significance. Perast's maritime prowess is further showcased through its famed captains and shipbuilders who left their mark on the town's architecture and culture. 
Visit Our Lady of the Rocks Island & Fascinada – July 22nd
One of the most famous stories of Perast is the tale of two sailors who saw the face of Mary on a rock in the sea on July 22nd, 1452. They took it as a sign from God, and after each successful voyage, they added a rock. This was the start of the creation of the Our Lady of Rocks Island. The town sunk old ships around the stone to help build the island's foundation so the church could be built made.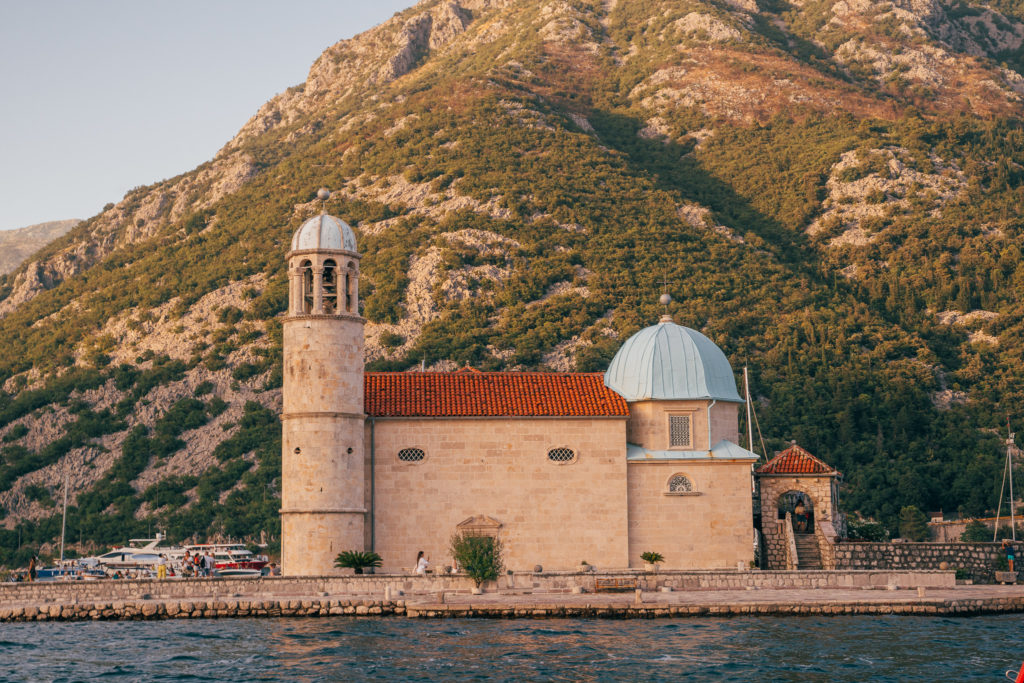 Every year on July 22nd, an event called Fascinada takes place to commemorate the day the sailors saw the face in the rock. Every year a line of boats adorned with apple tree branches and filled with rocks head towards the church as the sun sets to the soundtrack of acapella singers. They sail to the church and throw rocks to fulfill the legacy of their ancestors. It's a symbol of the island's strength against the ocean.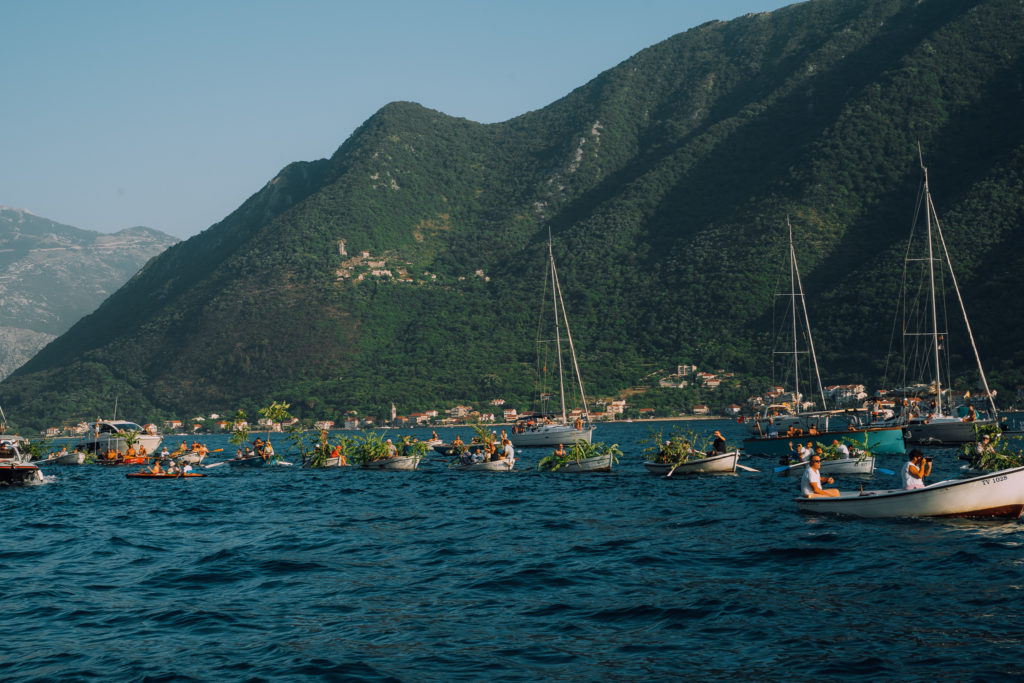 I had the pleasure of witnessing this festival in Perast. I took a water taxi and joined the boats admiring the celebration. Seeing an event that was so important to Perast's history was incredible. I saw the boats line up and head towards the island. Each boat was filled with apple branches. I watched as they made their way closer to the island, and each took turns adding their rocks to the water. We were able to get out on the island and explore. Even if you're not visiting during Fascinada, I recommend taking a water taxi to the island.
I asked why only Men participate in Fascinada, and I learned that the task of ferrying rocks is reserved for men as a tradition born of historical peril – threats from the Ottoman Empire and marauding pirates rendered it too dangerous for women.
There's an interesting story about the tapestry inside the church. Centuries after the church was built, a woman named Jacinta Kunić, married to a sailor, took it upon herself to contribute to its splendor. Every time her husband set sail, he would bring back fabric, and Jacinta would use it to craft a delicate tapestry. What makes this tapestry remarkable is the secret ingredient she employed: her hair. Over the years, as her hair turned from youthful black to the silver of age, her tapestry took on an intimate record of time's passage.
Seaside Dining
Plenty of beautiful restaurants will catch your eye along the main promenade. Indulge in some seafood or a traditional Perast cake, an almond cake that dates back to the 17th century.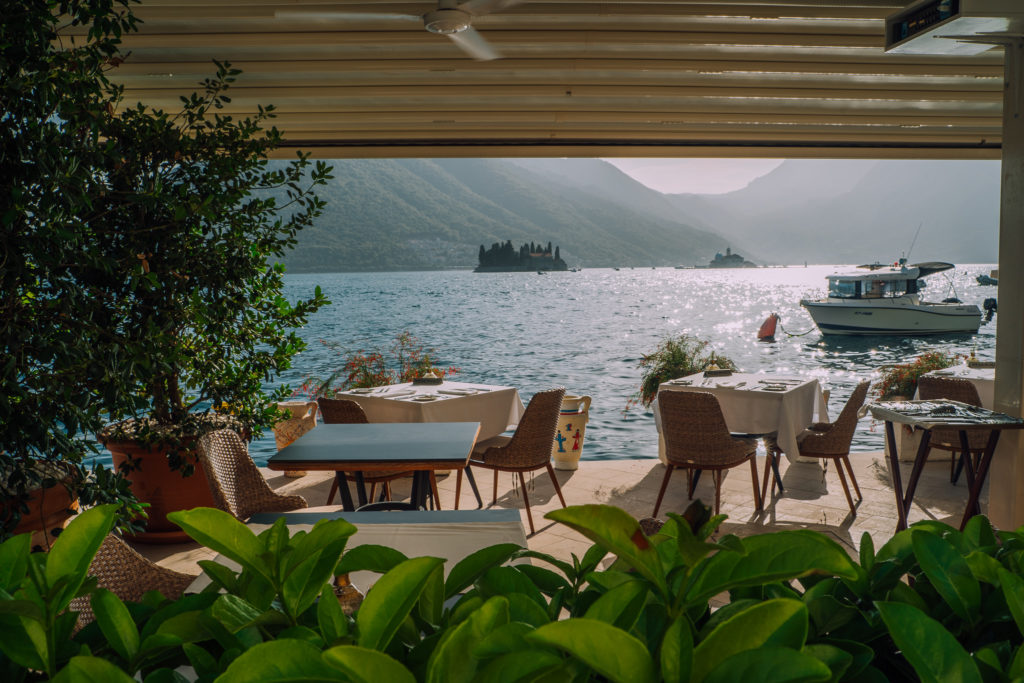 I couldn't resist getting one of the pizzas at Bocalibre. Enjoy seaside views with unique pizzas like their signature Bocalibre or burrata pizza.
Vila Perast also has a great patio where I enjoyed the complimentary breakfast paired with views.
Go For a Swim
You'll notice lots of locals out for a morning or afternoon dip. Cool off with beautiful scenery in clear blue water. Enjoy Perast Beach, enter via one of the laters along the promenade, or enjoy a cocktail and swim at Perast Pirate Bar.
Go On A Blue Cave Day Trip
If I had more time, I would have loved to do a day trip to the Blue Cave in Montenegro. It's known for its crystal clear water and blue glow. It's located on the Lustica Peninsula near the Bay of Kotor. You can visit as part of a Kotor Boat tour that will bring you to other points of interest for a fun day.
Explore the Palaces
Walking through Perast, there are 19 different palaces you can stumble upon. The most prominent is Bujović Palace. It was built in the 17th century and features a mix of Baroque and Renaissance architectural styles. Today it is now the Museum of Perast where you can explore the history of Perast through artifacts, documents, and more. You can also get a great view from the museum's balcony.
Where to Stay in Perast
I stayed at Vila Perast. It was guesthouse style and has a beautiful and central location by the water. I recommend getting one of the sea view rooms.
How to get from Kotor to Perast
Kotor is about a 15-minute drive from Perast. I used Red Taxi. I was able to use WhatsApp to coordinate pickups.
Kotor, Montenegro
Explore Kotor Old Town
The ancient walled city of Kotor boasts narrow cobblestone streets and medieval architecture, inviting you to wander through centuries of history. Enclosed by ancient fortified walls, this UNESCO World Heritage site exudes an undeniable charm. As you traverse the cobbled streets and narrow alleyways, you're transported back in time, surrounded by beautifully preserved medieval buildings adorned with elegant facades and intricate stone carvings. As soon as I arrived, I couldn't wait to get lost exploring.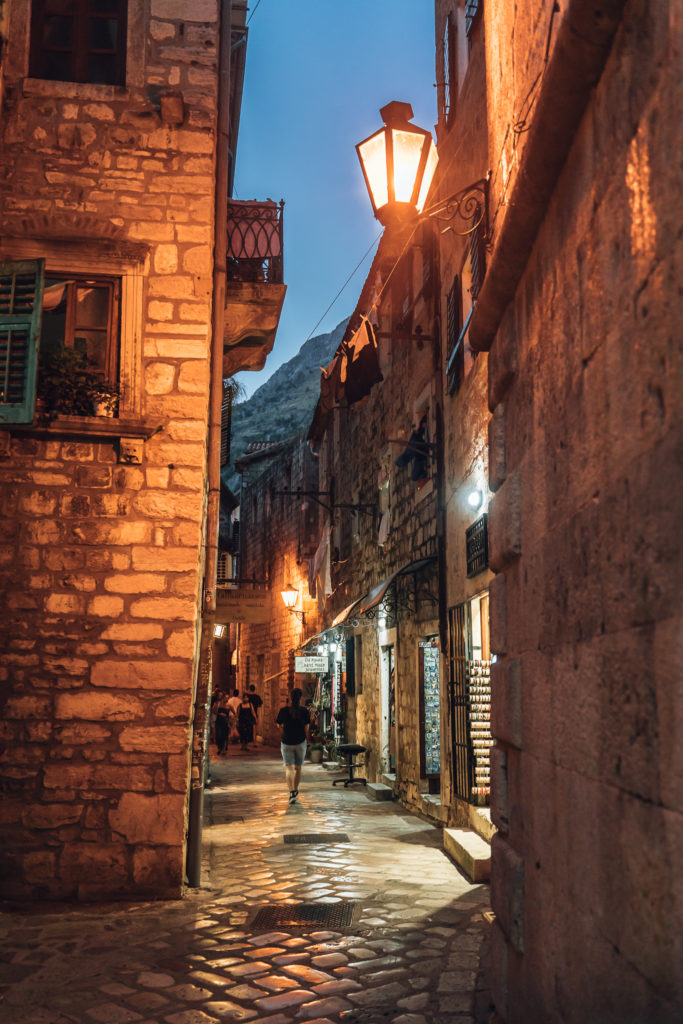 Wander through the old town, and you'll stumble upon charming squares, vibrant markets, and tucked-away cafes where you can indulge in local delights. Be sure to savour traditional Montenegrin cuisine, perhaps in one of the atmospheric konobas (taverns) that line the streets. Fresh seafood, hearty stews, and delectable pastries offer a taste of the region's culinary prowess.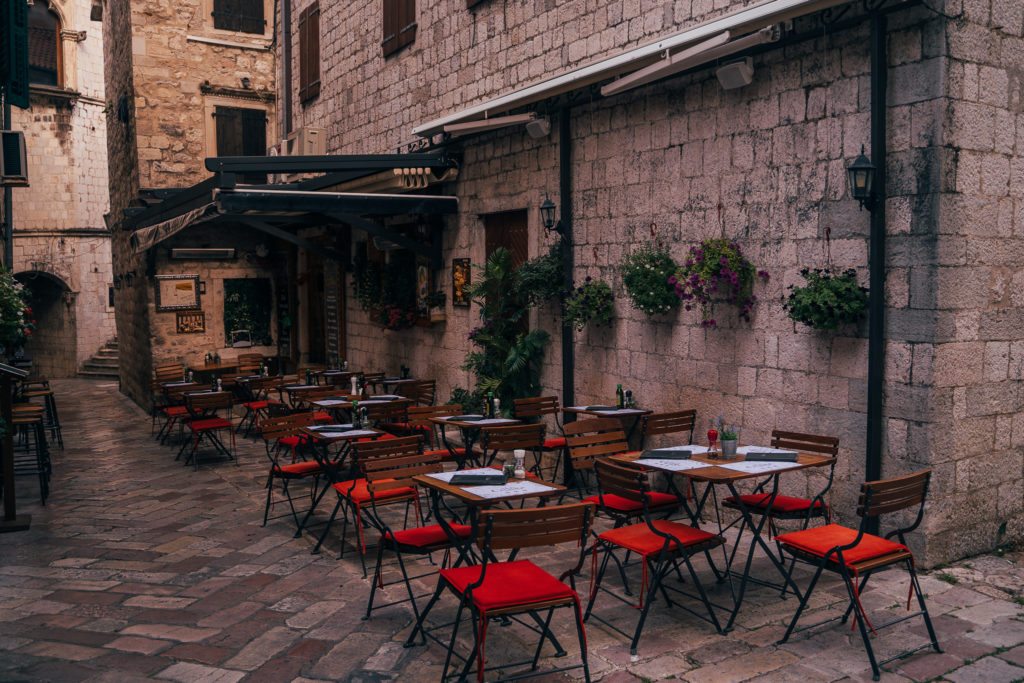 I recommend doing a free walking tour while you're here. If I had more time, I would have loved to hear more stories from a local.
I didn't have time for this, but one of my guides from a day trip highly recommends the Montenegro Maritime Museum located in Kotor. It offers a journey through the nation's maritime heritage.
Go Beyond Old Town
With its charming alleyways and restaurants, staying inside the old town would be easy but carve out some time to explore beyond the walls to find some local favourites.
History of Kotor
The roots of Kotor's history can be traced back to ancient times. However, the Romans left an indelible mark, establishing the town as a vital trading hub. As centuries passed, Kotor evolved under the rule of various empires, including the Byzantines, Venetians, and Ottoman Turks, each leaving their architectural imprints on the city's charming streets and squares.
The most iconic feature of Kotor is its impressive medieval city walls. These fortifications, rising steeply from the town to the fortress of St. John above, were constructed by the Venetians in the 9th century and expanded over time to safeguard against marauding invaders.
Intricately designed palaces, Romanesque churches, and elegant squares showcase Kotor's diverse architectural heritage. One of the most notable buildings is The Cathedral of Saint Tryphon, a masterpiece of Romanesque architecture.
Where To Stay In Kotor
I stayed at Antika Guesthouse. It had a spacious and modern room conveniently located in Old Town across from the 360 Monte Tour Office.
Montenegro Day Trips
360 Monte is a local tour company offering incredible excursions in Montenegro. You'll have a local guide that will bring you to all the day's highlights and share stories and history along the way. They take care of all the logistics so you can sit back and enjoy the day. You'll be driven to attractions in an air-conditioned van. I highly recommend them for your adventures in Montenegro. It was a great opportunity to do a deep dive through a local's point of view and make the most of our time. Below are the two-day trips I did that I would recommend. If I had longer, I definitely would have considered their other tours.
Great Montenegro Day Trip
The Great Montenegro Tour is the perfect opportunity to see the best of Montenegro in one day. Go back in time through Montenegro's history, try traditional cuisine, admire some of the country's best views and more. Here are some highlights from the day:
Stop Along The Serpentines
The journey begins by driving up the old Austro-Hungarian road built in 1884. There is lots of Austro-Hungarian influence in Montenegro's infrastructure.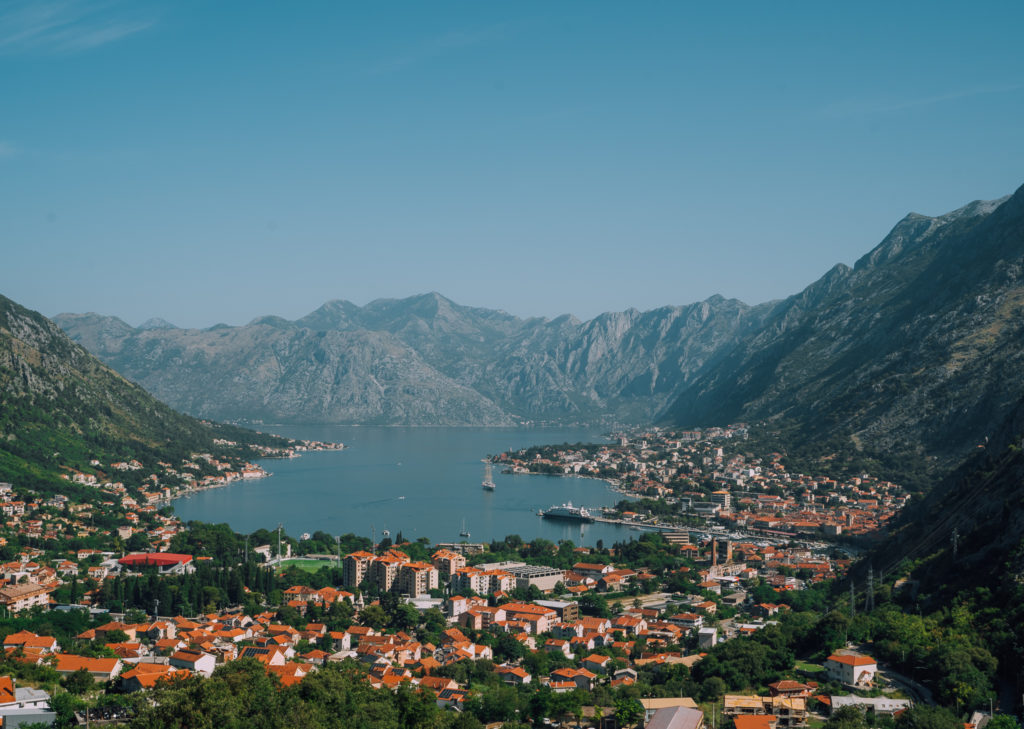 The first stop is at the 5th Serpentine to view the Bay of Kotor. We continued up the winding road to the 25th Serpentine at 1000 meters above sea level, where you'll get this view of Skaljari.
We noticed a few bikers making the trek up the winding road. Our guide pointed out that they had to be travellers because biking is not a thing with locals in Montenegro as adults, and I thought that was interesting.
Traditional Breakfast in Njeguši Village
Kod Pera na Bukoviću is Montenegro's oldest restaurant and family business since 1881. It's nestled in the mountains in Njeguši Village. You can try Njegusi prosciutto, a Montenegrin specialty. You'll also be able to try a shot of rakija, a Balkan brandy.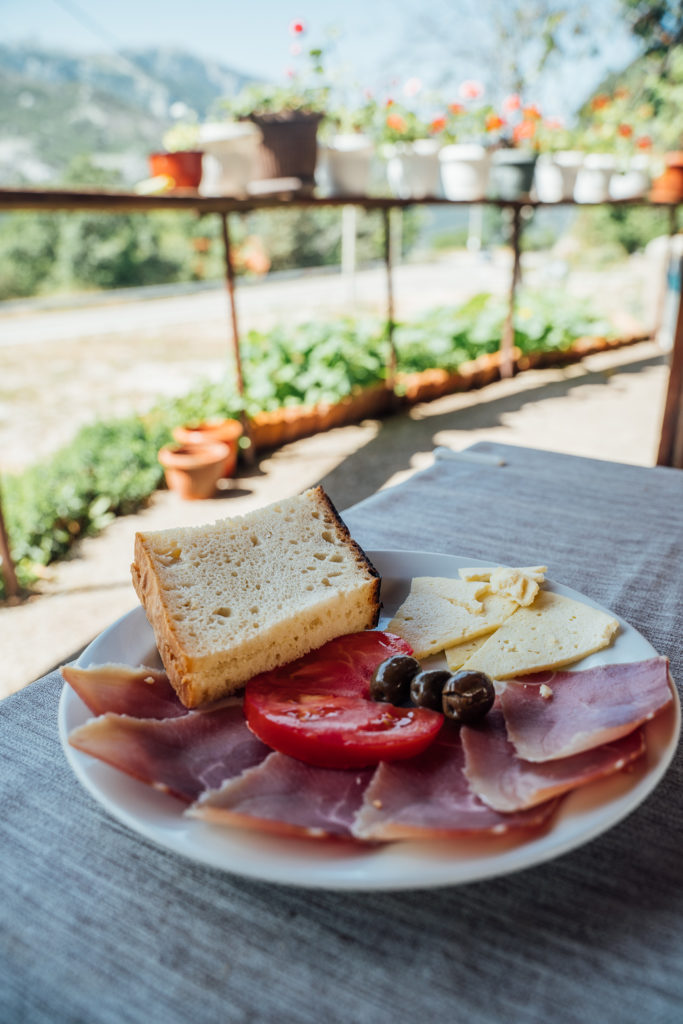 Njegos Mausoleum and Lovćen National Park
The mausoleum is on Jezerski Peak at 1660 meters. It was built for Petar II Petrovic Njegos, an influential leader and poet. He was a significant figure in Montenegrin history and played a crucial role in shaping the cultural and political landscape of the region during the 19th century.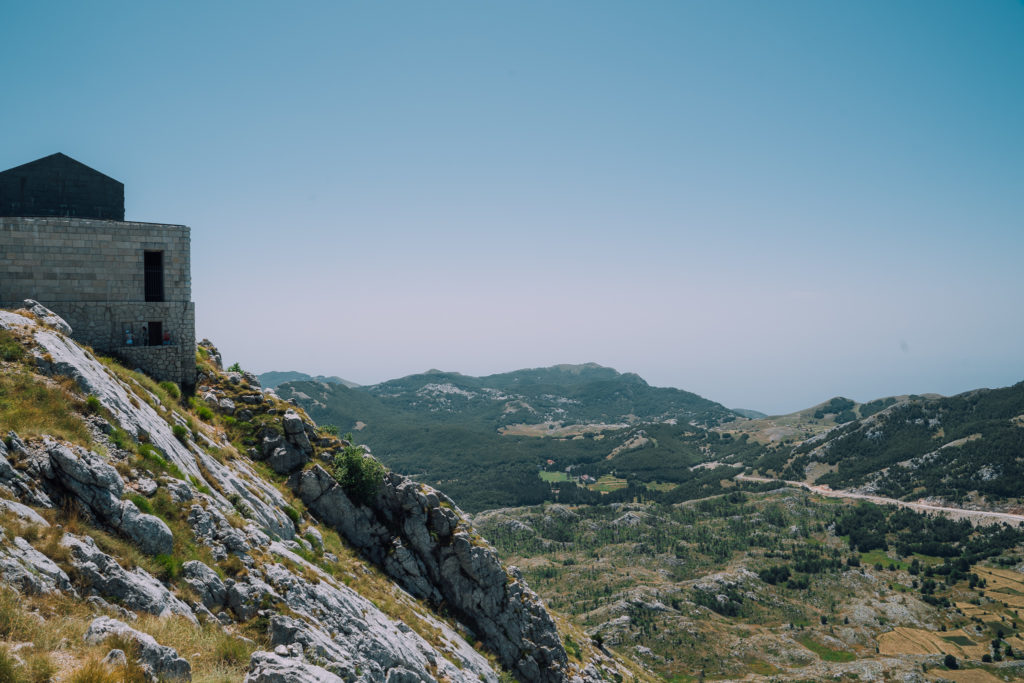 Mount Lovćen was chosen to reflect Njegoš's close relationship with the Montenegrin mountains and provide a fitting resting place for a leader deeply connected to the land and its people.
Inside the mausoleum is a huge statue of Njegos by world-renowned sculptor Ivan Meštrović. It was made from one piece of granite that originally weighed 50 tons. The statue was finished in 1974, reaching 4 meters high and weighing 29 tons. You'll also notice the ceiling is adorned with 200,000 gold pieces.
The mausoleum is on the mountain of Lovcen inside Lovcen National Park. At the top, you'll get an incredible panoramic view of the surrounding mountains. The views from the top are spectacular, and our guide Milos said it was the best view in Montenegro. You'll get a bird's eye view of 70% of the mountain and rocky land area of Montenegro.
Cetinje
Explore the Old Royal Capital of Montenegro. Founded in the 15th century, this city offers a glimpse into Montenegro's Royal legacy through its preserved palaces, museums, monuments and more. Our guide brought us on a walking tour to important monuments, including the Monastery of Cetinje, King Nikola's Palace, Court Church at Ćipur, and Biljarda (residence of Peter II Petrović Njegoš).
Boat Ride & Swim on Crnojević River
Crnojević River flows into Skadar Lake, the biggest lake in the Balkans. Skadar Lake is a protected National Park that is 70% in Montenegro and 30% in Albania. You'll first be able to view it from above at the lookout.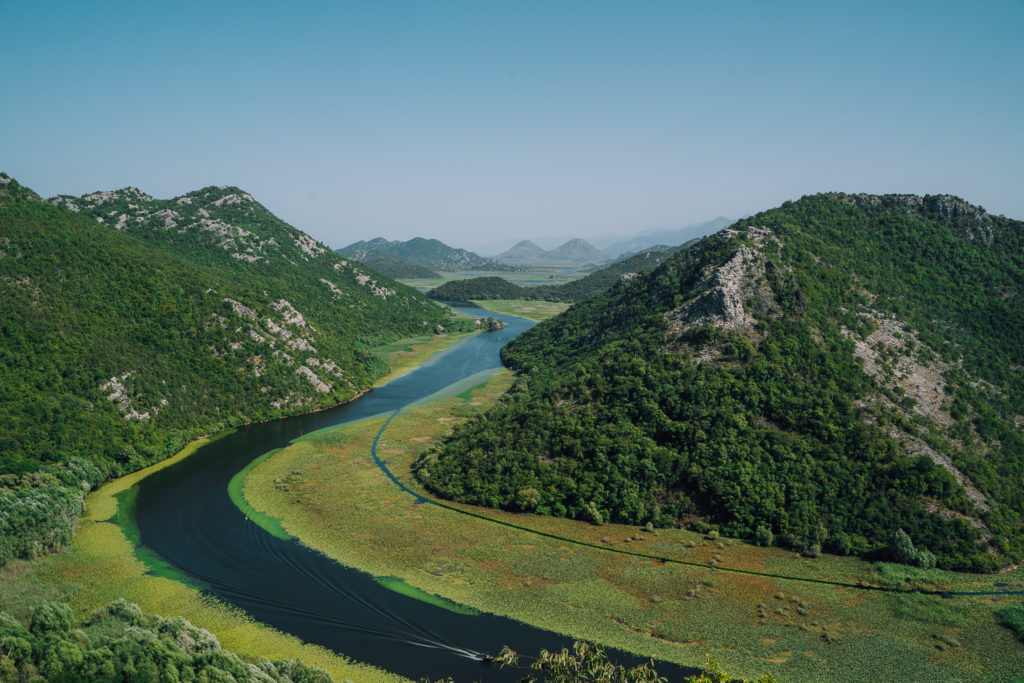 You'll get a beautiful view of Skadar Lake from above before heading to lunch along the Crnojević River. Enjoy a boat ride surrounded by mountains and the same lush greenery, water lilies and birds on Skadar Lake. The boat brought us to a quiet portion of the river, where we took some time to swim. It was the perfect way to refresh and soak in the views. On our way back, we noticed many locals swimming along the side.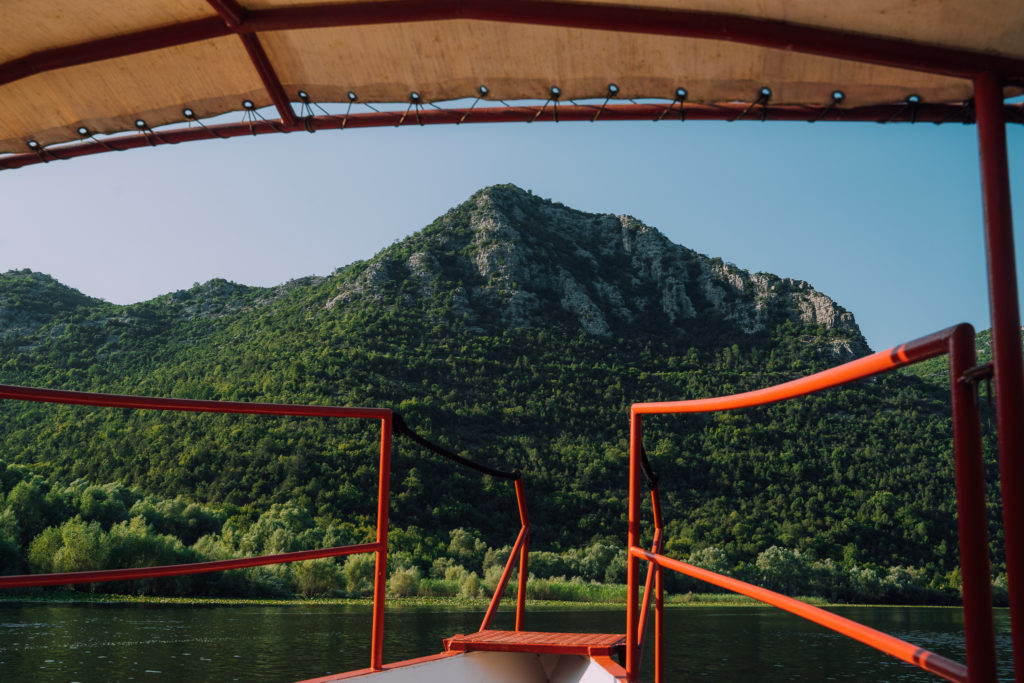 Lookout of Budva and Sveti Stefan
Enjoy a stunning view from above of Budva and Sveti Stefan on the final stop on the tour. You'll be able to see views of the Riviera of Budva. Nearby you'll spot the island of Sveti Stefan. It was once a former fishing village, and now it's an exclusive luxury hotel town that you can only admire from afar. The island is natural, but the city was built in the 15th century to protect it from being conquered by the Ottoman Empire and pirate invaders.
Tara Rafting Day Trip
Enjoy a day of adventure rafting on the exhilarating, wild and pristine Tara River with this day trip with 360 Monte. The Tara River is connected to Piva Lake, the largest artificial lake in the Balkans. Piva Lake is 45 km long and almost 200 meters deep. It's the deepest canyon in Europe and the second deepest in the world. The section of the river we rafted on was 18 km long, going over 21 rapids out of a total of 50 that exist on the Tara River. The Tara River is known as the "Tear of Europe" because of its pristine drinking water.
Enjoy Lookouts Along the Way
You'll be able to stop at some stunning lookouts, including the Bay of Kotor, Perast, Salt Lake near Nikšić and more. Here's the view from Risan Bay. Our guide, Milos, shared many stories and history along the way.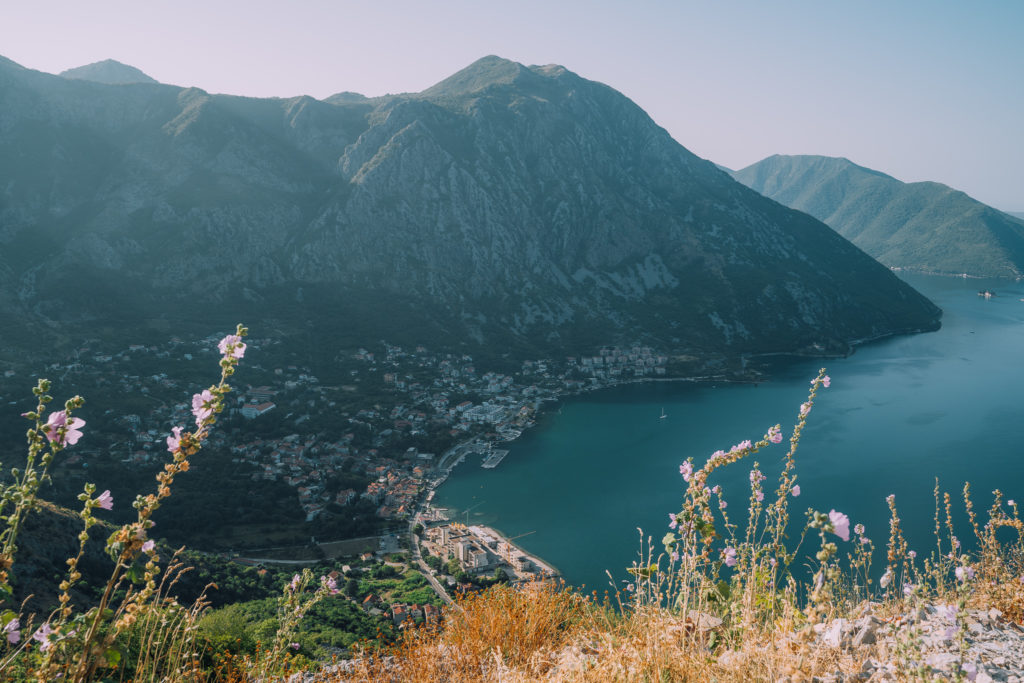 We drove along Piva Lake and saw amazing views of the Piva Canyon. The drive is 30 km and has 56 handmade tunnels. I loved going through the tunnels and seeing the views on the other side.
Traditional Montenegrin Breakfast
Before your journey, enjoy a traditional Montenegrin homemade breakfast with prosciutto, cheese, Priganice (deep-friend fritters) with jam, kajmak (similar to clotted cream) and mountain tea.
Get Geared Up
You'll be given a wet suit, water shoes and a helmet for the rafting. Make sure to bring a swimsuit to wear underneath. There's also a dry bag to put in any valuables you need, like your phone, sunscreen, etc. Anything we didn't immediately need, we left in the van. There will be quieter stops along the way so that you can pull your phone out for a photo. I brought my own dry bag and put it around my leg so I could have easy access for photos.
Time for Adventure on the Tara River
We took a quick 20-minute ride from base camp to the start of our journey of the river. I was so excited as I saw rafts embark on the crystal clear river. I couldn't believe the views as our group hit the water in our raft. I've never experienced such bright aqua water before. The water is spectacular, and you'll be greeted with stunning canyon views the whole time.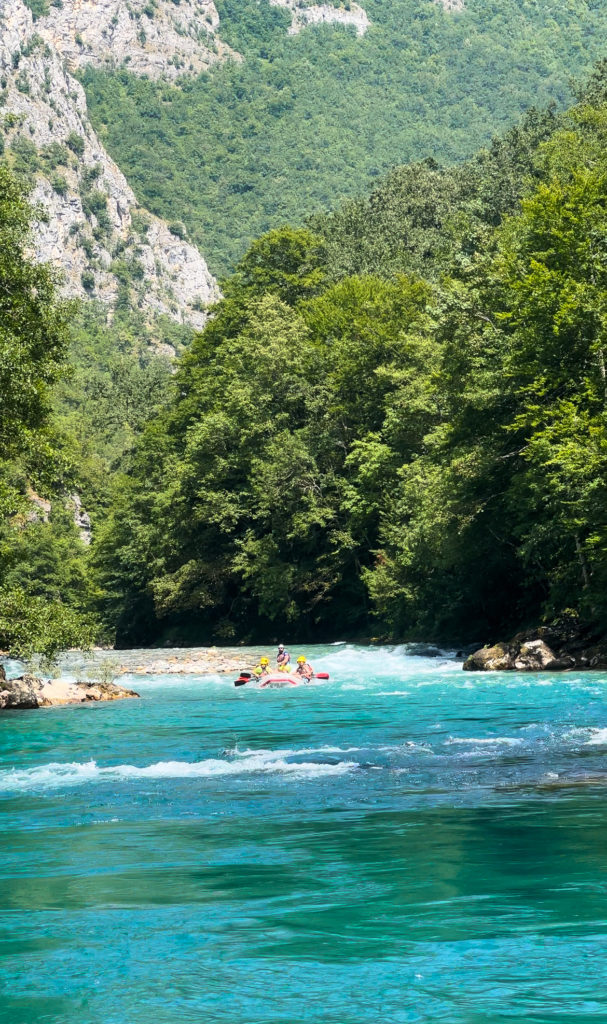 I had never gone rafting before, and my expectation was that it was going to be a wild experience with intense rapids and everyone would be falling out. Our adventure was the perfect mix of excitement with time to enjoy the scenic views. There were moments when we felt the thrill of going over the rapids feeling the bumps and cool water splashing us. There were other moments when we glided along, soaking in the views. I always felt safe, and no one fell out. The only time people were out of our raft was by choice to swim at the calmer spots. You'll float like an otter with your life jacket and the river pushing you.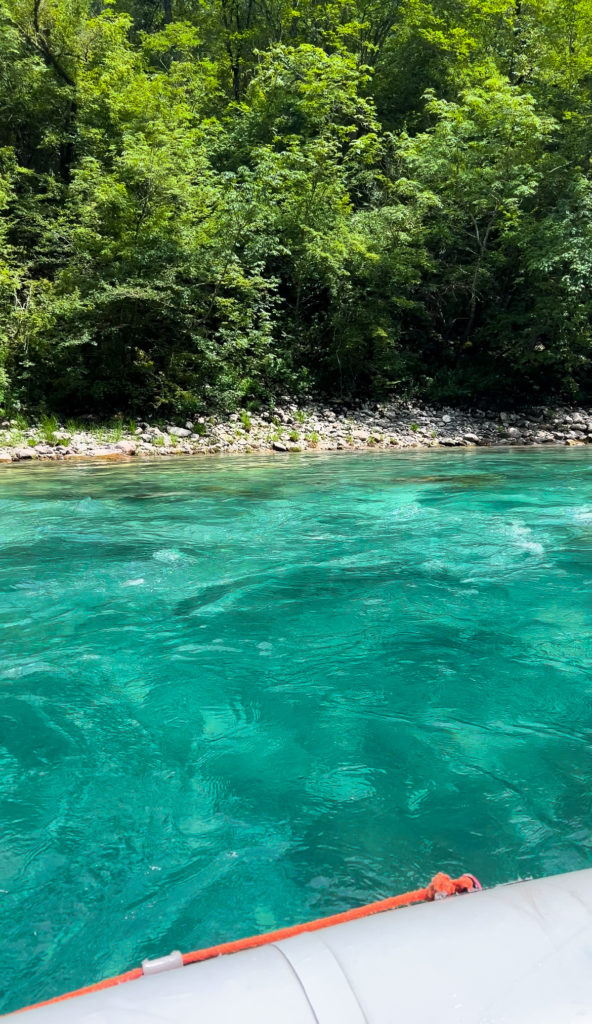 You're with an experienced guide who will tell you when and how to paddle and when to stop and enjoy the ride. The raft has handles for your foot to keep you secure. Our guide had his young children on the tour, and they loved it, so you can do it as a family, friend group, couple or solo.
You'll also have the opportunity to cliff jump! Our group opted to go straight to this waterfall. It was a cold plunge but refreshing and fun. It's only a 2-minute walk up from the water. 
This adventure was one of my favourite things to do in Montenegro.
Traditional Montenegrin Lunch
The river will bring you back to base camp, where you can refuel with a traditional Montenegrin lunch of soup, salad, and main (chicken, beef, fish or vegetarian). The tours also accommodate food allergies and preferences.
It was an incredible day, and I would do it again in a heartbeat!
I loved every second of this trip. From exploring the romantic towns and history to hearing stories from locals, Montenegro is a special place. It's somewhere I already know I want to return to, and I can't wait for you to have your own adventures here and experience this gem of the Adriatic for yourself. 
Thank you to Visit Europe for making this trip possible. This trip was co-funded by the European Union. As always, all thoughts and opinions are my own. I hope you have as much fun exploring Montenegro as I did. I'd love to see your adventures. Feel free to tag me on Instagram and Tik Tok.
Next up, add on this island-hopping adventure in Croatia.