Embark on an odyssey of azure waters, ancient towns, and sun-soaked shores as we unveil the magic of exploring Croatia's stunning islands. From the historical charm of old towns to incredible swim spots, here's a fun island-hopping itinerary. Whether you're seeking outdoor adventure, tranquil beaches, or rich cultural heritage, Croatia's islands promise an unforgettable adventure for every traveller. Stumble upon hidden gems and explore them all to yourself. Here are three islands you can't miss for your Croatia island-hopping adventure:
Why Should I Visit the Croatian Islands?
My first trip to Croatia in 2015 was spent in Dubrovnik and Split. I had a fantastic time and loved exploring this part of the Adriatic. It left me even more curious, and I always knew I wanted to return to explore Croatia's Islands. Having experienced both, I can confidently say the islands must be part of your Croatia itinerary. It feels like you've landed on untouched beauty, and it has old towns full of history, pristine swimming, and the charm of Croatia without the crowds. 
When Should You Visit the Croatian Islands?
Summer (June to August): This is the peak tourist season, especially in July and August. The weather is warm and sunny, and the sea is perfect for swimming and water activities. Things can be busier during this time, but I never felt crowded or overwhelmed. Some of the ferries were busy, but it was never an issue but make sure to book in advance. The islands provide opportunities for swimming spots and old town streets all to yourself.
Spring (April to May) and Fall (September to October): These shoulder seasons offer milder weather and fewer crowds. It's a good time to explore the islands without the peak tourist rush. You can still enjoy pleasant temperatures, especially in May and September, but swimming might be more suitable in September when the sea is warmer from the summer heat.
What Currency Is Used in Croatia?
Euros are used in Croatia. I also recommend having cash on you on the islands, as some places only accept cash.
What Language is Spoken in Croatia?
Croatian is the official language of Croatia. English is widely spoken, and I didn't have any issues.
How To Island Hop in Croatia
It's easy to get between Croatian Islands. Within a few hours, you can be on a new island. I used the TP Line Ferries to book my travel in advance to ensure I had a spot.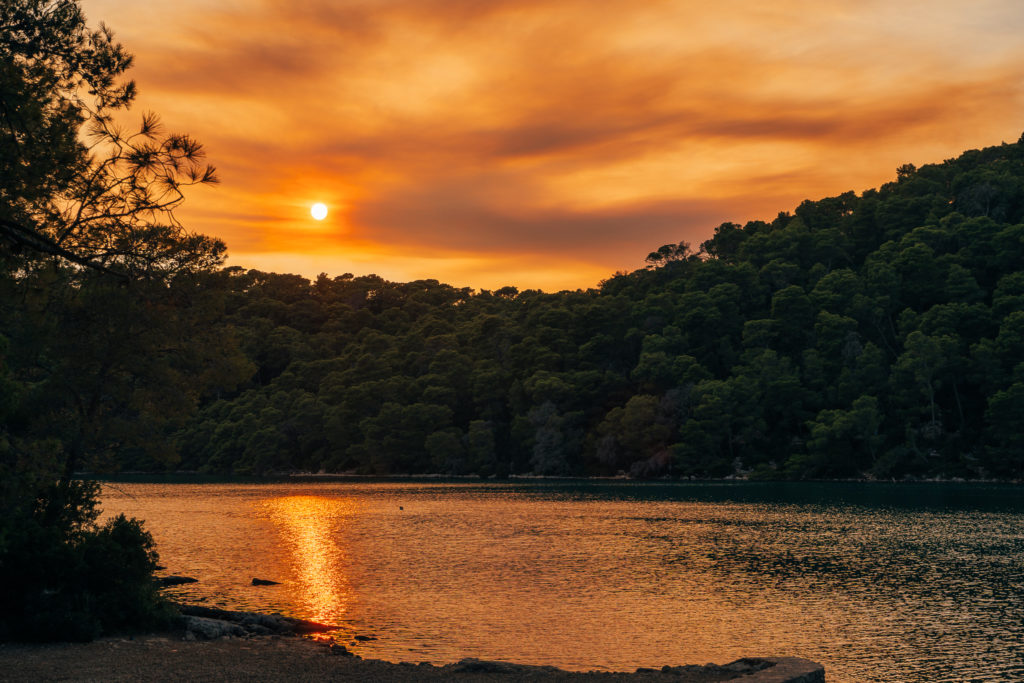 How Long Do You Need on the Croatian Islands?
I recommend at least two nights per Island you visit. Each island has its unique list of activities and sights to explore.
Lastovo, Croatia: Unspoiled Natural Beauty 
Lastovo is Croatia's most remote inhabited island. Renowned for its unspoiled natural beauty and serene atmosphere, Lastovo offers an enchanting escape for travellers to step back in time in the old town and seek outdoor adventures. With its lush landscapes, idyllic beaches, and charming villages, Lastovo exudes a sense of untouched authenticity that is rare in today's bustling world.
The island's rolling hills are adorned with vibrant greenery, creating a picturesque backdrop for exploration and outdoor activities. Its coastline boasts secluded coves, rocky cliffs, and inviting pebble beaches, making it a paradise for sunbathers, swimmers, and water sports enthusiasts. Beneath the surface, Lastovo's underwater world is a haven for divers, revealing a vibrant marine ecosystem teeming with colourful sea life and captivating shipwrecks.
How to Get to Lastovo Island:
4-hour ferry from Dubrovnik
Things To Do On Lastovo
Explore Zaklopatica
I stayed in Zaklopatica, a picturesque village located on the island of Lastovo in Croatia. The town offers a serene and relaxing environment, making it a perfect destination for a peaceful and relaxing getaway. The village is characterized by its traditional stone houses, fishing boats, and a small harbour for boats. It's a popular spot for yachting, boating, and fishing enthusiasts. The calm waters of Zaklopatica's bay make it ideal for swimming, snorkelling, and enjoying marine life.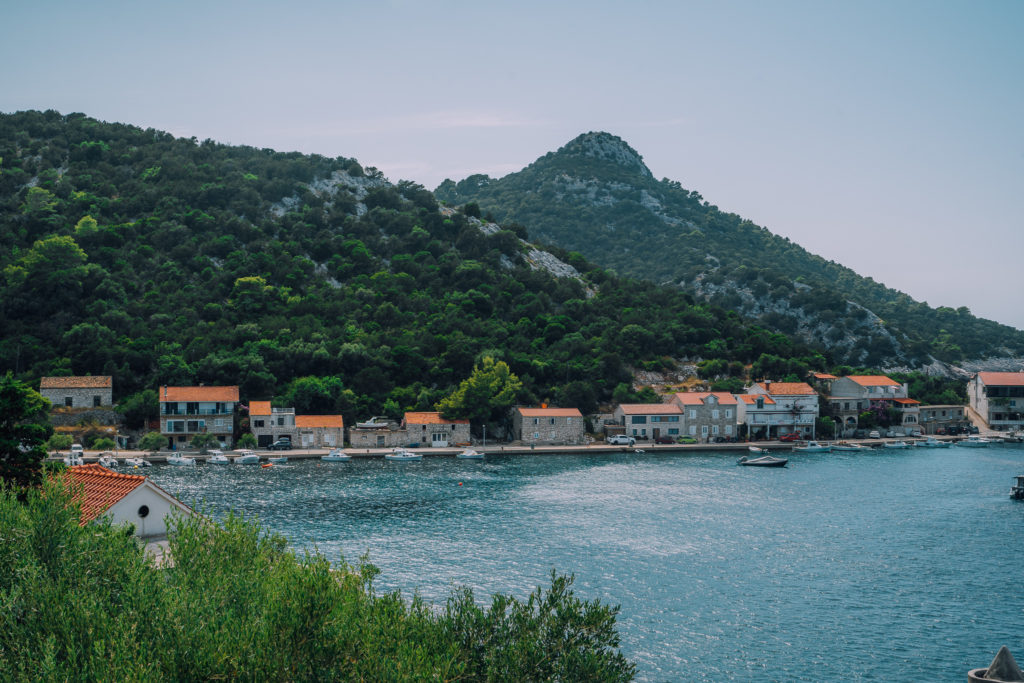 Where To Stay on Lastovo Island
I stayed at Augusta Insula in Zaklopatica. Enjoy modern rooms with stunning views of the bay. The first word that came to mind when I arrived in my room was paradise.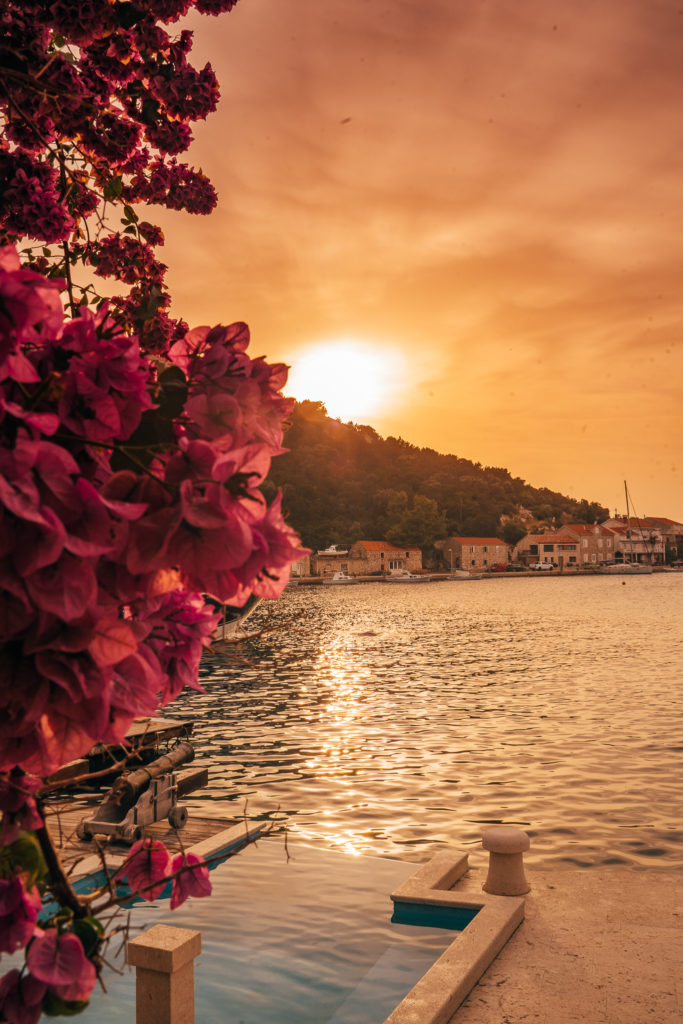 Indulge in Mediterranean Cuisine and Seafood
This seaside town is the perfect spot to enjoy seafood and Mediterranean cuisine with a view. I dined at Augusta Insula. My server recommended the moussaka, which was incredible! Paired with the sunset along the water, it was the perfect first night. In Zaklopatica, you can walk along the water to find other restaurants that catch your eye.
Kayaking
You can rent Kayaks at Konoba Brain. Enjoy kayaking in the bay and soak in the views from the water. They also offer bike rentals if you want to explore more of the island, and it's a great alternative to hiking.
Swimming
One thing I loved about Croatia was the numerous swim spots. There are always lots of places along the water where you can enter. You can jump in, right in front of Augusta Insula. There's also a tiny beach a few minutes away if you prefer to walk in. Check out more swimming spots in Lastovo here.
Hiking
Lastovo also has over 200km of scenic hikes to enjoy. The best part, there are no poisonous snakes or dangerous animals, so you can have a stress-free hike and focus on the views.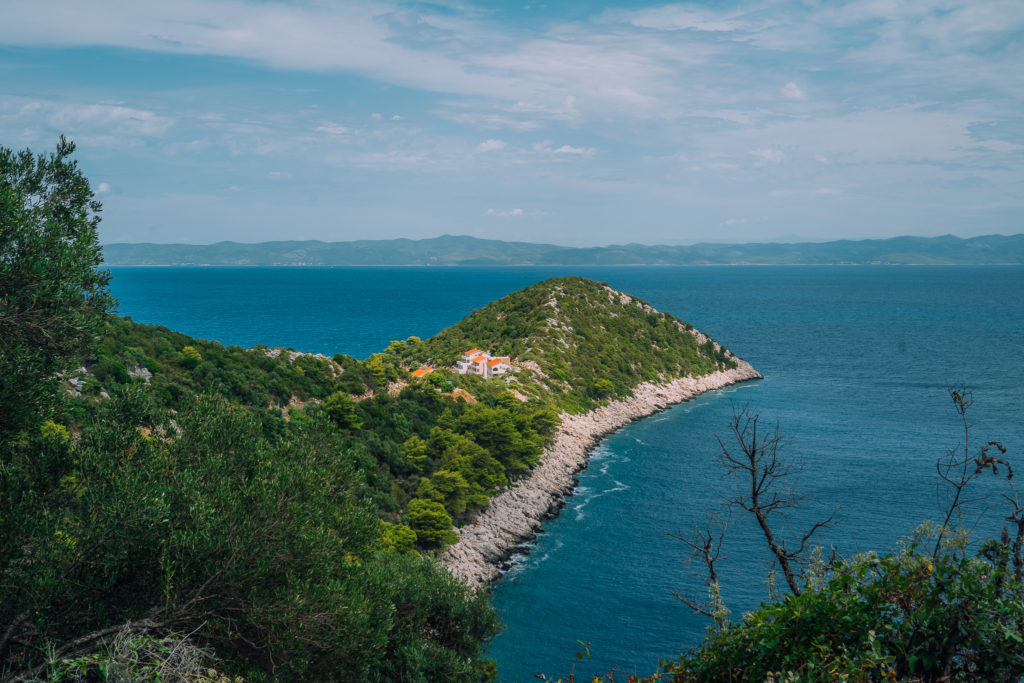 I did the Zaklopatica to Lastovo hike that will bring you to the village of Lastovo. It's a scenic hike with the perfect mix of viewpoints and trails in the shade. I loved seeing the view of Zaklopatica from above. Seeing the village of Old Town come into sight as I got closer was also incredible. You'll be able to view up the whole village in one glance or from this vantage point. Find more Lastovo Hikes here.
Exploring the Village of Lastovo
Step into a preserved medieval village with houses dating back to the 15th and 16th centuries. Traditional stone houses, narrow winding streets, and charming squares are a testament to the island's rich history and cultural heritage. You'll be able to get the streets of this old town all to yourself. I loved getting lost in the streets for a few hours. My favourite part was seeing the orange roofs and colourful flowers surrounding the houses.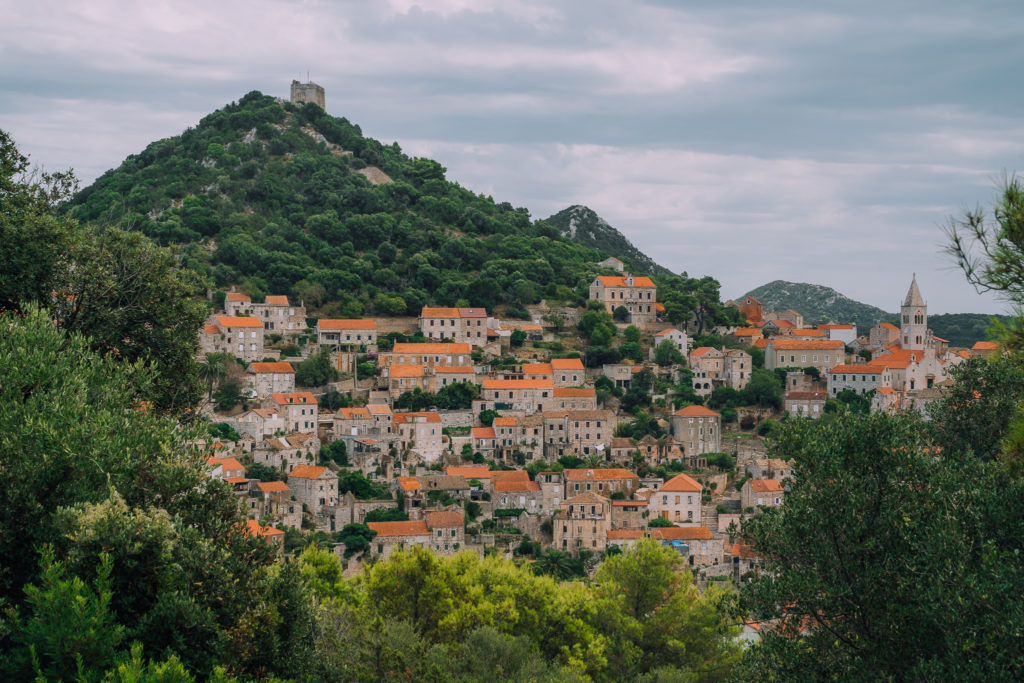 Something interesting you might notice as you explore is the unique chimneys called fumari. When houses were built in the 15th century, they used chimneys to indicate wealth. 
Walk to the fortress at the top of the hill for a panoramic view of Lastovo and the coastline.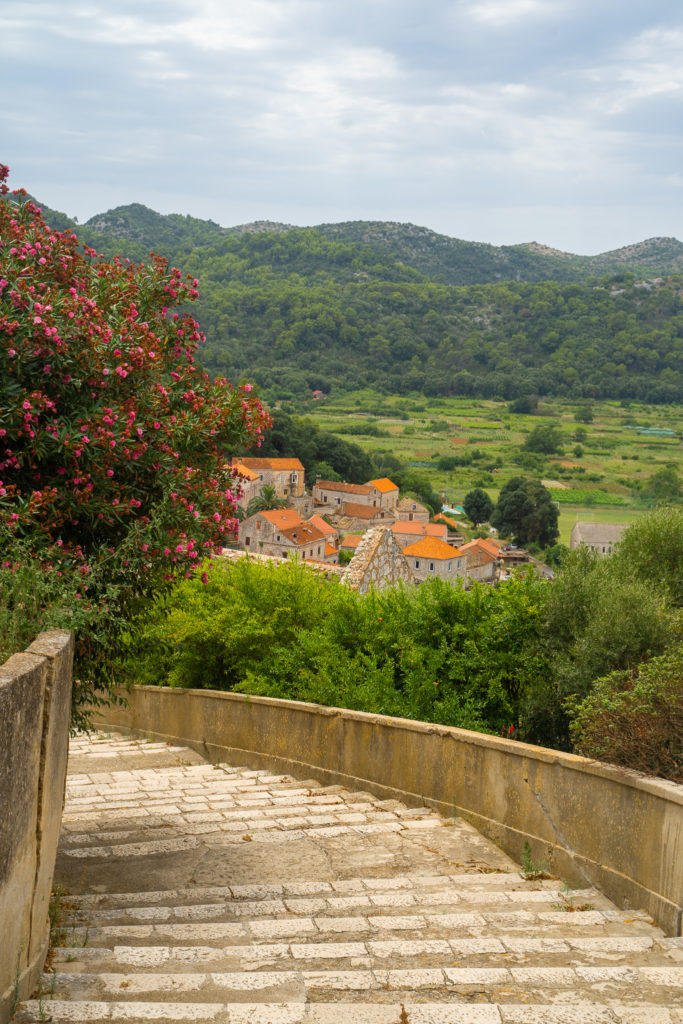 Lastovo also hosts different cultural events and festivals you can attend while visiting. I recommend stopping by the tourist office in town to see what's happening during your visit, including stargazing (more details below).
Lučica
If you want a place to cool off near Lastovo Town, head to Lučica. Less than 1km from town, you'll find Lučica Cove, a small fishing village that has still preserved its charm and Mihajla Beach and Pier, a swimming spot next to an old olive oil mill.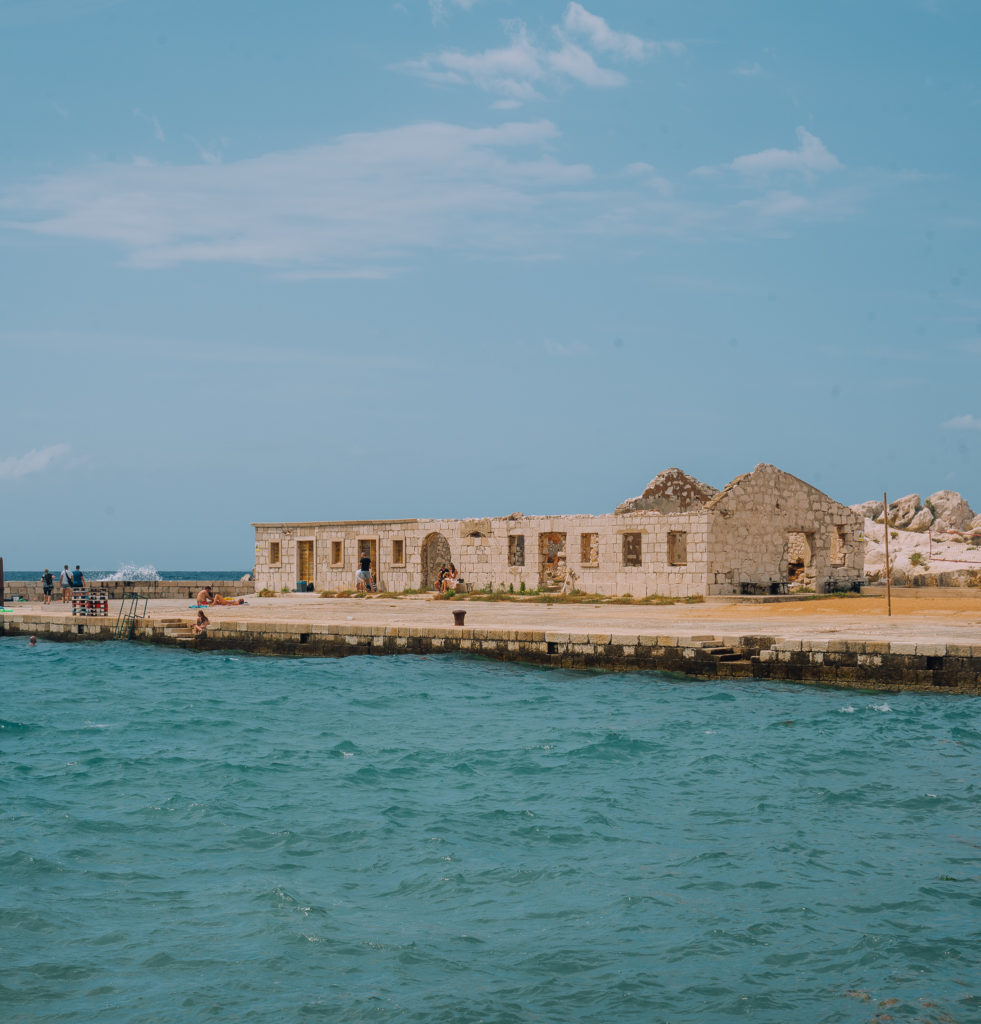 Stargazing on Lastovo
Lastovo is renowned for its dark skies, making it an exceptional destination for stargazing and observing celestial phenomena. The lack of light pollution on the island allows for clear views of the night sky. It provides both amateur and professional astronomers a unique opportunity to explore the universe. Due to its remote location, Lastovo offers unparalleled stargazing opportunities. On clear nights, you can observe a sky full of stars, planets, and even the Milky Way stretching across the sky.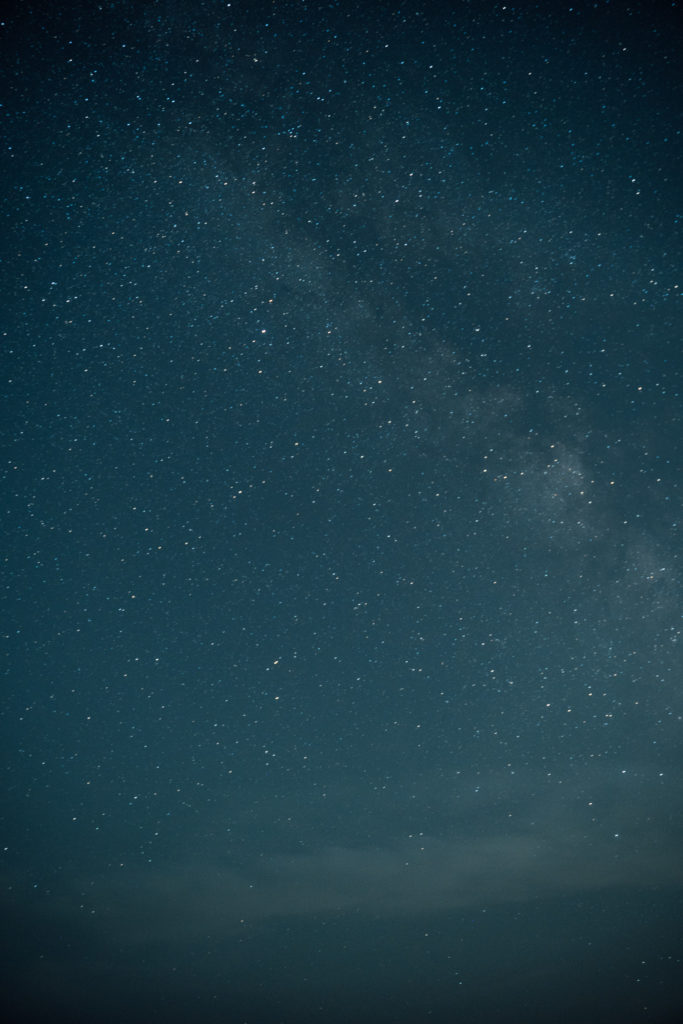 Lastovo hosts astronomy nights at the top of Mount Hum. The one I attended was led by Diana, who works at the tourist office. She shared her knowledge of the night sky with us, from constellations to planets. She even shared tales of which stars were important to sailors. You'll have the opportunity to look through her telescope for a spectacular view of planets and the moon. 
Diana shared how fast the earth is rotating and how we don't feel it, and what an incredible thing our solar system is. I mentioned how I like looking at the stars and how it makes me feel small and puts things into perspective. She said it should make me feel big because it's a miracle that we're here, and I thought that was a beautiful perspective.
It was a bit more cloudy than we would have liked however,  the stars were still incredible! I can only imagine the spectacular view on a clear night. 
Korčula, Croatia: Old Town Gems
Korčula is a true gem that blends a rich history, gorgeous landscapes, and a vibrant Mediterranean atmosphere. Often referred to as "Little Dubrovnik" due to its well-preserved medieval architecture and charming streets, Korčula offers a captivating blend of cultural heritage and natural beauty. I only had a short time here, but I loved this island, and it's somewhere I would love to explore more.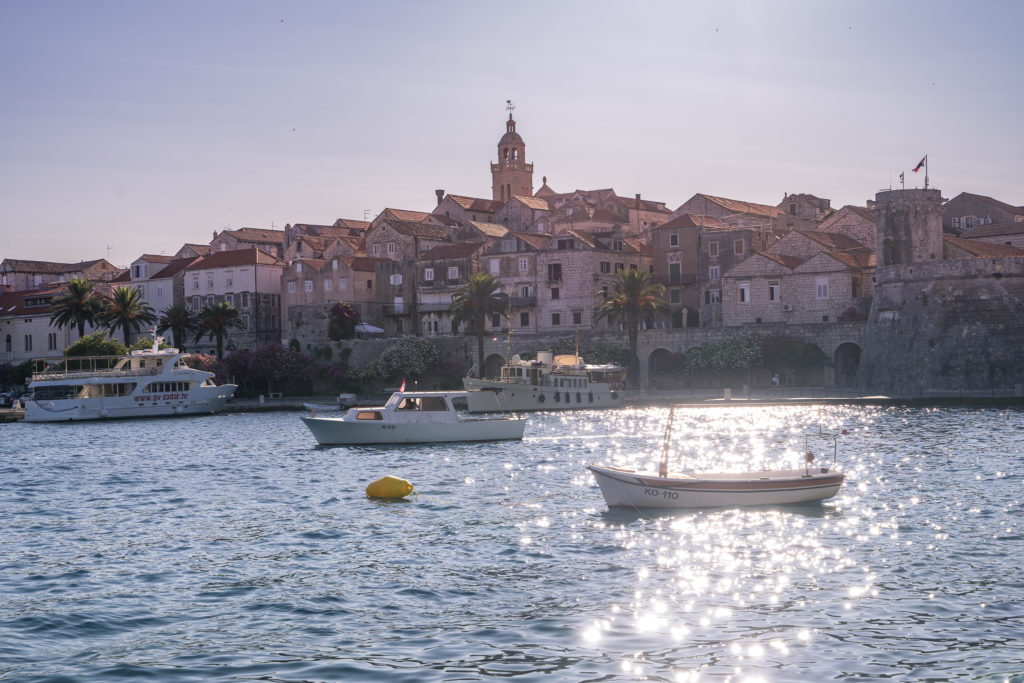 The island's heart is the enchanting town of Korčula, a maze of narrow cobblestone streets, elegant Venetian-style buildings, and picturesque squares. Encircled by impressive defensive walls, the town's layout resembles a fishbone, a unique design that dates back centuries. As you stroll through the charming alleyways, you'll encounter artisan shops, quaint cafes, and inviting restaurants serving local delicacies.
Korčula's coastline is a masterpiece of nature, adorned with crystal-clear waters and pristine beaches. Hidden coves, sandy shores, and pebble-strewn bays offer a diverse range of sunbathing, swimming, and water sports options. The waters surrounding the island are perfect for sailing and boating, allowing visitors to explore neighbouring islets and secluded spots.
The island's interior is a tapestry of lush vineyards, olive groves, and rolling hills. Grapes cultivated here have been used for centuries to produce the famous local white wine, Grk. Olive oil production is also a cornerstone of Korčula's heritage, and visitors can partake in tastings and learn about traditional methods.
How Long Do You Need On Korčula?
You can visit Korčula on a day trip, but I recommend longer. I just scratched the surface of restaurants, beaches, wineries, culture and more.
Things To Do On Korčula
Explore Old Town
Wander through the charming medieval streets of Korčula's Old Town, often called "Little Dubrovnik." It has retained its intimacy and has the same beauty without crowds.
Go On A Walking Tour
This is a great way to dive deeper into the history of Korčula. I learned so much from my guide. My guide Lea shared so many interesting stories with me. A few highlights:
5 Philosophers Street: it's the only street with no stairs, and it got its name because since it's so easy to walk, it's an easy spot to get lost in your thoughts
3 You'll notice bridges across certain houses which means there was a brotherhood. They were often created based on craft or trade. Today they would be known as guilds or unions. The brotherhoods were powerful because they were often the first to step in when help was needed.
2 Old Town was designed in a way that allowed for air flow to block harsh winds but also allow natural air conditioning. They even considered privacy by offsetting windows.
4 Korčula is known as the "fish town" because if you look at it on a map, it looks like fishbones
Venetians founded Korčula. In the 13th/14th century, people weren't willing to stay here, so they knew they had to create incentives to keep people in Korčula. In the 15th/16th century, there were tax breaks, free health care, school and more. The law was respected, and they also had systems to ensure fairness.
Get Lost in Old Town
Spend some time getting lost down the narrow alleyways. There are lots of local shops and restaurants to enjoy. Some points of interest:
Korčula is the alleged birthplace of Marco Polo, a Venetian merchant and adventurer from the 13th Century. You can visit the museum and learn about his life and travels. It's located in his supposed home.
Climb the town walls for panoramic views of the Adriatic Sea and surrounding islands.
St. Mark's Cathedral: Admire the impressive architecture known for its Gothic and Renaissance features. You can also pay to go inside the church for a view from above. 
Hit the Beach
I arrived in Korčula around 7 am and was instantly drawn to the crystal clear water. I sat and admired the views and noticed plenty of locals swimming nearby. My guide Lea said that she starts every morning with a swim and that it's how she nourishes her soul and recharges her battery. What an amazing start to the day! While in Croatia, do as the locals do and make sure to go swimming. There are a lot of incredible spots within the town.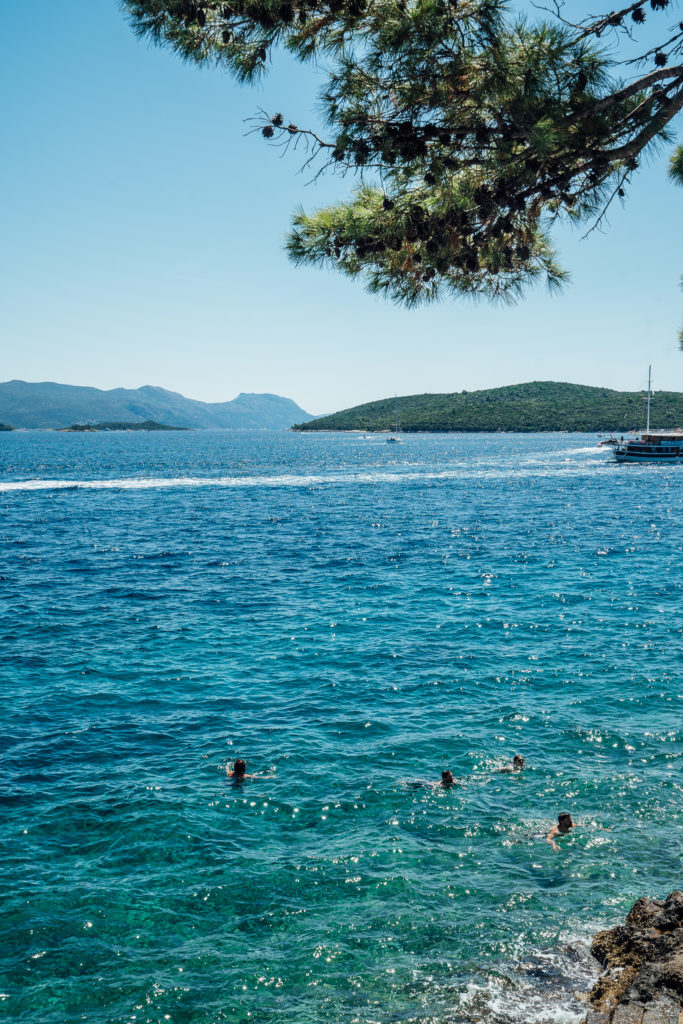 There are also many beaches around the island, like Vela Pržina, Pupnatska Luka, Bačva Beach, Lumbarda's beaches and more that I would have loved to visit if I had had more time. I noticed lots of people swimming around the old town at Plaža Luka Korčulanska, and you can access the water from stairs near Aurora Sweets. 
Seaside Dining
Many seaside restaurants in Korčula offer breathtaking views of the Adriatic Sea. Look for restaurants along the coastline to enjoy the azure waters while dining.
It's also a great spot to indulge in fresh seafood and white wine. Korčula is known to produce excellent white wines like Pošip or Grk that pair well with seafood. My time in Korčula was quick, but my guide Lea said Korčula has fantastic gastronomy. She recommends Aterina, an excellent spot for Mediterranean main courses and Dalmatian tapas.
Mljet, Croatia: Vibrant Water Adventures
2-hour ferry from Korcula
Mljet is a serene haven of natural beauty and tranquillity. Often referred to as the "Green Island," Mljet captivates visitors with its lush landscapes, pristine waters, and a unique blend of Mediterranean charm and untouched wilderness.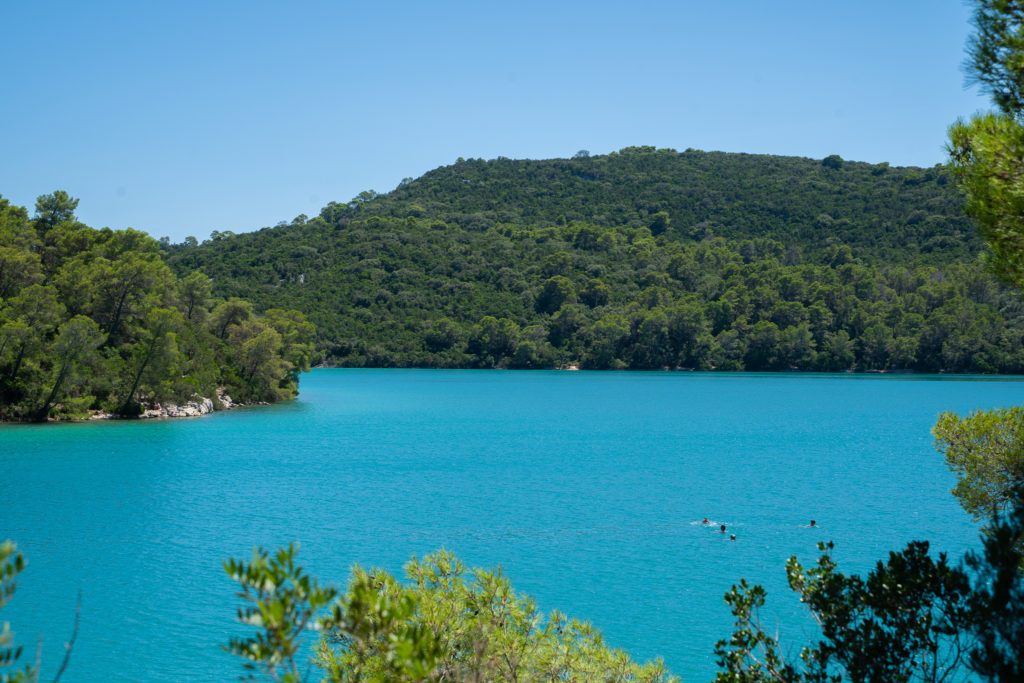 The heart of Mljet's allure lies in its breathtaking National Park, a verdant sanctuary that covers a significant portion of the island. Within the park, two saltwater lakes glisten like emerald gems, surrounded by dense forests and rocky outcrops.
The peaceful ambiance of Mljet makes it an ideal destination for those seeking solace amidst unspoiled nature. Mljet's coastline offers a harmonious blend of rocky cliffs and pebble beaches, ideal for sunbathing and swimming. Crystal-clear waters invite snorkelers and divers to explore the underwater wonders, revealing a world of marine life, colourful corals, and hidden caves.
Explore Mlket National Park
Biking
Enjoy well-marked trails through the trees while enjoying glimpses of the sparkling blue water. The best part is biking around the park where you can stop at your leisure to enjoy breathtaking viewpoints or go for a swim. The bike adventure around the lakes takes about 2 hours but allows plenty of time for stops along the way. lots of extra time for stopping.
I rented a bike in Pomena at Radulj Tours. You can also rent bikes inside the park.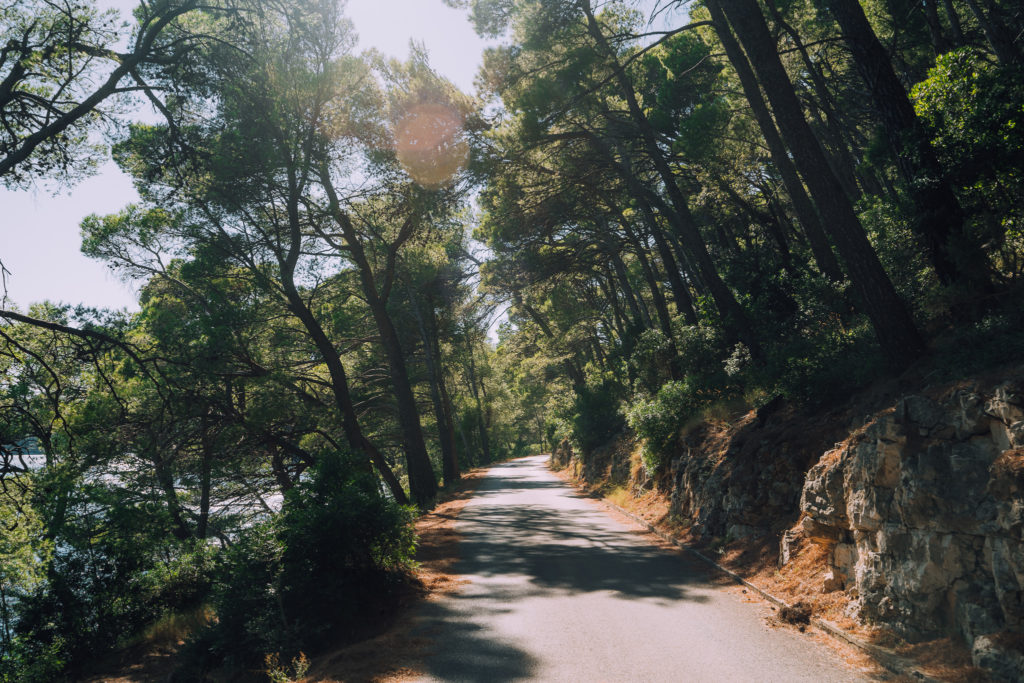 Swimming
The clear, turquoise waters of the lakes are perfect for swimming and snorkelling. Many locals learn to swim at this park because the salt content gives you lots of buoyancy.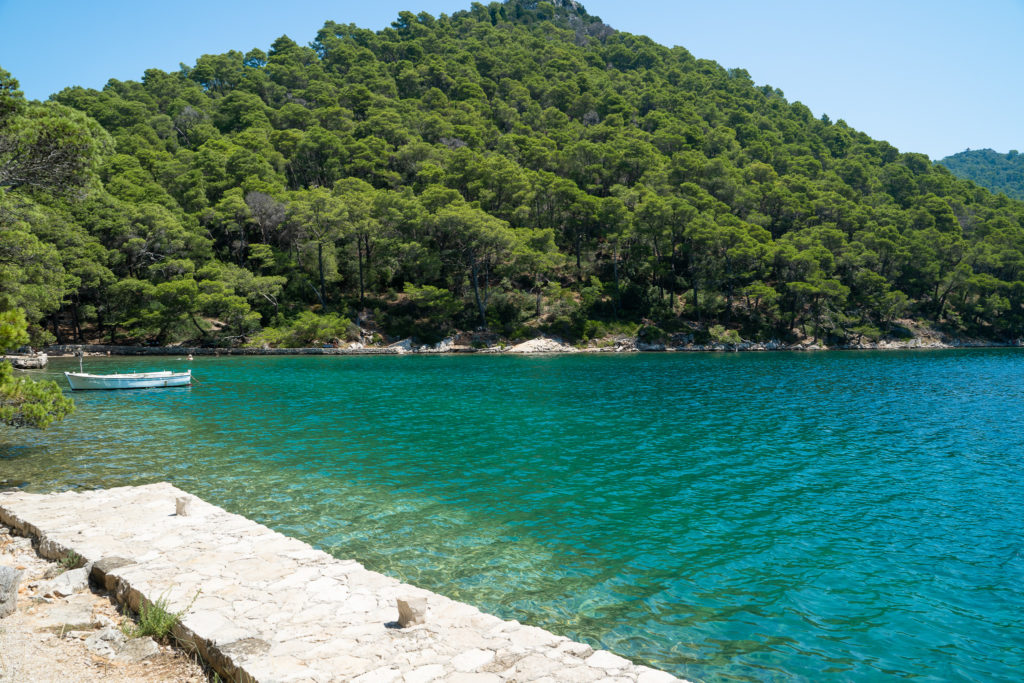 This was my favourite part of the park. If you like swimming on vacation, this slice of paradise must be on your bucket list. I was already in love with the first swim spot I visited but knew I had to keep going to discover more of the park. Best part, you can have swim spots all to yourself.
Relax on the shores, bask in the sun, and enjoy the tranquil atmosphere. There are lots of wonderful swim spots scattered throughout the park. Make your way around the lakes and find your favourite sites.
There are small rocks at some parts when you're getting into the water, so I recommend water shoes, or you can do as the locals do and go full speed ahead.
Swim Under the Bridges
Both the small and big lakes' bridges have a current that will push you through. Many locals and visitors enjoy getting into the water and letting the current push them. I spoke with one woman who said that you'll become child-like if you do this five times. I did it myself, and I think it's because it makes you feel like a kid again. I also saw two older couples diving into the water at the big lake and letting the current take them. It was a great reminder that you're never too old to have fun.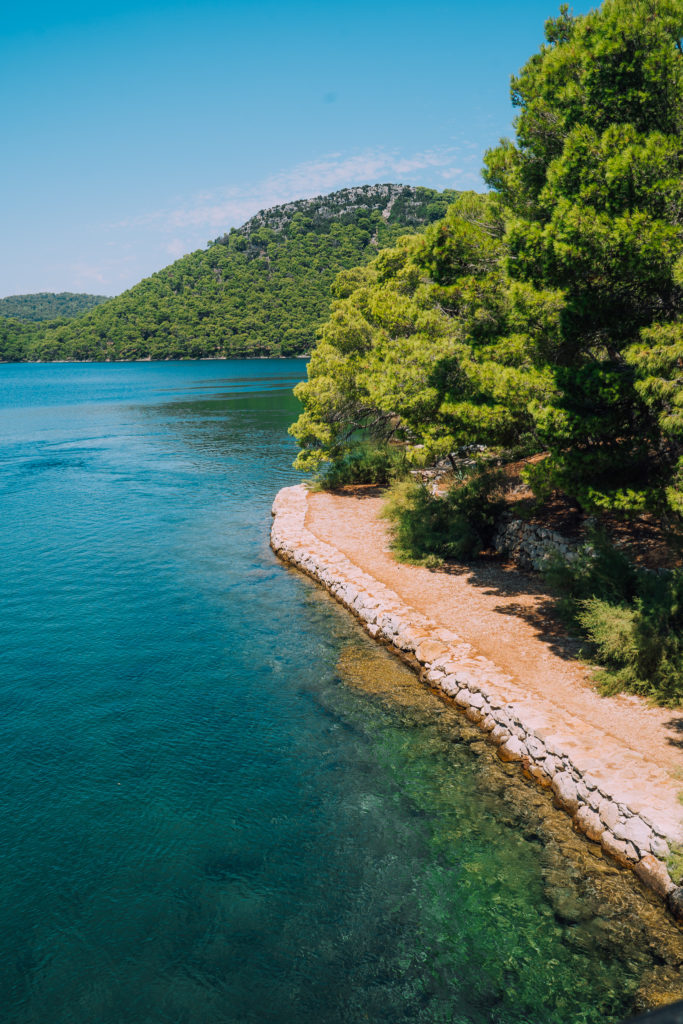 Saint Mary's Island
Take the complimentary eco-boat to St. Mary's Island. St. Mary's Monastery is a Benedictine monastery that dates back to the 12th century.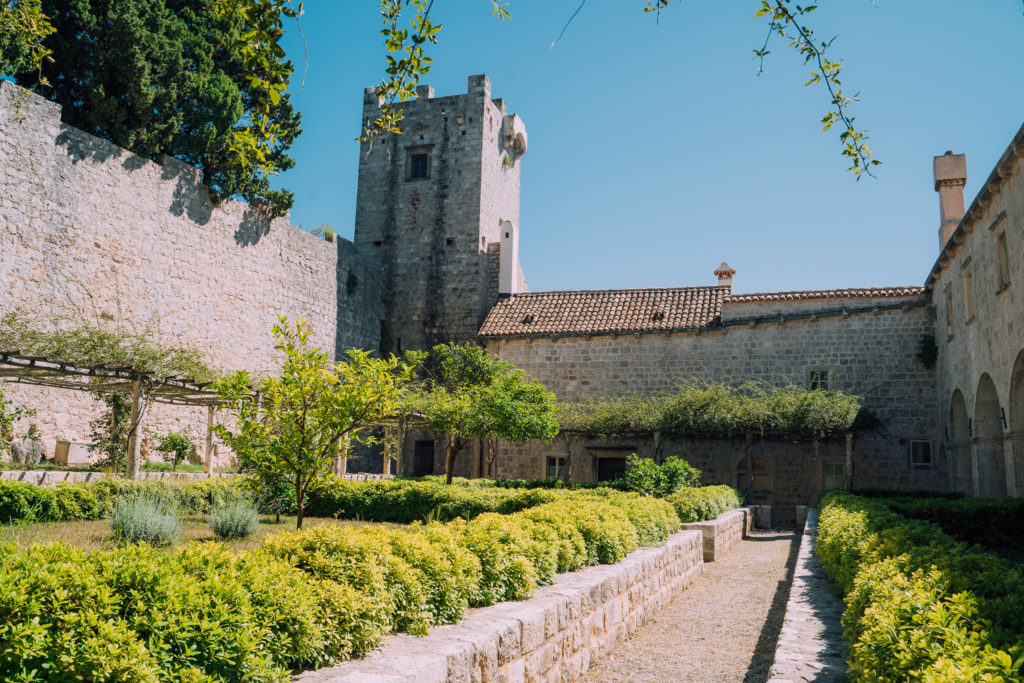 Explore the monastery's historic architecture, enjoy the serene surroundings, and walk through the peaceful gardens. It's also a great spot to stop and enjoy a drink or swim.
Hiking
Plenty of great hikes inside Mljet National Park will bring you beautiful lookouts. I like using all trails on my hikes, and they have a list of the top 10 hikes in the park here.
Soline
Soline is a traditional fisherman's village near the Big Lake. It feels like you've found a tropical oasis with overhanging trees and plants. This is a great spot to head if you want a meal at a restaurant.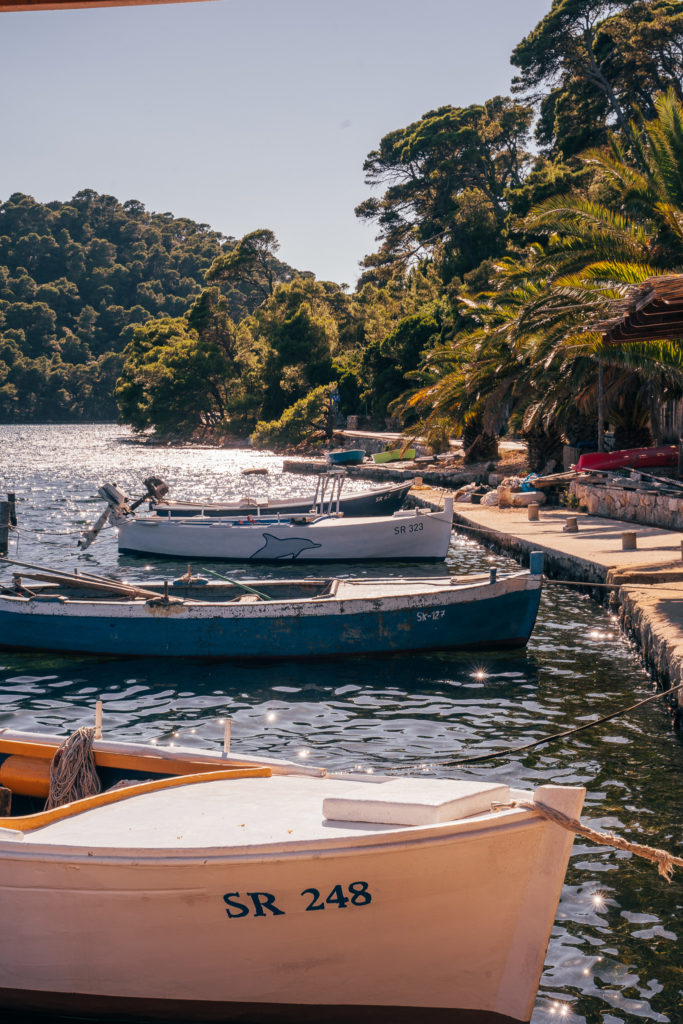 Is There A Fee To Enter the Park?
Yes. The fee to enter the park is 25 EUR, and there are two touch points where you must show your ticket. Your ticket includes a ride on the eco-boat and the electric train that goes to different touch points in the park.
What Should I Bring With Me To The Park?
I recommend packing enough for the day, including sunscreen, towel, hat, snacks, and water and wear your swimsuit. There are restaurants at certain locations in the park if you get hungry.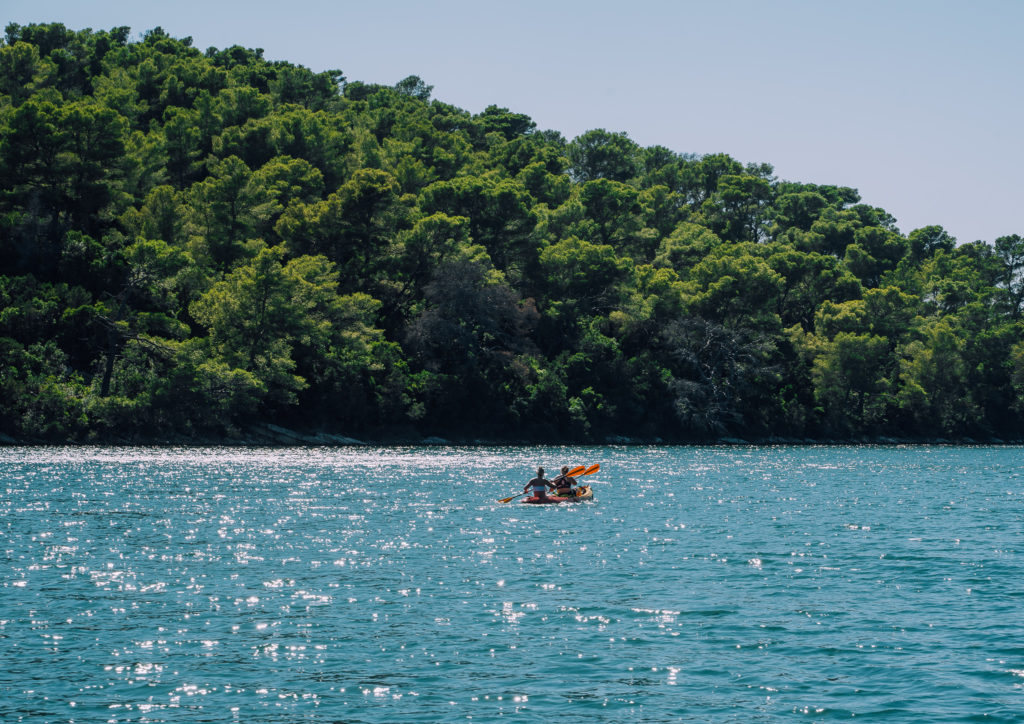 Other Things To Do on Mljet Island
I spoke with a local as I was leaving, and he said he would recommend a week if you wanted to explore the whole island! The portion I explored with the National Park was incredible, so I can only imagine the island's other adventures. A few ideas:
Explore Pomena
Pomena is a small ocean-side that's the perfect home base for your Mljet National Park Adventures. You'll be a quick distance by walking or by bike to the entrance of the park and can also enjoy the restaurants in the town. It was also an incredible spot to watch the sunset.
I stayed at Pomena Guesthouse, a family-owned guest house behind Pomena Restaurant. Its no-frills accommodation is located in a central location.
Oddysey's Cave
A popular adventure on Mljet is visiting Oddyseys Cave. Steeped in ancient legends, this sea-carved wonder is said to be the very cave where the hero Odysseus sought refuge during his legendary odyssey. You can do guided tours here. 
I can't wait for you to experience these Croatian Islands. It was my second time in Croatia, and it made me love the country even more, and I already can't wait to return yet again! The Islands are a special place with their natural beauty and intimacy. 
Thank you to Visit Europe for making this trip possible. This trip was co-funded by the European Union. As always, all thoughts and opinions are my own. I hope you have as much fun exploring Croatia as I did. I'd love to see your adventures. Feel free to tag me on Instagram and Tik Tok.