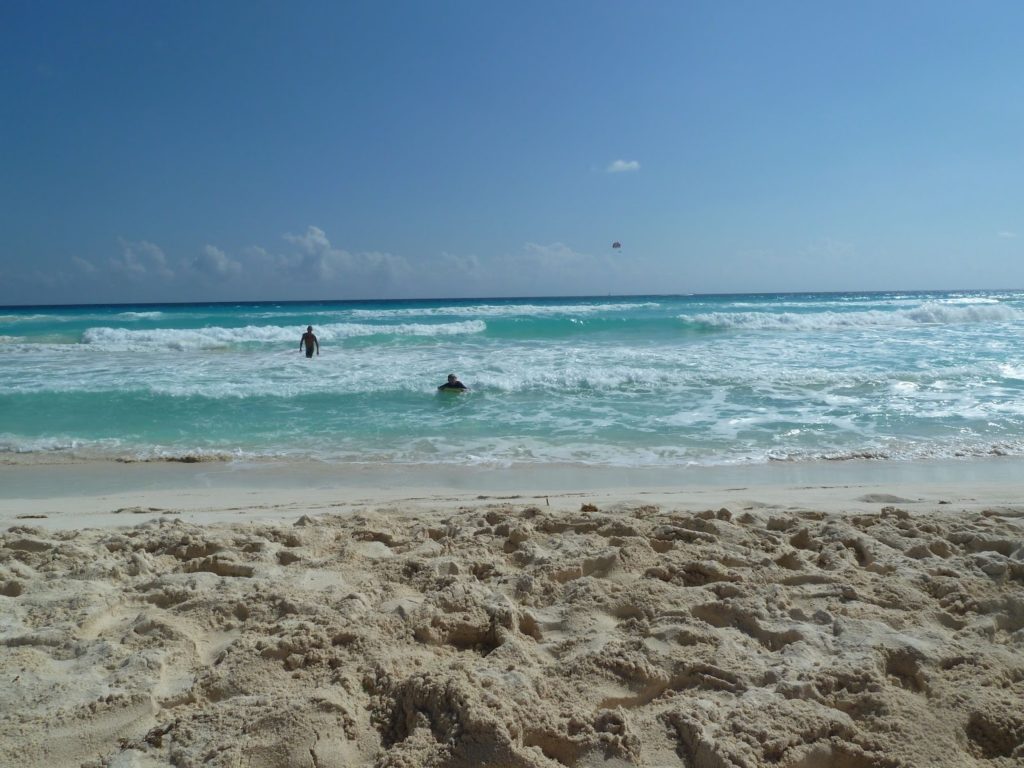 Cancun is a destination with beautiful white sand beaches, turquoise waters and many opportunities for adventure. Many people who visit Cancun spend their whole vacation on the beach relaxing. Doing this can make for a very fulfilling trip, however, Cancun and the surrounding area has many opportunities to experience something new, learn about Mayan culture and make long lasting memories. Here are my favorite Cancun activities (so far) and some tips to know before you go!
How To Get Around Cancun
Staying in the hotel zone of Cancun has many benefits. It is very easy to get around this area. There are cabs available, but since the zone is a peninsula with one major road, walking and public transit are viable options as well.
To get anywhere in the hotel zone, you just need to be on the correct side of the road and you can get on any bus. I recommend sitting near the front so you can tell your driver when you want to get off as they sometimes zoom by the stops. Drivers can also be very helpful with making sure you've got the right stop if you tell them your destination.
Is Cancun Safe?
Yes! The hotel zone is very safe. My family and I have visited Cancun many times and never had any issues being out in this area or using public transit. That being said, traveling outside of the hotel zone without knowing exactly where you're going or without a local is not recommended.
How Long Do You Need in Cancun?
Cancun is full of things to do and you can easily fill a week exploring and soaking up the sun. Longer trips would allow for a great balance of exploring and relaxing.
Where to Stay in Cancun
My family and I have stayed at all inclusive resorts in Cancun before, but discovered that we prefer staying in locations that aren't all inclusive.
When you stay at a resort, you typically eat all your meals there to get your money's worth. We've found that we miss going out to eat in the city as the hotel zone has a wide variety of excellent restaurants.
We have stayed at a Villas Marlin condo almost every time we've visited. These condos are owned and rented out individually on sites such as Airbnb, such as this one. The condos are ocean front and give you access to a beach that is usually less busy than those in front of all inclusive resorts. The condos come in a variety of sizes, include access to the pool and snack bar and are well located.
There is a grocery store directly across the street and the condos are within walking distance or a short bus ride to excellent restaurants. Some of our favorites include: Surfin Burrito, Fish Fantangua's sit down restaurant, the Fish Fantangua's Taco stand and Mextreme.
View of the ocean from Villas Marlins. Photo by Torie Wotton.
Things to Do in Cancun
I've been lucky enough to visit Cancun many times and to try a variety of activities over the course of these trips. If it's your first time in Mexico, I recommend choosing one or two activities to try. You'll want to make sure you have time to swim in the ocean and lounge on the beach rather than being on the go all the time. The perfect trip to Cancun involves both relaxing and exploring. Here's some fun adventures to choose from.
Xplor Park
Xplor is probably my favorite Mexico excursion! Xplor is an all inclusive zipline adventure park, featuring the highest ziplines in the Riviera Maya. The views are amazing as you zip above the trees of the jungle and make your way from one zipline to the next. The amazing views make the pictures look photoshopped but it's all real, making it a surreal experience.
Xplor also allows you to venture below ground to experience the underground caves. You can explore on foot, on a hand paddle raft and by swimming. Each activity is limited to a specific set of caves so I would recommend doing them all. Just in case that's not enough adventure, your admission also allows you to drive ATVs through the jungle and some caverns.
In addition to the great activities, Xplor is all inclusive. You will be picked up by a tour bus and dropped off at the park. All food and drinks are included. The wide range of activities offered at Xplore made it a great experience that I would love to do again!
Ziplining at Xplor. Photo by Torie Wotton.
Xel-Ha
Xel-Ha is an all inclusive tour that is great for families. Similar to the Xplor tour, you will be picked up in the hotel zone. When you arrive at Xel-Ha, there will be lockers to leave your stuff in and somewhere to pick up snorkel gear which is included in your tour. After arriving, you will be free to spend your time as you wish and will meet up with your bus at the end of the day.
I recommend starting your day at the lazy river. Here you can choose between tubing or snorkeling. As you make your way down the river, there will be opportunities to engage in other activities such as cliff jumping, small ziplines and an obstacle course. Once you've followed the river, there are many other locations where you can continue snorkeling. Even though the tubing and snorkeling start points are separate, you will quickly meet up in the wider area of the river so your group will only be separated for a few minutes if you choose different initial activities.
In addition to snorkeling, Xel-Ha has other activities to enjoy. You can follow the paths through the jungle to find cenotes, caves, ruins, a floating bridge and a lighthouse. While journeying through the park, you may also see wildlife such as iguanas.
The activities I've outlined here are all included in your admission to the park. Xel-ha does offer additional activities that can be added to your experience for an extra cost. I've always felt that there was enough to do at Xel-ha that you could easily fill a whole day without adding any extras but they do have some cool options if this is something you would like to explore.
Xel-ha Snorkeling Area. Photo by Torie Wotton.
Xenote Tour
Cenotes are natural sinkholes that were commonly used to supply water for Mayan communities. They are very beautiful and the Xenotes tour allows you to experience four types of cenotes, each in a new way. At each cenote, you will have the opportunity to swim in the cenote but you will also have the chance to zipline, rappel or kayak to enter the cenotes. This tour is the perfect combination of adventurous activities and the natural beauty of Mexico. There were also opportunities to cliff jump, snorkel and play on a water slide.
Mayan Ruins
I loved visiting both Chichen Itza and Coba Ruins. Touring both sets of ruins gave me the opportunity to learn a lot about the Mayan culture and be blown away by the structures that are still standing.
Chitzen Itcha has many large structures in one cleared area. Since the ruins are out in the open, it can get very hot. Make sure to bring a water bottle and a hat so you can enjoy your trip without getting overheated. At Chitzen Itcha, I enjoyed a guided tour which was very educational and added a lot of context to what I was seeing.
The structures at Coba are generally smaller and spread out throughout the jungle. I personally enjoyed wandering through the jungle paths and being surprised by the ruins as we found them. Coba is also home to one very tall ruin which visitors can climb, making it unique from other historical sites. Once you make it to the top, you are treated to a beautiful view over the jungle.
Chichen Itza. Photo by Torie Wotton. Photo by Torie Wotton.
Surfing Lessons
Our favorite location for surfing lessons is 360 Surf School. In my experience, the surfing instructors here are great and will have you riding waves into the beach even if you have no previous experience. Lessons start on the beach so you can familiarize yourself with where to stand on the board and how to get from your stomach to standing. Once you get into the water, the instructors are there to help you every step of the way from getting the board to the right location to telling you when to paddle. As an added bonus, 360 Surf is located next to Surfin Burrito so you can grab some delicious food after your lesson!
Surfing lesson in Cancun, Mexico. Photo by Torie Wotton.
Parasailing
In Cancun, it's common to see parasailers above the ocean while you're sitting on the beach. Typically, if you walk down the beach in either direction, you can find someone offering the opportunity to try it out. The prices offered on the beach are often negotiable, so make sure to barter to get the best deal!
Once you're ready to go, you'll receive a life jacket and get a ride out to the boat on a seadoo. Crashing over the waves is definitely part of the fun. Once on the boat, you may have to wait a bit for your turn to go up. If you are prone to seasickness, this experience may not be for you. Once it's your turn, you'll be strapped in and slowly hoisted up into the air. Once you've reached full height you'll be able to see over the hotels and take in the beautiful views of the ocean and even see over the hotels to the lagoon.
When your turn is over, you'll be gradually lowered back onto the boat and delivered back to the beach where you started. Most operators will also have a photographer who will offer you photos of your experience for an additional cost.
Parasailing in Cancun, Mexico. Photo by Torie Wotton.
Cancun is a beautiful place to visit and really has something for everyone. I hope this inspires you to visit captivating Cancun!
Looking to add onto this adventure? Check out Belize.